Restaurants in Philadelphia's Gayborhood and Beyond
What to expect at the city's newest restaurants
< Return to Gay Philadelphia Home
Philadelphia is a foodie's kind of town, and gay-friendly guests can be sure that they'll eat well and eat comfortably while in town thanks to dozens of restaurants offering a world of choices at a variety of price points.
Here's a look at some of the city's newest gay-friendly spots—many of which are gay-owned:
In the "Gayborhood"/Midtown Village:
Amîs
Italian maestro Marc Vetri of Vetri and Osteria fame has gone back to his Washington Square roots and opened Amîs, an authentic Roman trattoria specializing in rustic small-plates like lamb sausage and fried artichokes, a small but focused wine list and a rock 'n' roll soundtrack.
Caribou Café
Perfect for pre- or post-theater dining, Caribou offers stellar French specialties (the cassoulet is outstanding), an inviting Art Deco bar and a relaxed two-tiered dining room.
El Vez
Tableside guacamole, a huge margarita menu and delicious rare tuna tostadas draw a diverse see-and-be-seen crowd to this lively spot.
Garces Trading Company
Prolific chef/restaurateur Jose Garces, recently crowned a Food Network Iron Chef, is trying his hand at a new sort of establishment, Garces Trading Company, a gourmet market with prepared and imported foods and an unusual collaboration with the Pennsylvania Liquor Control Board to showcase boutique wines.
Green Eggs Café
pecializing in breakfast, lunch and brunch, Green Eggs opened its third location in 2012. It's already a favorite of the neighbors who no longer have to trek to South Philly or Northern Liberties to enjoy the chicken and waffles benedict or the red- velvet pancakes.
Jamonera
Business and life partners Marcie Turney and Valerie Safran opened Jamonera on the same block as their buzzed-about Barbuzzo (Mediterranean) and Lolita (Mexican) restaurants. Their newest entry into the Midtown Village market is a Spanish bistro and bar specializing in boutique wines and Iberian-style snacks.
Lolita
Chef Marcie Turney creates contemporary Mexican dishes at this intimate café, done up in sultry red and black against a backdrop of exposed brick walls. This BYOB is also BYOT—as in bring-your-own tequila to add to fresh margarita mix.
Mercato
Chef R. Evan Turney creates a market-themed contemporary Italian menu at this cheery bring-your-own-bottle (BYOB) hotspot, with an emphasis on fresh local ingredients. Don't miss the antipasto loaded with Italian meats and cheeses and grilled, marinated veggies.
More Than Just Ice Cream
Beyond the mammoth treats available at this old-fashioned ice-cream parlor, there's a menu of homemade soups, entrée salads, tasty appetizers and dinner specials.
Pennsylvania 6
At Pennsylvania 6, named for the oldest continuing phone number in New York City (based on the old telephone exchange name system), the atmosphere draws its inspiration from 1940s hotel dining rooms, and the upscale comfort food—duck-fat fries with lemon truffle aioli, lobster rolls and Duroc pork collar with cheddar grits—pair perfectly with the original cocktails and craft beers on offer.
Philly Cupcake
Pink and pretty, Philly Cupcake satisfies the sweet-tooth crowd with gourmet cupcakes in not-so-typical flavors: Oreo, Twix, Jewish apple, banana split and many more crowd-pleasing delights. The dessert boutique also offers a selection of vegan cupcakes.
Raw
Suede couches, Japanese lamps, hardwood floors and a glass bar set the scene at this sleek new Japanese hotspot. In addition to an extensive sake menu, Raw offers a full sushi bar, along with other Asian dishes served with a new American twist.
Sampan
Celebrity chef Michael Schulson, who built his name at Stephen Starr's Pod, his own Atlantic City spot Izakaya and TLC's Ultimate Cake-Off, brings small-plate Asian cuisine to Midtown Village with Sampan. The sleek open kitchen dishes up satays, noodle dishes, dumplings and sushi, spanning the Pacific Pacific Rim and beyond.
The Tavern
Modern American fare finds a home at The Tavern (formerly known as The Tavern on Camac), serving tuna tartare burgers with capers and white anchovies; kale chips with parmesan aioli; and shaved fennel salad, along with classic cocktails, local beers, wines by the glass and boozy popsicles.
The Farmers' Cabinet
Inspired by farm-fresh ingredients, The Farmers' Cabinet, a 1920s-inspired supper club, focuses on the classics. The speakeasy-style restaurant and club serves a new menu each season, along with plenty of microbrews and live music.
Vedge
At Vedge, the non-carniverous of the bunch can indulge in a cold vegetable bar with antipasti and meatless "charcuterie;" hot veg-centric dishes that showcase chef Rich Landau's creativity; and craft beer, wine and specialty cocktails.
Venture Inn
A friendly crowd gathers here for perfect martinis and options like fried pork chops with homemade applesauce and filet with blue cheese mashed potatoes.
Walnut Street Supper Club
The Walnut Street Supper Club goes back in time — to the 1940s to be exact. Opened by Midtown Village Association founder James McManaman, who also owns nearby Absolute Abstract with his business and life partner David White, the supper club-style menu features American and Italian specialties.
Westbury
Longtime gay-owned bar the Westbury reopened this year with a new look and specialty beer list that serves as a nice complement to the traditional comfort and pub food menu.
Zavino's
The wines are low-priced at Zavino's marble-topped bar in Midtown Village, and the eats cooked up by chef-partner Steve Gonzalez—pizza with toppings like béchamel, local mozzarella and Kennett Square mushrooms and antipasti (cured meats, artisan cheeses and seasonal specials)—are sophisticated yet similarly affordable.
Rittenhouse Square:
R2L
On the heels of opening MidAtlantic Restaurant & Tap Room last fall, chef Daniel Stern has set up shop in Two Liberty Place with R2L, an Art Deco-inspired restaurant and lounge featuring his unique take on creative American cuisine (rabbit nachos with jalapeno mousse, chicken daube with braised winter vegetables) and an extensive wine and cocktail list.
Square 1682
Square 1682, Philadelphia's first LEED-certified lounge and restaurant, opened at the Kimpton's Hotel Palomar with Chef Guillermo Tellez at the helm. Tourists and locals alike enjoy the New American cuisine with more than 40 small plates and an artisanal cocktail menu.
Valanni
This hip lounge attracts a well chiseled crowd for perfect cocktails and innovative Mediterranean Latin cuisine. The popular tapas sampler includes an oversized tasting of hummus, spicy empanadas, kabobs and more. The lively bar scene continues into the wee hours.
Zama
Stephen Starr alum Hiroyuki "Zama" Tanaka sets sail on his own with Zama, a high-end sushi house with maple wooden slats that frame the walls, cutting-edge eats (sizzled whitefish roll, seared kobe roll with shiso and pink peppercorn) and specialty cocktails made with yuzu, Calpis and green tea liqueur.
Explore the Gayborhood
Click the map below to explore the Gayborhood's great shopping, dining and nightlife: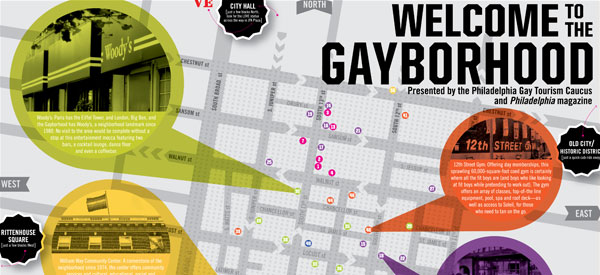 Find us on Facebook