Best Places for Holiday Shopping
in Philadelphia and The Countryside
Top seasonal pop-up shops, massive retail destinations, main streets and more
Find something for everyone on your holiday shopping list — and treat yourself as well — at Philadelphia's awesome retail destinations, creative craft bazaars, holiday pop-up shops, independent boutiques, charming main streets and top-rated shopping malls.
You'll find amazing deals and holiday specials throughout the season and, best of all, there's no sales tax on most wearable goods like clothing and shows (some exceptions apply).
Put on some comfortable shoes and get ready to browse our top holiday shopping in Philadelphia and beyond.

Holiday Pop-Up Shops
Christmas Village at LOVE Park
November 21 – December 27, 2015
With its medieval-village type setting, Philadelphia's German-style Christmas Village has become a favorite tradition. Here shoppers find popular Christmas gifts from Germany, including glass ornaments, music boxes, nutcrackers and more while vendors serve up hot mulled wine, gingerbread and bratwursts to keep shoppers warm and satisfied.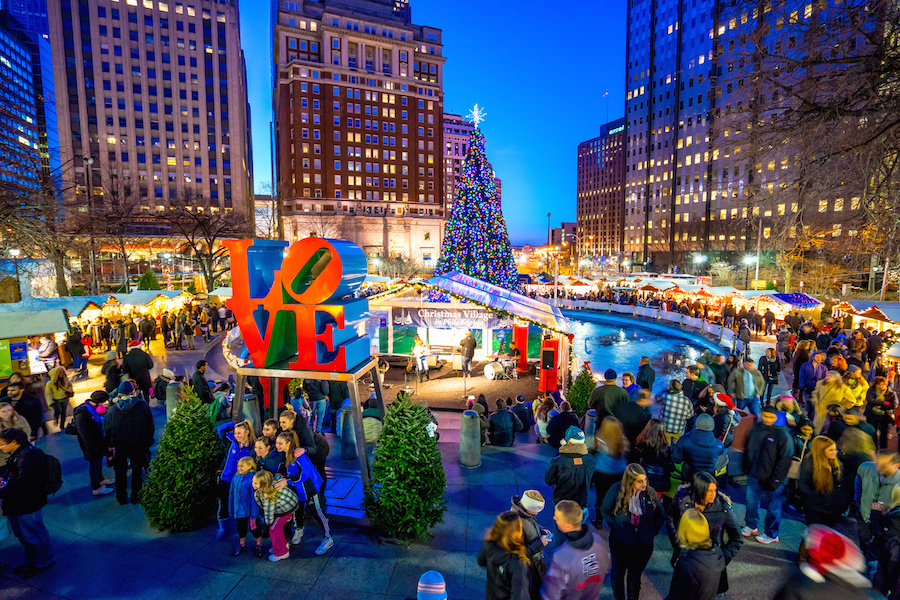 The Christmas Village at LOVE Park is modeled after a traditional German holiday pop-up shop with holiday crafts, foods, entertainment and more. (Photo by M. Fischetti for Visit Philadelphia)
Holiday Market at Franklin Square
Through December 31, 2015
Throughout the duration of Franklin Square's Holiday Festival, a pop-up market arrives with Christmas gifts galore — think jewelry, toys, winter accessories and more. The holiday market at the historic park is open nightly from 4 to 8 p.m.
more on holiday market at franklin square
Made in Philadelphia Holiday Market at Dilworth Park
November 21 – December 27, 2015 (closed Christmas Day)
New this year, the Made in Philadelphia Holiday Market showcases the work of local artists, crafters, confectionaries and designers. Shoppers can purchase goods from local artists like Philly Word Art, designers like Beaucycled and Saffron Creations and crafters like soap maker Mahogany Essentials and Candlemaker Accent Aroma. Also available: Philly foods galore in the form of macaroons and cannolis from T Bake Shoppe, gourmet chocolates from Tradestone Confections, flavored kettle corn from Philly Pop Kettle Corn and other favorites. Note that the market will be open with a limited number of vendors from December 3 through 9.
more on made in philadelphia holiday market
Holiday Market at the National Liberty Museum
Open during regular museum hours
Old City's National Liberty Museum is set to transform its gift shop into a pop-up art market. The holiday market opens to the public on Black Friday, and will display and sell everything from blown glass and sculptures to locally made jewelry and more. Note that no admission is required when only visiting the shop.
more on holiday market at national liberty museum
Franklin Flea Holiday Market
Saturdays, November 21, 28, December 5, 12, 19, 2015
The Philadelphia-centric Franklin Flea Holiday Market returns for six Saturday shopping days this season. At the wintertime market, shoppers can expect a finely tuned selection of around 50 vendors set up amid the antique chandeliers and marble columns of the historic space, selling everything from fine antiques and vintage clothing to handmade decorative arts and gourmet street food.
more on franklin flea holiday market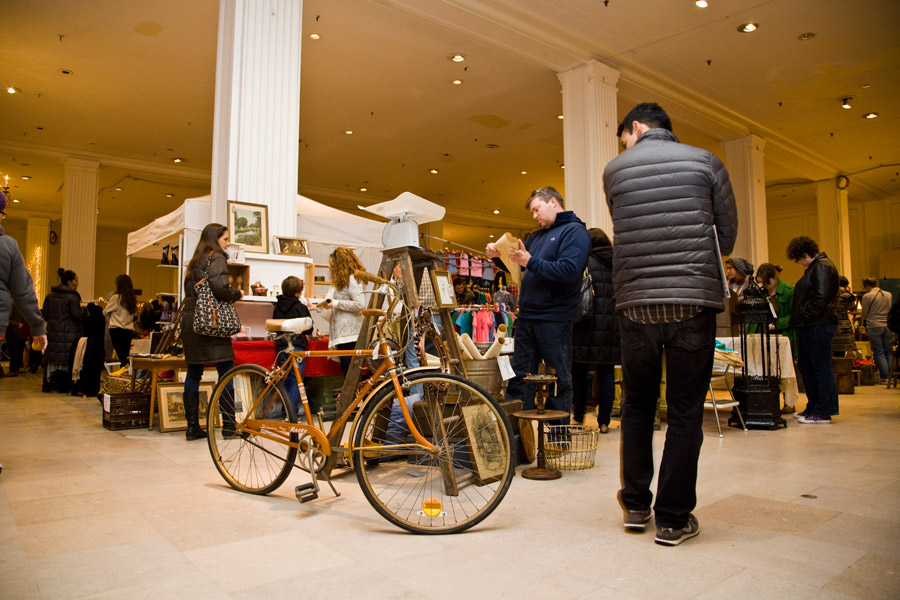 You're sure to stumble across a one-of-a-kind item as you browse the tables at the the Franklin Flea Holiday Market. (Photo by M. Edlow for Visit Philadelphia)
The Center for Emerging Visual Artists Holiday Pop-Up
November 24-January 16, Monday-Friday, 10 a.m.-5 p.m.
The Center for Emerging Visual Artists (the same folks who produced the annual Philadelphia Open Studio Tours) welcomes shoppers to its third-floor gallery space for an art-filled pop-up shop just in time for the holidays. The shop will include prints, original artwork, wearables, home goods and other handmade items from current CFEVA fellows and alumni, and proceeds benefit CFEVA.
more on The Center for Emerging Visual Artists Holiday Pop-Up
German Christmas Market at Byers' Choice
Through December 31, 2015
The German Christmas Market at Byers' Choice boasts plenty of gifts for holiday shoppers (think gingerbread houses, advent calendars, handcrafted Caroler figurines and toys).
more on german christmas market
---
Shopping Tip – Free Metered Parking on Saturdays
Worried about those infamous Philadelphia parking tickets? Meter parking in Center City is FREE every Saturday after 11 a.m. from Thanksgiving Day to New Year's Day (as well as Thanksgiving and Christmas Day). Also, meter parking is also free in Center City after 5 p.m. on Wednesday evenings, except for rush-hour zones, which are free after 6:30 p.m. Check the button below for more information.
more on Parking in Philadelphia
---
The Art Shop at Moore
Closed Thanksgiving and Christmas
The always-marvelous pieces created by students and alumni at The Art Shop at Moore are complemented by holiday-specific goods this time of year. Shop the excellent store for hand-made holiday greeting cards and ornaments, as well as many one-of-a-kind artworks ranging from ceramics and jewelry to hand-made greeting cards, wall art and more.
UCAL Holiday Market
December 4-20, 2015
The University City Arts League puts the spotlight on local makers for its holiday craft show and market, which runs much of the month of December. Shoppers can browse a fantastic selection of handmade items like soaps, candles, jewelry, pottery, t-shirts and more.
Holiday Market Days & Events
Chestnut Hill Stag and Doe Nights
Wednesdays, December 2-23, 2015
On the Wednesdays leading up to Christmas, Germantown Avenue in Chestnut Hill transforms into a winter wonderland for the annual Stag & Doe shopping nights. From 6 to 9 p.m., Chestnut Hill shops will be full of holiday spirit. Shopkeepers will help you figure out what to get picky gift receivers with gift suggestions, all while you're enjoying treats from each shop. As you travel from shop to shop, carolers will serenade you with favorite Christmas carols.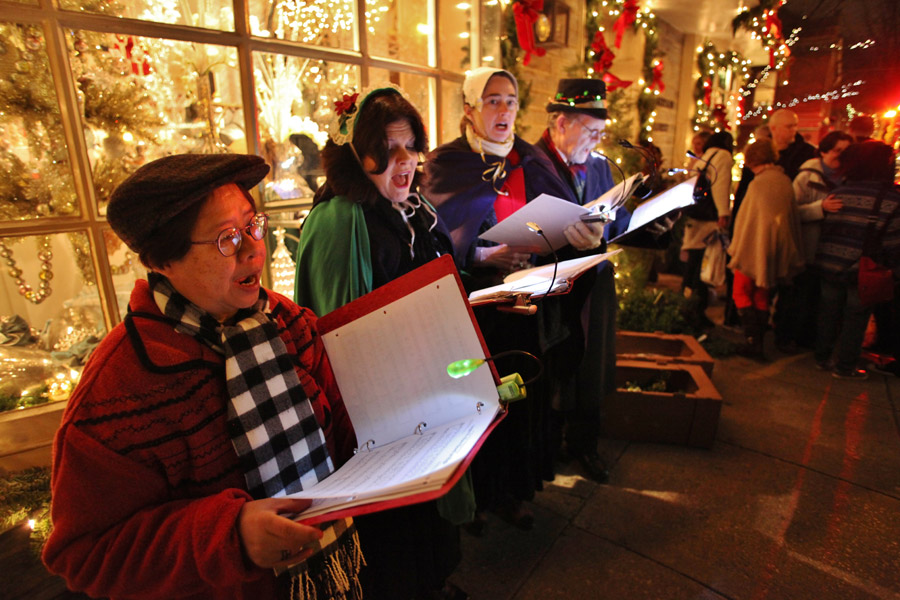 Explore the shops along Germantown Ave. in Chestnut Hill during Stag & Doe Nights this December. (Photo courtesy Chestnut Hill)
Drexel's d&mShop
November 30-December 4, 2015
Head to the University City campus of Drexel University to shop a retail laboratory run by the Design & Merchandising students within the Antoinette Westphal College of Media Arts & Design. From jewelry to scarves to stationary, the shop features one-of-a-kind, hand-crafted items created, developed and/or selected by students, faculty, staff and alumni of Drexel University, as well as local artists and boutiques. Can't make the pop-up? Shop online anytime.
Bartram's Handmade: Greens Sale & Holiday Market
Saturday, December 5, 2015, 10 a.m.-2 p.m.
The annual Holiday Greens Sale at Bartram's Garden is the perfect occasion to pick up those boughs of holly. During the sale, find a collection of fresh wreaths (decorated and undecorated), handcrafted centerpieces, pine roping and loose greens. Pair shopping with caroling, cider, card-making workshops and s'mores and browse through pottery, poinsettias, local honey, beautiful bulbs, ornaments and stocking stuffers for everyone on your list.
more on Bartram's Handmade: Greens Sale & Holiday Market
American Swedish Historical Museum Christmas Market
Saturday, December 5, 2015, 11:30 a.m.-4:30 p.m.
Join in the festive family fun at the American Swedish Historical Museum's Lucia Fest and Christmas Market, a one-day ode to the tradition of the Festival of Saint Lucia, which marks the start of the Christmas season in Sweden. Swedish baked goodies and other bites will be served up at the Swedish Christmas Cafe, and the Christmas Market will be open all day, selling Swedish holiday items, perfect for gifts and holiday decor. Entry is $10 for adults, $7 for members, $4 for children ages 4 through 12 and free for children under 4.
more on American Swedish Historical Museum Christmas Market
Northern Liberties Holiday Shopping Spree
December 5-6, 2015
More than 15 local, independent boutiques in Northern Liberties team up with Art Star to host a two-day shopping event. The Northern Liberties Holiday Shopping Spree is a progressive sale in NoLibs during which customers get increasing discounts the more they shop. Shops like Art Star, Jinxed and Ritual Ritual will join the holiday shopping spree.
more on Northern Liberties Holiday Shopping Spree
Greensgrow Holiday Bazaar
December 5-6, 12-13, 2015
Head to Kensington to shop this festive neighborhood annual sale over two December weekends. At the Greensgrow Holiday Bazaar, get your tree or holiday greens, handmade crafts, homemade treats, homegrown bulbs and wreaths and other one-of-a-kind gifts.
more on Greensgrow Holiday Bazaar
---
Shopping Tip – PHLASH Downtown Loop's Holiday Service
Beginning the day after Thanksgiving, the PHLASH Downtown Loop will begin daily service to popular Philadelphia spots through the holiday season. Service will be available every 15 minutes from 10 a.m. to 6 p.m., allowing passengers to experience festive holiday attractions like the Franklin Square Holiday Festival, Macy's Christmas Light Show, Christmas Village at LOVE Park as well as the fantastic shopping of the season.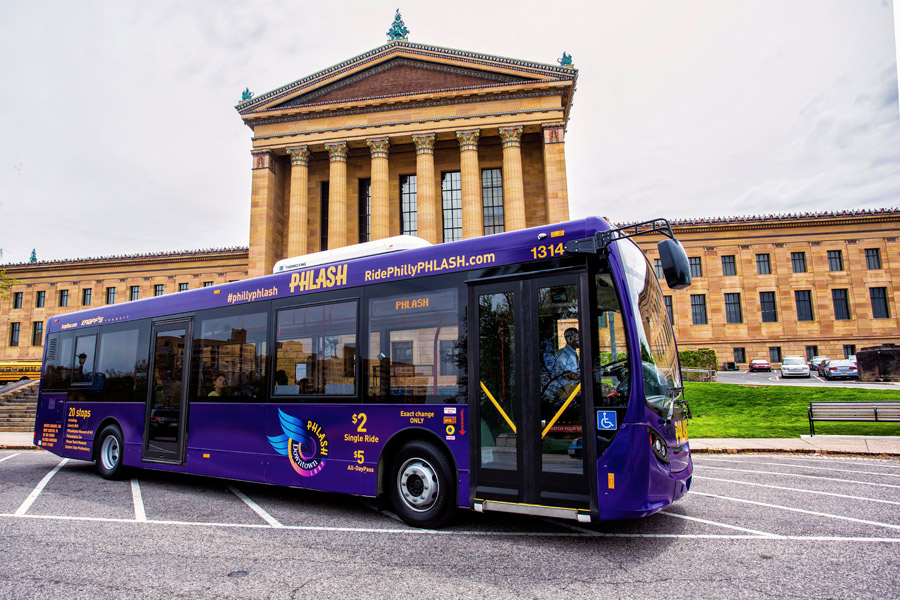 The PHLASH offers convenient access to the city's top attractions and holiday destinations for just $2 a ride or $5 all-day. (Photo by J. Fusco for Visit Philadelphia)
---
Mt. Airy Art Garage Holiday Market
December 5-6, 19-20, 2015
Support local businesses at the Mt. Airy Holiday Craft Bazaar. Choose from glassware, ceramics and jewelry made by Mt. Airy's vendors, which will fill the 5,000-square-foot Mt. Airy Art Garage with one-of-a-kind items for both adults and children.
more on Mt. Airy Art Garage Holiday Market
Punk Rock Flea Market
December 11-13, 2015
The holiday Punk Rock Flea Market lands in Callowhill on December 11, 12 and 13 from 10 a.m. to 5 p.m. Browse the goods of more than 700 vendors selling old records, clothes, art, music, food, junk, bicycles, stereo equipment, instruments, automobiles, tools, posters, furniture, computers, skateboards and lots of other stuff. This year marks the biggest Punk Rock Flea Market ever — the organizers even added an extra day of shopping. For this holiday edition, $3 entry donation provides access on Saturday and Sunday, and entry on Friday night is free.
Crafty Balboa Holiday Market
Saturday, December 12, 2015, 11 a.m.-5 p.m.
Returning for its seventh year, the popular Crafty Balboa Holiday Market in South Philly brings handmade gifts, crafts, booths from East Passyunk Avenue shops and even some free items, too. A group of more than 50 high-quality vendors will be on hand this year. Plus, the first 50 visitors receive free goodie bags featuring an array of items from the vendors.
more on Crafty Balboa Holiday Market
Annual South Philly Handmade Brigade
Saturday, December 12, 2015 11 a.m.-6 p.m.
Support local artists at the annual South Philly Handmade Brigade. Shop locally made clothing, sculptures, jewelry, soaps and more. There will be more than a dozen unique vendors at the show.
more on Annual South Philly Handmade Brigade
Go West's Holiday Craft Fest
Sunday, December 13, 2015, 10 a.m.-4 p.m.
This year, the Go West! Craft Fest will have dozens of Philadelphia based vendors many of which based right out of West Philly. Find treasure after treasure as you browse through the candles, cards, hand blown glass, jewelry, gift baskets and more. The array of items at the craft fest will satisfy your shopping need and the immense talent is bound to impress you, too.
more on Go West's Holiday Craft Fest
Punk Rock Flea Market at RiverRink Winterfest
December 19-20, 2015
For one weekend this December, the Punk Rock Flea Market takes up residency at Blue Cross RiverRink Winterfest for a pop-up shopping extravaganza with a carefully curated selection of goods for everyone on your Christmas list.
more on Punk Rock Flea Market at RiverRink Winterfest
Can't-Miss Shopping Destinations
Macy's Philadelphia
Located in the historic Wanamaker building, Macy's Center City is one of Philadelphia's top shopping destinations with more than 100 years of retail history. Recognized as one of the most architecturally significant retail spaces in the U.S. and a National Historical Landmark, Macy's Center City is a must-see destination for shoppers and history buffs alike. Don't miss the annual Macy's Christmas Light Show, an illuminating holiday tradition in the Grand Court.
Reading Terminal Market
The nation's oldest continuously operating farmers' market, Reading Terminal Market in Center City boasts more than 80 unique merchants, three of which are descendants of original stand holders from when it opened more than 110 years ago. Stroll through the vast bazaar and browse everything from hand-made imported crafts and American quilts to fresh produce, dairy products, exotic meats and seafood, freshly cut flowers, cookbooks and expertly prepared foods of all kinds.
more on Reading Terminal Market
King of Prussia Mall
Just a 20-minute drive from Philadelphia, the King of Prussia Mall is the largest shopping mall in the United States of America. And around the holidays, the mall is packed with festivities, deals and thousands of shoppers. Boasting seven department stores and more than 400 stores, boutiques and restaurants, King of Prussia has more pure retail shopping space than any other attraction in America and it features stores that cannot be found elsewhere in the region.
more on the king of prussia mall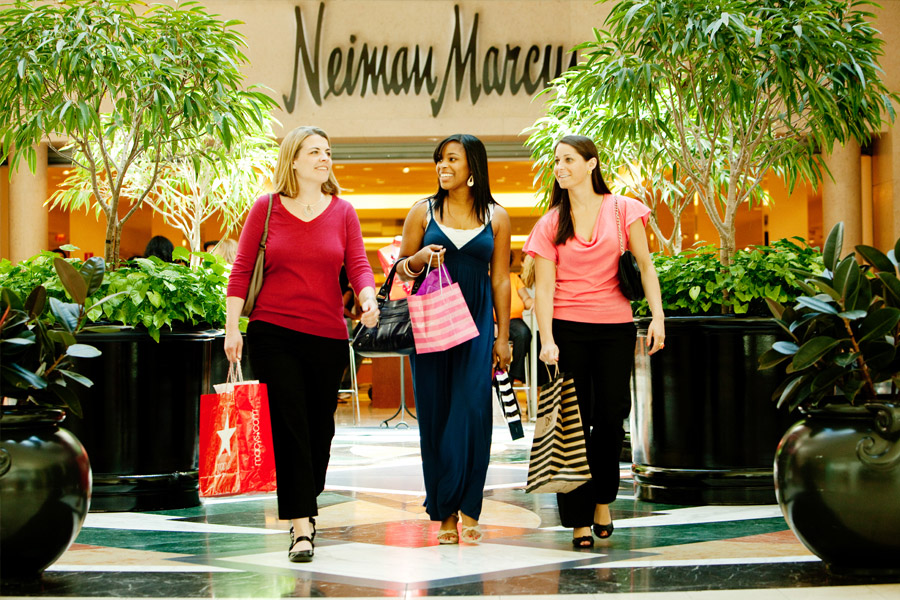 With major department stores and more than 400 shops and restaurants, it's easy to lose a day shopping at the King of Prussia Mall. (Photo courtesy King of Prussia Mall)
Philadelphia Premium Outlets
Located just 35 miles northwest of Center City, the Philadelphia Premium Outlets in Limerick feature more than 150 designer and brand-name outlet stores in an astounding 425,000-square-foot outdoor space.
more on philadelphia premium outlets
Philadelphia Mills Mall
With more than 1.7 million square feet of shopping, Philadelphia Mills, formerly Franklin Mills, is only 15 miles from Center City Philadelphia. Bargain hunters can find up to 60% off designer merchandise in 200 great stores and enjoy the mall's two food courts, seven theme restaurants and 14-screen movie theater.
more on Philadelphia Mills Mall
Peddler's Village
Peddler's Village offers an illuminating holiday shopping experience with over a million of twinkling lights, ongoing events throughout the season and festive shopping at more than 70 on-site specialty shops. The family-friendly Bucks County attraction also features eight restaurants and comfortable overnight accommodations at the Golden Plough Inn making it the perfect destination for a holiday weekend retreat.
Suburban Square
Ardmore's Suburban Square is a pedestrian-friendly, high-end, open air shopping destination on the Main Line. Browse the latest technology trends at the Apple store, shop local goods at the Ardmore Farmers Market and browse dozens of fantastic retail stores including Macy's, Paper Source and Urban Outfitters.
Century 21
Philadelphia is the first city outside the New York metropolitan area to have access to Century 21, a massive haven for affordable fashion. Located in Market East, the 100,000-square-foot retail space can easily eat away an afternoon of deal searching.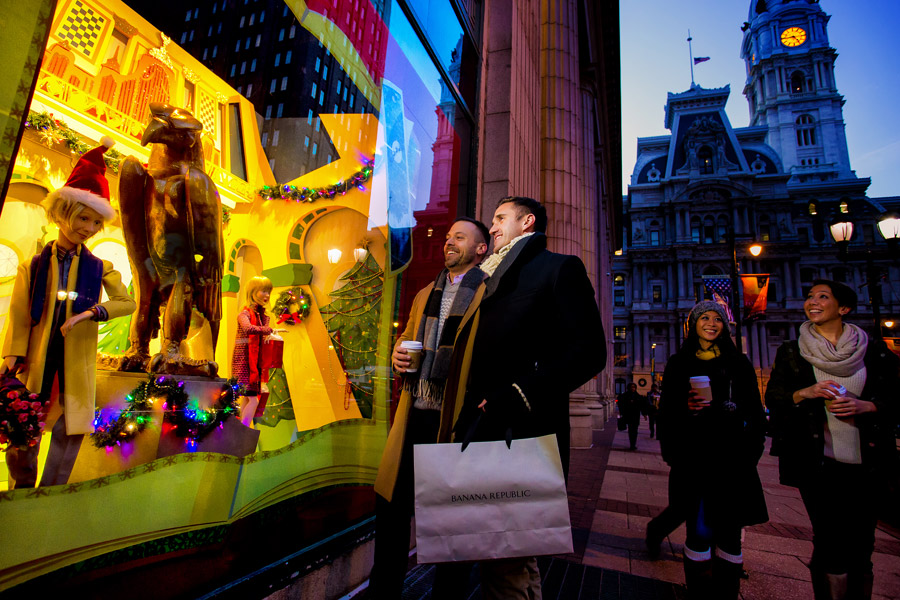 Macy's Philadelphia is on of the city's most popular holiday destinations with its holiday window displays, Dickens' Village, long-running Christmas Light Show and, of course, fantastic shopping. (Photo by J. Fusco for Visit Philadelphia)
Nordstrom Rack
Heavily discounted designer fashion awaits at the 39,000-square-foot home of Nordstrom Rack on Chestnut Street. Here, you'll find many of the top fashions and labels available at Nordstrom, but with prices 30- to 70-percent off.
Uniqlo
International clothing retailer Uniqlo opened an outpost on Chestnut Street in Center City in the fall of 2014, bringing high-quality casual wear and crisp denim to Philadelphia. The sprawling three-story Philly location tops 29,000 square feet of shopping space, with notable nooks for the special +J Collection, a collaboration with designer Jil Sander and a museum corner on the ground floor dedicated to the SPRZ NY collection, a collaboration with the Museum of Modern Art (MOMA).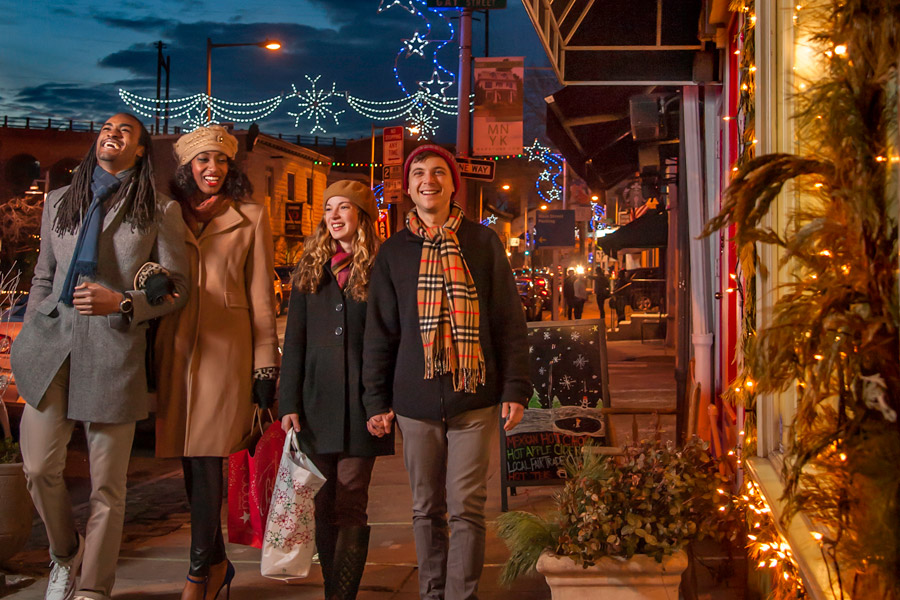 Bundle up and explore the charming main streets and boutique shops of Philadelphia and the Countryside this holiday season. (Photo by J. Fusco for Visit Philadelphia)
Shopping in the Neighborhoods and Main Streets
Rittenhouse Row
One of the nation's most exclusive shopping neighborhoods, Rittenhouse Row is brimming with art galleries, haute couture boutiques, national retailers, specialty shops, luxurious spas and salons, restaurants and cafés. Whether you're looking for a bargain, a bauble or a baguette, you'll find it here.
Midtown Village
Philadelphia's Midtown Village neighborhood is home to fantastic shopping, including vintage goods along Antique Row and the popular stretch of 13th Street from Locust to Chestnut streets where, among some of the city's best restaurants and nightspots, shoppers find some of the city's best gifts and shops — many of which are open late to accommodate last-minute purchases.
University City
In addition to its renowned educational institutions, the University of Pennsylvania and Drexel University, University City is a bustling neighborhood with top shopping, fantastic dining and an artistic community spirit.
Northern Liberties
Just north of Old City, this burgeoning neighborhood mixes artist-pioneers with modern apartment-dwelling professionals. Northern Liberites, affectionately known as "NoLibs", is rich in taprooms, bring-your-own-bottle (BYOB) restaurants and retail, centering on North 2nd Street.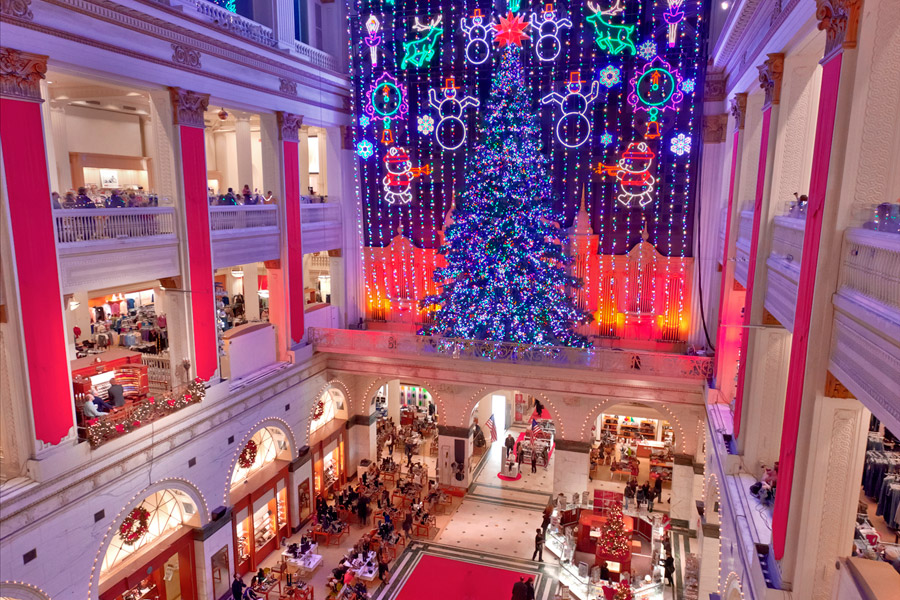 Macy's is one of the most popular shopping destinations with holiday deals and the long-running Christmas Light Show in the Grand Court. (Photo by G. Widman for Visit Philadelphia).
East Passyunk
Stretching diagonally between South Street and South Broad Street, East Passyunk Avenue in South Philly is where well-established Italian-American heritage meets contemporary style. A stroll down Passyunk Ave. will lead you to eclectic boutiques, coffee shops, vintage clothing stores, gastropubs, excellent Italian eateries that first made this street famous — not to mention the two cheesesteak rivals, Pat's King of Steaks and Geno's Steaks.
Old City
Ben Franklin's former neighborhood is also home to the Liberty Bell, Independence Hall, Christ Church, Elfreth's Alley and more. While featuring a wealth of history, Old City also is rich in retail. The shopping heart of the area is found on 2nd and 3rd Streets, from Market to Race Streets, where converted industrial buildings cater to a fashion- and design-forward clientele.
South Street
Long known as the edgiest street in Philadelphia, South Street is one of the city's most diverse shopping corridors. Shoppers searching for a statement-making look, visitors hungry for a real Philly cheesesteak and music lovers who want to catch an up-and-coming band all can be found on to the storied street.
Chestnut Hill
The holidays are a special time of year in historic Chestnut Hill, where block after block of storefronts sparkle with holiday lights and carolers and brass band ensembles warm the night air for a perfect holiday shopping experience. Don't miss the Stag and Doe nights on select Wednesdays in December, where the shops extend their hours and offer snacks and mulled cider to warm you up.
Main Street Manayunk
Main Street Manayunk is an ideal destination for the one-stop holiday shopper. During the holidays, charming boutiques, gift shops and upscale chains share real estate with seasonal arts and crafts vendors, making it possible to shop for everyone on your list.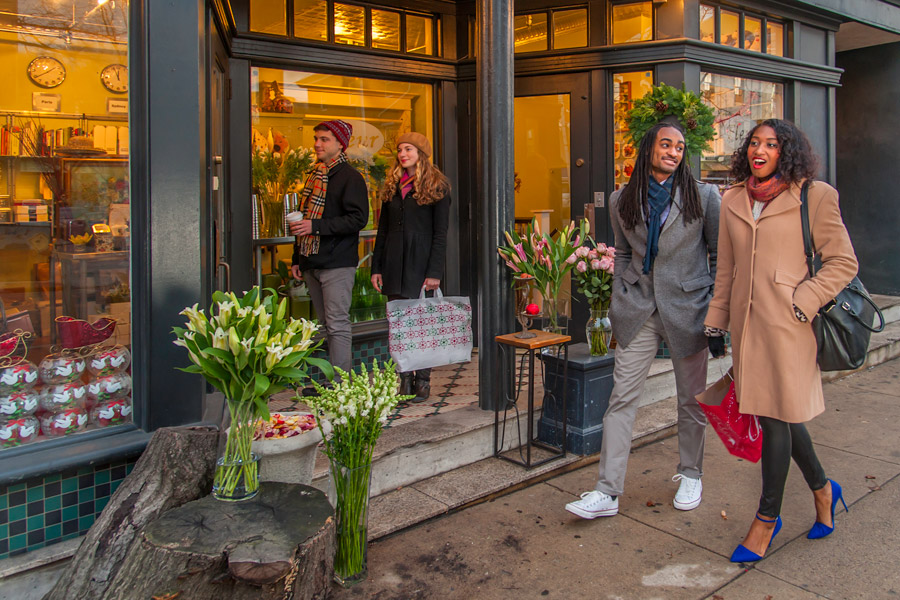 Wander down Main Street Manayunk for boutique shops, seasonal events and fantastic restaurants perfect for a break as you search for the perfect gift. (Photo by J. Fusco for Visit Philadelphia)
Kennett Square
Known as the Mushroom Capital of the World, Kennett Square also offers plenty of window shopping and fantastic cuisine. Wander down State Street for crafts, specialty shops and mushroom-related gifts. You'd be remiss to pass up the dining scene, which features highly rated restaurants including Talula's Table, one of the most sought-after dinner reservations in the region.
New Hope
Nestled along the Delaware River, New Hope is a quaint, creative community just one hour from downtown Philadelphia. Walk the charming streets for local arts and crafts, boutique shops and antique dealers. After a day of shopping, choose from one of New Hope's many restaurants and enjoy the town's vibrant nightlife.
Wayne
Located on Philadelphia's Main Line, Wayne is easily accessible by train or by car, making it an easy day-trip for holiday shopping. The business district features locally-owned shops, art galleries and a historic movie theater. Wayne's Restaurant Row features fantastic dining with comforting cuisine from around the globe.
West Chester
The tree-lined main streets of West Chester are home to higher education, delicious local eateries and more than 120 shops and boutiques. Throughout the holiday season, enjoy special events and activities during the town's Old-Fashioned Christmas celebration as you browse a wide variety of upscale and affordable storefronts.