10 Awesome Things to Eat
at Reading Terminal Market
in Philadelphia
Great eats at one of the best public markets in the U.S.
Reading Terminal Market is a must visit on any trip to Philadelphia.
Beloved by locals and tourists alike, this historic indoor market features more than 80 vendors offering an astonishing variety of food, with some vendors operating in much the same way that they did when the market opened in 1892.
The globally inspired food — available for breakfast, lunch, dinner and dessert as well as for snacking — is the main draw, while butchers, bakers, chocolatiers, cheesemongers and produce vendors offer food, ingredients and goods for sale.
From scrapple and samosas to soul food and smoothies, Reading Terminal Market is such a fantastic place to eat that it can be tough to choose what to get. So here are 10 of our favorite things to eat at the nation's oldest continuously operating farmers' market.
Roast Pork Sandwich at DiNic's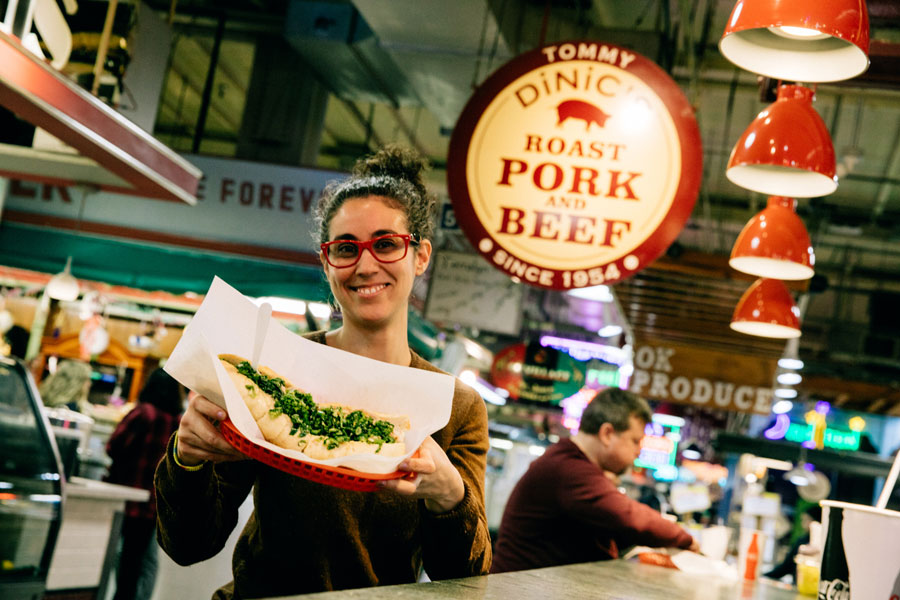 Feast on one of the Travel Channel's "Best Sandwiches in America" at DiNic's. (N. Santos for Visit Philadelphia)
While there are delicious cheesesteaks at Reading Terminal Market, the best bet for sandwich lovers is DiNic's roast pork Italiano, voted "Best Sandwich in America" by the Travel Channel. The fourth-generation shop builds its sandwich with thinly sliced, juicy roast pork, lining the long roll with sliced sharp provolone and topping it with bright green chopped broccoli rabe. If you like spice, opt for grilled longhots — long green chili peppers — as well. The spot's popularity can mean long lines, but it's worth the wait.
Beiler's Doughnuts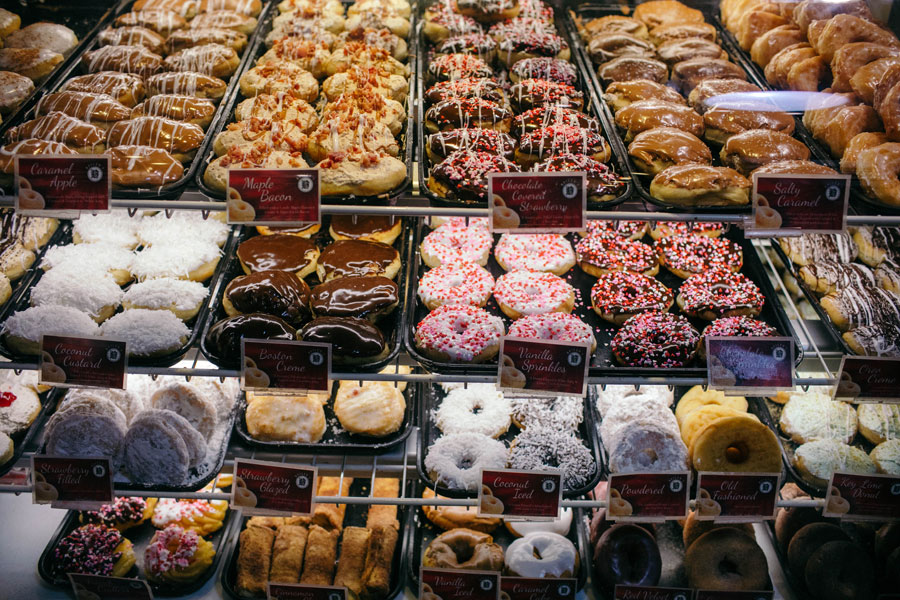 There's no way to choose the perfect doughnut at Beiler's. (N. Santos for Visit Philadelphia)
Good luck narrowing it down to a dozen tender, yeast-risen doughnuts at Beiler's. Will it be the Blueberry Fritter or the Mocha Cream? The Coconut Custard or the Salted Caramel? Whether you choose to go for classics like apple cider doughnuts or go crazy with Fruity Pebbles-spangled treats, Beiler's is one sweet spot truly not to miss.
Apple Dumplings at Dutch Eating Place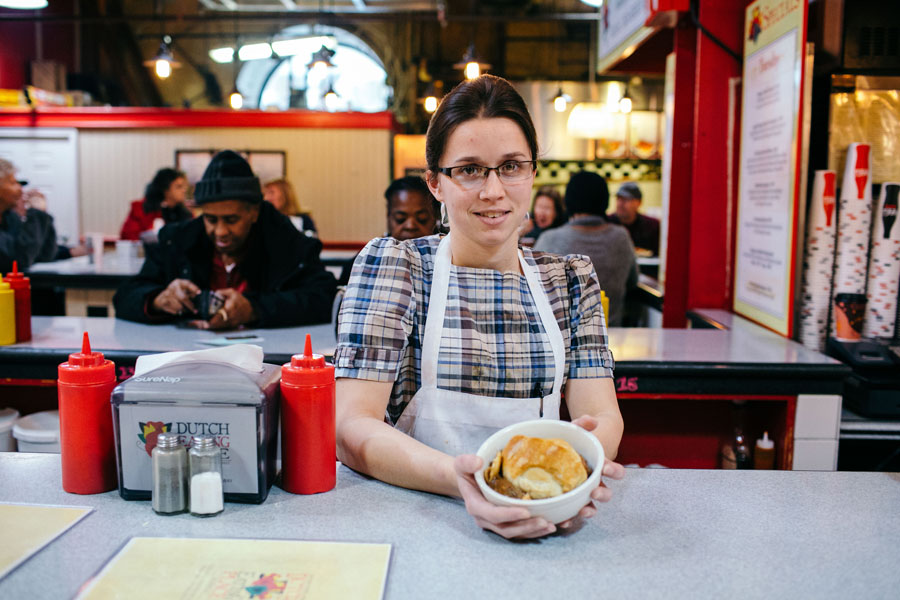 Grab the famous apple dumplings at the Dutch Eating Place. (N. Santos for Visit Philadelphia)
Dutch Eating Place, a charming diner run by Amish and Mennonite families, is best known for its apple dumplings, made by peeling and coring whole apples, coating them in a sugar cinnamon mixture and wrapping them in pastry. As the dumplings bake, the fruit slumps into custardy-goodness in the pastry shell. Traditionally served warm with cream poured over, the dumplings make a fantastic dessert to go — especially if you also pick up some ice cream from Bassets.
Soft Pretzel at Miller's Twist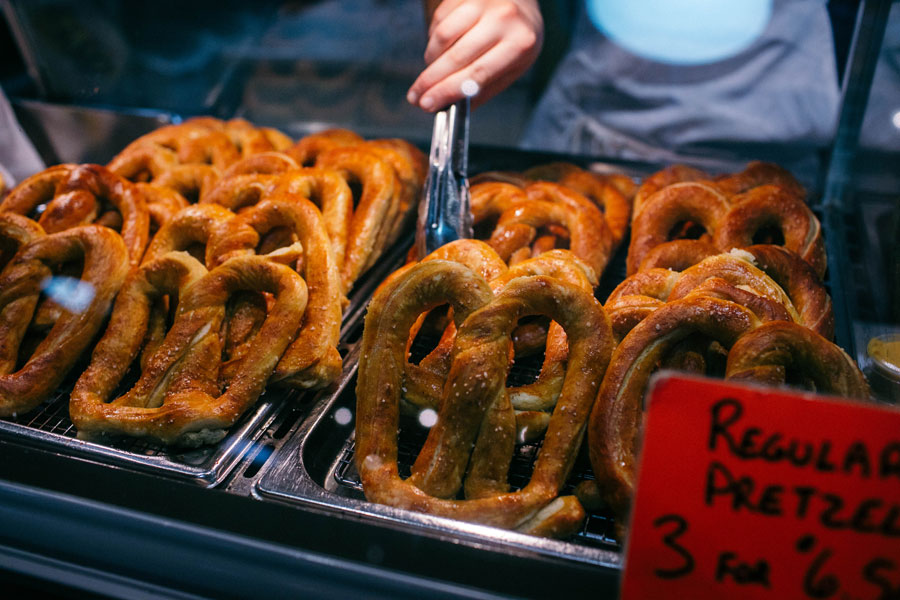 Try authentic hand-rolled Amish-made pretzels at Miller's Twist. (N. Santos for Visit Philadelphia)
Unlike a traditional Philadelphia soft pretzel, the Amish-made pretzels at Miller's Twist are hand rolled from fresh dough, brushed with butter and served slightly warm. Even better? In the mornings, Miller's makes a breakfast pretzel stuffed with scrambled egg, cheese and your choice of bacon, sausage or ham. It's one of the most satisfying and portable breakfast items at the market.
Whoopie Pies at Flying Monkey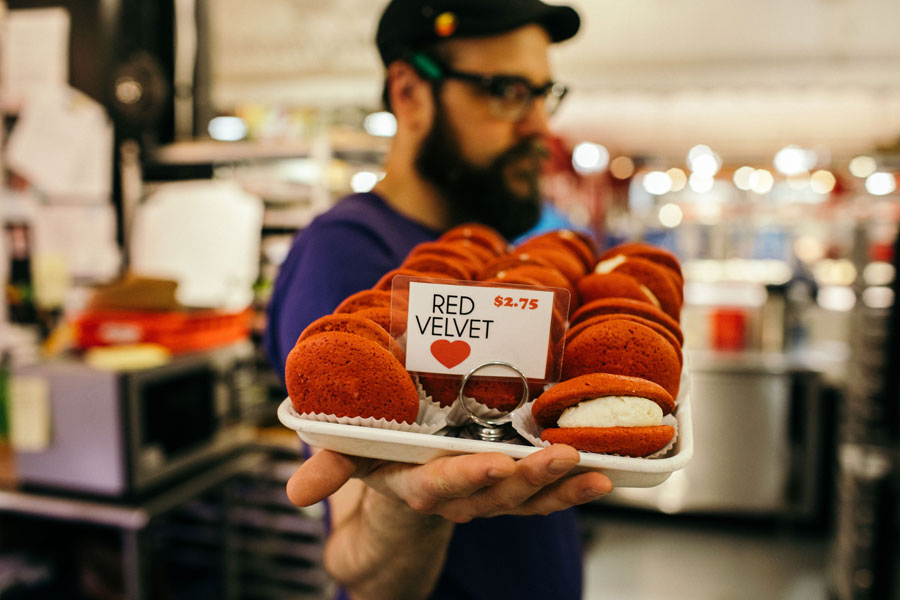 A trip to the Flying Monkey bakery is a must for fans of whoopie pies. (N. Santos for Visit Philadelphia)
There are plenty of whoopie pies at the market's bakeries, but nobody makes this regional treat quite like whimsical bakery Flying Monkey. The traditional whoopie is two circles of cake — typically chocolate — filled with a fluffy white frosting, but Flying Monkey offers a variety of tasty creative pies like Cookies 'n Cream, Lemon Lavender, Strawberries & Cream, FlufferNutter, Coconut, and Chai. Tip: Spring for the set of six flavors to try one of each.
Mint-Lemon-Rosewater Lemonada at Kamal's Middle Eastern Specialties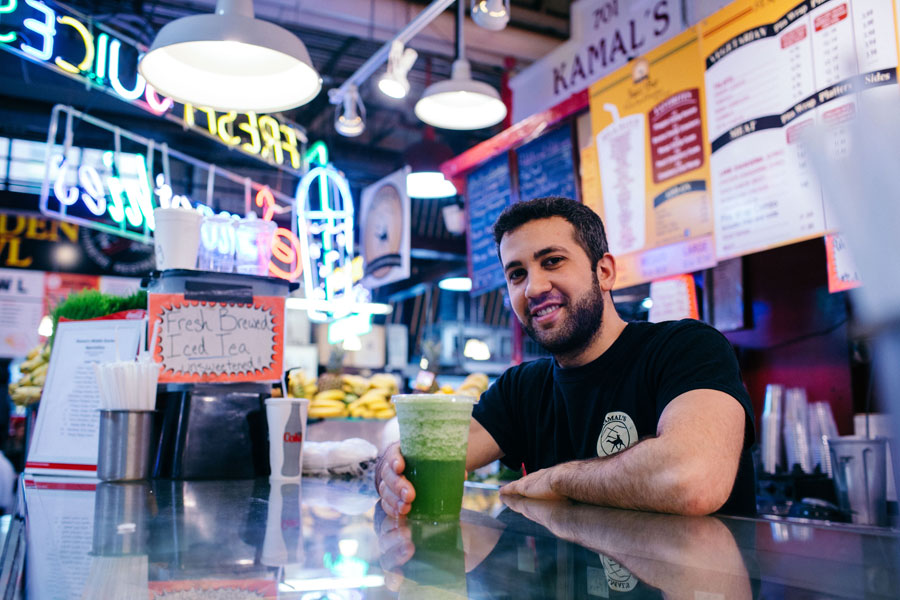 The lemonadas at Kamal's are the perfect complement a great meal. (N. Santos for Visit Philadelphia)
A go-to vegetarian pick, Kamal's Middle Eastern Specialties has offered falafel, baba ganouj, homous, eggplant stew and spinach feta pies since 1981. A hidden gem, though, is the family's lemonada, made with fresh lemon juice and mint blended together with a hint of rosewater. The resulting sweet-tart drink is bright green and supremely refreshing, and makes the perfect accompaniment to a plate of shawarma — or pretty much any other meal at the market.
more about Kamal's Middle Eastern Specialties
Birchrun Blue Cheese at Fair Food Farmstand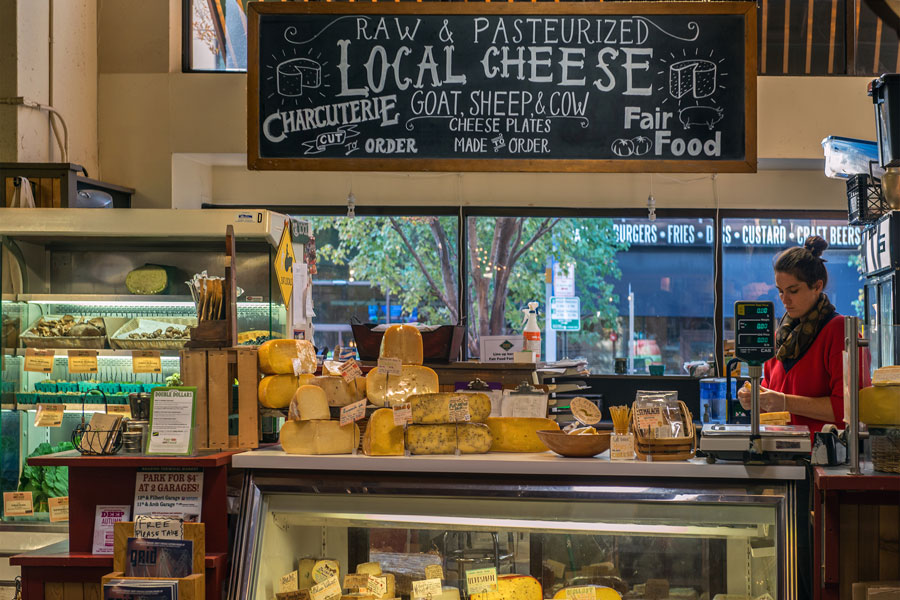 Find an assortment of locally produced food and delicious cheeses at Fair Food Farmstand. (R. Kennedy for Visit Philadelphia)
The Fair Food Farmstand is a treasure trove of locally produced food all made and grown within a few hundred miles of the market, and its only-local cheese counter offers an impressive selection of snackable goods. Our pick: a wedge of Birchrun Blue from Birchrun Hills Farm in Chester County, Pennsylvania. This creamy blue cheese is the perfect foundation for a picnic alongside local honey or preserves, seasonal berries or cherry tomatoes and a baguette from one of the market's bakeries.
more about the fair food farmstand
Roast Duck & Roasted Pork Noodle Platter at Sang Kee Peking Duck House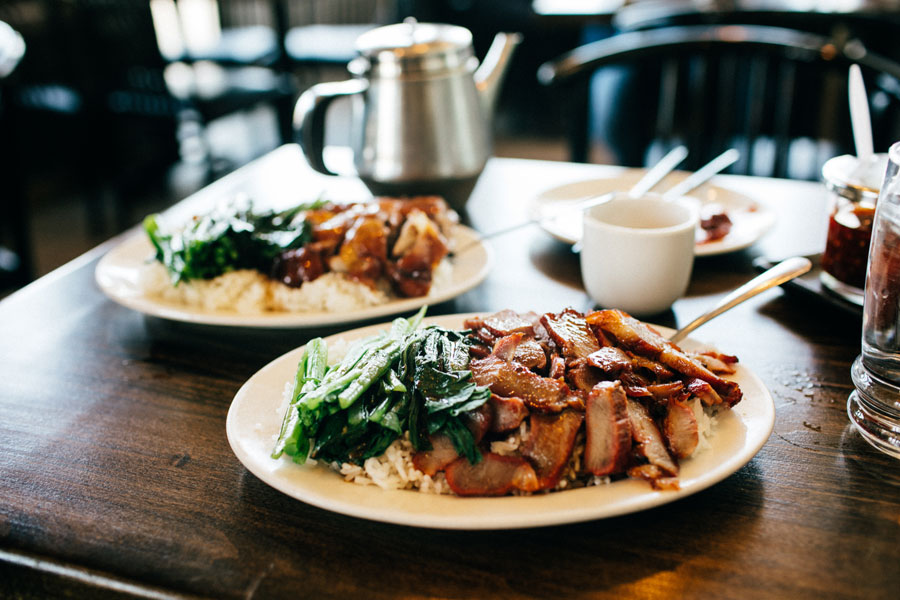 Sang Kee's delicious Peking duck is one of the most popular dishes at the market. (R. Kennedy for Visit Philadelphia)
At Sang Kee, where gorgeously burnished Peking duck and roast pork hangs on display, it's difficult to choose between the two. Thankfully, you don't have to. Pick number seven on the menu to get Peking duck with crisp skin and deeply flavored roast pork atop rice with tender, bright green baby bok choy. Pro tip? Swap out the rice for noodles.
more about sang kee peking duck house
The Train Wreck Po' Boy at Beck's Cajun Cafe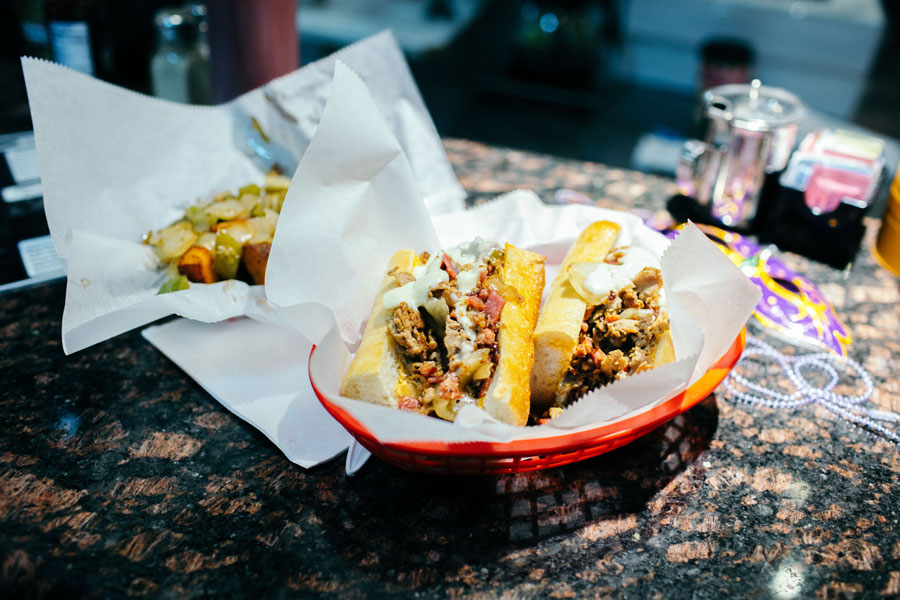 Beck's brings New Orleans to Philly with The Train Wreck Po' Boy. (N. Santos for Visit Philadelphia)
From beignets to boudin, Beck's Cajun Cafe represents the Big Easy in Philly. Though the muffuletta is a solid showing, the true more-is-more sandwich at Beck's is the Train Wreck Po' Boy. Stuffed with andouille, steak, salami, cheese and onion, it's a major meal in sandwich form.
Scrapple at Down Home Diner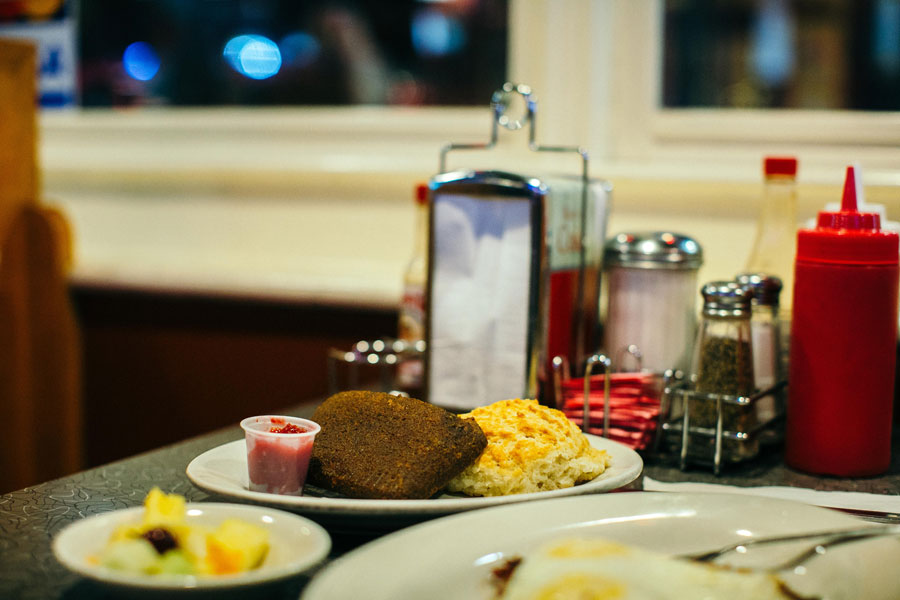 The Down Home Diner a great spot to try one of Philly's favorite breakfast foods. (N. Santos for Visit Philadelphia)
Grab a seat at Down Home Diner — one of the few spots in the market with plenty of dedicated seating — and order some scrapple. This regional favorite is essentially a pork paté thickened with either cornmeal or buckwheat. The version at the diner is fragrant with black pepper, and slices of it are served deeply browned — a perfect foil to a platter of scrambled eggs and toast. Try it sweet with maple syrup or savory with ketchup.
---