Christmas Eve and Christmas Day Dinners at Philadelphia Restaurants for 2016
Let the region's top chefs do the cooking this holiday season
The holiday season is full of gift wrapping, cocktail parties, cookie swaps, tree cutting and nights of home decorating. Save some energy with a relaxed Christmas Eve or Christmas Day dinner prepared for you by some of the city's finest chefs and cooks.
This year, Philly eateries are offering a number of delightful dining options, including prix-fixe dinners, buffet spreads and a la carte options. Seven Fishes dinners, the once-obscure Italian traditional seafood feast, will also be available at a number of local restaurants in 2016.
Read on for our picks of some of the great restaurant meals that can be enjoyed, fuss-free, on Christmas Eve (December 24, 2016) and Christmas Day (December 25, 2016).
Feast of the Seven Fishes
Oyster House
The pan-seafood feast includes raw oysters, clams casino and spaghetti and crabs and ends with tiramisu. Served from 4 p.m. to 8 p.m., the meal costs $50 per person. Reservations encouraged.
Davio's
The Christmas bonanza — four courses, including spicy crab chowder and squid ink spaghettini with a mix of shellfish — starts at 5 p.m., with seatings until 11 p.m. Selections from the dessert cart top off the $65 repast.
Eatalia BYOB
In Port Richmond, it's BYO wine or prosecco and the opportunity to indulge in Italian-inspired seafood dishes.
Rarest
Rarest, a new restaurant at the aka Washington Square, serves a Feast of the Seven Fishes dinner on Christmas Eve — and on December 23, too. The menu features a range of seafood including clams casino, lobster crudo and grilled miso cod. The full meal is $60 per person, but select plates are available a la carte, too.
Fine Palate
The globetrotting cuisine at Center City's Fine Palate makes a stop in Italy for Christmas Eve. Count on (at least) seven fishes and homemade pasta.
Fork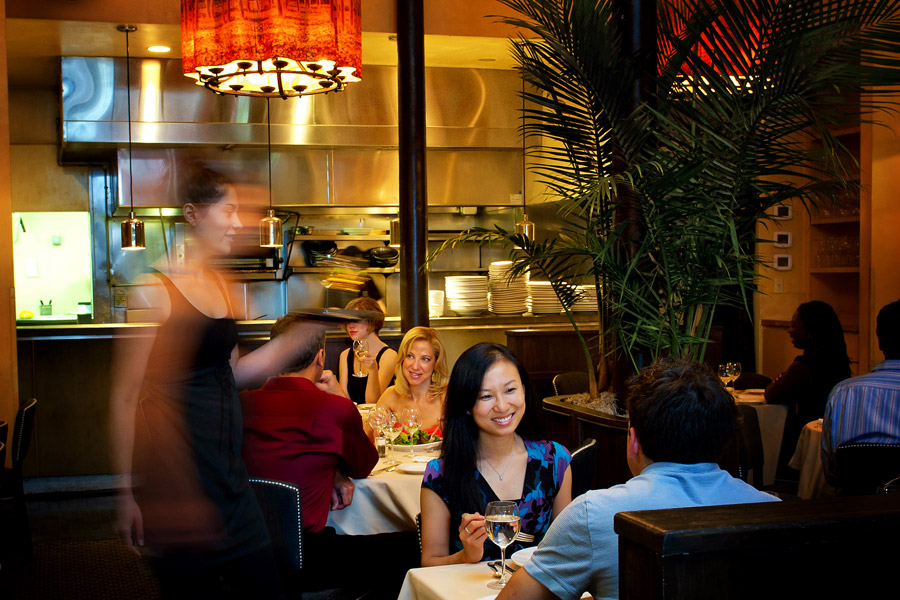 Feast on seven courses this Christmas Eve for under $100 per person at Fork. (J. Fusco for Visit Philadelphia)
The Christmas Eve banquet involves seven courses for $85 per person, and may include dishes such as red gnochetti with braised eel, grilled whole branzino and dandelion salad with sardines and pickled currants.
Teca
From noon to 8 p.m. on Christmas Eve, the Italian restaurant will offer a three-course fish-centric meal prepared by Chef Chris Scarduzio. The a la carte menu will also be available.
London Grill
London Grill always brings creativity to the Feast of the Seven Fishes, and this year, Chef McNally offers beignets of cod brandade, Korean barbecue octopus and foie gras steamed clams, among others.
Mamma Maria Ristorante Italiano
It's strictly old-school traditional cuisine at South Philly's Mamma Maria's Seven Fishes. Every guest samples baccala, salmon, calamari, flounder, smelts, clams and shrimp.
30 Main
Seven fishes are spread out over three courses so that diners can do the delicious math at Berwyn's 30 Main. The meal is $35 per person.
Prix-Fixe
Mary Cassatt Tea Room
The Teddy Bear Tea welcomes kids and their cuddly friends. The Christmas Eve edition ($60 per person) includes a child-friendly menu and a teddy to take home.
More on the Mary Cassatt Tea Room
Bank and Bourbon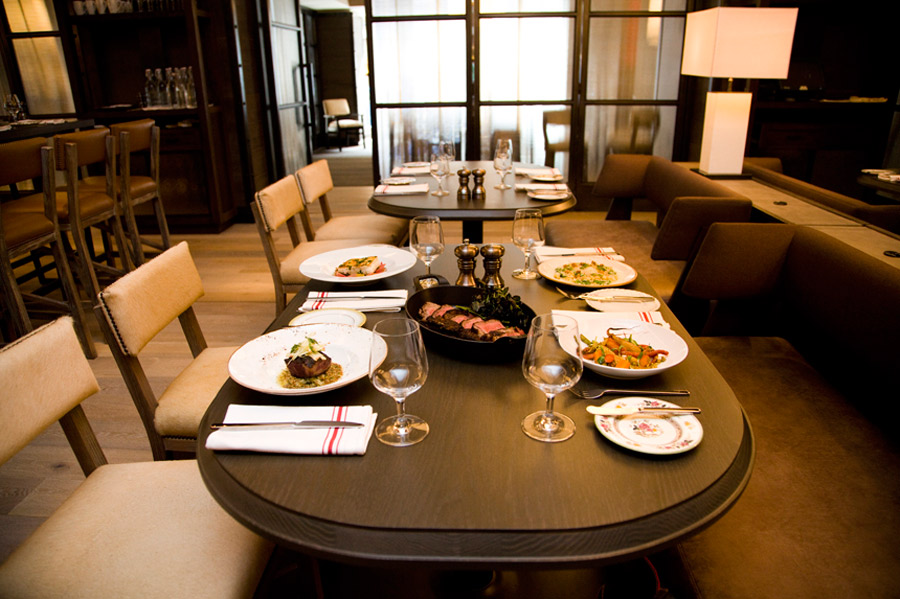 The three-course meal at the Loews Hotel is available on both Christmas Eve and Christmas Day. (M. Edlow for Visit Philadelphia)
Options for the three-course prix-fixe meal at the plush Loews Hotel restaurant include the signature "taste of ham" board, seared trout with parsnips and citrus brown butter, and gingerbread cranberry spiced cake. The menu runs through both Christmas Eve and Christmas Day.
Caribou Cafe
Fete Noel in grand French style with a four-course prix-fixe of classic fare for $50 per person.
Lacroix at The Rittenhouse
When Christmas Eve demands elegance, the fine dining restaurant in The Rittenhouse offers five courses of sumptuous flavors for $135 per person.
More on Lacroix at the Rittenhouse
Mission Taqueria
The family-style dinner spread brings Mexican flavors (tuna ceviche, roasted pork with mole verde; tamales) to the proceedings. Dinner is $35 per person.
City Tavern
The historic City Tavern offers a four-course holiday feast of traditional Christmas dishes like roasted leg of lamb, honey-roasted duckling, herb-crusted prime rib and more. In addition to food, the restaurant sets the festive mood with live music from a violinist and Irish harp player.
Paramour
On both Christmas Eve and Christmas Day, Paramour serves up a high-end four-course menu with dishes like caramelized salsify veloute, pine-smoked duck confit, cornbread stuffed lobster and bourbon pecan tart.
The Little Lion
The Little Lion celebrates Christmas Eve with a family-style dinner featuring prime rib, glazed ham, blackened catfish and kale pesto pasta. The menu doesn't stop there — additional items include macaroni and cheese, Brussels sprouts and roasted tomato soup. The meal costs $40 per person.
Paris Bistro
At Paris Bistro, diners can choose from Christmas Eve with a three-course prix fixe or the a la carte menu.
Red Owl Tavern
For something a little different, Chef Caitlin Mateo introduces a Chinatown Pop-Up inspired by the classic film "A Christmas Story," with dishes like General Tso's chicken, duck confit buns and shrimp dumplings.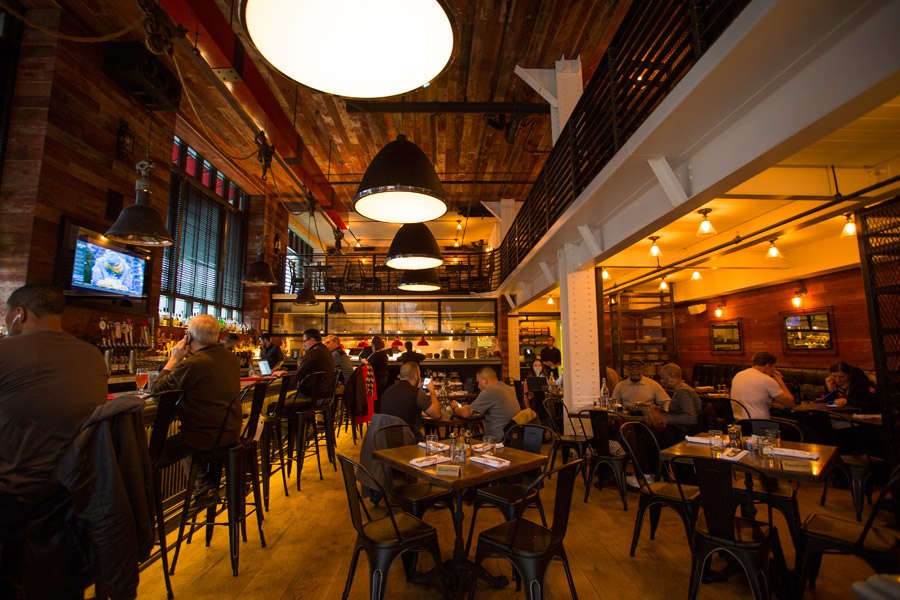 Enjoy a unique Christmas Eve dinner inspired by "A Christmas Story" at Red Owl Tavern. (M. Fischetti for Visit Philadelphia)
8th Annual Moo Shu Jew Show at Ocean Harbor Restaurant
December 24, 2016
While celebrants across the country gather on December 24 to deck the halls, going out to the movies and a Chinese meal has become a veritable Christmas tradition for Jewish revelers. Building off of that idea, comedian Cory Kahaney created The Moo Shu Jew Show, giving audiences a live alternative to Hollywood blockbusters and long waits for dim sum. This year's comedic lineup includes guests from The Late Show, Last Week Tonight with John Oliver and more.
More on Moo Shu Jew Show at Ocean Harbor Restaurant
A La Carte
Bridget Foy's
Catering to those who celebrate Christmas and those who don't, Bridget Foy's holiday menu encompasses seasonal specialties such as glazed ham and egg nog cheesecake in addition to smoked eggplant hummus and vegetable curry.
Cotaletta
The Belmont Hills newcomer will serve its daily rustic Italian menu along with some special Christmas highlights.
La Peg
La Peg at FringeArts opens its doors from 5 to 10 p.m. with it regular menu of contemporary brasserie fare in addition to a number of festive menu additions.
Moshulu
Open for dinner with a regular menu, Moshulu — located on the Delaware River in Philadelphia's Historic District — ensures that diners have a place to go on the holiday, along with a view.
Vernick Food and Drink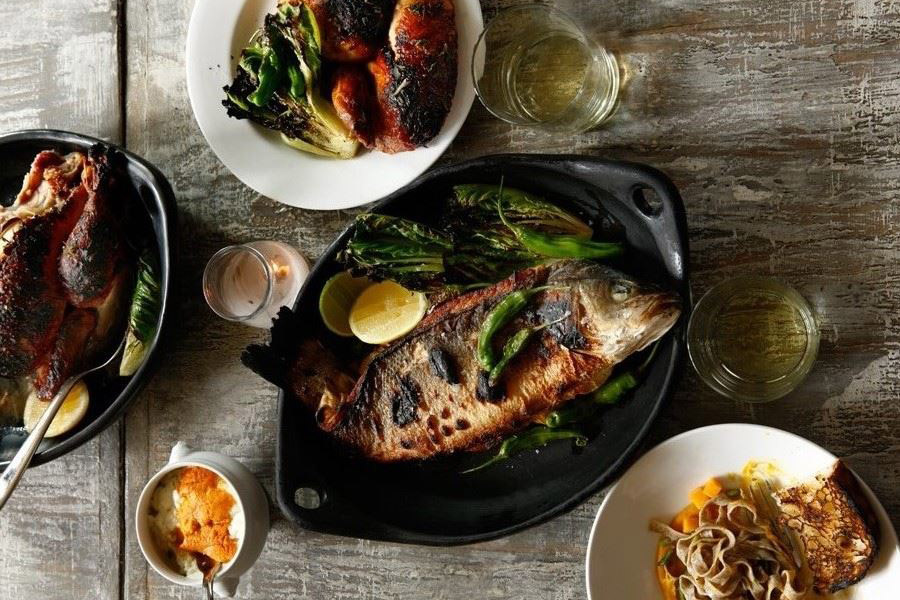 Vernick will be offering both its regular menu and some special holiday snacks this Christmas Day. (Photo courtesy Vernick Food and Drink)
No reason to mess with a good thing, and Vernick will offer its regular menu to guests on Christmas Eve, along with a few holiday-inspired specials.
More on Vernick Food and Drink
Autograph Brasserie
Wayne's seasonal American eatery serves up consistency to its fans on Christmas Eve with the regular menu of stylish fare.
Buffet
Fogo de Chao
There's no choosing between ham or turkey at this Brazilian grill, where all fire-roasted meats, seasonal beef, vegetables, sides and sweet potato casserole are included in the buffet ($52.95; children are half price) available on both Christmas Eve and Christmas Day.
Chima
December 24-25, 2016
The rodizio-style all-you-can-eat continues apace during the holidays on both Christmas Eve and Christmas Day.
Square 1682
The Hotel Palomar restaurant offers all-day dining on Christmas Eve and a brand-new large plate menu for Christmas Day dinner, with sharable dishes for $90 along with a la carte options and tiered wine specials.
Bistrot la Minette
Through December 30, Bistrot la Minette serves up a traditional French feast in celebration of the holiday season. Every night through December 30 — including Christmas Eve and Christmas Day — enjoy a five-course traditional French Christmas dinner for $65 per person.
A La Carte
La Fontana Della Citta
The regular menu of red-sauce Italian favorites — including homemade pastas — will be available on Christmas Day.
More on La Fontana Della Citta
Urban Farmer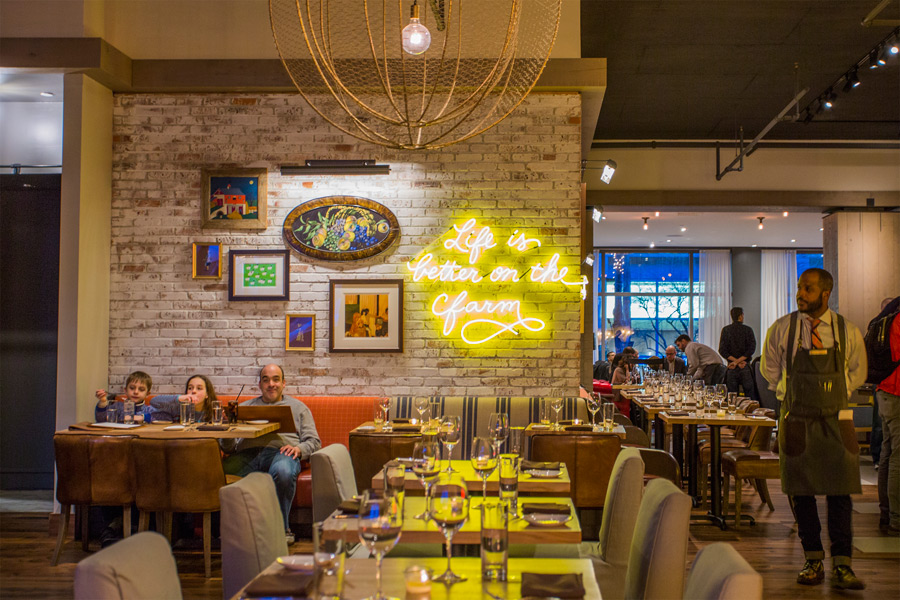 Enjoy festive additions at Urban Farmer at the Logan Hotel. (Photo by M. Fischetti for Visit Philadelphia)
Dinner is served at Urban Farmer on Christmas Day (and Christmas Eve!). The restaurant will offer its regular farm-to-table menu in addition to a range of festive additions like prime rib, scallops, Atlantic cod and more.
Heritage
For a more casual dinner on Christmas or Christmas Eve, visit Heritage on 2nd Street in Northern Liberties. The popular haunt serves its bar menu for the holiday season with an emphasis on its Nashville-style hot pork sandwich and classic burger.
McCormick & Schmick's
Serving the classic menu of seafood, steaks and many flavored mashes, McCormick and Schmick's keeps the holidays simple and comforting.
Morton's The Steakhouse
Morton's stays focused on steak and its accompaniments through the yuletide and beyond.
Buffet
Lacroix
The Christmas brunch buffet overfloweth with luxuriant eats at the Rittenhouse Hotel. $105 per person.
The Little Lion
On Christmas night, The Little Lion celebrates with a Southern-inspired buffet featuring items like prime rib, braised short rib, oysters, fried chicken and more. The buffet costs $45 per person.
---