It's Always Sunny in Philadelphia: The Itinerary
Get to Know the City that Sets the Scene for the Hit TV Show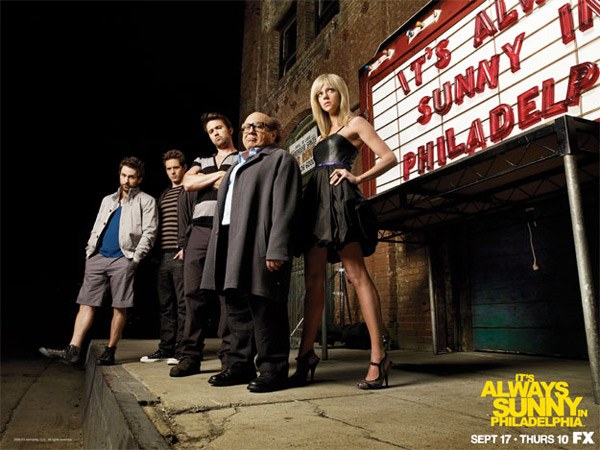 LOCATION: Center City and South Philadelphia

TRANSPORTATION: On foot, by taxi or car
DURATION: Two nights and two days

When the ego-driven characters of It's Always Sunny in Philadelphia aren't arguing and scheming in Paddy's Pub, they're creating scenes all over the city of Philadelphia.
Explore the city where The Gang — Charlie, Sweet Dee, Dennis, Mac and Frank — have done everything from cracking the Liberty Bell to running the Philadelphia Museum of Art steps Rocky Balboa-style.
NIGHT ONE:
Humor is the foundation of It's Always Sunny in Philadelphia . So after checking into your hotel, start the weekend off laughing at the Laff House. While Sweet Dee may not have been a successful stand-up comic at this comedy club on the legendary South Street (video clip), you can check out great national acts along with Philly's finest — and funniest — comedians while munching on casual bar eats and sampling a wide selection of bottled beer.
The Laff House fills up quickly, so book your tickets in advance. After the show, check out the indie shops, tattoo parlors, energetic nightlife and interesting characters along South Street, a people-watching paradise.
Then swing around the corner to 5th and Bainbridge to see where Dennis, Charlie and Frank, posing as cops, bust a jaywalker (video clip).
Clip One: The Laff House
DAY ONE:
The Gang frequently spies, plots, eats and argues all around the famed Italian Market. Peruse the outdoor market full of juicy fruits, succulent meats, baked goodies, Italian cheeses and fresh vegetables — just don't try to return an already eaten piece of fruit like Mac does for Charlie in the upcoming season.
After you've taken in the sights and smells, treat yourself to homemade gelato and a signature panini from one of The Gang's best-loved eateries, Anthony's Italian Coffee House. Grab their favorite table right out front and fuel up with the spot's award-winning espresso. Then, test your skills or enjoy the action from the sidelines at the Palumbo Recreation Center basketball court, just a short walk down the street, where Mac, Dennis and Charlie play ball (video Clip).

With Italian coffee and adrenaline rushing through your veins, you're ready to have fun like a kid in a toy store (not like the grumpy kid whom Charlie believes to be his son in season one). Take your energy and inner-kid to Dave & Buster's on the Delaware River waterfront. Play your way through the Million Dollar Midway, a refined arcade complete with Skee-Ball, Dance Dance Revolution, pinball machines and bar and lounge seating. Most games at this adult funhouse award points that add up to prizes at the end, which inspires Dennis and Mac to create "Paddy's Dollars" in season five.
Clip Two: Palumbo Playground
NIGHT TWO:
Since The Gang spends most of their time at dive bar Paddy's Pub, a night on the town Always Sunny-style isn't complete without a pub—or four. Start off at Mac's Tavern, a bar actually owned by Mac and Sweet Dee (Rob McElhenney and Kaitlin Olsen) that features 17 beers on tap, gastropub fare, a jukebox and occasional acoustic musical talent.
Then make your way to Dirty Frank's, a Center City watering hole with a waitress who, according to Charlie, had previously dated Sweet Dee's thieving boyfriend. With murals of famous guys named Frank (Zappa, Sinatra) on the outside and no sign, Frank's is the perfect off-the-radar place to share a pitcher, play a few songs on the juke box and throw some darts before the 10:00 p.m. crowd piles in.
Now that you're warmed up, head to the den-like 12 Steps Down, one of Philly's favorite basement dives in the Italian Market. The knowledgeable staff can help you choose the perfect pint from the extensive seasonal beer list, focusing on local flavors and microbrews. Then, get your last call at the East Side Saloon, a no-frills South Philly bar where The Gang's been known to stop inside and argue outside.
Dive bars not your scene? Sweet Dee, Artemis and The Waitress act like the gals from Sex and the City at Bleu Martini (video clip), where you can dance, sip perfectly mixed cocktails and sample inventive Asian-fusion fare. The Old City hotspot offers more than 30 different martinis, bottle service and an upbeat VIP atmosphere.
Even though Sweet Dee tried to steal stylish heels for her nighttime outfit (video clip), you can buy your dancing shoes from nearby Sugarcube, an indie boutique that sells vintage and contemporary fashions to the effortlessly hip crowd. 
Clip Three: Philadelphia Java Company
DAY TWO:
Rise and shine with La Colombe coffee or soy latte, a bagel and free Wi-Fi at Philadelphia Java Company. Stay inside, where Charlie frequently sits to admire The Waitress (video clip), or enjoy the view outside — you're just a half-block away from the liveliness of South Street.
Now it's time to experience Philadelphia's historic treasures like The Gang — well, maybe not exactly like them. Your first stop is City Hall, where Sweet Dee played sassy Latino reporter character Martina Martinez (video clip) and where Philly sports icon Green Man puts Dee in a world of pain. Run across the street to the plaza outside of the Municipal Services Building and high five the statue of former Mayor Rizzo like Charlie did.
While you're there, check out other modern sculptures like Your Move, depicting oversized chess, domino and other playing pieces. Walk to the other side of City Hall to Love Park, named for Robert Indiana's iconic Love statue, where a super-patriotic Charlie gets heated at an anti-smoking rally.
Speaking of love, the characters of It's Always Sunny in Philadelphia do crazy things in the name of romance. Head over to the Philadelphia Museum of Art and run up the steps just as Mac and Carmen did on their happy-go-lucky, Rocky-inspired date. Once you finish your celebratory dance at the top, step inside and experience one of the greatest art museums in the world.
Then, get cozy over brunch at nearby Jack's Firehouse or Sabrina's Café, and finish your Always Sunny trip to Philadelphia with a leisurely walk through Rittenhouse Square, where Mac and Dennis try to educate Charlie on world affairs (video clip), or along Boathouse Row, featured in the beginning montage of each episode, to enjoy one of the best views in the city.
Clip Four: City Hall
Below is a list of attractions mentioned in the itinerary above.
ADDRESS BOOK:
Philadelphia Museum of Art
26th Street & the Benjamin Franklin Parkway
(215) 763-8100, philamuseum.org
Laff House
221 South Street
(215) 440-4242, laffhouse.com
Italian Market
9th Street between Wharton & Fitzwater Streets
9thstreetitalianmarket.com
Anthony's Italian Coffee House
903 S. 9th Street
(215) 627-2586, anastasiocoffee.com
Palumbo Recreation Center
10th Street between Fitzwater & Bainbridge Streets
(215) 686-1783, bvtw.org/palumbo-recreation.html
Dave & Buster's
325 N. Columbus Boulevard
(215) 413-1951, daveandbusters.com
Dirty Frank's
13th & Pine Streets
(215) 732-5010
12 Steps Down
831 Christian Street
(215) 238-0379, 12stepsdown.com
East Side Saloon
1823 W. Moyamensing Avenue
(215) 467-2835
Bleu Martini
24 S. 2nd Street
(215) 940-7900, bleumartinionline.com
Sugarcube
124 N. 3rd Street
(215) 238-0825, sugarcube.us
Philadelphia Java Company
518 S. 4th Street
(215) 928-1811
City Hall
Broad & Market Streets
(215) 686-1776, phila.gov
Municipal Services Building
1401 John F. Kennedy Boulevard
(215) 564-8100, phila.gov
Love Park
15th Street & John F. Kennedy Boulevard
fairmountpark.org/jfkplaza.asp
Jack's Firehouse
2130 Fairmount Avenue
(215) 232-9000, jacksfirehouse.com
Sabrina's Cafe
1804 Callowhill Street
(215) 636-9061, sabrinascafe.com
Boathouse Row
Along Kelly Drive
schuylkillbanks.org
Advertisement:
Advertisement:
Find us on Facebook