The 10 Most Essential Things To Do
On Your (First) Visit to Philly
The can't-miss experiences in the first World Heritage City in the U.S.
There's never a shortage of awesome things to do in Philadelphia— but there are some things you just can't miss while you're here.
Whether it's running like Rocky, refueling with a cheesesteak and then wandering along Boathouse Row, or touring Independence Hall, devouring a roast pork sandwich at Reading Terminal Market and then visiting an amazing museum on the Benjamin Franklin Parkway, these are the experiences that make our city stand out among the rest.
Read on for the 10 most essential experiences to be had in the City of Brotherly Love.
Pose with the Rocky Statue & run up the "Rocky Steps."
One of the most famous running routes, ending with cityscape views
Since Rocky's triumphant run, the steps of the
Philadelphia Museum of Art
have become an international destination. Travelers from around the world embark on their own jog up the stairs, pumping their fists in the air as they cherish the spectacular view. To finish off the experience, head to the bottom of the stairs and snap a photo with the bronze statue of Rocky, originally created for
Rocky III
.
View on Map
Read More
Snap a photo in front of the Liberty Bell.
The internationally known symbol of freedom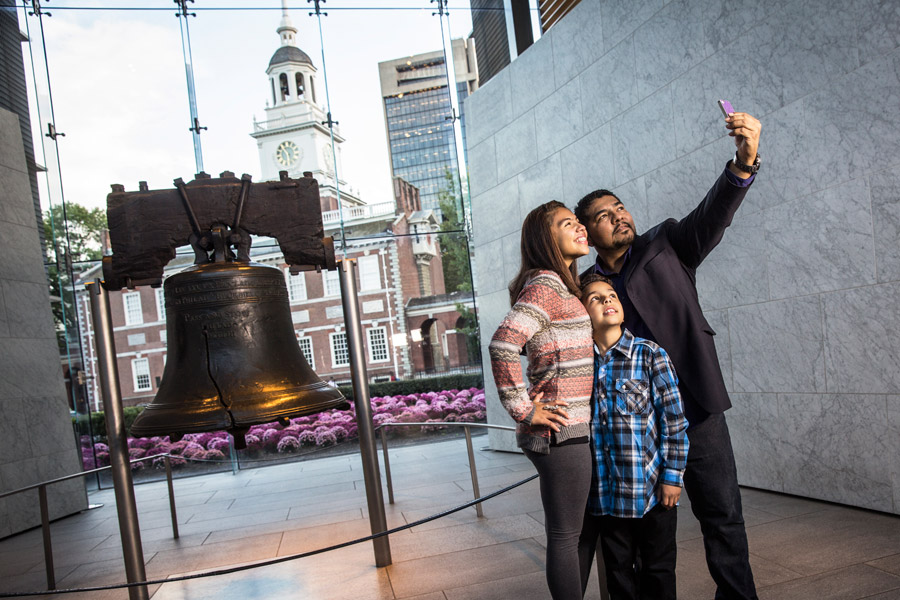 CREDIT: D. Cruz for Visit Philadelphia
The Liberty Bell was originally used to call the Pennsylvania Assembly to meetings. It was later adopted by abolitionists, suffragists and Civil Rights advocates, making it a symbol used by many today. The bell, which is free to visit year-round, draws people from around the nation to snag a photo in front of the soaring glass walls overlooking Independence Hall.
View on Map
Read More
Enjoy an authentic Philly cheesesteak.
You have to eat one on your first visit to Philadelphia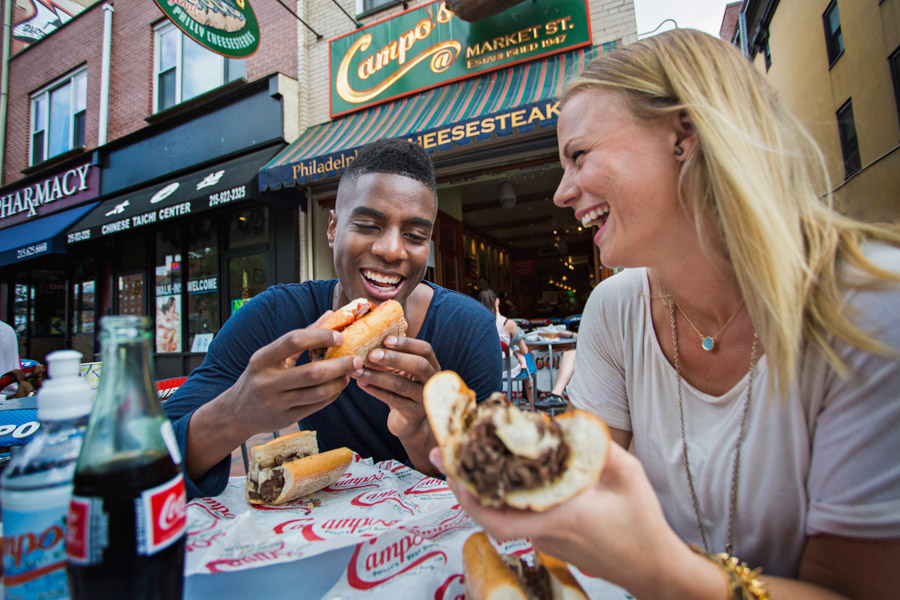 CREDIT: M. Fischetti for Visit Philadelphia
The Philly cheesesteak is inarguably the city's most famous food. These awesome sandwiches consist of chopped (or thinly sliced) steak and a choice of cheeses and/or fried onions on a hoagie roll. Those in the know order their cheesesteak with two words only: cheese selection (provolone, American or Whiz) and "wit" or "without" onions. The debate about which local spot cooks up the best sandwich may never end, but for an iconic Philly experience, locals visit the corner of South 9th Street and Passyunk Avenue, where rivals
Geno's Steaks
and
Pat's King of Steaks
feed the masses daily.
View on Map
Read More