Mother's Day in Philadelphia
Our guide to celebrating mom at the city's restaurants and attractions
Philadelphia has strong ties to Mother's Day as the annual holiday honoring motherhood was originally founded here by Anna Jarvis in 1908. Since gaining federal recognition in 1914, the May holiday has become a day celebrating the most special women in your life.
The city's restaurants and cultural institutions have embraced Mother's Day with special events, brunch buffets and more throughout the weekend.
Create treasured memories with an elegant brunch, a stroll through Longwood Gardens, a craft show on the waterfront and much more this Mother's Day.
Brunch, Lunch and Dinner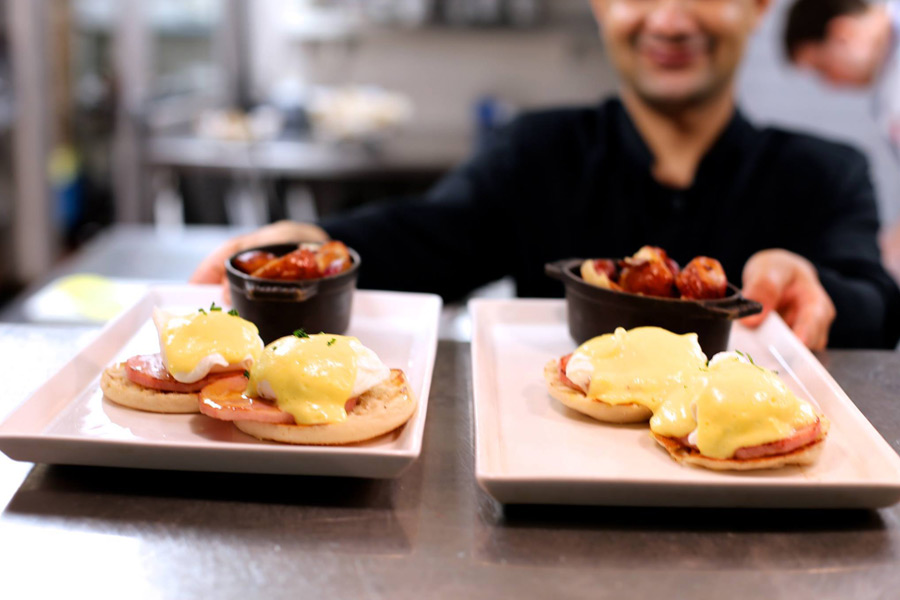 Enjoy traditional brunch favorites in an elegant setting this Mother's Day at Chez Colette in the Sofiel Hotel. (Photo courtesy the Sofitel Hotel)
Chez Colette at the Sofitel Hotel
Rittenhouse, 120 S. 17th Street, 215-569-8300
From 12:30 to 4 p.m., treat Mom to a decadent lunch buffet at Chez Colette at the Sofitel Hotel. For $65 per person, indulge in a meal of items from the raw bar, carving station, desserts and Bloody Mary bar. There's also a kids' table.
R2L
Details: 50 S. 16th Street, 215-564-5337
Treat mom to sweeping city views as R2L hosts both a Mother's Day brunch and dinner. From 11 a.m. to 2 p.m., feast on a $75 three-course brunch with first course buffet, mains like morel frittata and wild striped bass with gnocchi, and shared black forest cake or passion fruit crémeux for dessert. For dinner, indulge in a $75 three-course menu that includes lobster bisque, chicken with fava beans and braised short rib. Both meals are $25 for children under 12; all prices are excluding tax and gratuity.
Osteria
Details: 640 N. Broad Street, 215-763-0920
Visit Marc Vetri's rustic Italian restaurant and dine off the regular menu (veal tartare with ramps and fried egg; fontina, arugula and prosciutto pizza; duck agro dolce with fennel and pine nuts) from 4 p.m. to 10 p.m. Bonus: moms receive dessert on the house.
Paris Bistro
Details: 8229 Germantown Avenue, 215-242-6200
C'est tres formidable at Al Paris' French bistro on Mother's Day. A three-course prix fixe brunch for $29.95 covers Franco favorites at a great value.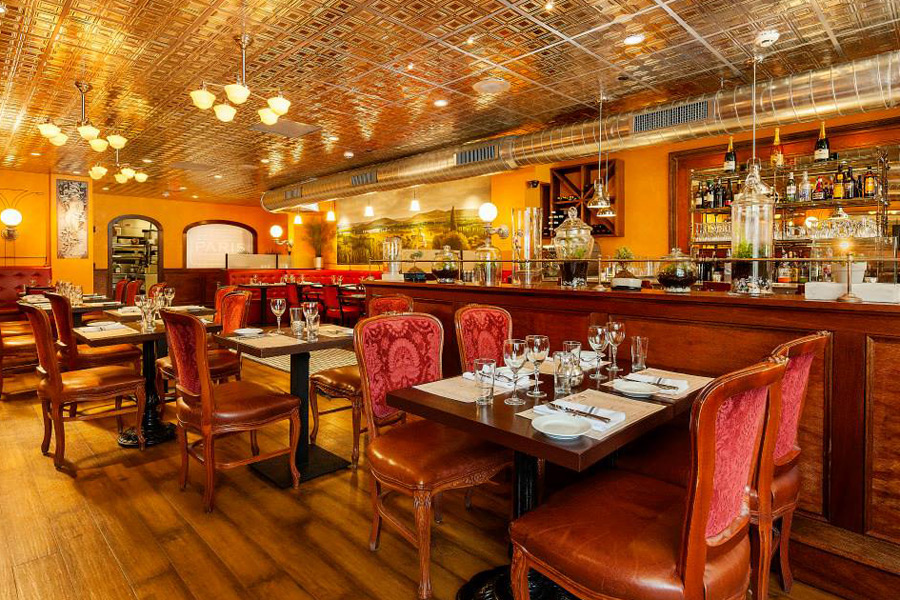 Transport mom to France via Chestnut Hill with a Parisian brunch at Paris Bistro. (Photo courtesy Paris Bistro)
Tinto
Details: 114 S. 20th Street, 215-665-9150
Moms and their companions can sample Jose Garces' Basque tapas, from rustic brochettes to delicate desserts over a four-course tasting menu, available from 4 p.m. to 6 p.m., for $50 a person.
Davio's
Details: 111 S. 17th Street, 215-563-4810 Davio's dishes out a three-course brunch and dinner with special additions to the regular menu and complimentary sparkling wine for $55 per person plus tax and gratuity.
Bistro St. Tropez
Details: 2400 Market Street, 4th Floor, 215-569-9269
Take Mom's taste buds on a trip to France at Bistro St. Tropez's Mother's Day brunch. Enjoy three courses of French menu items including a lobster, onion and goat cheese tart, filet mignon and crème brulée. Brunch rings in at $55 per person, plus tax and gratuity, and is available from 11 a.m. to 6 p.m.
Valanni
Details: 1229 Spruce Street, 215-790-9494
For $35, raise a glass to the woman who made you who you are today at Valanni's three-course Mother's Day brunch. Enjoy an array of fare including baked apple-stuffed French toast, butter-poached lobster omelet and raspberry and white chocolate bread pudding.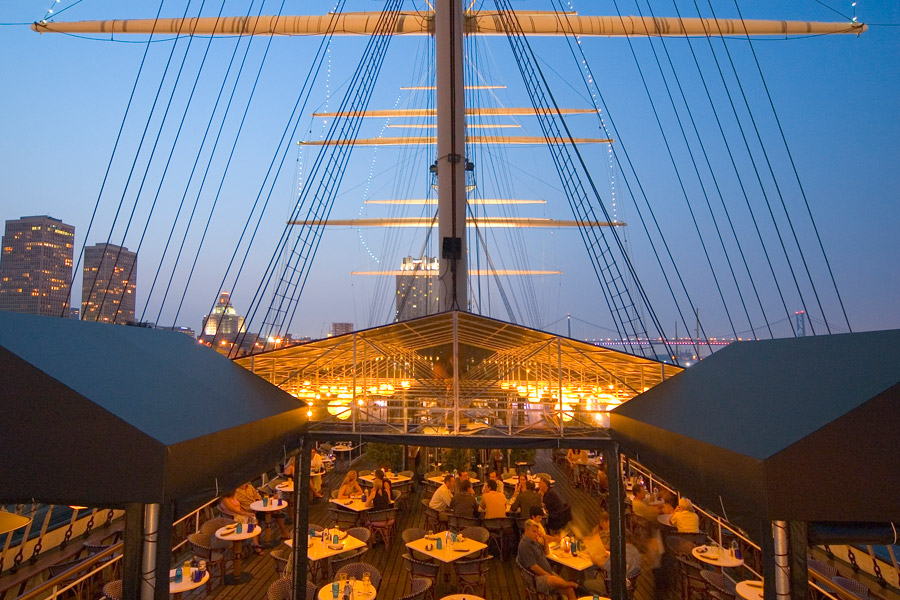 Climb aboard the Moshulu for a special waterfront brunch featuring surf and turf for mom. (Photo courtesy the Moshulu)
Moshulu
Details: 401 S. Christopher Columbus Boulevard, 215-923-2500
Dine aboard the Moshulu, as its kitchen serves up a special Mother's Day brunch, complete with a buffet of surf and turf items from 10 a.m. to 2 p.m. The meal costs $55 for adults and $25 for children under 12.
Bar Ferdinand
Details: 1030 N. 2nd Street, 215-923-1313
Celebrate Madre with a Spanish feast at Bar Ferdinand. From 11 a.m. to 3 p.m., fill up on a prix-fixe brunch complete with menu items like spinach and piquillo pepper omelet, salad topped with tortilla espanola and aioli, and blood orange sorbet.
London Grill
Details: 2301 Fairmount Avenue, 215-978-4545
Pair your make-your-own Bloody Mary or mimosa with a special Mother's Day brunch at London Grill. Fill up on a three-course meal complete with menu additions like ricotta chocolate chip crepe, spring vegetable frittata and more. Brunch costs $35 for adults and $15 for children 11 and younger.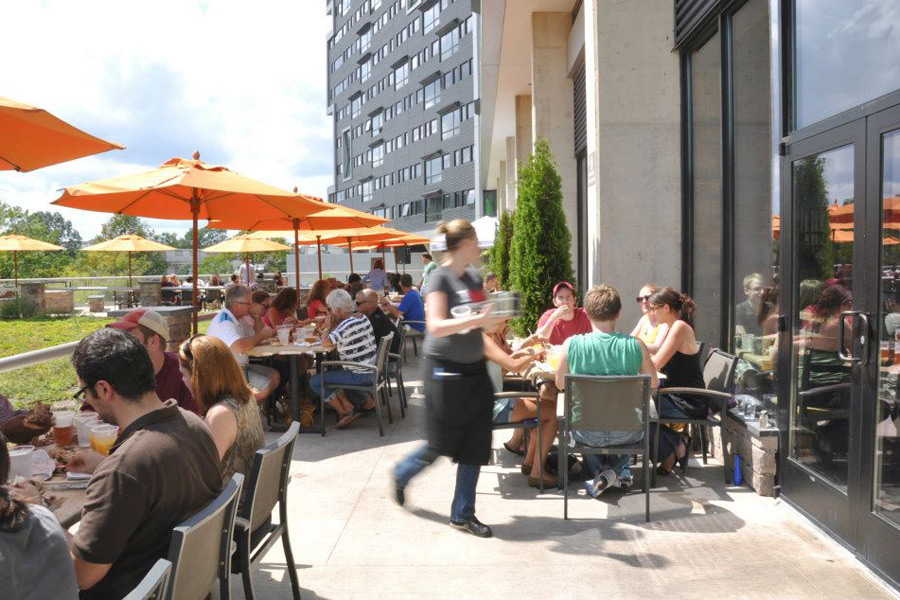 Sit outside on the rooftop deck at City Tap House and enjoy Mother's Day brunch and cold craft beer from their extensive tap list. (Photo courtesy City Tap House)
City Tap House
Details: University City, 3925 Walnut Street, 215-662-0105
Moms visiting City Tap House for brunch are treated to complimentary flowers and dessert — this, on top of the hearty pub fare and vast beer selection.
The Rittenhouse
Details: 210 W. Rittenhouse Square, 215-546-9000
Calling all musical moms: The Rittenhouse hotel ups the Mother's Day brunch game with an exclusive live jazz concert in its Grand Ballroom, plus a sumptuous buffet (think roasted lamb, brioche French toast, omelets made to order and lemongrass ginger crème brûlee), for $75 per person from 11 a.m. to 3 p.m.
Ocean Prime
Details: 15th and Sansom streets, 215-563-0163
To mark the special day, the Center City seafooder opens early (11 a.m.) and rolls out a special Mother's Day menu, featuring blood orange mimosas, blueberry French toast with smoked bacon and crab eggs benedict. Prices are à la carte.
Hilton Penn's Landing
Details: 201 S. Columbus Boulevard, 215-521-6500
Keating's River Grill spoils moms with a champagne brunch that begins seating at noon. The spread includes seafood, salads, made-to-order omelets, carving stations and a vast dessert spread. The cost is $55 per person; $19.95 for kids ages 5 to 12, tax and gratuity not included.
Azie
Details: 217 W. State Street, 610-566-4750
Media's pan-Asian hot spot celebrates matrons in grand style: The brunch buffet, served from 11 a.m. to 2:30 p.m., features omelets, sushi, dim sum and entrees like lobster fried rice and pork belly. The cost is $35 per person; $18 for children 5 to 12 years old.
Trax
Details: 27 W. Butler Pike, 215-591-9777
Count on Ambler's train station café for a memorable, seasonal meal. For $48 per person (there's a children's menu for $15 a head), diners can sample shaved fennel salad, oven-roasted halbut in vin blanc sauce, and pound cake with vanilla bean ice cream and strawberries.
Festivals and Events
Mother's Day Tea Party at the Betsy Ross House
Saturday, May 9, 4-5:30 p.m.
Travel back to the olden days as the Betsy Ross House hosts its annual Mother's Day Tea Party on Saturday, May 9. Fill up on an array of warming teas and treats catered by City Tavern at the historic site's outdoor courtyard. In addition to sipping and snacking, embark on a tour of the house, too. Tickets are $25 each and reservations are required.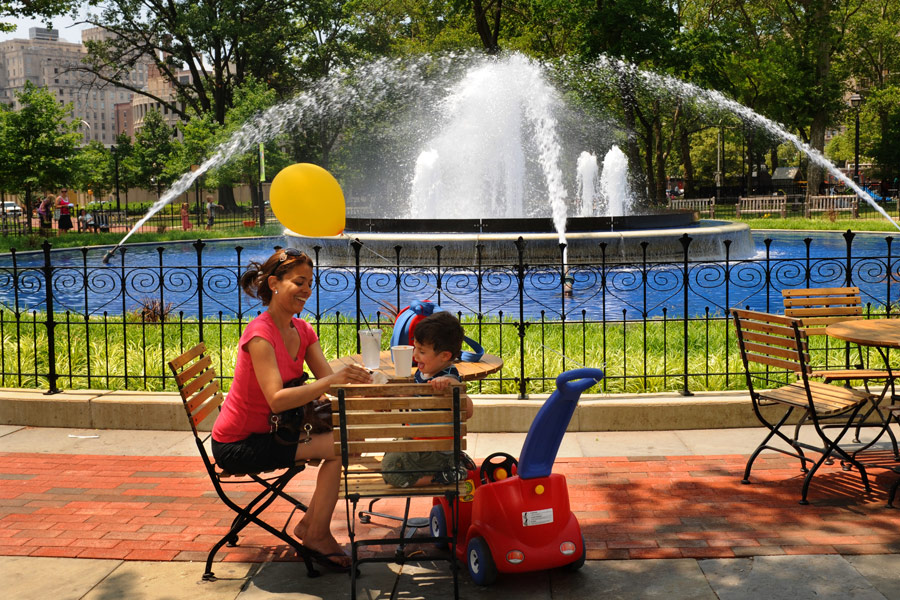 Franklin Square will be hosting a brunch buffet including a round of Philly-themed mini-golf on Mother's Day. (Photo by R. Kennedy for Visit Philadelphia)
Mother's Day Brunch at Franklin Square
Sunday, May 10, 11 a.m.-1 p.m.
Franklin Square, the historic family-friendly park, hosts a Mother's Day brunch buffet from 11 a.m. to 1 p.m., complete with a flower craft, tickets to the on-site carousel and access to the park's well-loved mini golf course. Tickets are $25 per person.
Susan G. Komen Race for the Cure 5K
Sunday, May 10
In honor of mothers (and sisters, daughters and grandmothers) who have fought breast cancer, the Komen Philadelphia Race for the Cure turns Eakins Oval at the Philadelphia Museum of Art pink on Sunday, May 10. The race departs from the Art Museum at 7 a.m. and runs its course through the city through noon.
Mother's Day Tea Ceremony at Shofuso Japanese House and Garden
Sunday, May 10, 1 & 2:30 p.m.
Sip green tea and enjoy an authentic sweet treat as the Shofuso Japanese House and Garden in Fairmount Park hosts a Mother's Day tea ceremony at 1 and 2:30 p.m. Tickets are $35 for the general public and $30 for members. Tickets are available online.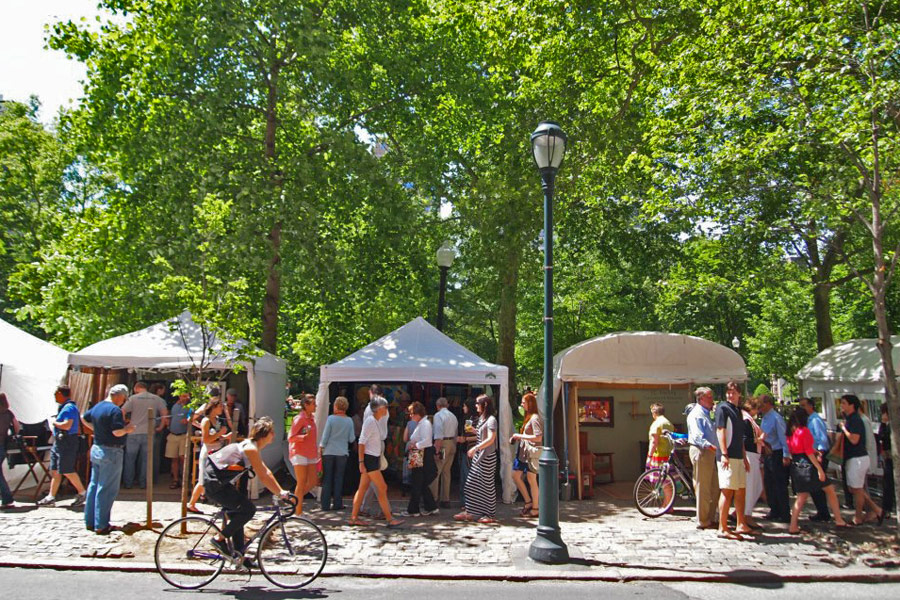 Spend a gorgeous spring afternoon with mom shopping fine arts & crafts during the Pennsylvania Guild Fine Craft Fair. (Photo courtesy the Pennsylvania Guild)
Pennsylvania Guild Fine Craft Fair at Rittenhouse Square
May 8-10
For moms who love one-of-a-kind jewelry, furniture, photography, sculptures and clothing, the Pennsylvania Guild Fine Craft Fair returns to Rittenhouse Square, promising to fulfill all Mother's Day shopping needs.
Fitler Square Spring Fair
May 9-10
On Friday, May 8 and Saturday, May 9, families are invited out to celebrate Fitler Square and the start of the spring season at the Fitler Square Spring Fair. Coinciding with Mother's Day weekend, the fair brings live music, children's activities and flea market shopping to the alfresco park.
Art Star Craft Bazaar
May 9-10
Lovers of unique finds descend on the annual Spring Art Star Craft Bazaar, where the handmade goods include housewares, ceramics, clothing, art, paper goods and much more. The weekend-long sale at the Great Plaza at Penn's Landing is punctuated by live music, food and art demonstrations all throughout Mother's Day weekend.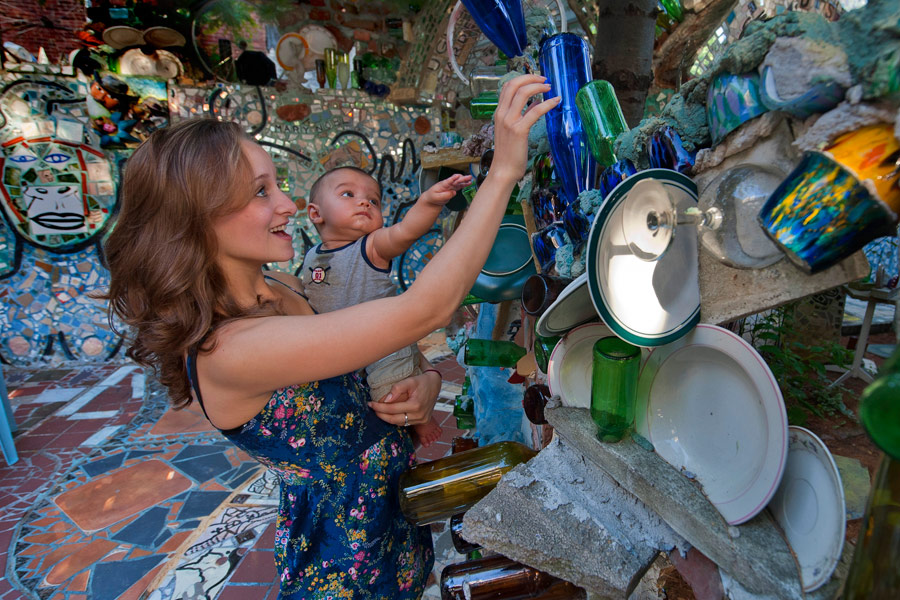 Spend the day with mom at Philadelphia's Magic Gardens and enjoy live music and craft activities throughout the afternoon. (Photo by R. Kennedy for Visit Philadelphia)
Philadelphia's Magic Gardens
Sunday, May 10
The whimsical Philadelphia's Magic Gardens is a fantastic family-friendly destination any day of the year, but on Sunday, May 10, the sparkling sculpture garden comes to life with Family Jams and make-and-take crafts inspired by Mexican straw popotillo paintings. The event runs from noon to 4 p.m. and is free with admission.
Mother's Day Weekend at Longwood Gardens
May 9-10
Need a great reason to visit Longwood Gardens this spring? The Mother's Day Weekend includes a prix-fixe menu at 1906 and live classical and opera music in the evenings. Reservations are encouraged.
Respect, A Musical Journey of Woman at the Penn's Landing Playhouse
Through May 31
The Penn's Landing Playhouse celebrates Mother's Day all month long with Respect, a Musical Journey of Women, a story of women's independence told through Top 40 music. The show runs through May 31.
Advertisement:
Advertisement: