15 New Hotels Coming to Philadelphia in 2017 and Beyond
Major new hotel projects in the pipeline in the City of Brotherly Love
Philadelphia's hotel scene just keeps getting better. After a number of key openings and renovations in recent years — and after reaching a landmark 1 million leisure room nights in 2016 — an impressive list of high-profile hotel projects are on the books to open in Philadelphia in the next few years.
From select-service to swanky, Philly guests will soon have more hotels to choose from than ever before. Upcoming projects include one of the first SLS LUX brand hotels to open in the U.S., a new W Hotel just off the Avenue of the Arts and a new Four Seasons Hotel atop the under-construction Comcast Innovation and Technology Center.
With all of these developments, there's never been a better time to check out the awesome hotel scene — and stay over in Philadelphia.
Note: As with all large, multi-year development projects, the timetables, names and other details of the below projects are subject to change.
Now Open
Lokal Hotel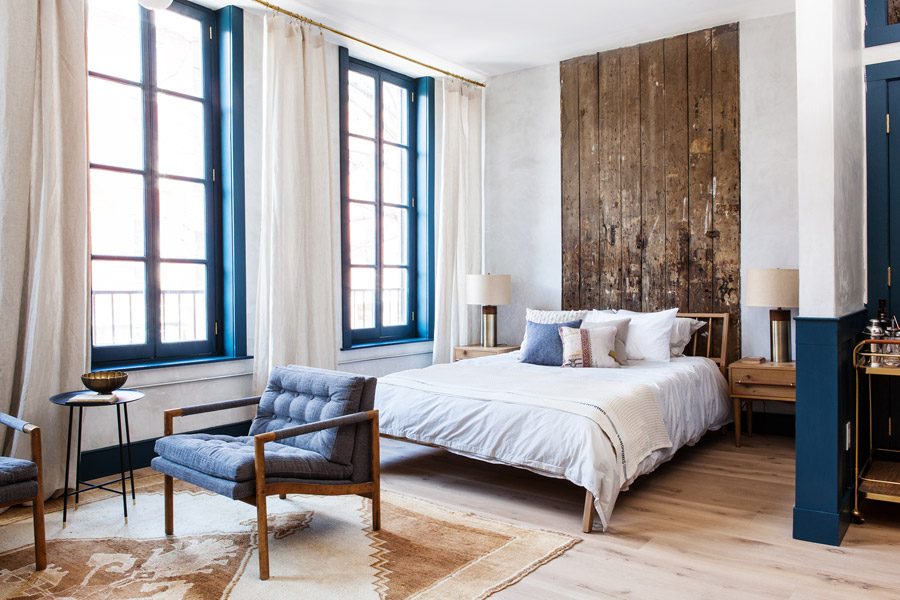 Featuring six apartment-style suites, The Lokal Hotel offers visitors the chance to experience the local Philadelphia lifestyle in a beautifully designed space that feels like home. (Photo courtesy of The Lokal Hotel)
Lokal Hotel is Philadelphia's first "invisible service" hotel. Located in the city's Historic District, the charming, six-room boutique features no front desk and no visible staff. Instead, guests receive an automated coded check-in, as well as in-room iPads that enable access to multiple service-driven apps (including food delivery, grocery delivery and more) and direct contact to staff when needed. 139 N. 3rd Street
Hotel at Wm. Mulherin's Sons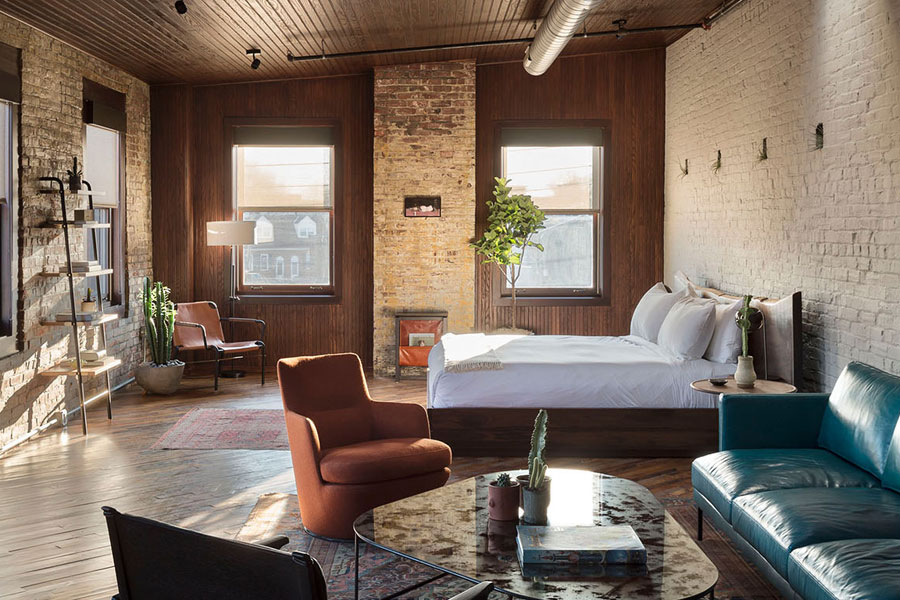 Just above its nationally acclaimed restaurant, Wm. Mulherin's Sons houses a four-room boutique hotel outfitted with an old-meets-new design and an array of vintage accents.(Photo courtesy Wm. Mulherin's Sons)
One of the 50 best new restaurants in America in 2016 (per Bon Appetit), Wm. Mulherin's Sons now features a four-room boutique hotel directly above its restaurant featuring exposed brick walls, custom-made furniture, hand-picked artwork, vintage rugs, living plants and more. 1355 N. Front Street
more about wm. mulherin's sons hotel
AKA University City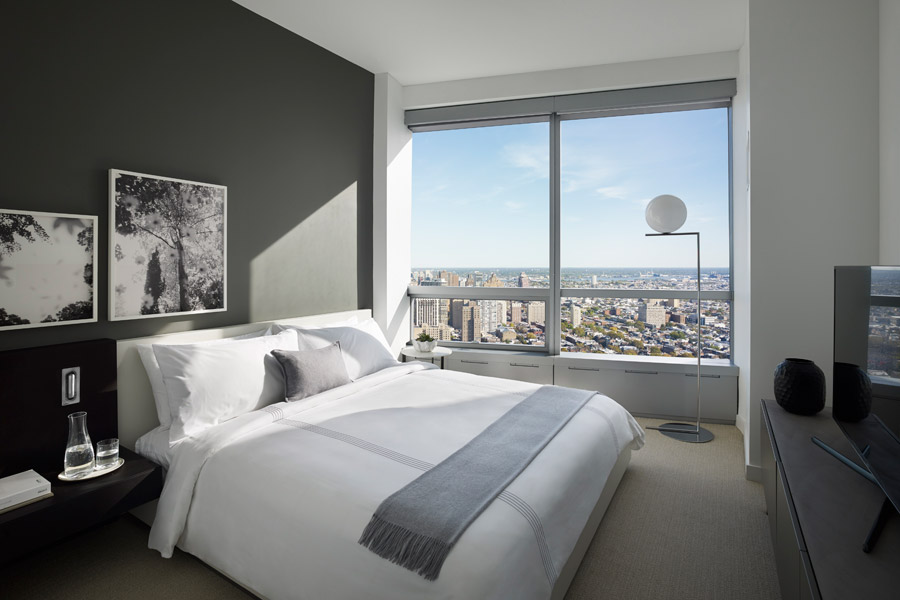 AKA University City at Cira Center South has a prominent place in the Philadelphia skyline – and the highest views of any residential building in the city. (Rendering courtesy AKA University City)
The FMC Tower at Cira Centre South rises 49 stories on the west bank of the Schuylkill River, and the upper floors now house the new luxury extended-stay AKA University City. The hotel boasts 268 residences, including 103 for extended stays, as well as retail space and "Cira Green," a breathtaking new rooftop park. 2929 Walnut Street
More about AKA Extended Stay University City
The Study at University City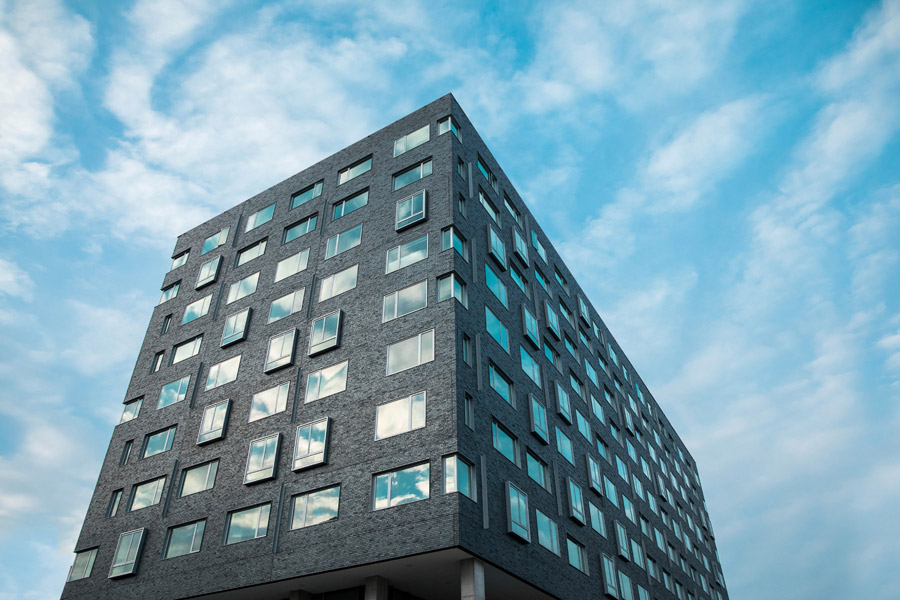 Hospitality 3 teams up with Drexel University on The Study, a new, urban-style hotel. (Photo courtesy Study Hotels)
Study Hotels, a new brand from Hospitality 3, entered the University City market this year with an urban-style hotel in partnership with Drexel University. The 145,000-square-foot hotel includes 212 rooms, around 7,000 square feet of meeting space, a 105-seat restaurant and a fitness center. 20 S. 33rd Street
More about the Study at University City
Best Western Center City
Center City is now the home of a new, 107-room Best Western at 12th and Vine streets just one block from the Pennsylvania Convention Center. 12th and Vine Streets
More about Best Western Center City
Aloft Hotel at the Convention Center
Now Open
The historic 21-story Liberty Title and Trust building at Broad and Arch streets was preserved during the construction of the expanded Pennsylvania Convention Center so it could be turned into a hotel. That conversion is scheduled to happen in the form of a 179-room Aloft Hotel by Starwood, slated to open in 2017. The new hotel will offer its guests direct access to the entrance lobby of the PA Convention Center right off the Avenue of the Arts. 101 N. Broad Street
More about Aloft Hotel at the Convention Center
Coming Soon
Cambria Hotel and Suites Philadelphia Downtown Center City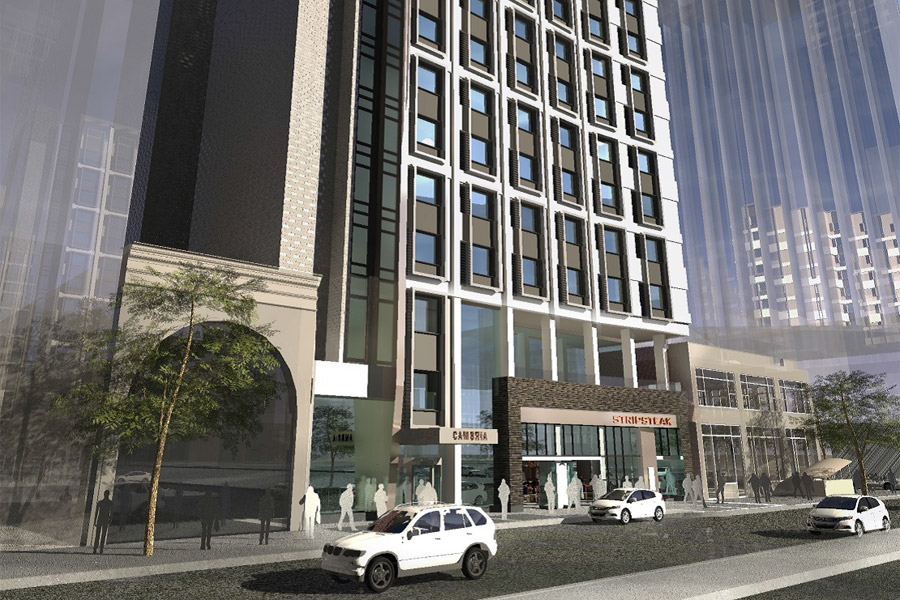 Pearlstein Properties is bringing a 200-plus room hotel to Center City next spring. (Rendering courtesy of Pearlstein Properties)
Opening April 4, 2018
Pearlstein Properties is in the process of building a 14-floor Cambria Suites hotel, which will include 222 guest rooms, a ground-floor restaurant, a rooftop lounge, a fitness center and a pool. 219-225 S. Broad Street
Hyatt Place Hotel - Airport
Opening April 2018
Hyatt will expand the local footprint of its popular select-service brand, adding a Hyatt Place Hotel at the Philadelphia Airport in 2018.
More on Hyatt Place Hotel - Airport
W Philadelphia/Element by Westin Philadelphia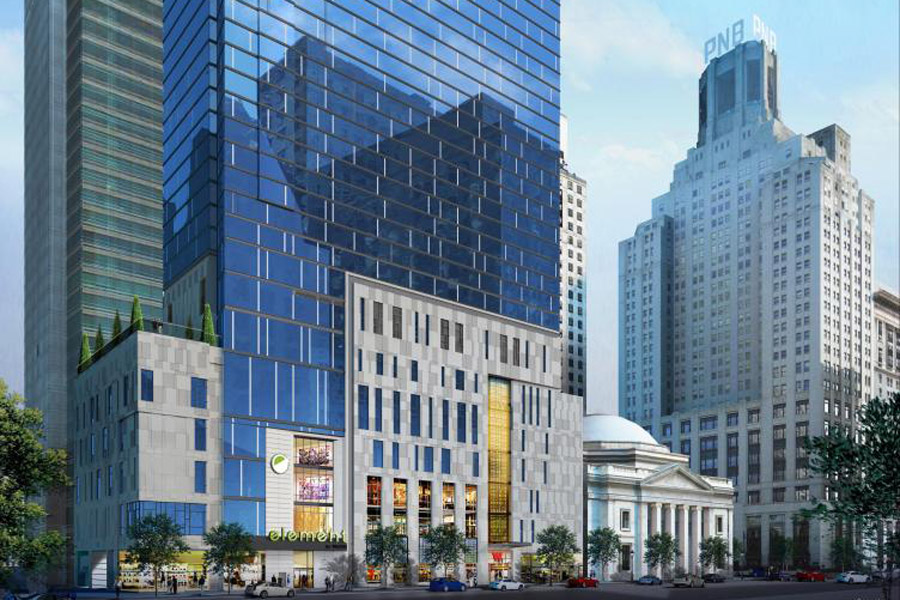 Combined, the W Philadelphia and Element Philadelphia will hold over 750 rooms. (W Philadelphia/Element Philadelphia)
Opening July 2018
Soaring above 15th and Chestnut streets just behind the Ritz-Carlton Philadelphia, a new Starwood-run W Hotel and Element Hotel complex is planned to debut in 2018. Chestlen Development is spearheading the project, and the property will hold 295 rooms under the W Hotel brand and another 460 in the Element by Westin. 15th and Chestnut Streets
more about w and element hotels
Four Seasons Philadelphia Hotel
The Comcast Technology Center — soon to be the tallest building in Philadelphia — will feature a Four Seasons Hotel in its upper floors. (Rendering courtesy of Four Seasons)
Opening September 2018
To be housed within the upper floors of the 1,121-foot Comcast Technology Center on the 1800 block of Arch Street, the new 219-room Four Seasons Philadelphia Hotel is scheduled to open in 2018 when the new tower is completed. The new luxury hotel will include more than 200 rooms, a spa, fitness facilities, event and meeting space, as well as — get ready for it — a breathtaking new restaurant located on the top floor of the building, offering awesome and unparalleled 360-degree views of the city. 1800 Arch Street
Parker-Spruce Economy Hotel
Opening January 2019
The Wankawala Organization is currently transforming the Parker-Spruce property in Midtown Village into a 121-room economy hotel. 261 S. 13th Street
More about Parker-Spruce Economy Hotel
SLS LUX Hotel & Residences Philadelphia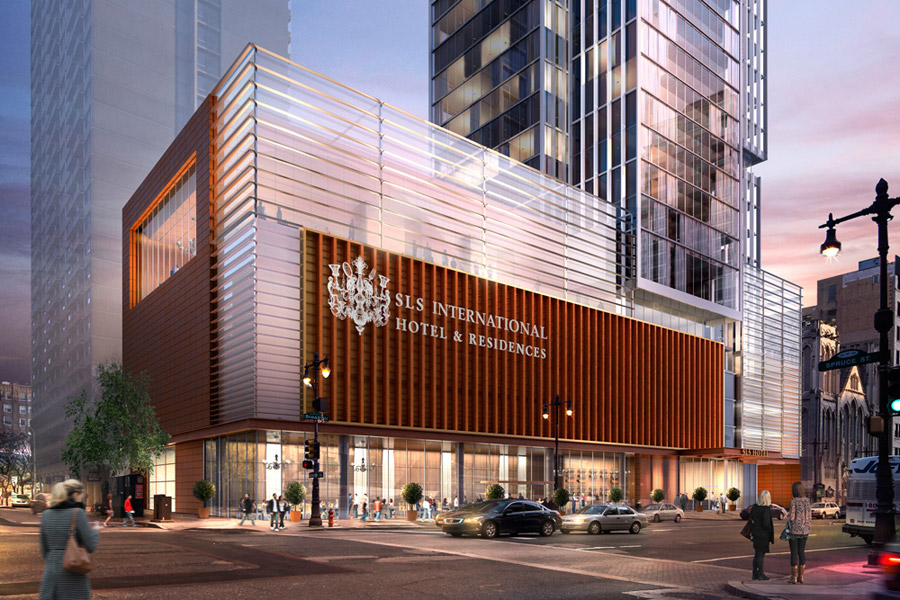 SLS LUX Hotel & Residences Philadelphia will be the tallest residential building in Pennsylvania when it's completed. (Rendering courtesy The International at SLS Lux Philadelphia)
Opening July 2019
This is a big one — literally. The SLS LUX Philadelphia Hotel & SLW International Residences is going to be the tallest residential building in Pennsylvania when completed. Located at the heart of the Avenue of the Arts at Broad and Spruce streets, the SLS will rise 47 stories, with 150 boutique hotel rooms and 90 luxury condominiums on the higher floors. The hotel will be designed by Philippe Stark and will be one of the first SLS LUX properties to open anywhere in the country. 301 S. Broad Street
More about SLS LUX Hotel & Residences Philadelphia
The Hyatt Centric Hotel
Opening April 2019
The site of Little Pete's in Rittenhouse Square will eventually become a 13-story, 309-room boutique Hyatt Centric Hotel. 17th and Chancellor Streets
More about Hyatt Centric Hotel
Kimpton Hotel at the Historic Family Court Building
Opening July 2019
Kimpton will be adding a third property to their Philadelphia holdings when they open an $85 million, 199-room hotel in the former Family Court building on Vine Street at Logan Circle. This new Philadelphia property will be Kimpton's third adaptation and renovation of a historic building in Philadelphia — Hotel Palomar and Square 1682 restaurant opened in the former Architects Building in Rittenhouse Square in 2009 and Hotel Monaco Philadelphia and Red Owl Tavern opened in the Lafayette Building overlooking Independence Mall in 2012. 1801 Vine Street
More about Kimpton Hotel at the Historic Family Court Building
---