"Phanatic Around Town"
Summer Promotion
20 special-edition Phanatic statues located at 20 attractions across the city
Phanatic Walk | Auction | Statue Gallery | Map & Locations | Itinerary
Phanatic Around Town Project
The Phillies and Visit Philly have teamed up to present the "Phanatic Around Town" public art project, a tourism and fan initiative featuring 20 custom-designed Phillie Phanatic statues each placed at one of 20 visitor-friendly locations across the city.
The 20 Phillie Phanatic statues have been removed from their locations around Philadelphia and will be on display at Citizens Bank Park September 3rd through the end of the Phillies season. To see where the statues were located throughout the city, check out the Map and Locations section below.
Phanatic Around Town Video Tour
Check out a time-lapse video tour of the 20 Phanatic statues located across Philadelphia:
Phanatic Walk at Citizens Bank Park
Opening September 3, 2010
Beginning Friday, September 3, all 20 Phanatic Around Town statues will be on display at a "Phanatic Walk," located inside the Third Base Gate at Citizens Bank Park and will available for fans to enjoy through the end of the 2010 season.
On September 11th, fans are invited to Citizens Bank Park on a non-game day to check out Phanatic Walk and all the statues from noon-4 p.m. No game ticket required and admission is free.
Auction
The Phillies are offering the chance to own one of the popular custom-designed Phanatic statues. The auction is being conducted entirely online and provides fans the opportunity to bid on a variety of Phanatic statues each week, concluding September 30th with a special statue autographed by 2010 Phillies.
Net proceeds from the auction benefit Phillies Charities, Inc., which awards grants to charitable organizations.
Click here to bid or to check out the official auction schedule.
Phanatic Statue Gallery
Throughout the Phillies season, people have submitted hundreds of photos of themselves with the various Phanatic statues to our Visit Philly Facebook page fan album. Send us your best phanatic statue photos for a chance to win prizes or have your photo featured during a Phillies game broadcast.
Click the thumbnails below to view a gallery of 19 of Phanatic statues in their various locations around the city.
Weekly Fan Photo Submission Contest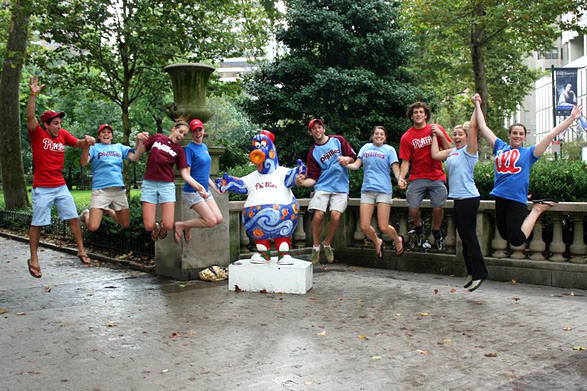 Every Tuesday we will highlight one "Phanatic Around Town" statue location of the week and your task is to snap your best/funniest/most creative photos of you posing with the featured Phanatic statue and then share it with us via Facebook or Twitter for a chance to win free Philadelphia baseball gear.
Each week, we'll pick one winning photo for Facebook submissions and one winning photo for Twitter submissions, and those two fans will each win a piece of Philadelphia baseball gear.
Click here for details!
Map and Locations
Interactive Phanatic Around Town Map
Click the image below to see the 20 Phanatic statue locations mapped on an interactive Google Map: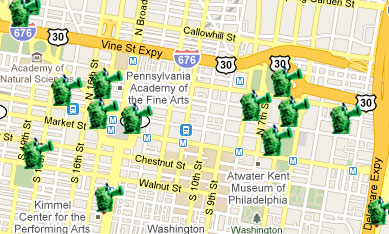 Phanatic Around Town Map (PDF)
Click here "Phanatic Around Town" for the statue location map (PDF).
Historic Philadelphia:
1. Independence Visitor Center
2. National Constitution Center
3. Franklin Square
4. Betsy Ross House
5. Independence Seaport Museum at Penn's Landing
6. The African American Museum in Philadelphia
Center City and the Parkway:
7. Love Park
8. City Hall
9. Citizens Bank at 15th and Market Streets
10. The Market at Comcast Center
11. Kimmel Center
12. Rittenhouse Square
13. The Franklin Institute — Note: The statue at The Franklin Institute has been removed for repairs.
14. Free Library of Philadelphia (Main Branch)
Fairmount Park:
15. Please Touch Museum
16. Philadelphia Zoo
17. Lloyd Hall
South Philadelphia / Airport:
18. Citizens Bank Park – Note: The Phanatic statue at Citizens Bank Park is located inside the ball park, which also requires fans to have a game ticket to access the statue.
19. Philadelphia International Airport – Note: The Phanatic statue at the Philadelphia International Airport is located beyond security so only ticketed passengers will be able to access it.
Northern Liberties
Itinerary and Updates
The Phanatic Around Town Itinerary
Click here for The Phanatic Around Town Itinerary, showcasing what to see and do at each of the 20 Phanatic statue locations and their surrounding neighborhoods.
Stay Up-to-Date with the "Phanatic Around Town" Project
This is the first time a Major League Baseball™ mascot is part of a public art project.
The 20 "Phanatic Around Town" statues, all of which were painted by local artists, will be on display at their respective locations through August 2010. Made of fiberglass, each statue weighs 100 pounds and stands five feet tall.
Click here to keep up with the "Phanatic Around Town" events, promotions, contests and more, all summer long on Uwishunu.
For more information on the defending NL champion Phillies, click here
Sponsored Content:
Sponsored Content:
Find us on Facebook