Rocky's Philadelphia
Explore Rocky's hometown, following in his footsteps from the Art Museum to the Italian Market
Beloved boxer Rocky Balboa might not recognize the city's gleaming skyline if he ran up the Philadelphia Museum of Art steps today and turned around, arms raised in triumph, to see it. It's remarkably different from the modest skyline he looked out on in the original 1976 film, which was recently adapted for the stage and debuting on Broadway on March 13, 2014.
But that doesn't mean retracing Rocky's famous run across Philly isn't a very fun and cool way to set out to explore the City of Brotherly Love.
So we've put together a few different ways for you to experience Rocky's Philadelphia. Read on to find out where to eat, run and discover Rocky's Philadelphia.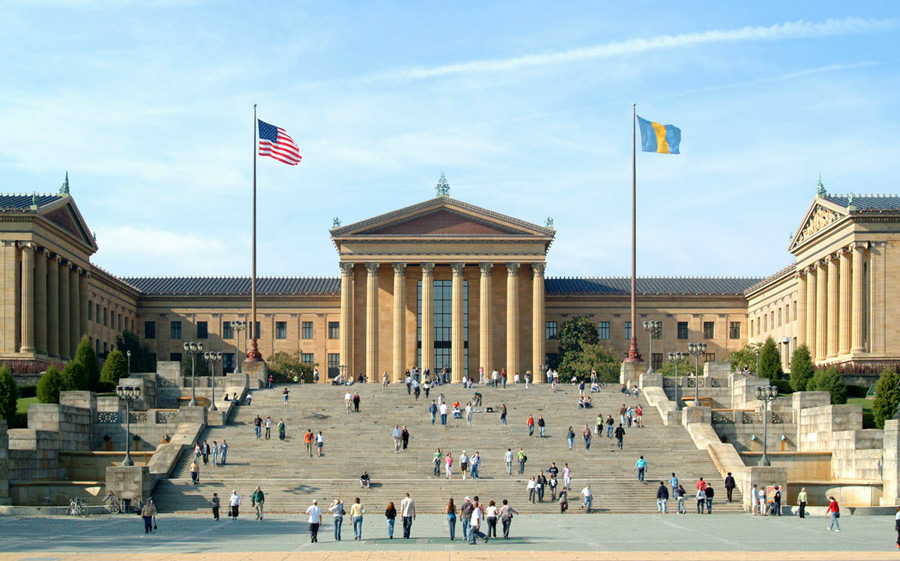 The Art Museum steps are one of the most popular attractions in Philadelphia, and for good reason — the view from the top is pretty spectacular.
(Photo courtesy Philadelphia Museum of Art)
Guide to Rocky's Philadelphia — Itinerary & Interactive Map
Want to follow in Rocky's actual footsteps? You can do just that with our new Rocky Tour of Philadelphia. Recreate his famous run up the Art Museum steps; grab an authentic cheesesteak at Pat's, the very place he stopped at in the original Rocky; walk through the Italian Market; and then stop by an old-school butcher shop, where — SPOILER — they're probably not going to let you go in the back and use the meat as a punching bag.
Click below to check out our full guide to Rocky's Philadelphia, complete with an interactive map of where to find the most famous locales.
Full Rocky Tour of Philadelphia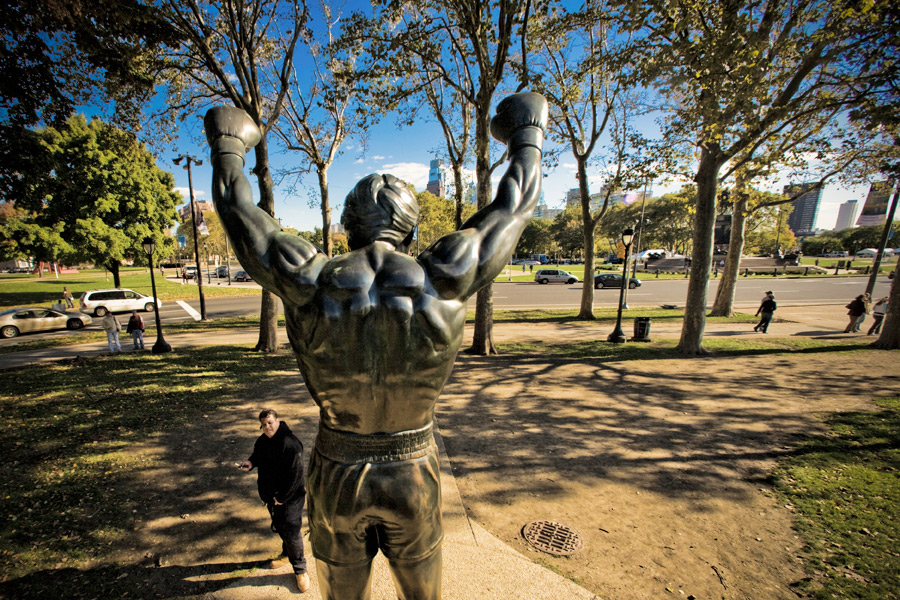 You can look out from the "Eye of the Tiger" when you visit the Rocky Statue at the base of the Art Museum Steps.
(Photo by J. Smith both for Visit Philadelphia)
The Rocky Statue & The Rocky Steps
The Rocky Statue and the Rocky Steps — better known as the Art Museum Steps — are two of the most popular attractions in Philadelphia. The Art Museum steps have been declared the second most famous movie location in the entire world(!!). Visiting the statue, running up the steps, and taking a picture at the top is pretty much a must on your first visit to Philly. It's a right of passage.
Visit the Rocky Statue & Rocky Steps
Rocky on Broadway & The Rocky Heavyweight Blu-Ray Box Set
The official debut of the brand new Rocky on Broadway in New York City on March 13 and the recent release of the Rocky Heavyweight collection of all six Rocky films gives fans of the beloved character Rocky Balboa the perfect excuse to re-explore the city the championship boxer called home.