Top Romantic Date Ideas in Philadelphia
Embrace romance in the City of Brotherly Love with these exciting activities
In our City of Brotherly Love, date night ideas for a romantic night out aren't too hard to find. We've pulled together a few of our favorites that enable you to explore the city's fabulous restaurants, hotspots and luxurious hotels, all in the spirit of love.
Check out our ideas below and get ready for an exciting adventure with your sweetheart.
Move First, Eat Later
Riverside Ice Skating and Dining
Start your date by gliding hand-in-hand across the ice at the Blue Cross RiverRink Winterfest at Penn's Landing. Once you've worked up an appetite, head just up the river for lunch or dinner at the Moshulu, where you can enjoy breathtaking views, delicious fare and crave-worthy cocktails aboard this fully restored, four-masted sailing ship. From there, venture back to your nearby hotel room at the Hilton Philadelphia at Penn's Landing.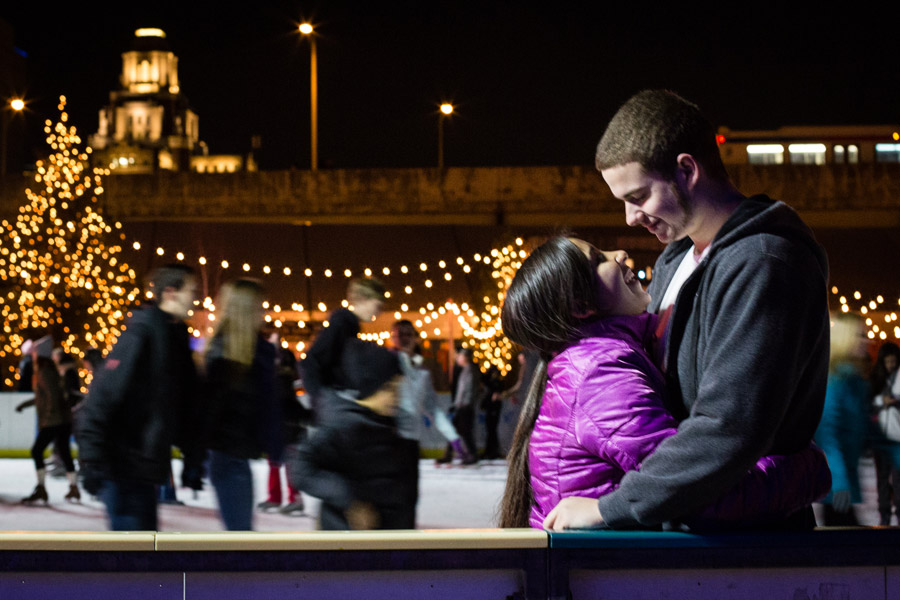 The Blue Cross RiverRink Winterfest overlooking the Benjamin Franklin Bridge and Delaware River is both a can't-miss wintertime experience and a great way to kick off a romantic evening in Philadelphia. (Photo courtesy of DRWC)
Partner Yoga, Thai Massage and Thai Food
Strengthen your connection with your partner through a special Valentine's Day workshop at Maha Yoga featuring lighthearted partner yoga and a stress-releasing Thai massage. Then, head up the street to Erawan Thai Cuisine for a relaxed BYOB experience. Finish out your evening of romantic bliss at Hotel Palomar, just blocks away from dinner.
Arts and Culture
An Art Stroll and Dinner
It's easy to fall for the vast collections of Renaissance, American and Impressionist art, alongside the blockbuster exhibitions at the Philadelphia Museum of Art. Know what else will make you swoon? A romantic dinner at Umai Umai, an intimate Japanese restaurant just blocks away from the PMA. This BYOB is known for its fresh sushi – including inventive designer rolls – and its personal atmosphere. When you're done, stroll down the Benjamin Franklin Parkway to your room at the Embassy Suites Philadelphia overlooking Logan Square and Sister Cities Park.
Science, Small Plates and Cocktails
There are plenty of opportunities for romance at The Franklin Institute. Sneak away to the Fels Planetarium where you can stargaze with your loved one or take a walk through The Giant Heart, a long-time favorite and the perfect place to declare your feelings. Next up: Square 1682, featuring New American cuisine with a wide array of small plates and artisanal cocktail options.
A Two-State Date From the Aquarium to Beyond
Your date begins in New Jersey at the Adventure Aquarium, home to hippos, seals, fish, a Little Blue Penguin exhibit and a Shark Realm that will leave you holding your partner tight. Next, head over the river and into the great state of Pennsylvania for dinner at Old City's Han Dynasty, serving endorphin-spiking dishes like dry-pot fish, tofu with ground pork and rabbit and peanuts in chili oil. With your stomachs full, slip off for a heavenly night's sleep in the Sheraton Philadelphia Society Hill Hotel.
Take a Tour Together
Tales of Historic Philadelphia and Cheese Touring with Tria
For romance that steps back in time, you can relax to the sounds of the clip-clop echoing through the cobblestone streets of Society Hill during a 76 Carriage Company horse-drawn carriage ride. Then it's time to embark on a tasting trip with Tria, an eclectic wine and cheese bar with a waitstaff that can walk you through the origins of both wine and cheese.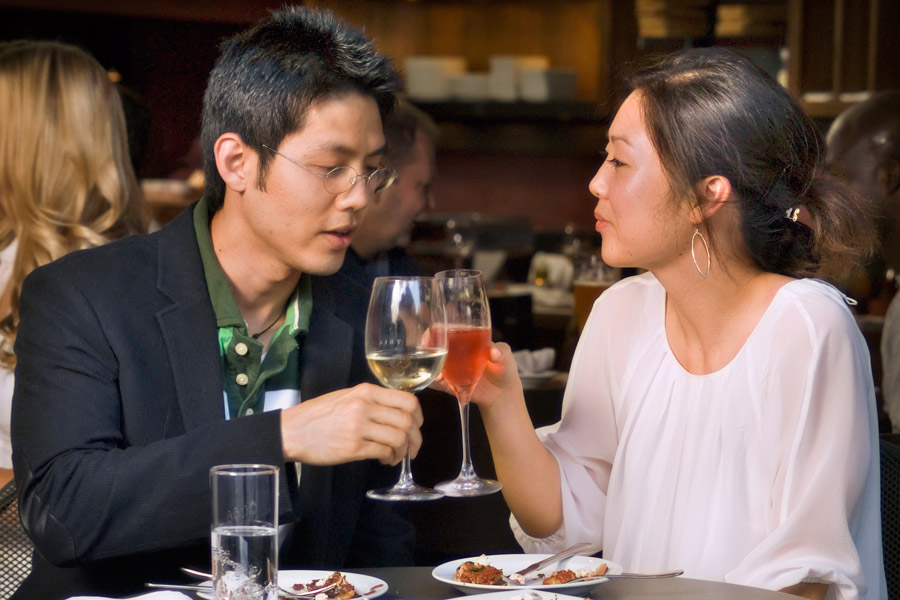 Tria's kitchen offers a nice array of shareable plates and an extensive list of cheese that favorably accompanies its wide selection of wine and beer. (B. Krist for Visit Philadelphia)
Sample Your Way Through The Italian Market
Stroll with your sweetheart through Philadelphia's famed Italian Market. During a two-hour Urban Adventures tour, you'll meet locally acclaimed store owners, learn the history of the buzzing market and get your share of tasty samples. Once you've completed your Italian Market stroll, pop into DiBruno Bros. to stock up on pasta, meats, cheeses and other gourmet goodies for a future romantic dinner at home. Tonight, there's no need to mess up your kitchen, though. Instead, enjoy a meal at Good King Tavern, a charming French-inspired restaurant located blocks away from the first two stops.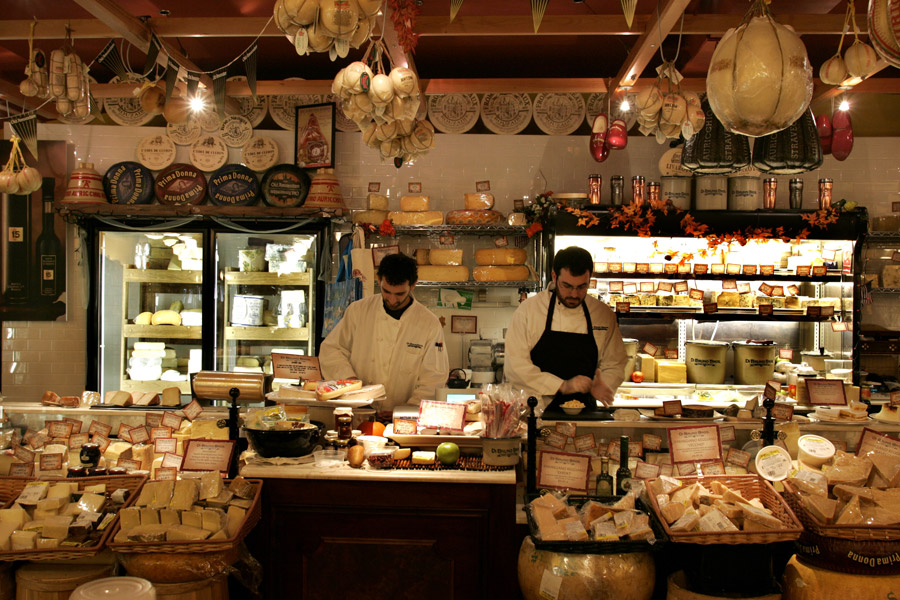 Di Bruno Bros. is a boutique foodie heaven, boasting an extensive selection of cheese, cured meats and specialty products from around the world. (R. Kennedy for Visit Philadelphia)
A Journey From Above
There may be no prettier way to take in the natural sites of Southeastern Pennsylvania than by coasting over them in a hot air balloon. Enjoy your choice of a sunrise or sunset tour by The United States Hot Air Balloon Team. Continue your scenic day with a drive on Bucks County's River Road, and leave time for dinner at the 18th-century Black Bass Hotel, complete with expansive picture windows that overlook the water. End your lovely day at New Hope's Bridgeton House on the Delaware, a beautiful inn that overlooks the Bucks County stretch of the Delaware River.
A Tasting Tour for True Foodies
There are plenty of moments to savor during the stomach-filling excursions around town with City Food Tours. One popular option? The Decadent Gourmet tour, which includes tastings of sumptuous cheeses, a decadent chocolate treat, an assortment of luscious gelato and more. Now that you've consumed your share of gourmet cuisine, rest your tired feet — and stomachs — at the Sheraton Philadelphia Downtown Hotel, home to the famously comfortable Sheraton Sweet Sleeper™ Bed.
Breathe in Some Fresh Air in the Area's Gorgeous Gardens
A Victoria Garden Experience in Germantown
Head to Morris Arboretum in the Chestnut Hill section of Philadelphia for a stroll through the lavish 92-acre Victorian garden, and be sure to steal some quiet moments in romantic settings such as the Springhouse and the Mercury Loggia Grotto. Afterwards, wander over to Germantown Avenue for some shopping, then take a much-needed lunch or dinner break at Cake, a bakery turned full-service restaurant located in Robertson's Flowers' picturesque conservatory.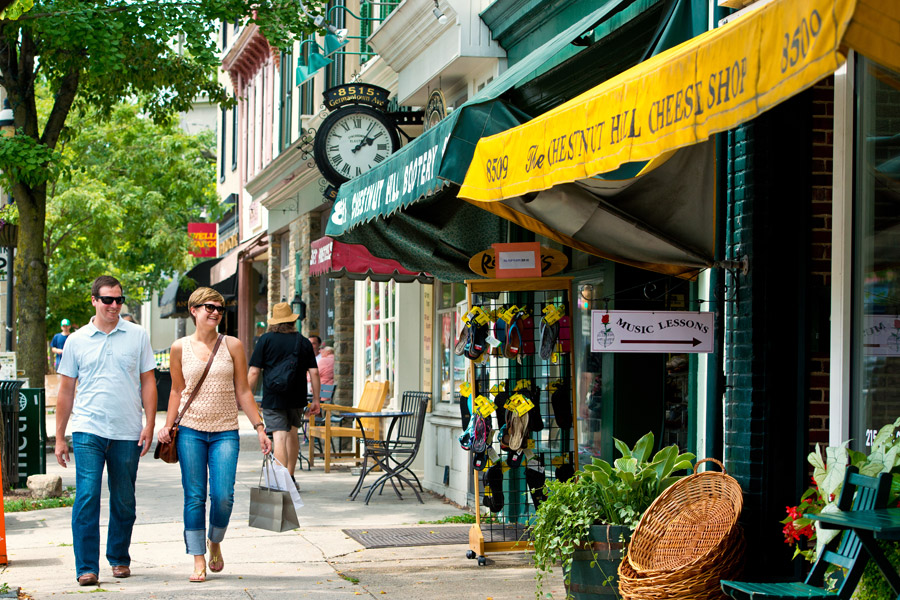 Germantown Avenue in Chestnut Hill is a treasure trove of shops, galleries, boutiques, home furnishings stores and restaurants. (J. Fusco for Visit Philadelphia)
A Magical Haven Followed by Garden-Inspired Food
Wander in awe through Isaiah Zagar's Philadelphia's Magic Gardens amazing maze of recycled glass and ceramic that makes up one of the city's most eye-catching displays of public art — and learn about the artist's techniques, inspirations and materials. After your guided tour, head east to Talula's Garden for an always seasonal, garden-influenced menu right off the park of Washington Square West.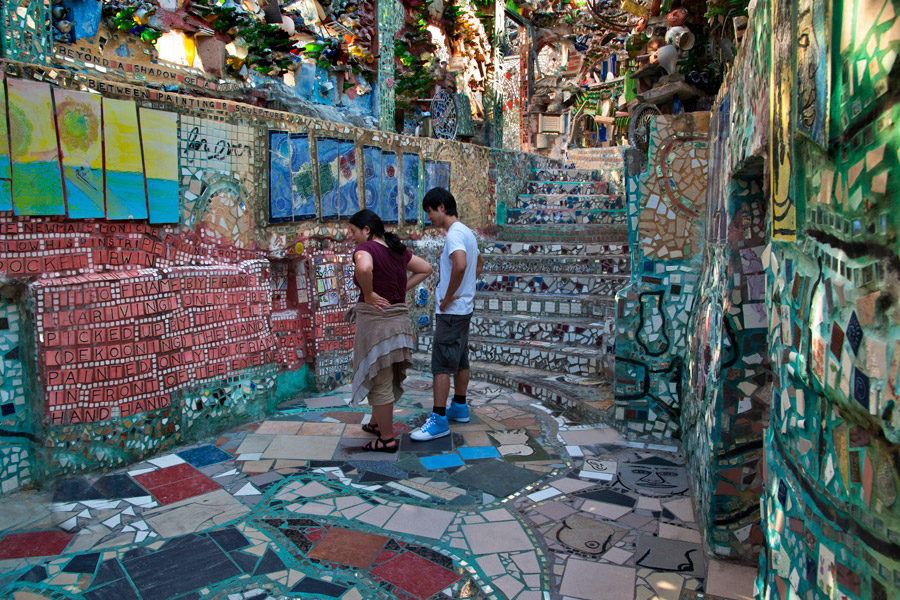 Covering an indoor and outdoor space equivalent to half a city block, Philadelphia's Magic Gardens glisten with creativity, urban renaissance and a hint of madness. (R. Kennedy for Visit Philadelphia)
Dinner and a Show
The Philadelphia Orchestra and Great Food
Dine in style at Volver, the buzzed-about restaurant by chef Jose Garces. Hit the right note after dinner with a performance by the acclaimed Philadelphia Orchestra at the Kimmel Center for the Performing Arts.
Theater and an Overnight Getaway
Be there as the curtain rises on the latest production at the Arden Theatre Company. Then, head uptown for your final act of the evening at the Doubletree by Hilton Hotel Philadelphia Center City, and indulge in the freshly baked chocolate chip cookies you'll receive upon arrival — and, of course, breakfast in the morning.
Comfort Food and Comedy
Find comfort at Pub & Kitchen, a gastropub favorite with wooden pew-like booths, spruce plank tabletops and a rotating menu that includes UK-inspired fare like fish and chips and award-winning burgers. After dinner, move onto Helium Comedy Club to laugh it up with big-time and on-the-rise jokesters.
Transform Date Night into Jazz Night
Cozy up to a table at Zavino and feast on gourmet pizzas, classic Italian dishes and a diverse wine selection. Now that you've set the mood, it's off to Chris' Jazz Café, named one of Downbeat Magazine's "100 Best Places in the World to Hear Jazz," to groove to the sounds of a local or national jazz act.
Classic Romance with Dinner and a Movie
Dinner followed by a movie or a movie followed by dinner? You're calling the shots tonight, and you can't go wrong either way. Romance and delicious Italian cuisine await at Positano Coast, an upscale but casual trattoria serving all of the flavors of Italy's Amalfi Coast with authentic and innovative flair. Afterward, the indie-movie heaven Ritz Theaters awaits you with interesting flicks every night of the week and plenty of hand-holding time.
Stepping Up Dinner and Drinks
Dine and Drink Fancy
Dress the part for your deliciously upscale dinner at Lacroix. In addition to French-influenced fusion cuisine, you'll enjoy a picturesque view of Rittenhouse Square outside the glass windows of this fine-dining spot. Then, plan on an expertly mixed cocktail at speakeasy hotspot The Franklin Bar.
Savor and Sleep at Two Philly Favorites
Your night to remember starts with a New American meal at foodie favorite Fork and ends at the Sofitel Philadelphia Hotel, a luxury hotel in the city's posh Rittenhouse Square neighborhood. What to do when you get there? Enjoy a restful night's sleep in the oversized beds, relaxation time in the stunning marble baths or delectable drinks in the French-inspired restaurant and lounge.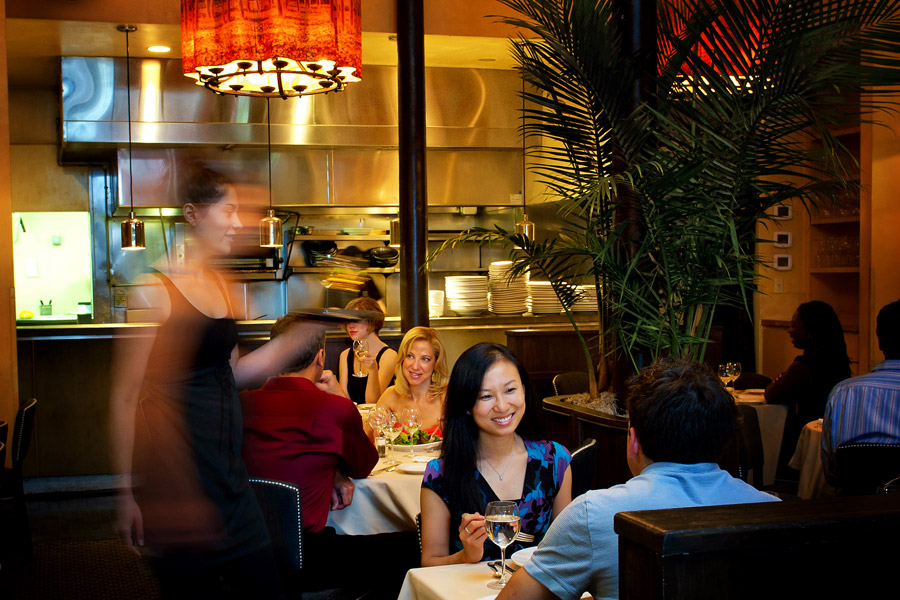 Fork's hip, stylish and sophisticated interior complements the contemporary menu and makes it a great spot for a romantic meal. (Photo by J. Fusco for Visit Philadelphia)
Opportunities to Learn with Your Lover
Try a Tango Class
Want to add a little pep to your relationship? At Society Hill Dance Academy, you can do just that. No experience or reservation is necessary to join a 45-minute group introduction to dances like the salsa, cha-cha, foxtrot, rumba and tango. At the nearby The Twisted Tail, reward yourself for your hard (but fun) work with a creative, Southern-inspired meal. Among the munchables are a pork shank served with creamy polenta, crawfish mac and cheese, and an array of artisanal cheese plates.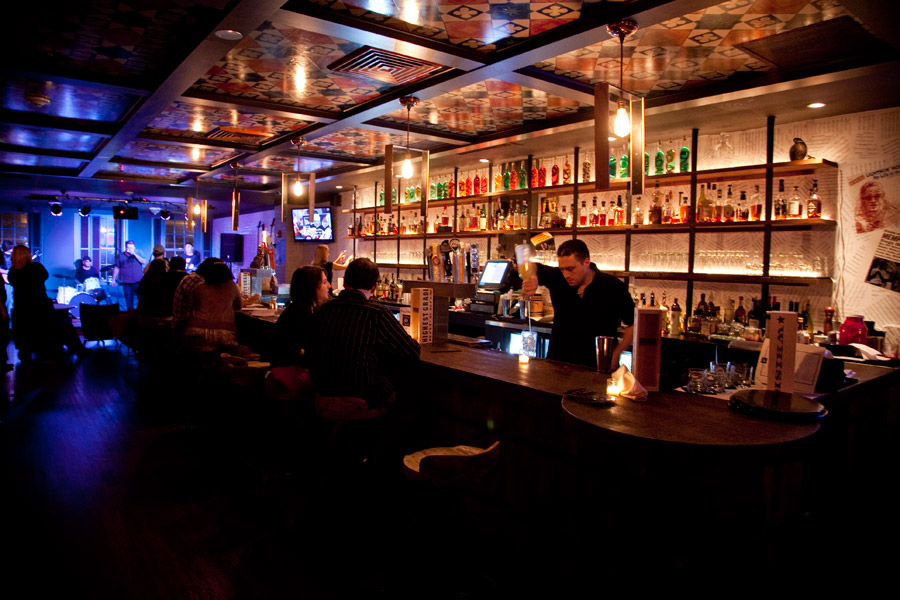 Southern-inspired comfort food isn't the only thing on the menu at Twisted Tail in historic Headhouse Square — the Bourbon juke joint serves up an impressive array of whiskeys and features live blues music most nights. (Photo courtesy of The Twisted Tail)
Learn and Eat in the Company of Top Chefs
Take your relationship to the kitchen at Cook, Rittenhouse Square's multipurpose school, event space and store that features cooking demos and classes from lauded local chefs. Once you've filled up on food and knowledge, enjoy a nightcap just down the street at Twenty Manning Grill, a sleekly modern neighborhood favorite.
---