Romantic Date Ideas in Philadelphia
Embrace romance in the City of Brotherly Love
Looking for an exciting night out in the city? Take a loved one out for a romantic adventure with a few of our favorite date ideas and explore the city's fabulous restaurants, activities and luxurious hotels.
Whether you're visiting from out of town or you live near the city, turn your date into a romantic rendezvous with an overnight stay in the city. When you book our popular Visit Philly Overnight Hotel Package™, your car stays FREE.
Check out our date ideas below and get romantic:
Ice, Ice Baby
Skate, Sip, Sleep
Start your date by gliding hand-in-hand across the ice at the revamped Blue Cross RiverRink Winterfest at Penn's Landing. Once you've worked up an appetite, it's time for lunch or dinner just up the river at the Moshulu, where you can enjoy breathtaking views, delicious fare and crave-worthy cocktails aboard this fully restored four-masted sailing ship. Then head back to your nearby hotel room at the Hilton Philadelphia at Penn's Landing.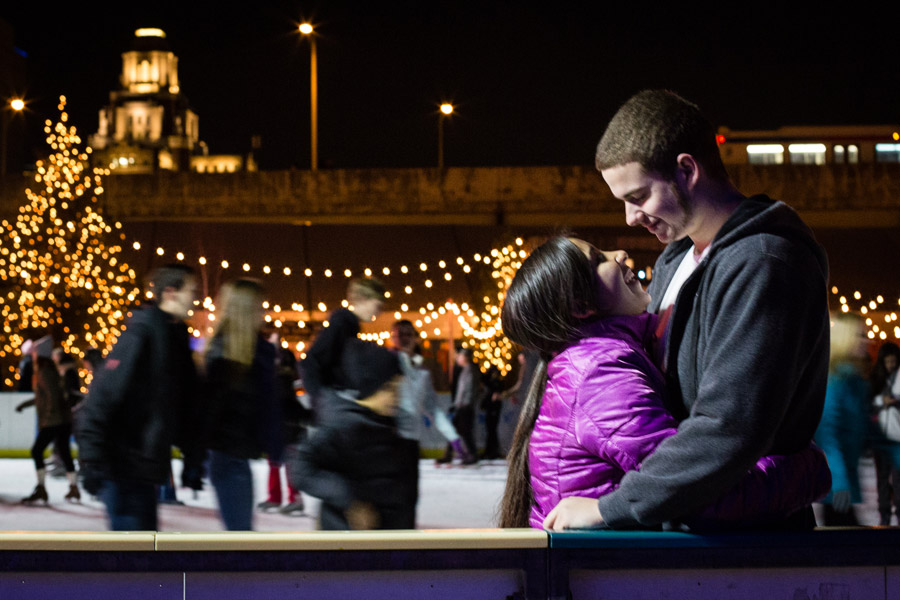 The newly revamped Blue Cross RiverRink Winterfest is both a can't-miss wintertime experience and a great way to kick off a romantic evening in Philadelphia. (Photo courtesy of DRWC.)
Love of Sports
Start off your evening at Chickie's & Pete's, named the No. 1 sports bar on the East Coast by ESPN, where you'll feast on colossal crab legs, mouth-watering mussels and just-can't-get-enough World Famous Crabfries, topped with Old Bay seasoning and accompanied by a white cheese dipping sauce made with a secret recipe. After dinner, board the Taxi Crab to the Wells Fargo Center to watch the Philadelphia Flyers take on their next opponent with passion, energy and determination. Then snuggle up for the night at the recently renovated Courtyard Philadelphia Downtown, located in the heart of Center City Philadelphia.
Arts & Cultured
Art & About
It's easy to fall for the vast collections of Renaissance, American and Impressionist art and blockbuster exhibits at the Philadelphia Museum of Art. Know what else will make you swoon? A romantic dinner at the Water Works Restaurant and Lounge tucked behind the museum. With a spectacular view of Boathouse Row and the Schuylkill River, it'd be easy to overlook the restaurant's classic American fare with subtle Mediterranean influences if it wasn't so memorable. When you're done, stroll down the Benjamin Franklin Parkway to your room at the Embassy Suites Philadelphia, overlooking Logan Square and Sister Cities Park.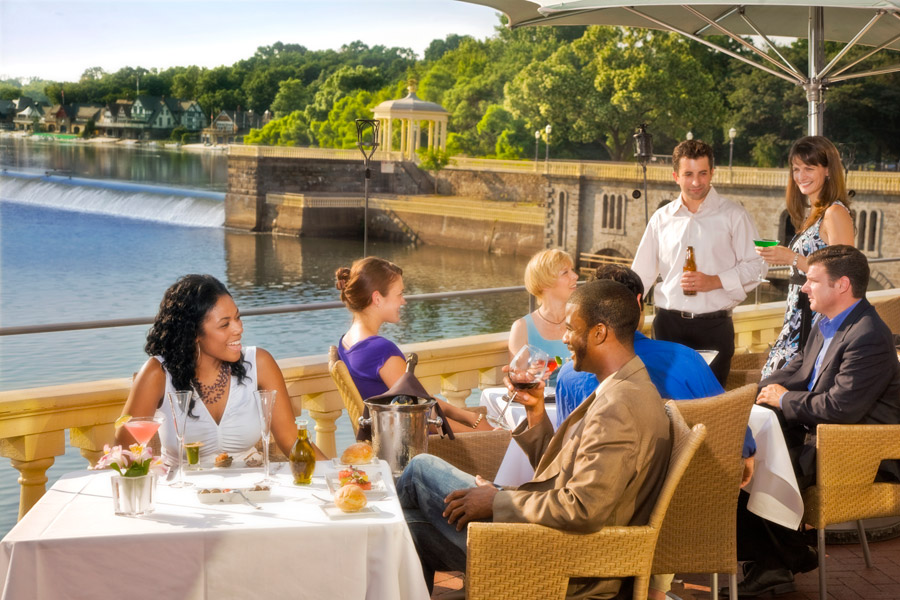 With Boathouse Row in the background, Water Works Restaurant and Lounge has spectacular dining views. (G. Widman for Visit Philadelphia.)
For The Love Of Science
There are plenty of opportunities for romance at The Franklin Institute. Sneak away to the Fels Planetarium, where you can whisper sweet nothings to your loved one under the stars or take a walk through The Giant Heart, a long-time favorite and the perfect place to declare your feelings. Next up: Square 1682, featuring New American cuisine with more than 40 small plates and an artisanal cocktail menu.
A Two-State Date
Your date begins in New Jersey at the Adventure Aquarium, home to hippos, seals, fish and a Shark Realm that will leave you holding your partner tight. Next, head over the river and into the great state of Pennsylvania for dinner at Old City's Han Dynasty, serving endorphin-spiking dishes like dry-pot fish, tofu with ground pork, rabbit and peanuts in chili oil. With your stomachs full, slip off for a heavenly night's sleep in the Sheraton Philadelphia Society Hill Hotel.
Tour Time
Get Cheesy
For romance that steps back in time, you can relax to the sounds of the clip-clop echoing through the cobblestone streets of Society Hill during a 76 Carriage Company horse-drawn carriage ride. Then it's time for Tria, an eclectic wine bar and cheese lounge offering boutique beers, a global wine list and a menu of tapas-style plates that are perfect for sharing.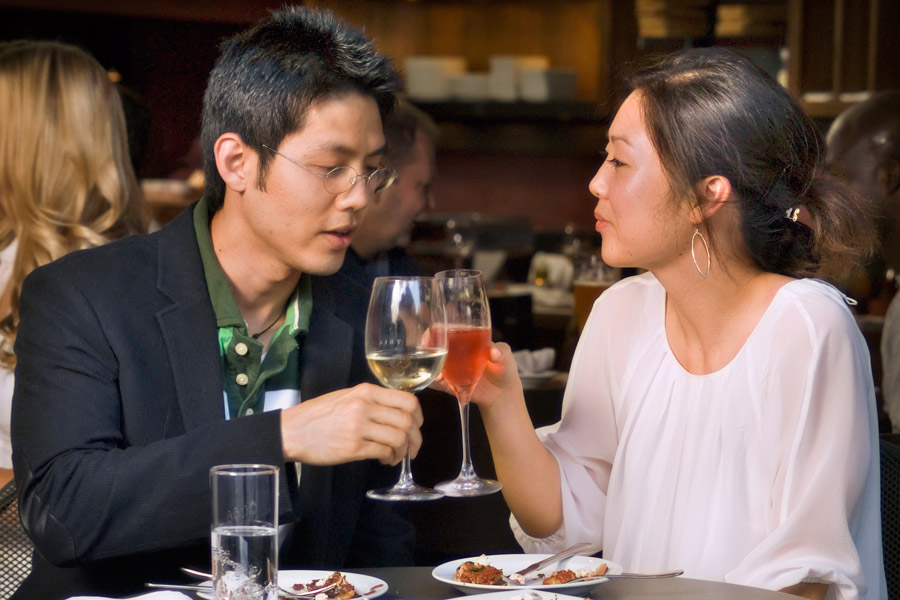 Tria's kitchen produces a nice array of light fare that favorably accompanies its wide selection of wine and beer. (B. Krist for Visit Philadelphia.)
That's Amore
Rekindle your love in Philadelphia's famed Italian Market. During a two-hour Urban Adventures tour, you'll meet store owners, learn the history of the buzzing market and get your share of tasty samples. Once you've completed your Italian Market stroll, pop into DiBruno Bros. to stock up on pasta, meats, cheeses and other gourmet goodies for a future romantic dinner at home. Tonight, there's no need to mess up your kitchen though. Instead, enjoy supper at Supper, dishing out upscale, modern American cuisine in a rustic, urban farmhouse setting.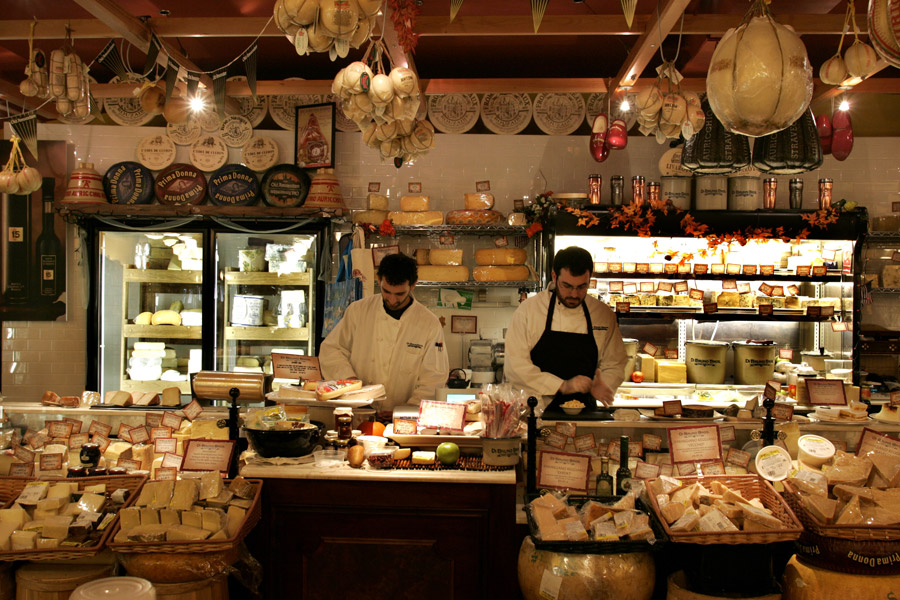 The Di Bruno Bros. flagship store on Chestnut St. is a boutique foodie heaven, boasting a 300-square foot cheese cave and two temperature and moisture-controlled aging rooms along with an extensive selection of specialty products from around the world. (R. Kennedy for Visit Philadelphia.)
The Writing's On the Wall
Nothing says love like a ride on the El train — at least since the Mural Arts Program and artist Stephen Powers teamed up to create Love Letter, a series of 50 rooftop murals that read like love notes from a boy to a girl. Tours start from Mural Arts at the Gallery at 9th and Market streets and from there you will hop on the El with your tour guide and follow the messages from 45th to 63rd Streets. When the tour finishes, treat yourself to lunch in the Shops at Comcast, where you can select delicious meals from DiBruno Bros, Mexican Post and more. While there, you can also sneak a peek at the lobby's massive LED screen, depicting realistic nature imagery, urban landscapes and more. End your busy day at the Sonesta Philadelphia Downtown, where you'll be treated to breakfast the next day.
Up, Up & Away
There may be no prettier way to take in the natural sites of Southeastern Pennsylvania than by coasting over them in a hot air balloon. Enjoy your choice of a sunrise or sunset tour by The United States Hot Air Balloon Team and the post-flight champagne toast that comes along with it. Continue your scenic day with a drive on Bucks County's River Road, and leave time for dinner at the 18th-century Black Bass Hotel, complete with expansive picture windows that overlook the water. End your lovely day at the Bridgeton House on the Delaware, a beautiful inn that overlooks the Bucks County stretch of the Delaware River.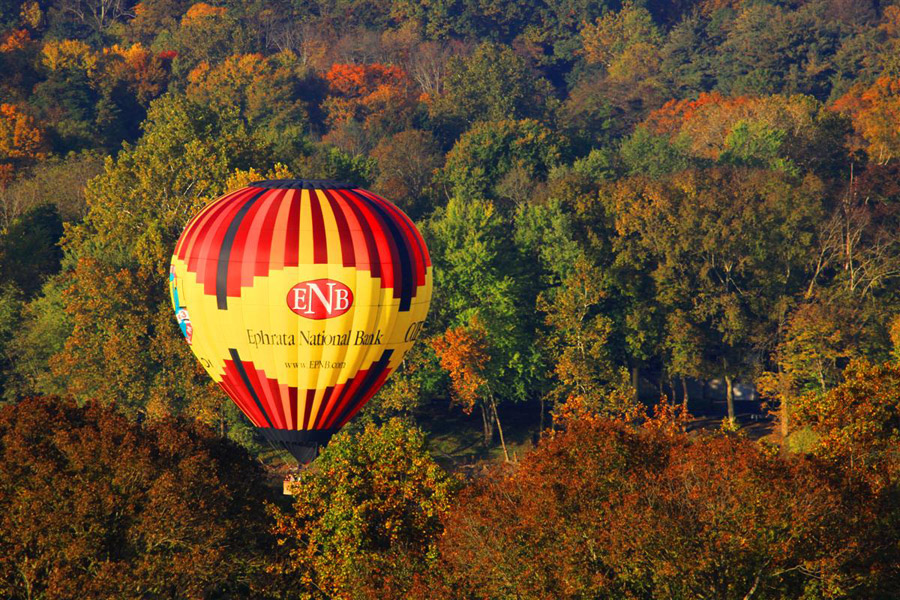 Take to the skies in gentle luxury, for a relaxing, sky-high view of the rolling, lush hills of Chester County and the Brandywine River valley. (Photo courtesy of BCCVB.)
A Foodie Frenzy
Adoring foodies savor the moments during stomach-filling excursions around town with City Food Tours. One popular option? The Decadent Gourmet tour, which includes five stops in Philadelphia where you can indulge in sumptuous cheeses, a delicious PA farm-fresh treat, a variety of Middle Eastern delights, a decadent chocolate treat, and an assortment of lucious gelato. Now that you've consumed your share of gourmet cuisine, rest your tired feet — and stomachs — at the Sheraton Philadelphia Downtown Hotel, home to the famously comfortable Sheraton Sweet Sleeper™ Bed.
Market Fresh
Take a stroll through the expansive Reading Terminal Market for a taste of Philly's favorite delicacies, gourmet eats — or a little of both. Then, it's time to enjoy a two-night stay at the Loews Philadelphia Hotel, a modern hotel in a historic building that boasts Cartier clocks, a bank vault door and polished granite.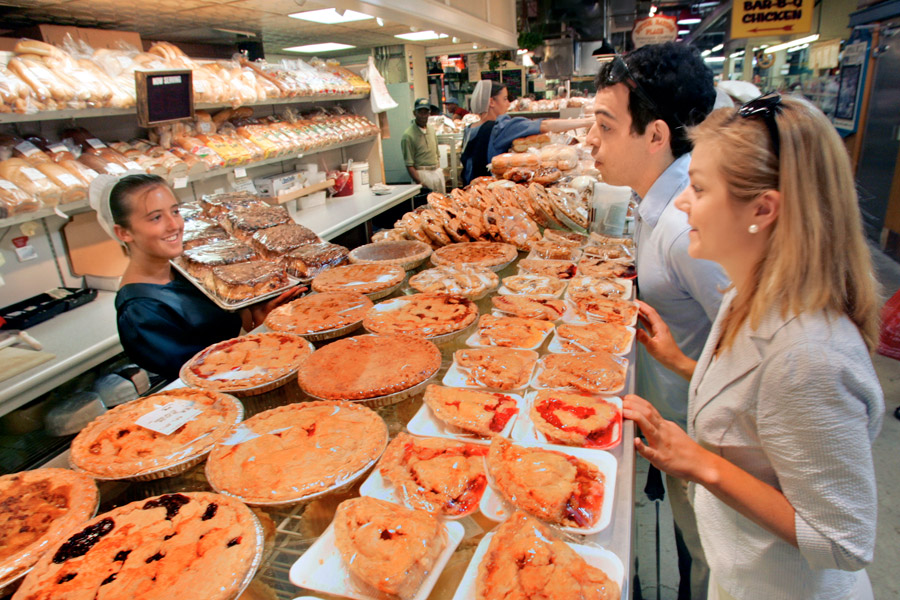 Allot plenty of time to stroll through Reading Terminal Market and browse everything from hand made imported crafts and American quilts to fresh produce, dairy products, exotic meats and seafood. (G. Widman for Visit Philadelphia.)
Gardens, Glorious Gardens
Green Acres
Head to Morris Arboretum in the Chestnut Hill section of Philadelphia for a stroll through the lavish 92-acre Victorian garden, and be sure to steal some quiet moments in romantic settings such as the Springhouse and the Mercury Loggia Grotto. Wander over to Germantown Avenue for some shopping, then take a much-needed lunch or dinner break at Cake, a bakery turned full-service restaurant located in Robertson's Flowers' picturesque conservatory.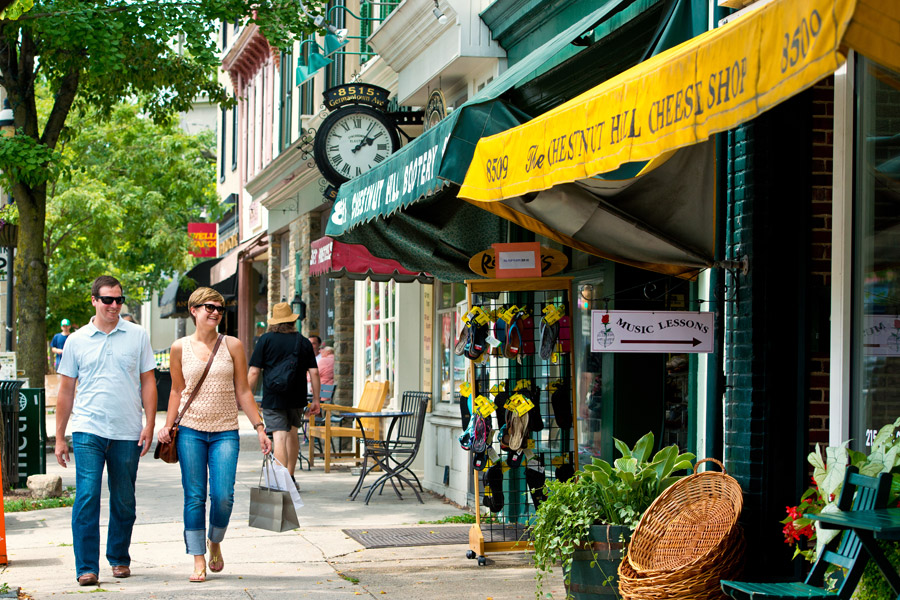 Germantown Avenue in Chestnut Hill is a treasure trove of shops, galleries, boutiques, home furnishings stores and restaurants. (J. Fusco for Visit Philadelphia.)
Do You Believe in Magic?
Wander in awe through Isaiah Zagar's Philadelphia's Magic Gardens amazing maze of recycled glass and ceramic that makes up one of the city's most eye-catching displays of public art — and learn about the artist's techniques, inspirations and materials. After your guided tour, make your way up South Street for dinner at Ms. Tootsie's Restaurant Bar Lounge, serving soul food classics, including sweet potato cheesecake and Sock-It-To-Me lemon butter pound cake.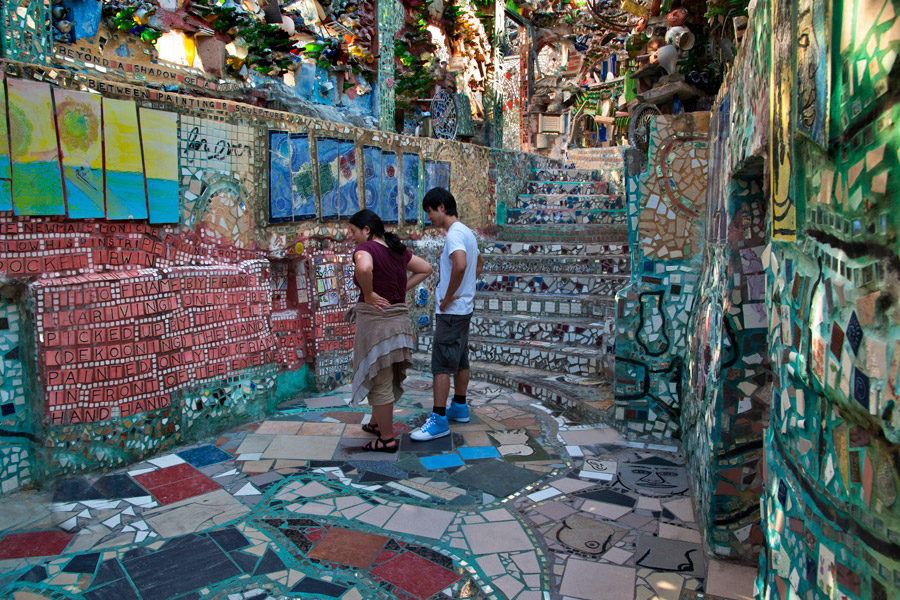 Covering an indoor and outdoor space equivalent to half a city block, Philadelphia's Magic Gardens glisten with creativity, urban renaissance and a hint of madness. (R. Kennedy for Visit Philadelphia.)
Dinner & A Show
Music To Your Ears
Dine in style at Sbraga, the buzzed-about American restaurant by Top Chef winner Kevin Sbraga, and allow the lauded chef to call the shots as you indulge in the four-course prix-fixe menu. Hit the right note after dinner with a performance by the acclaimed Philadelphia Orchestra at the Kimmel Center for the Performing Arts.
Date Drama
Be there as the curtain rises on the latest production at the Arden Theatre Company. Head uptown for your final act of the evening at the Doubletree by Hilton Hotel Philadelphia Center City, and indulge in the freshly baked chocolate chip cookies you'll receive upon arrival — and, of course, breakfast in the morning.
Laugh It Up
Find comfort at Pub & Kitchen, a gastropub favorite with wooden pew-like booths, spruce plank tabletops and a rotating menu that includes UK-inspired fare like fish and chips and award-winning burgers. After dinner, move onto Helium Comedy Club to laugh it up with big-time and on-the-rise jokesters. Once you've had your fill of the funnies, call it a night at the Latham Hotel.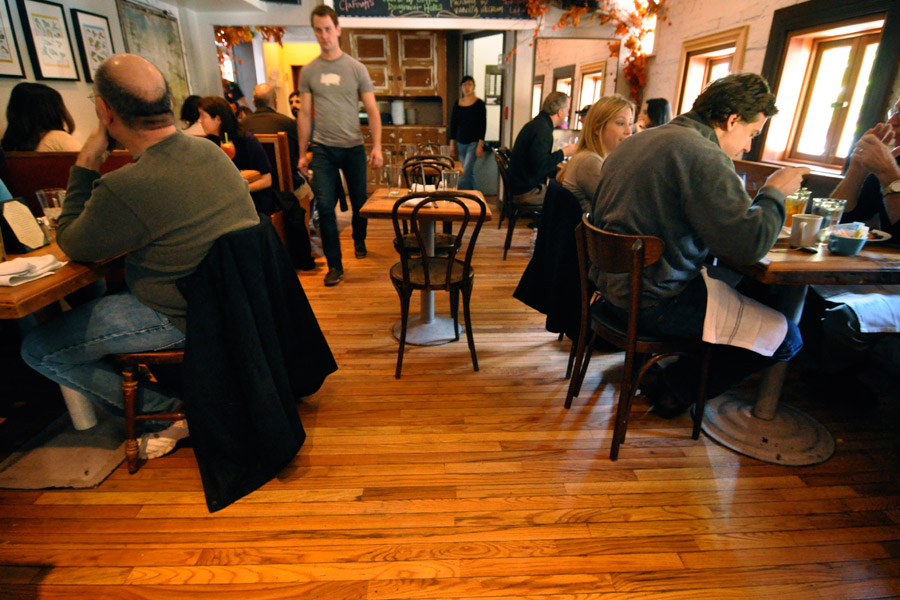 Pub & Kitchen has been a comforting neighborhood staple with its selection of local beers on tap and mouth-watering gourmet fare.
All That Jazz
Cozy up to a table a Zavino and feast on gourmet pizzas, classic Italian dishes and a diverse wine selection. Now that you've set the mood, it's off to Chris' Jazz Café, named one of Downbeat Magazine's "100 Best Places in the World to Hear Jazz," to groove to the sounds of a local or national jazz act.
A Date-Night Classic
Dinner followed by a movie or a movie followed by dinner? You're calling the shots tonight, and you can't go wrong either way. Romance and delicious Italian cuisine await at Positano Coast, an upscale but casual trattoria serving all of the flavors of Italy's Amalfi Coast with authentic and innovative flair. At the indie-movie heaven Ritz Theaters, you can look forward to perfect-sized popcorn (if you still have room) and plenty of hand-holding time.
Dinner & Drinks
Fancy-Pants Plans
Dress the part for your deliciously upscale dinner at Lacroix. In addition to French-influenced fusion cuisine, you'll enjoy a picturesque view of Rittenhouse Square outside the glass windows of this fine-dining spot. Then, plan on an expertly mixed cocktail at speakeasy hotspot Franklin Mortgage & Investment Co.
Savor & Sleep
Your night to remember starts with a New American meal at foodie favorite Fork and ends at the Sofitel Philadelphia Hotel, a luxury hotel in the city's posh Rittenhouse Square neighborhood. What to do when you get there? Enjoy a restful night's sleep in the oversized beds, relaxation time in the stunning marble baths or delectable drinks in the French-inspired restaurant and lounge.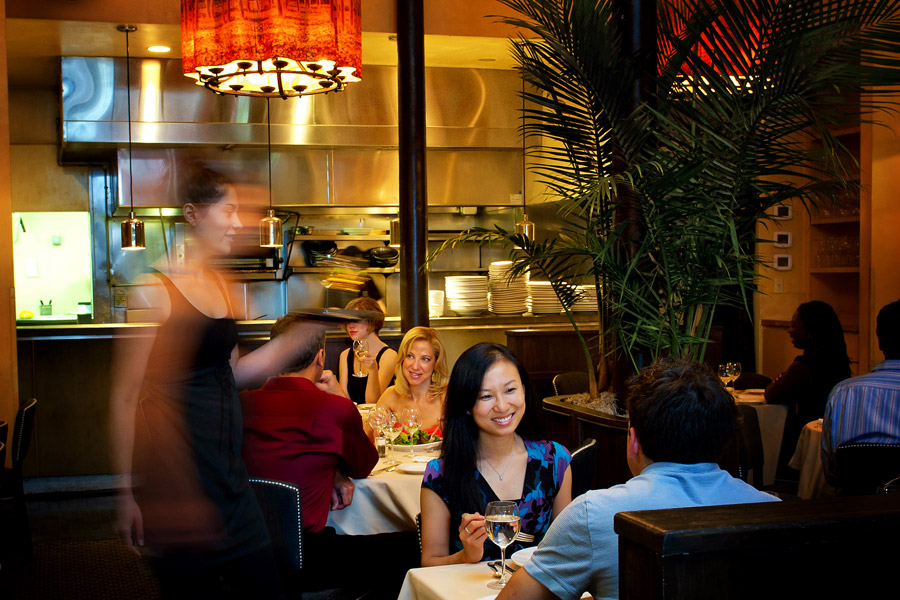 Fork's hip, stylish and sophisticated interior complements the contemporary menu and makes it a great spot for a romantic meal. (Photo by J. Fusco for Visit Philadelphia)
For The Love Of Learning
Simply Sizzling
Take your hot, hot, hot relationship into the kitchen at Cook, Rittenhouse Square's multipurpose school, event space and store that features classes by lauded local chefs. Now that you've learned to heat things up — as if you needed a lesson — enjoy a nightcap just down the street at Twenty Manning Grill, a sleekly modern neighborhood favorite.
It Takes Two To Tango
Want to put a little spring in your relationship's step? You can do exactly that at Society Hill Dance Academy. No experience or reservation is necessary to join a 45-minute group introduction to dances like the salsa, cha-cha, foxtrot, rumba and tango. At the nearby The Twisted Tail, reward yourself for your hard (but fun) work with a creative Southern-inspired meal from chef Michael Stevenson. Among the munchables are a sweet Vidalia onion tart with smoked goat cheese, Kettle Chip-crusted crab cakes and "dueling" pork, beef and fish ribs.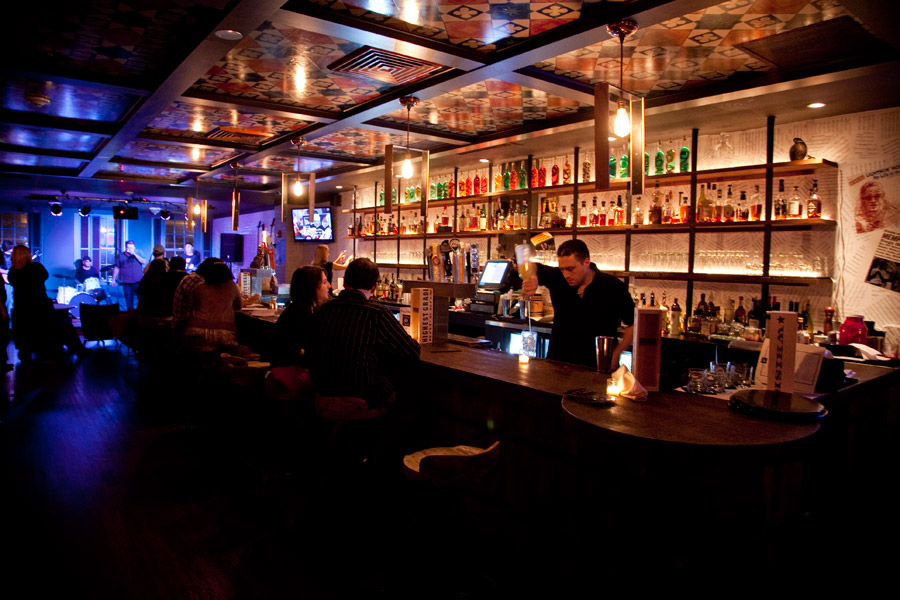 Southern-inspired comfort food isn't the only thing on the menu at Twisted Tail in historic Headhouse Square — the Bourbon juke joint serves up an impressive array of whiskeys and features live blues music most nights. (Photo courtesy of The Twisted Tail.)
Just Can't Get Enough
God Bless America
Show your love for the good old U.S.A. — and your significant other — at JG Domestic, Iron Chef Jose Garces' take on American farm-to-table cuisine, housed in the fresh and green dining room of the Cira Centre. After your mouth-watering meal, head deeper into University City and end your night at the boutique-y Hilton Inn at Penn, where breakfast for two is on the house.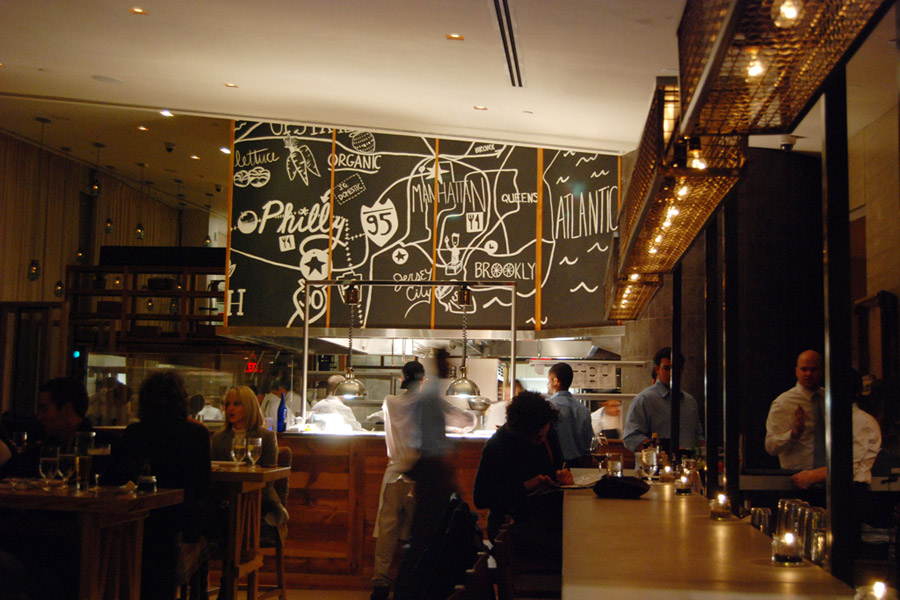 Jose Garces' creative, whimsical restaurant JG Domestic is a tasty way to spend an evening with your beloved. (Photo courtesy of Fanny Allie.)
Just Like Nonna's
Get a health dose of red gravy with a satisfying evening at Little Nonna's in Midtown Village. Afterwards, head back to your room at the Hotel Palomar Philadelphia, where they offer a daily complimentary wine tasting at 5 p.m. and breakfast in the morning.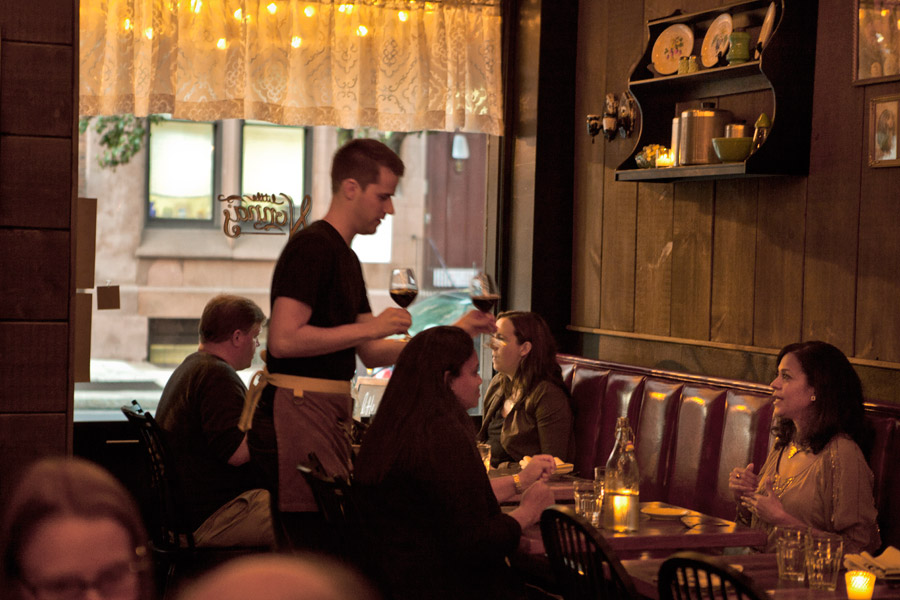 At Little Nonna's, chef/owner Marcie Turney adds contemporary flare to traditional red-gravy cuisine. (Photo by E. Mencher for Visit Philadelphia)
High Hopes
Your romantic overnight in the artsy enclave of New Hope, Pennsylvania begins with a ride on the New Hope & Ivyland Railroad, offering a narrated jaunt through scenic Bucks County on antique coaches. Next, hop off the train and into your automobile for a dream escape to Peddler's Village, where you'll explore 65 independently owned and operated shops on 42 acres of landscaped grounds and winding brick walkways. After a day of Colonial-style shopping, head to the Golden Plough Inn and relax with a bottle of wine from Chaddsford Winery before grabbing dinner for two at Earl's Restaurant.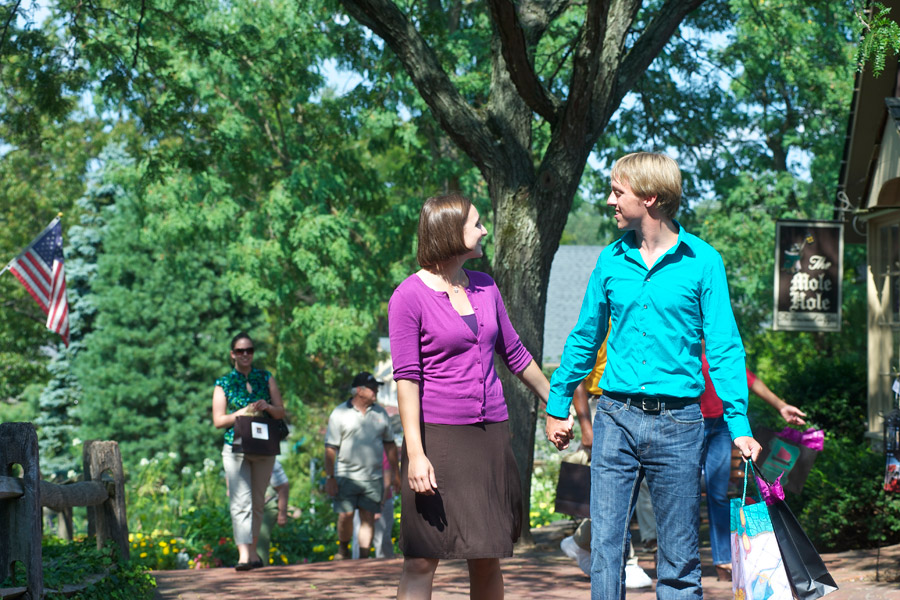 Peddler's Village offers small town, colonial charm just one hour from Center City Philadelphia. (A. Sinagoga for Visit Philadelphia.)
Advertisement:
Advertisement: