The 10 Best Running and Biking Trails Near Center City Philadelphia
Iconic jogs, scenic cycling routes and awesome trails accessible from downtown Philly
Looking to hop on a trail and grab some fresh air? Philly has tons of great running and biking paths, all reachable from the heart of Center City.
How about an iconic city jog that ends with a high five from Rocky Balboa? Or a scenic river-to-river route on one of the city's prettiest streets. Choose the distance and scenery that sparks your interest, and get moving!
To learn more about all trails in and around Philadelphia, check out The Circuit Trails, one of the largest trail networks in the country.
Schuylkill River Trail: Kelly Drive Loop
Loop: 8.45 miles; (26.5 miles if loop is not taken)
One of Philly's most popular running and biking destinations, the Kelly Drive Loop is a nearly nine-mile lap that hugs both sides of the Schuylkill River. Depending on the season, you'll find rowers sculling downstream, weeping cherry trees with gorgeous pink blooms or geese parenting baby chicks along the way.
The paved path begins behind the Philadelphia Museum of Art and winds its way along Boathouse Row before reaching Falls Bridge in East Falls. At the bridge, hang a left, cross over to the opposite side of the river and head back toward the city to finish the second half of the loop on Martin Luther King Jr. Drive.
Note: Martin Luther King Jr. Drive is typically closed to vehicular traffic from 6 a.m. to 5 p.m. on Saturdays and Sundays between April and October, allowing bicyclists, runners and more to utilize the entire street for most of the weekend.
For those looking for a (much) longer workout, keep going straight instead of turning left at Falls Bridge. The full Schuylkill River Trail extends 26.5 miles, ending at Valley Forge National Historical Park, and provides a primarily flat, tree-lined route that's perfect for serious cyclists. Suggested starting point: 640 Water Works Drive
More on the Schuylkill River Trail
Schuylkill River Trail: Schuylkill Banks and Boardwalk
About 1.8 miles (Philadelphia Museum of Art to South Street)
Schuylkill Banks, located in Center City Philadelphia, is open year-round for walking, jogging, cycling, picnics and dog-walking. The park stretches along the Schuylkill River and links the western edge of Center City to the Philadelphia Museum of Art, Fairmount Park and Kelly Drive via the Schuylkill River Park and Trail.
Opened in the fall of 2014, the Schuylkill Banks Boardwalk extends the trail out OVER the river, hovering just above the water. The scenic walkway begins at Locust Street and continues to the South Street Bridge, offering a waterfront spot with fantastic views of the Philadelphia skyline.
The spacious path is 15 feet wide and holds four scenic overlooks that welcome you to pop-in mid-route or come back to sit and relax after your exercise. To extend your venture, travel the boardwalk up to the connecting Kelly Drive Loop (see above) or hop over to the nearby Penn Park in West Philadelphia (see below). Suggested starting point: 129 S. 30th Street
Spruce Street between the Schuylkill and Delaware rivers
2.1 miles
While not technically a trail, Spruce Street, which extends from the Schuylkill River to the Delaware River, is certainly one of Philly's most beautiful roads. Start at one end and observe the distinct personality of the multiple neighborhoods you'll pass through along the way, including Society Hill, Washington Square West and Rittenhouse Square. If traveling by bike, take advantage of the designated bike lane that'll make your urban excursion easier. And consider packing a picnic to enjoy in one of the park areas on either riverside when you're done. Suggested starting point: 301 S. Christopher Columbus Blvd. or Spruce and 25th streets.
map of Spruce Street between the Schuylkill and Delaware river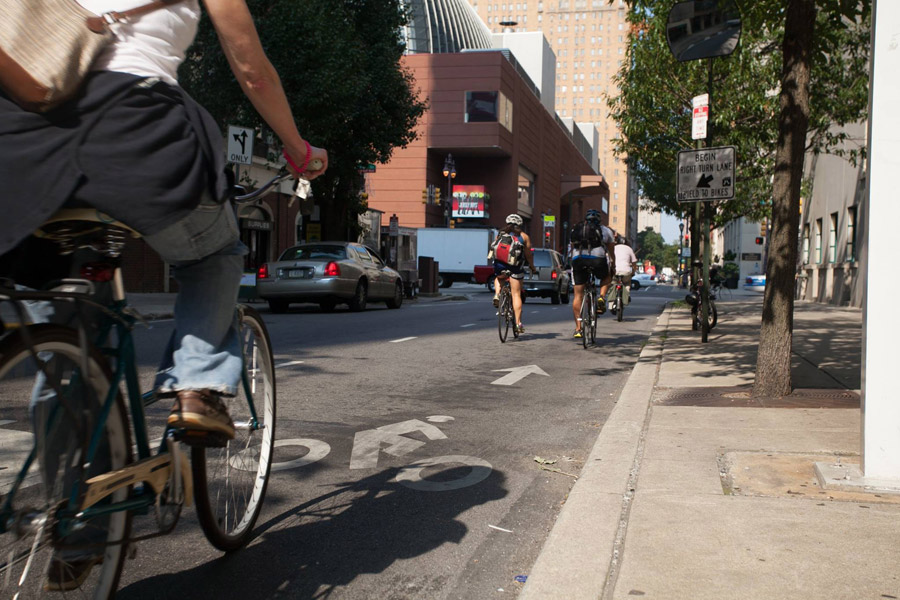 Spruce Street is one of Philadelphia's best streets for a bike ride or a run. (Photo courtesy Center City Biking Coalition)
Benjamin Franklin Bridge Walkway
3 mile round trip
The beautiful, blue Benjamin Franklin Bridge stands as an icon in Philadelphia, and spans just one-and-a-half miles over the Delaware River to New Jersey.
Hop on the pedestrian pathway (separated from the bridge's vehicular lanes) at 5th and Race streets, and you'll frequently find joggers and bikers making the three-mile roundtrip that unfolds if you run end-to-end and back. Along the way, catch plenty of sweeping skyline views and, if you're able to lace up during golden hour, one of the best sunset scenes the city has to offer (see above).
Bonus: Race Street Pier
If you begin and end in Philadelphia, head over to Race Street Pier when you're done for a great spot for cool down and some amazing views of the river and the bridge. (See picture below.) Suggested starting point:5th and Race streets
More on the Benjamin Franklin Bridge walkway
Rocky Run
3 miles
In his celebrated run, Rocky Balboa conquered a 30-mile venture across the city — nearly the equivalent of a 50K! If you want to run like Rocky but would prefer to execute a nearly 5K course instead, here's the perfect route for you.
Start at 9th Street and Washington Avenue, the heart of the Italian Market. This is where Rocky ran to the sounds of cheering fans and a scenery of bustling market buyers and sellers. Take 9th Street north until you hit Spruce Street and then make a left, running along its beautiful, wide sidewalks until you hit 16th Street. Go right on 16th street and follow it all the way until you hit the Benjamin Franklin Parkway.
Follow the parkway to the left until you see the Philadelphia Museum of Art, where you'll end your run like Rocky did, sprinting up the 72 "Rocky Steps" that lead to the entrance of the museum. Bonus: Run back down the steps to give Rocky Balboa a high five. (Find his statue to the right of the base of the steps). Suggested starting point:9th and Washington streets
Penn Park
0.5 - 1.1 miles, depending on chosen route
Stretching from Walnut Street to South Street, the University of Pennsylvania's Penn Park offers an oasis of recreational and athletic outdoor components. Surrounding the turf fields, pick-up soccer games, tennis center and other designated sporting areas, you'll find four running and walking paths that create track-like routes you can loop around as many times as you want. Suggested starting point: Walnut Street and 30th Street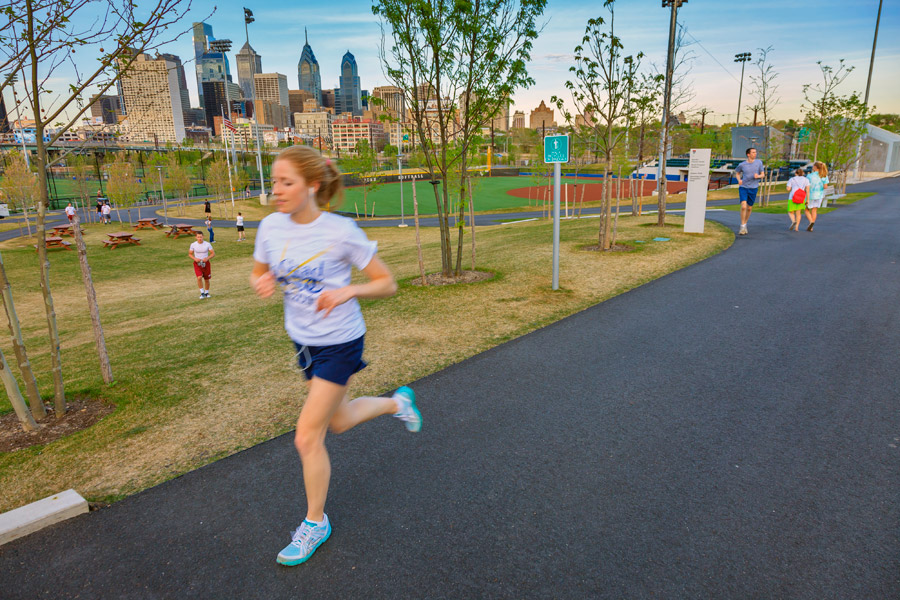 Penn Park offers a great recreational options for those in West Philadelphia. (G. Widman for Visit Philadelphia)
The Centennial 5K Route
About 3.1 miles
The Centennial 5K Route is a paved path that weaves its way through grassy parkland in Fairmount Park. It's perfect for joggers looking for a 5K loop or families seeking a well-marked path to cruise along on a shorter bike ride. The trail begins behind the Please Touch Museum, then passes along the Shofuso Japanese House and Garden before looping around the Centennial District. Suggested starting point: 4231 Avenue of the Republic Memorial Hall
starting point of The Centennial 5K Route
The Boxers' Trail
About 3.8 miles
Named for the boxers – including Muhammad Ali and Joe Frazier – who've used it as their training grounds, The Boxers' Trail winds its way around East Fairmount Park, connecting spots like the historic Smith Memorial Playground and Playhouse and the area's historic mansions to the Strawberry Mansion neighborhood.

The southern end starts at Sedgely Woods Disc Golf Course at 33rd and Oxford streets, but you can also connect to the trail via the Kelly Drive Loop (see above) by hopping off at the intersection of Kelly Drive and Fountain Green streets. Often underutilized, Boxers' Trail serves as a great spot for weekends when you want to get some fresh air away from the crowds – or to take on a pugilist persona. Suggested starting point: Reservoir and Randolph drives
Wissahickon Valley Park Trail (Forbidden Drive)
7 miles
When the woods are calling your name, the Wissahickon Valley Park Trail beckons you to come out for a bike ride or run. More commonly known as Forbidden Drive (named so because cars were banned from traveling on it in the 1920s), the pebbled trail follows a creek throughout its entire seven-mile length. While fairly flat, numerous dirt paths jut off from the trail for those seeking to run up a few hills or to put their mountain bike to work.
Forbidden Drive can be accessed by biking along the Schukyill River Trail (first half of the Kelly Drive Loop, see above) to Falls Bridge and then continuing straight on the path (don't cross the bridge) until you hit Ridge Avenue. Cross over Ridge Avenue, and you'll see that the paved bike path continues on. Follow this until you get to a parking lot, which leads into Forbidden Drive. Note: If driving is an option, you can navigate to the Valley Green Inn, where a large parking lot sits adjacent to the trail. Suggested starting point: Lincoln and Forbidden drives
More on Wissahickon Valley Park Trail
Bartram's Mile
1.1 miles
A newer portion of the Schuykill River Trail, Bartram's Mile starts at 56th Street and Lindbergh Boulevard and takes you through the beautiful Bartram's Garden, extending north to the Grays Ferry Bridge. Eventually, the trail will serve as a connecting point to the Schuylkill River Trail's Gray's Ferry Crescent via a re-purposed rail bridge, set to be in place by 2018. Suggested starting point: 56th Street and Lindbergh Boulevard.
Schuylkill River Trail: Manayunk Towpath
About 2 miles
As part of the Schuylkill River Trail, the Manayunk Towpath parallels the Manayunk Canal, a haven for wildlife and fisherman alike. It also runs adjacent to Manayunk's business district, putting you just steps away from many places to eat and drink once you hop off your bike or finish up a run. Varying in surface between boardwalk, gravel and hard ground, the trail will take you past old canal locks, ruins of the lock tender's house and old textile mills.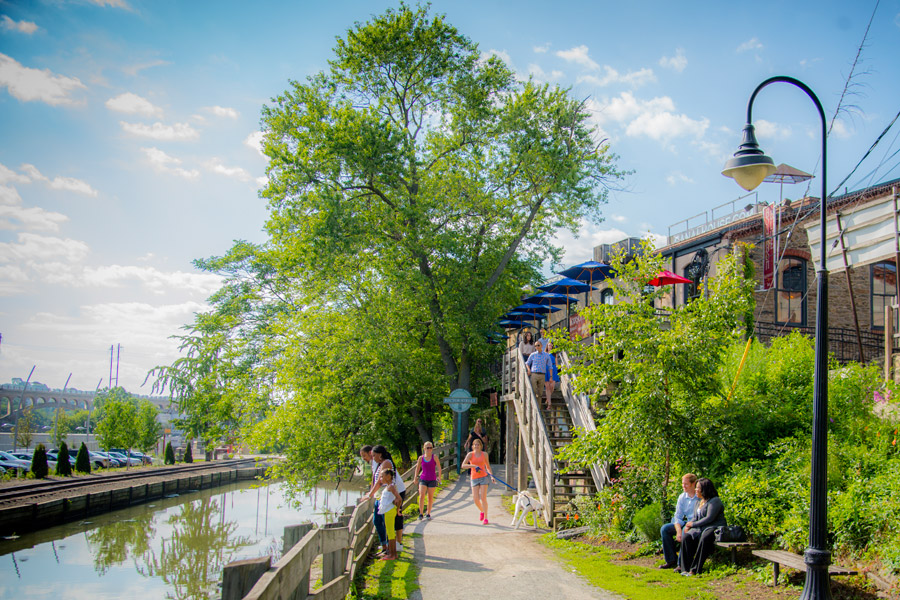 Run or bike along Manayunk's old towpath in Northwest Philadelphia. (M. Kennedy for Visit Philadelphia)
To reach the trail, start along the Kelly Drive portion of the Schuylkill River Trail until you reach the East Falls Bridge. (See No. 1, above.) Continue along Schuylkill Avenue past East Falls Bridge to Ridge Avenue. Then, veer left onto Main Street in Manayunk and when you reach Lock Street, turn left where access to the Manayunk Tow Path is found. Suggested starting point: Main and Lock streets in Manayunk.
---
Running Clubs
Looking for a running buddy to push you that extra mile (or to help keep your mind off of those sore legs)? There's an array of group runs that take place in Philadelphia that depart right from Center City. In fact, free, group-energy-fueled opportunities take place every single day of the week, at both morning and evening times. Below, find 10 differing running club options to choose from.
---