The Biggest Spring Events and Festivals Coming to Philadelphia
in 2015
Celebrate the season with arts, science, beer, music and more
The longer days and warmer temperatures mean many things, including the arrival of outdoor events, fantastic festivals all around the city and the first day of spring on Friday, March 20.
Many of the festivals on tap for the spring have been around for so long that they've turned into tried-and-true spring traditions — the Italian Market Festival, the Devon Horse Show and Country Fair and Rittenhouse Square Fine Arts Show — while many have gained popularity in fairly recent years — Philadelphia Science Festival, Roots Picnic and Philly Beer Week.
Check out more fun happenings below in our guide to the spring festival season.
April
Spring Blooms at Longwood Gardens
April 4 – May 31
At Longwood Gardens, tulips, dogwoods, wisteria, native azaleas, columbines, snapdragons, bluebells and more herald spring's arrival both indoors and out during the Spring Blooms display, on view through May 31. Guests will breathe in the fresh air and relish the beauty of the gardens, where every day something new bursts into bloom.
The Subaru Cherry Blossom Festival of Greater Philadelphia
April 6-12
Presented by The Japan America Society of Greater Philadelphia, this weeklong festival brings the best parts of Japan to Philadelphia through fun family events in Center City, Old City, Fairmount Park and the Main Line. Activities range from music and dance performances to sushi-making classes, contests, films and a 10k/5k walk/run.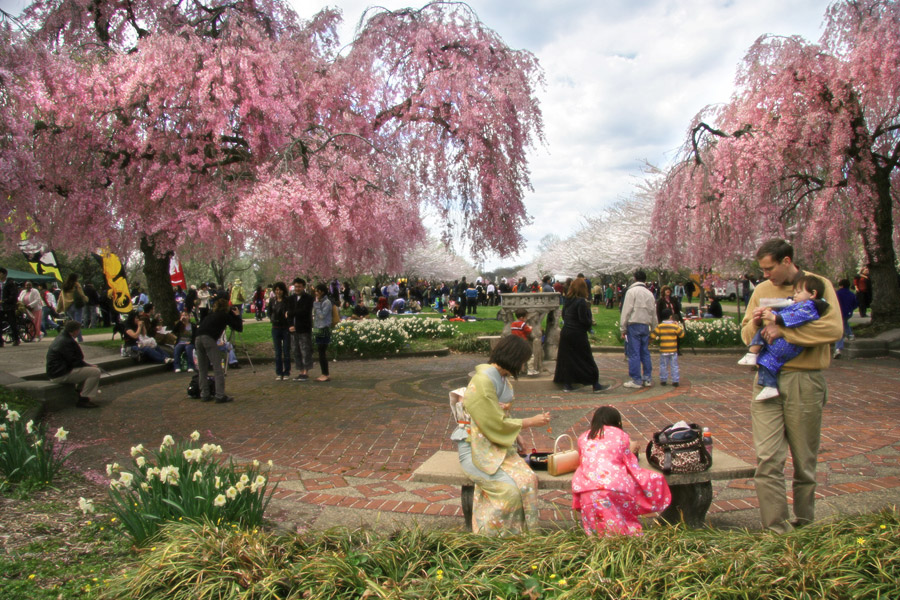 The centuries-old tradition of Sakura Matsuri, or Cherry Blossom Festival, includes ceremonial drumming, martial arts exhibitions, a traditional tea ceremony and more.
Manayunk StrEAT Food Festival and Restaurant Week
StrEAT Food FEstival: April 12
Manayunk Restaurant Week: April 12-24
With so many restaurants, one food fest isn't enough. That's why twice a year, foodies descend on Main Street for the StrEAT Food Festival, which kick off the spring and fall Manayunk Restaurant Weeks. Attendees nosh on food-truck fare, sample restaurant offerings, shop sidewalk sales and enjoy live entertainment.
Manayunk STREAT and REstaurant WEek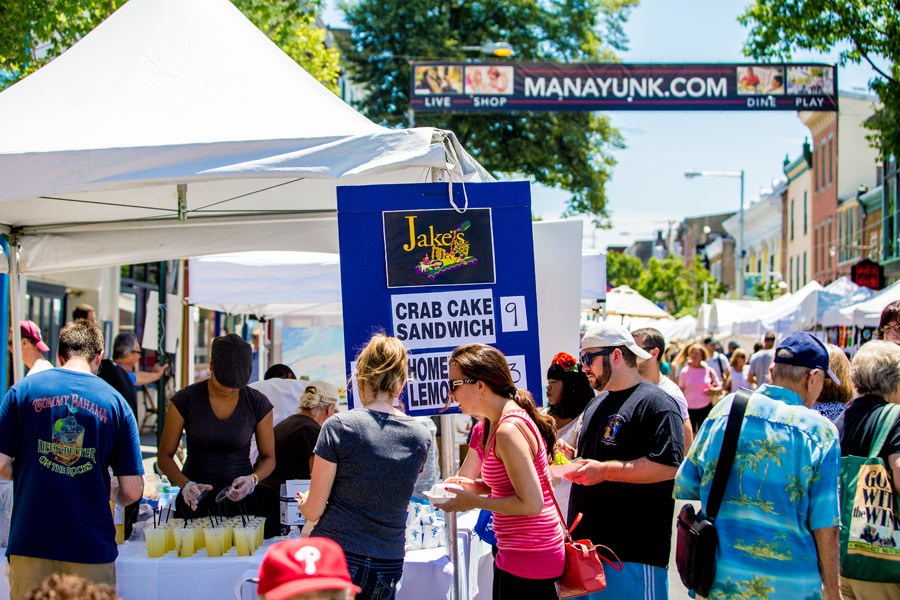 The Manayunk StrEAT Food Festival features top food trucks, shopping, live music and more. (J. Fusco for Visit Philadelphia.)
Philly Tech Week
April 17-25
Organized by Technically Philly, Philly Tech Week 2015 presented by Comcast celebrates and encourages the technology and innovation thriving in the Philadelphia region. More than 140 citywide events include a women-in-tech summit, a robotics showcase and a cocktail-infused tech expo and demo party held at the Comcast Center.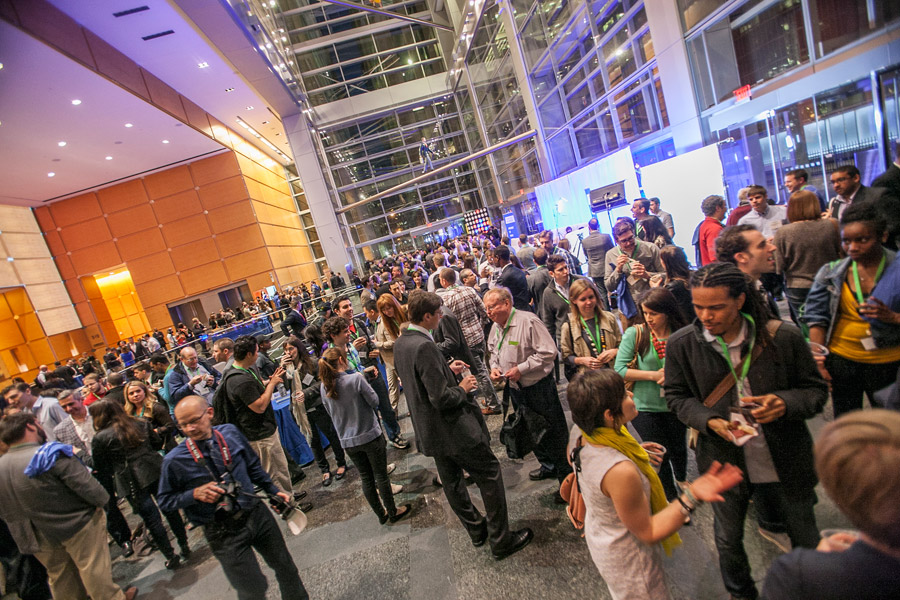 Philly Tech Week hits April 17-25 with an Arcade at Dilworth Park, a Start-up Crawl, a Mayoral Forum and so much more. (Photo courtesy Philly Tech Week)
Philadelphia Independent Film Festival
April 17-25
Running in conjunction with Philly Tech Week, the Philadelphia Independent Film Festival celebrates under-the-radar filmmakers from across the country with eight days of screenings, parties, panels and more. During the festival, guests can tune into films of all sort — documentaries, shorts, full-length films in a variety of genres and more. Screenings will take place at the Gershman Y, University of the Arts and Philly Nexus, which will also host a number of discussions and the filmmakers lounge.
Philadelphia Independent Film Festival
Sprung! 2015 Bar Crawl
April 18
The Graduate Hospital neighborhood hosts its third-annual Sprung! bar crawl to welcome spring on Saturday, April 18. More than half a dozen bars throughout the neighborhood will be serving up food and drink specials to all of those participating in the all-day bar crawl. Head to favorite spots like the Cambridge, Grace Tavern, Doobie's, Bob & Barbara's, Jet Wine Bar, Bainbridge Club and South Street newcomer Founding Fathers for happy hour-style specials all afternoon.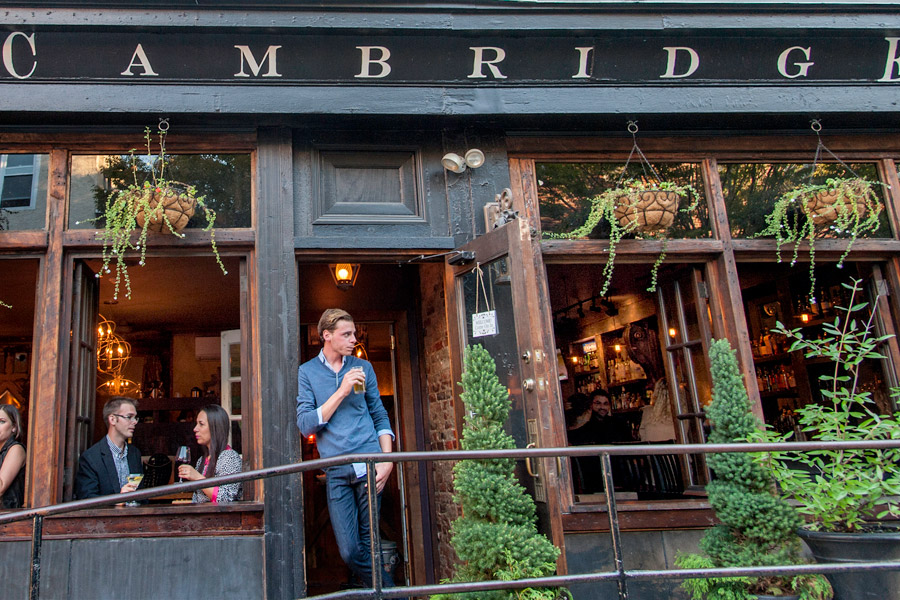 The Cambridge (shown here) is just one of the bars in the Graduate Hospital neighborhood that is participating in the Sprung! 2015 bar crawl on Saturday, April 18. (Photo by R. Kennedy for Visit Philadelphia)
Flight Market at Lincoln Financial Field
April 19
Inspired by The Food Trust's phenomenal festival series Night Market Philadelphia, Flight Market takes the food truck-fueled good times to Lincoln Financial Field to partner up with the Philadelphia Eagles on a family-friendly afternoon event. Festivalgoers can expect a solid Night Market-style lineup of more than 50 food trucks, as well as additional elements like live music, kids activities, a flea market, field tours, Eagles appearances and more.
The Penn Relays
April 23-25
A late April tradition, the annual Penn Relay Carnival is now in its 121st year, making it the world's first and most widely recognized relay meet. Each year, this historic rite of spring draws crowds of up to 100,000 to the University of Pennsylvania's Franklin Field, where spectators know they'll see some of the world's top track athletes compete — and begin Olympic careers.
Philadelphia Science Festival
April 24-May 2
Now in its fifth year, the Philadelphia Science Festival aims to inspire the next generation of scientists with more than 100 events over nine days. Highlighting how science and technology impact our daily lives, the festival features a number of hands-on, interactive events and exhibitions for all-ages including the massive street Science Carnival on the Benjamin Franklin Parkway. Best of all, most events are completely FREE.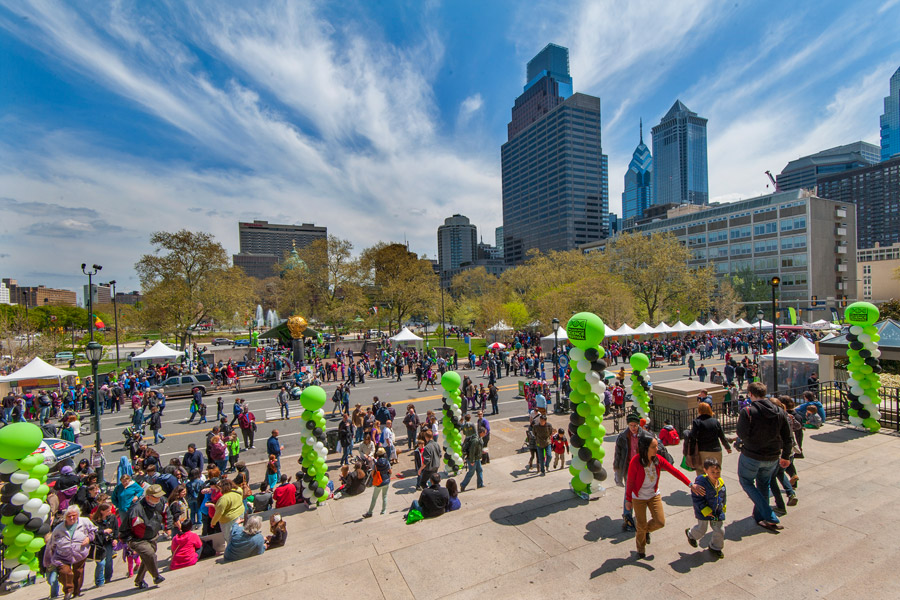 The Philadelphia Science Festival is one of the biggest spring events in the city. (R. Kennedy for Visit Philadelphia.)
Center City Jazz Festival and Jazz Appreciation Month
Center City Jazz Festival: April 25
Jazz Appreciation Month: April
With a mission to showcase some of the best jazz in Philadelphia, the Center City Jazz Festival brings a variety of jazz musicians to bars and lounges around the Washington Square West neighborhood of Philadelphia. The festival is the highlight of Philadelphia Jazz Appreciation Month, which celebrates the city's local jazz musicians and the role the City of Brotherly Love has played in jazz history with a number of jazz-themed events for guests of all ages.
Portside Community Arts Festival
April 25
Formerly the Lehigh Avenue Arts Festival, this annual fest has grown so popular that its now too big for Lehigh Avenue. For its first year at Penn Treaty Park in Fishtown (and eighth year overall), look forward to dozens of artisan vendors, food trucks, live local music and the return of the Philly Puff, the city's first-ever inflatable sculpture contest.
portside community arts festival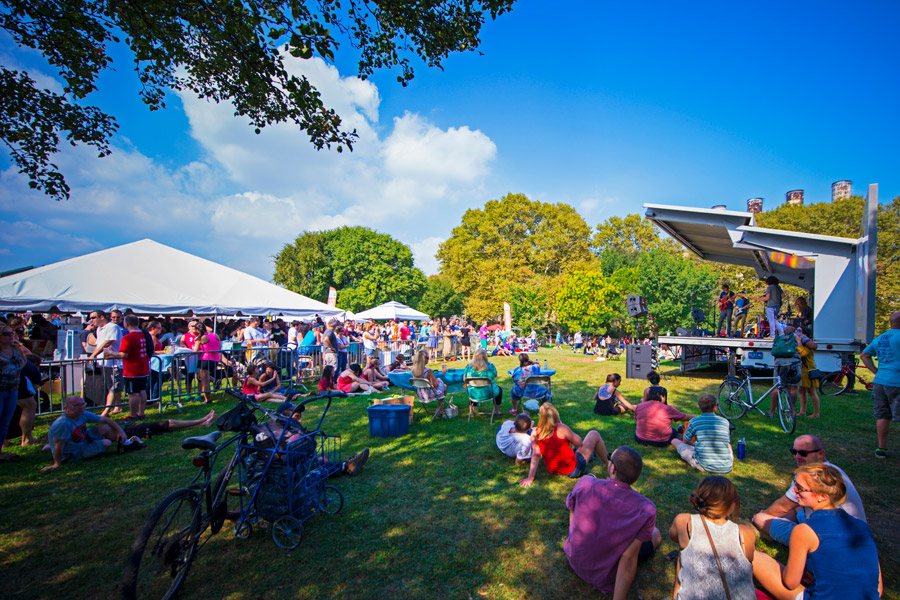 The Portside Community Arts Festival brings food trucks, games, music and more to Penn Treaty Park. (Photo by J. Fusco for Visit Philadelphia)
Go West! Craft Fest
April 25
In addition to selling locally made crafts and goods, the Go West! Craft Fest, presented by local shop VIX Emporium and As the Crow Flies & Co. and held outdoors at the Woodlands, hosts performances by local bands and Tangle Movement Arts' tiny circus performance series.
Flavors of the Avenue
April 26
It's one of the hottest restaurant rows in the region, and East Passyunk toots its own gastronomic horn during Flavors of the Avenue. For a reasonable admission fee, visitors can sample food and drink from its myriad restaurants, bakeries and pubs.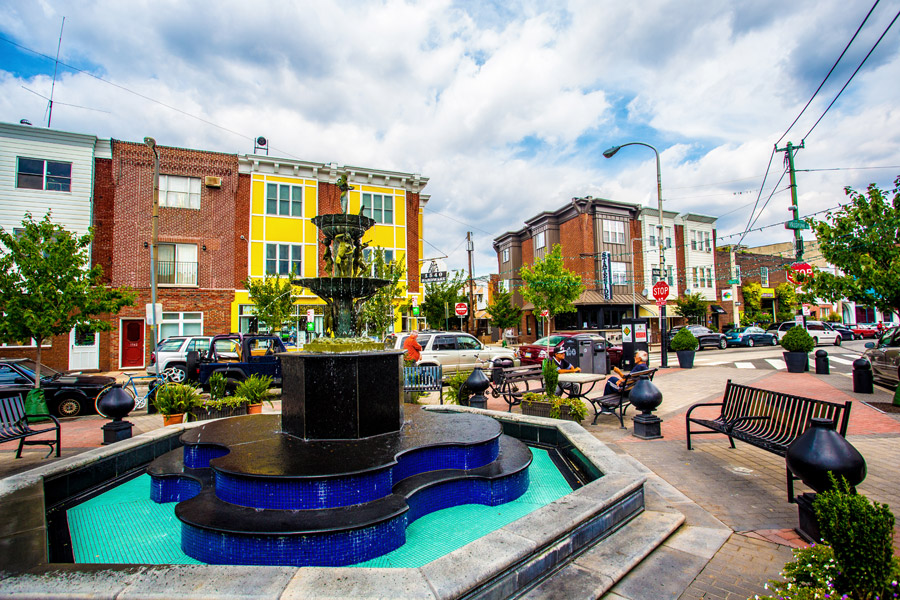 East Passyunk's Flavors of the Avenue is a favorite spring events, bringing the neighborhood's top restaurants together for an outdoor celebration. (J. Fusco for Visit Philadelphia.)
Dining Out for Life
April 30
Diners nosh for a great cause during Dining Out for Life, an annual event in which participating restaurants around the city donate 33% of every breakfast, lunch and dinner bill to Action AIDS.
May
Celebration of Black Writing
May 1-31
One of the oldest African-American literary events in the nation comes to Philadelphia each year and includes conferences and performing and literary arts with acclaimed journalists, writers, singers and performing artists from across the United States.
Rittenhouse Row Spring Festival
May 2
One of Philadelphia's most popular spring festivals, the annual Rittenhouse Row Spring Festival attracts more than 50,000 people from across the region to Rittenhouse Square for one awesome Saturday each May. The Rittenhouse Row Spring Festival takes over six blocks of Walnut Street (between Broad and 19th Streets) for the day to showcase the neighborhood's fantastic food, fashion, arts and entertainment.
Rittenhouse Row Spring Festival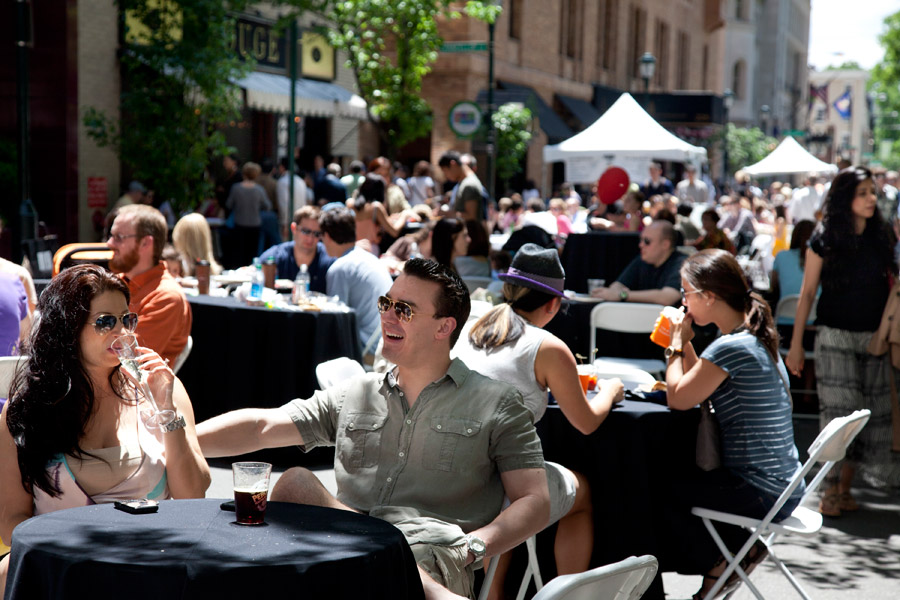 More than 40 restaurants will set up shop along the sidewalks of Walnut Street to serve up samples of spring fare during the Rittenhouse Row Spring Festival. (E. Mencher for Visit Philadelphia.)
South Street Headhouse Spring Festival and Maifest
May 2
Another super-popular spring festival is the annual South Street Spring Festival, taking over about eight blocks of South Street. Held on South Street, between Front and 8th streets, the fantastic outdoor celebration is a pedestrian paradise of food, music and fun from 11 a.m. until 8 p.m. And don't miss the third annual Maifest celebration, where 15,000 revelers try German beers and shop from street vendors while watching German dancers perform the traditional Maypole dance in front of Brauhaus Schmitz.
south street headhouse spring festival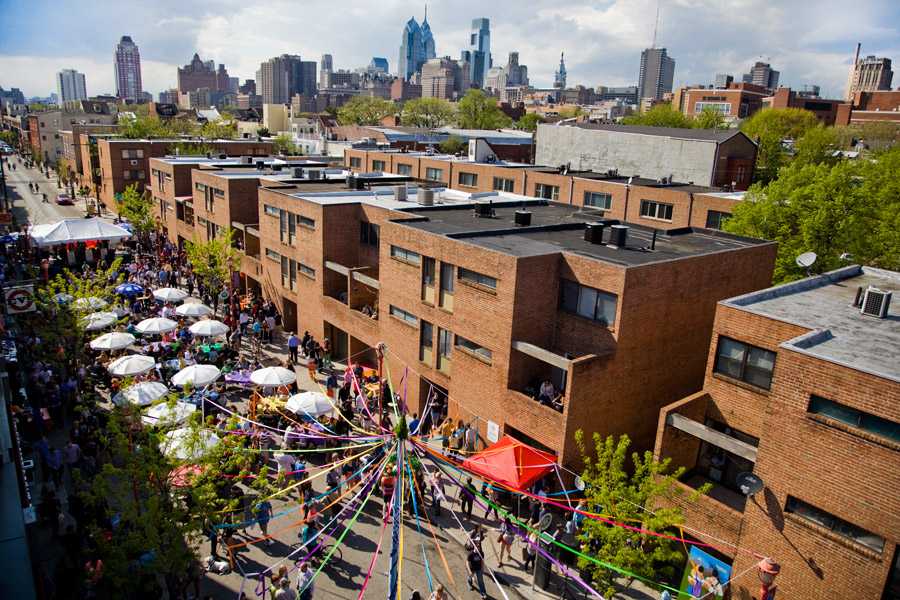 Celebrate spring with the South Street Headhouse Spring Festival and Brauhaus Schmitz Maifest. (M. Edlow for Visit Philadelphia.)
Sesame Place's 35th Birthday Celebration
Starts May 2
Sesame Place is turning 35! Starting May 2, enjoy festive birthday décor, birthday promotions and social media contests. In addition, the popular Neighborhood Street Party Parade will be transformed into the new Neighborhood Birthday Party Parade featuring a brand-new birthday float, fun birthday decorations and an exciting original birthday song.
Sesame Place's 35th Birthday Celebration
Strawberry Festival at Peddler's Village
May 2-3
Strawberries of all sorts, live entertainment and pie-eating contests are just a couple of the festivities at this free annual event at Peddler's Village.
Blue Cross Broad Street Run
May 3
The annual Blue Cross Broad Street Run is a 10-mile, point-to-point course running from the northern edge of the city to the Philadelphia Navy Yard on the Delaware Waterfront. Thousands of runners participate in the annual run that passes many of the city's most important landmarks including Temple University, City Hall, Pennsylvania Academy of the Fine Arts, The Avenue of the Arts and the Philadelphia stadium complex.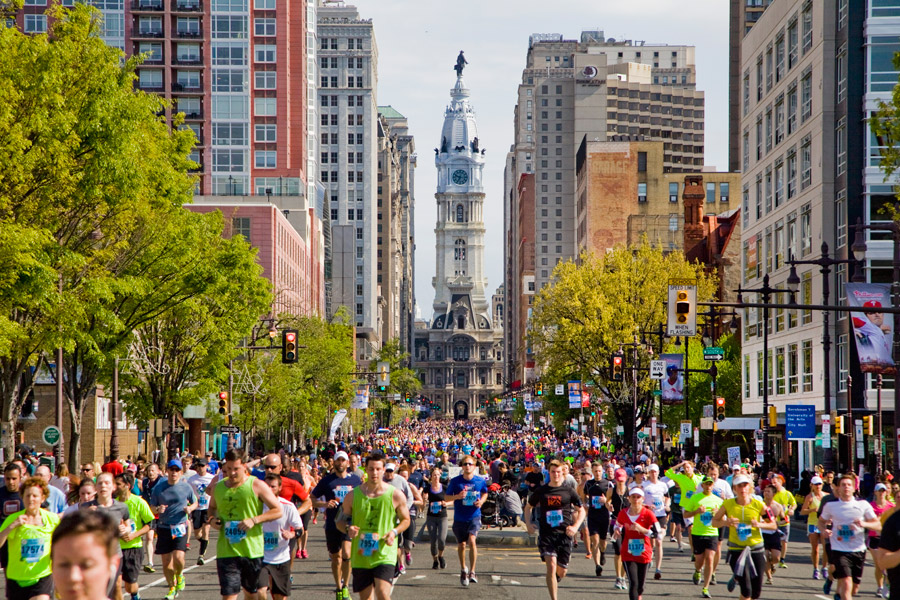 The largest 10-mile run in the nation, the Broad Street Run attracts 35,000 runners each year. (M. Edlow for Visit Philadelphia.)
Chestnut Hill Home and Garden Festival
May 3
Anything that goes into making a cozy home or spectacular garden is on display at Chestnut Hill's annual Home and Garden Festival. Hundreds of craftspeople, merchants, food purveyors and entertainers set up along several blocks on Germantown Avenue.
Chestnut Hill home and garden festival
Philadelphia International Children's Festival
May 7-9
The Philadelphia International Children's Festival celebrates its 30th anniversary at the Annenberg Center for the Performing Arts with even more family-friendly music and theater performances from around the globe, along with face-painters, jugglers and other entertainers in the free Fun Zone.
Philadelphia International Children's Festival
Aberdeen Dad Vail Regatta
May 8-9
Thousands of athletes from more than 125 colleges and universities in the United States and Canada compete on the scenic Schuylkill River during the annual Aberdeen Dad Vail Regatta, the largest collegiate regatta in the nation and a Philadelphia tradition. The two-day race is held in beautiful Fairmount Park, one of the most famous and scenic rowing routes in the world.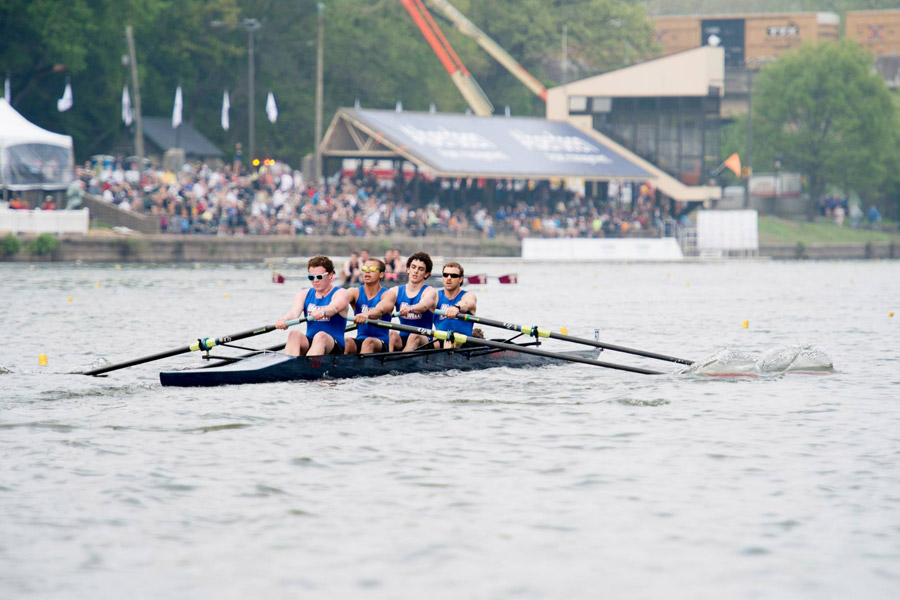 The Dad Vail Regatta has attracted competitors and their families for generations, so expect crowds of more than 10,000 spectators. (Photo courtesy of the Dad Vail Regatta.)
Art Star Craft Bazaar
May 9-10
Lovers of one-of-a-kind finds descend on the annual Spring Art Star Craft Bazaar, where the handmade goods include housewares, ceramics, clothing, art, paper goods and much more. The weekend-long sale at the Great Plaza at Penn's Landing is punctuated with live music, food and art demonstrations.
Love Your Park Week
May 9-16
Outdoor events of all sort make up the weeklong Love Your Park Week, presented by Philadelphia Parks and Recreation, the Fairmount Park Conservancy and neighborhood park groups. Kicking off with a citywide service day on May 9, the week also includes service days, festivals, family-friendly events and much more, all aimed at taking care of the 10,000 acres of Philadelphia's park system.
New Hope & Lambertville Celebrate Pride
May 10-17
Rainbows rule during Pride Week when the LGBT community and their friends gather for a week of lively and colorful festivities that include a block party, live entertainment and a parade so big it winds through two towns.
new hope & lambertville celebrate pride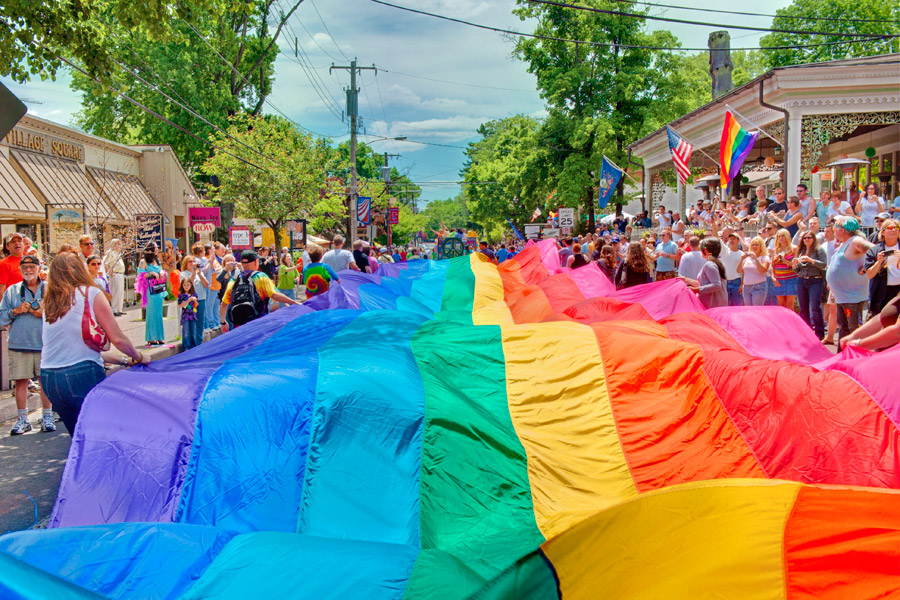 Each May, the New Hope Celebrates Pride festival includes the Pride Parade, athletic events, musical performances, a dance and more, and proceeds benefit national and local LGBT charities. (A. Sinagoga for Visit Philadelphia.)
Annual Student Exhibition at the Pennsylvania Academy of the Fine Arts
May 14 – June 7
The Pennsylvania Academy of the Fine Arts, the country's oldest and largest art museum and school, previews the works of third- and fourth-year art students during this 114th annual exhibition.
annual student exhibition at PAFA
Kensington Kinetic Sculpture Derby & Festival
May 16
The Kensington Kinetic Sculpture Derby & Festival is the new name for one of the city's quirkiest spring events. Formerly two events, the Trenton Avenue Arts Festival and Kensington Kinetic Derby, is a day-long celebration of the creative spirit and community pride.
Kensington Kinetic Sculpture Derby & Festival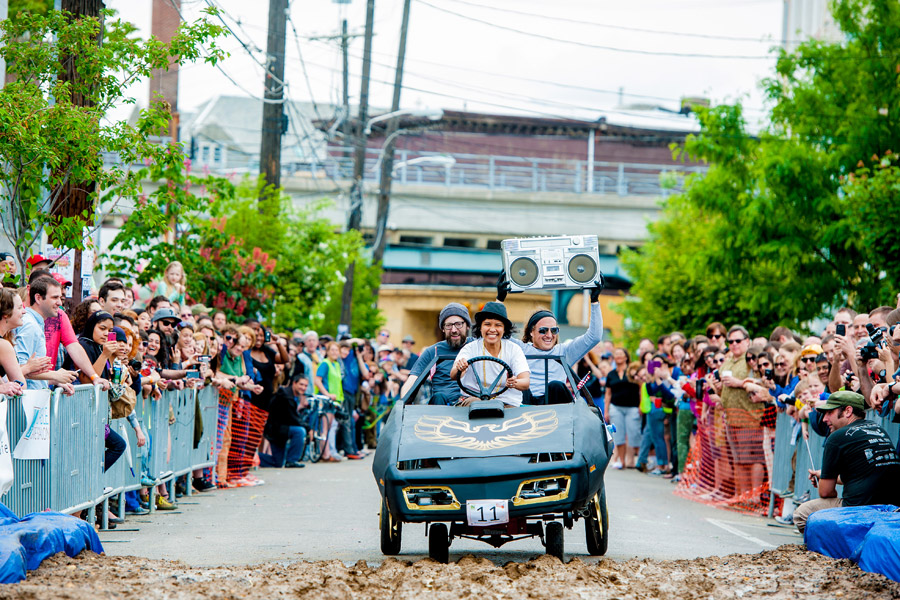 Watch wild creations take to the streets during the Kensington Kinetic Sculpture Derby which takes place alongside the annual Kensington Kinetic Sculpture Derby & Festival.
Plazapalooza
May 16
Plazapalooza — Graduate Hospital's annual alfresco festival — returns on May 3 with food, beer, live music, family fun and more. It all goes down at Grays Ferry Triangle at 23rd and South Streets, where local bands will perform live, brews will flow and food will be available from local eateries in the Graduate Hospital neighborhood.
Moravian Pottery and Tile Works Festival
May 16-17
A major proponent of the Arts & Crafts movement, Henry Mercer would cheer for the annual Moravian Pottery and Tile Works Festival at his working-history factory. The event attracts more than four dozen artisans and dealers selling hand-made tiles and pottery. Festivalgoers can also tour Mercer's factory, which still produces hand-made tiles and pottery.
Moravian Pottery and Tile Works Festival
The South 9th Street Italian Market Festival
May 16-17
For one weekend each May, 9th Street — in the heart of South Philadelphia — closes down traffic and a huge, multi-block festival takes over the neighborhood. It all starts with the great sights, sounds and aromas of America's oldest continuously operating open-air market: South Philadelphia's famous Italian Market. And the most important thing for you to bring with you is your appetite.
the south 9th street italian market festival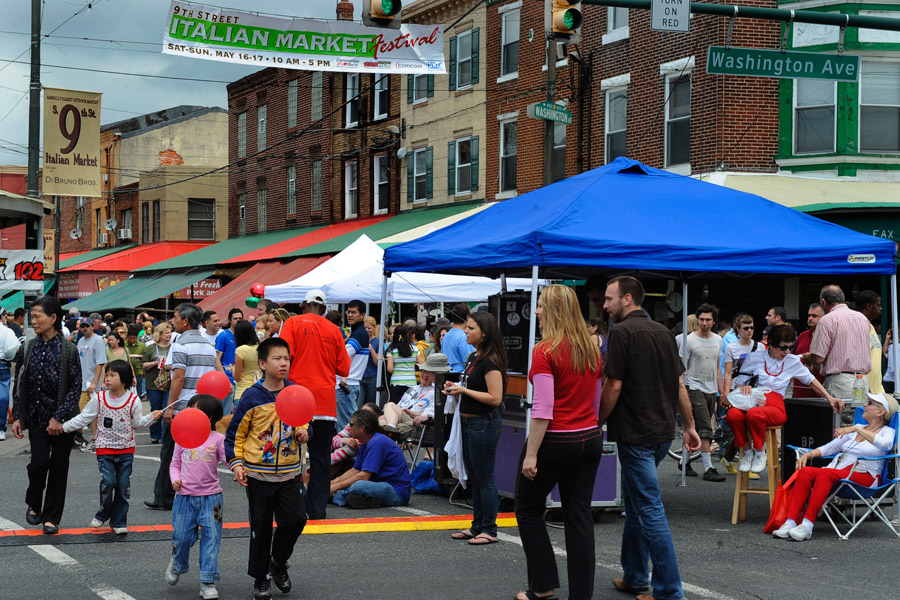 Always a bustling neighborhood, the Italian Market turns it up a notch during the 9th Street Italian Market Festival in May. (R. Kennedy for Visit Philadelphia.)
Devon Horse Show and Country Fair
May 21-31
The country's oldest and largest event of its kind features hunters, jumpers, Saddlebreds, four-in-hand coaching, exhibitions and an old-fashioned fair at the Devon Show Grounds.
Spruce Street Harbor Park Reopens
May 22
Last summer visitors were blown away by the debut of Spruce Street Harbor Park, a pop-up park on the Delaware River Waterfront. By popular demand, the riverside oasis will return in 2015 with beer gardens, pop-up restaurants and, of course, hammocks.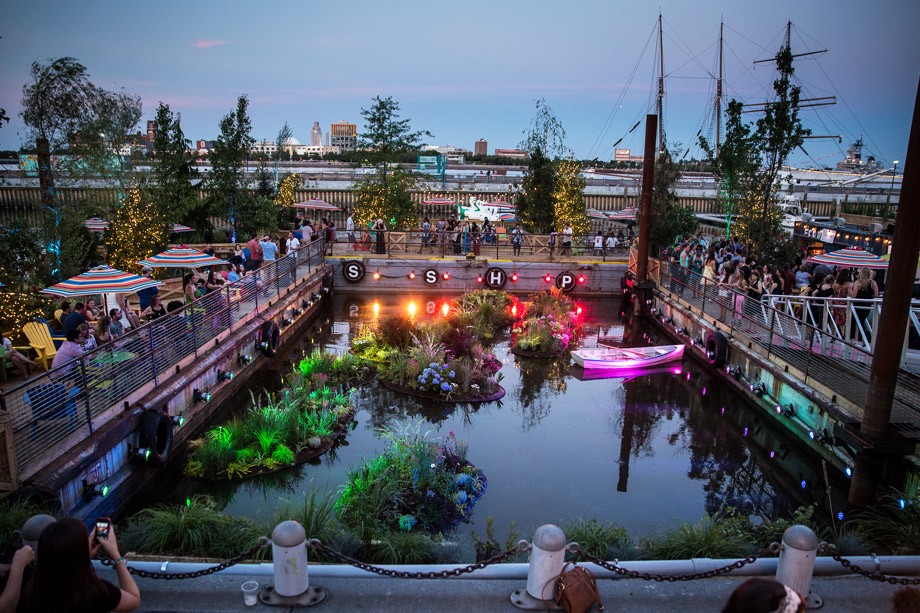 Spruce Street Harbor Park returns to the Delaware River Waterfront in 2015, bringing back its super-popular beer gardens, a floating eatery, colorful lights and prized hammocks. (Photo courtesy of M. Stanley for DRWC.)
Blue Cross RiverRink Summerfest
May 22
For the first time this year, the area that housed this past winter's Blue Cross RiverRink Winterfest will transform into a warm-weather edition with a roller rink, a boathouse-styled Lodge, a play area for kids, food and drink options and summer events throughout the season. Opening Memorial Day weekend, Blue Cross RiverRink Summerfest will be free and open to the public daily through the end of September.
blue cross riverrink summerfest
NCAA Men's Lacrosse tournament at Lincoln Financial Field
May 23-25
College lacrosse's most talented stars will take up their game at Lincoln Financial Field this Memorial Day Weekend for the 2015 NCAA Men's Lacrosse Championships. From Saturday, May 23 through Monday, May 25, semifinals and championships take over the NFL Eagles' home turf for a fun-filled time for all.
NCAA Men's Lacrosse tournament
Philly Beer Week
May 29 – June 7
The local obsession with hard-to-find and unusual craft beers circle their calendars in red to mark the return of Philly Beer Week. Highlighted by such signature events as the Opening Tap celebration and the Hammer of Glory Relay Race, the sudsy celebration which actually runs for 10 days, is packed with hundreds of brewery tour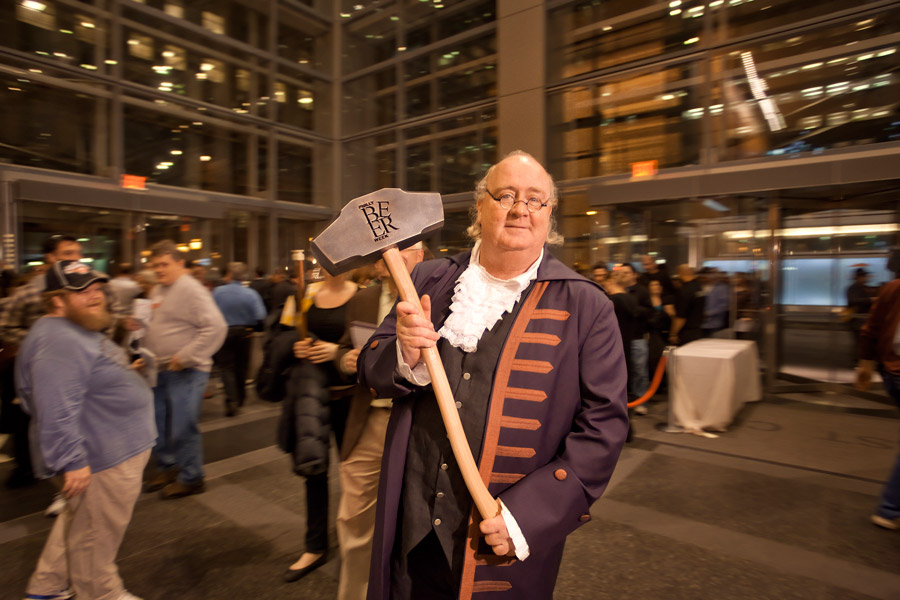 During Beer Week, the Hammer of Glory — a big branded mallet that serves as the iron-clad symbol of Beer Week — makes its way around the city. (G. Widman for Visit Philadelphia.)
Roots Picnic
May 30
Philly's own Grammy®-winning hip-hop band The Roots bring together artists from various genres for a daylong concert at the Festival Pier at Penn's Landing.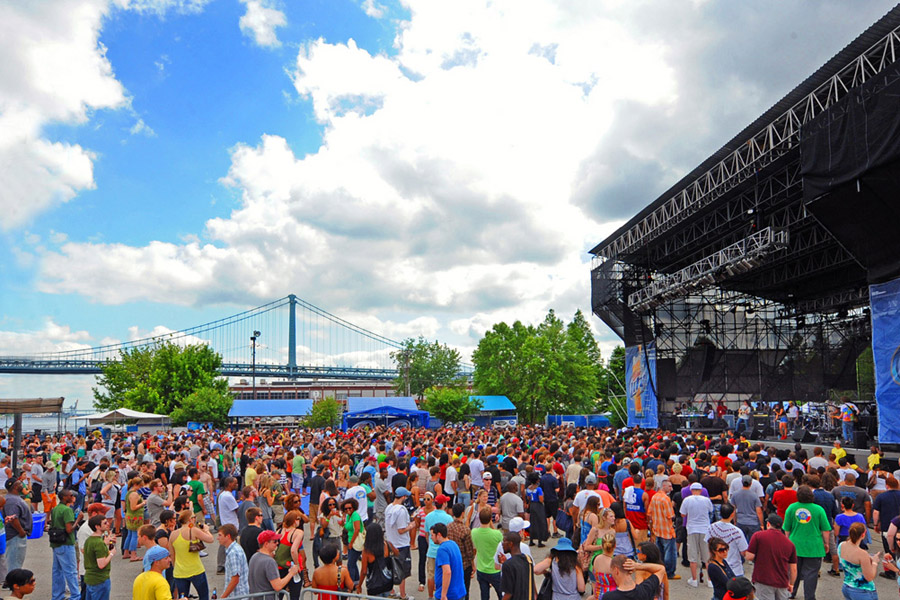 A full crowd enjoys spring weather and great music at The Roots Picnic. (M. Kennedy for Visit Philadelphia.)
Brewerytown Spring Festival
May 30
The up-and-coming Brewerytown neighborhood celebrates the spring season with a day of music, food, art and fun on Girard Avenue. Sample dishes from local eateries, including Rybrew and the new Pizza Brain location, and enjoy a day of family-friendly events and activities.
Downingtown Fine Arts Festival
May 30-31
Head to East Lancaster Ave. in Downingtown at the end of May for the Downingtown Fine Arts Fest, where area artists will have their works on display, Victory Brewing Company will have its Brewpub on Wheels available and live music will fill the air.
downingtown fine arts festival
Future Sensations at The Oval
May 30-June 6
Philadelphia is the only U.S. city to host Saint-Gobain's never-before-seen traveling exhibit Future Sensations, a high-concept, immersive experience featuring five distinct "ephemeral pavilions." Through science, storytelling and art, each pavilion will offer a 3-D walk-through encounter that will be completely free and open to the public. From May 30 to June 6, Future Sensations will take over The Oval, the park on the Benjamin Franklin Parkway, with five 20- to 30-ton pavilions that offer visitors a live digital experience merging 21st-century technology with imaginative arts.
Philadelphia joins Shanghai, Sao Paulo and Paris as one of only four cities to host Future Sensations, a futuristic exhibition commemorating the 350th anniversary of Saint-Gobain, which launched in Shanghai (shown here) in January. (Photo courtesy of Saint-Gobain).
Collegiate Rugby Championship at PPL Park
May 30-31
The top rugby teams from across the country will battle it out for the number one spot at the end of May. A group of college rugby teams will play in the Collegiate Rugby Championships at PPL Park, which will host the two-day game for the fifth year in a row. The invitational championship will welcome a number of local teams in addition to talented rugby teams from across the nation.
Dining Under the Stars in Media
May-September
Come hungry to Dining Under the Stars when Media restaurateurs swing open the doors and set up service at tables smack in the middle of State Street. Cars are a no-no during the weekly alfresco event, featuring live entertainment, merchant specials and other treats.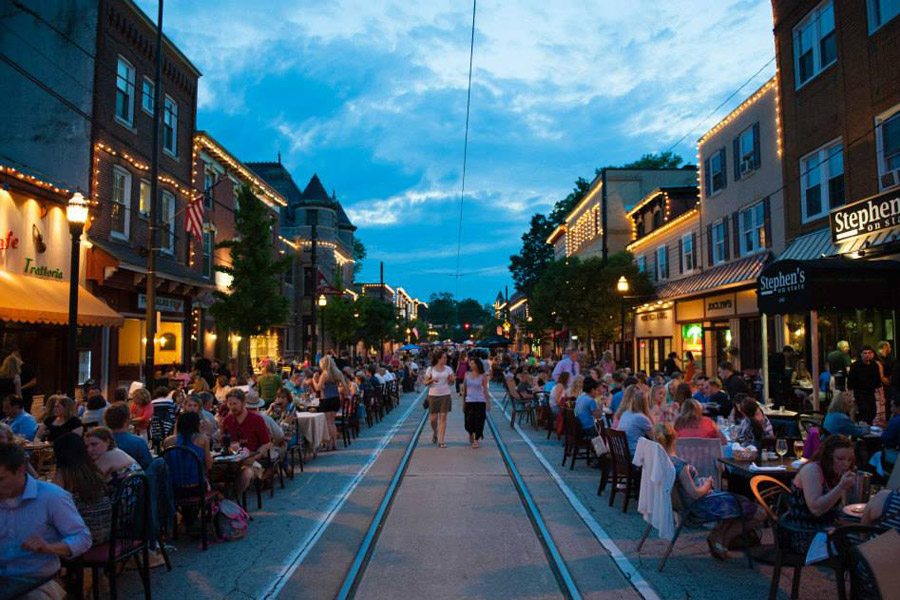 Stroll, shop and dine on State Street in Media during Dining Under the Stars. (Photo courtesy of Dining Under the Stars.)
PECO Multicultural Series at Penn's Landing
May – September
The PECO Multicultural Series on the Great Plaza at Penn's Landing celebrates the diverse cultures that make Philadelphia a distinct city. The free Sunday events include the Hispanic Fiesta, Carribbean Festival, Islamic Heritage Festival, Irish Festival, Southeast Asian Dragon Boat Festival and more.
Night Market Philadelphia
TBA
Food trucks and Philadelphia neighborhoods are the key ingredients for the uber-popular Night Market Philadelphia hosted by The Food Trust. The roving festival of street eats, live music and neighborhood pride typically kicks-off in the spring and is held multiple times throughout the year.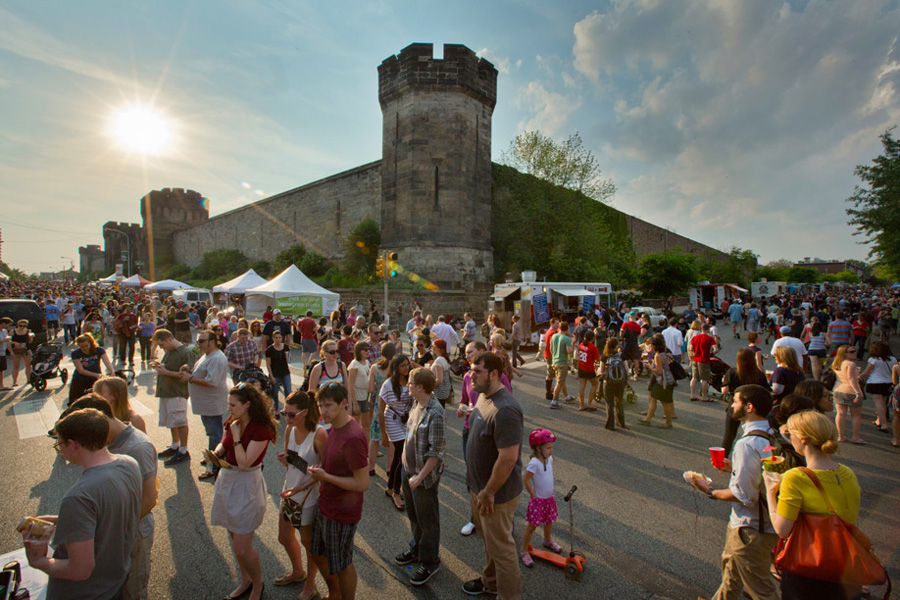 Night Market Philadelphia brings the city's top food trucks to various neighborhoods during the warm weather months for an evening of food, music and fun. (Photo by D. Tavani for Visit Philadelphia)
Pie in the Sky Kite and Food Truck Fest
May TBA
Food trucks and flying kites come together for the third annual Pie in the Sky Food Truck Festival at Penn Treaty Park. Festival-goers are encouraged to bring their own kite and fly it high above the Fishtown park while filling up on mobile eats from various food trucks.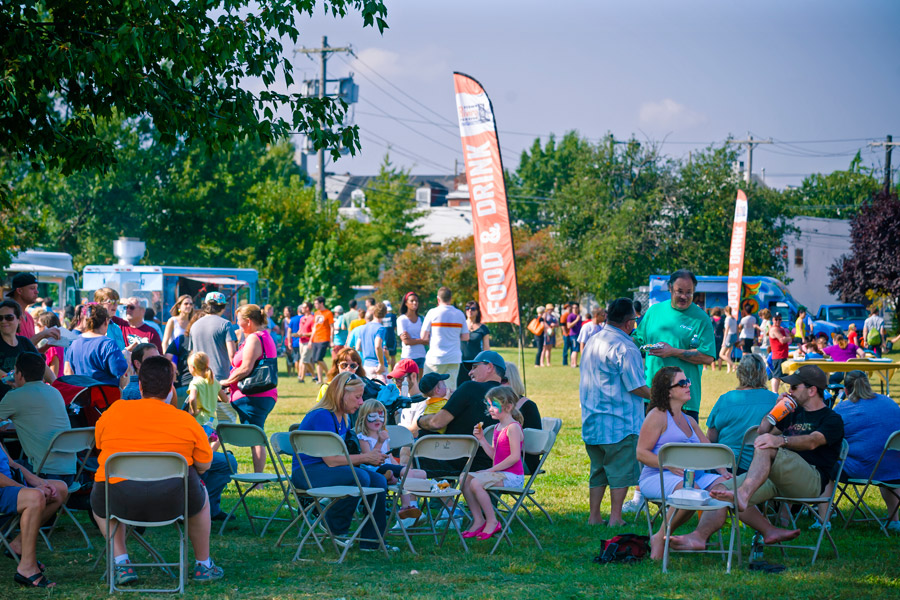 The Pie in the Sky Kite and Food Truck festival offers kite flying, kite making, food truck fare and more. (M. Kennedy for Visit Philadelphia.)
June
Phillies Phestival
June 1
Get an autograph from your favorite Phillies player for a good cause during the annual Phillies Phestival at Citizens Bank Park. Thousands of fans join the Phillies for the annual celebration that raises funds towards the fight against ALS.
50th anniversary of Gay Rights Demonstrations
June 5 – September 7
Throughout the summer, Philadelphia will honor the 50th anniversary of one of the nation's first gay rights demonstrations with a series of special events and activities. The National Constitution Center will take look at the gay rights movement with the exhibition Seeking Justice, Seeking Equality: The Constitution, the Supreme Court, and the Evolution of Gay Rights while a reenactment of the original July 4th demonstrations will take place on Independence Mall.
50th anniversary of Gay Rights Demonstrations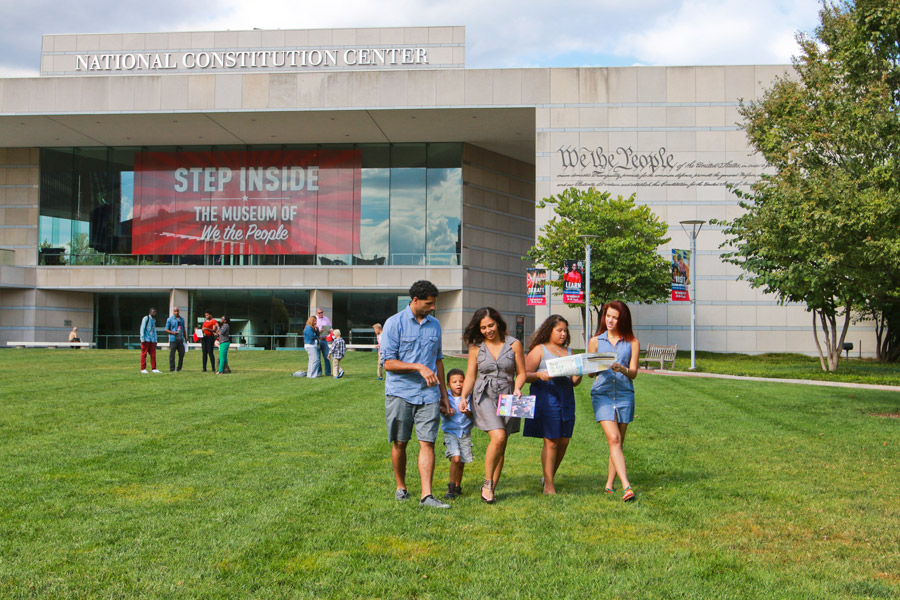 Philadelphia celebrates the 50th anniversary of one of the first gay rights protests with an exhibition at the National Constitution Center (above) and a reenactment on Independence Mall, opposite the museum. (D. Cruz for Visit Philadelphia.)
Rittenhouse Square Fine Arts Show
June 5-7
The nation's oldest outdoor show featuring original art, Rittenhouse Square Fine Arts Show will "Circle the Square" for its 84th year. Enjoy spring in the scenic Center City park and browse the a wide range of artworks from more than 100 artists.
Rittenhouse Square Fine Arts Show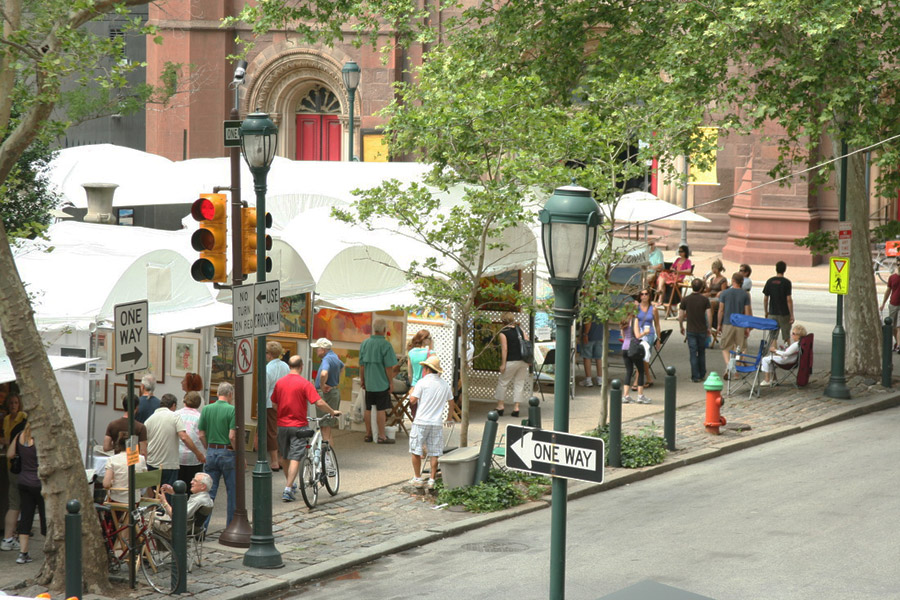 The Rittenhouse Square Fine Art Show welcomes more than 140 artists from the Philadelphia area and beyond. (Photo courtesy of the Rittenhouse Square Fine Arts Show.)
Fete Day at Elfreth's Alley
June 6
Take a rare look inside the homes along the nation's oldest residential street during Fete Day on Elfreth's Alley. For one afternoon, residents will open their doors to the public to see how generations have lived and preserved the homes on the historic block. Throughout the day, enjoy food, crafts, live music and colonial games.
Strawberry Festival at Linvilla Orchards
June 6
Pick your own fresh strawberries at Linvilla Orchards' annual Strawberry Festival. The sweet event features a family-friendly day of live music, games, demonstrations and the largest Strawberry Shortcake in the Delaware Valley.
strawberry festival at linvilla orchards
Fairmount Ave. Arts & Culture Day
June 6
Musicians, artists, and other performers from in and around the Fairmount community come out for the first Fairmount Avenue Arts & Culture Day. Celebrating the neighborhood's abundant talents from a wide range of genres, the event is jam-packed with live entertainment, art, craft booths, food and the chance to win prizes from local merchants.
fairmount ave. arts & culture day
Philly Cycling Classic
June 7
Cheering crowds pack the streets for the giant neighborhood party that accompanies the annual Philadelphia International Cycling Classic. This race brings some of the world's best riders to take on "The Wall," Manayunk's steepest topographic challenge. In addition, recreational cyclists are invited to ride the closed course before the pros.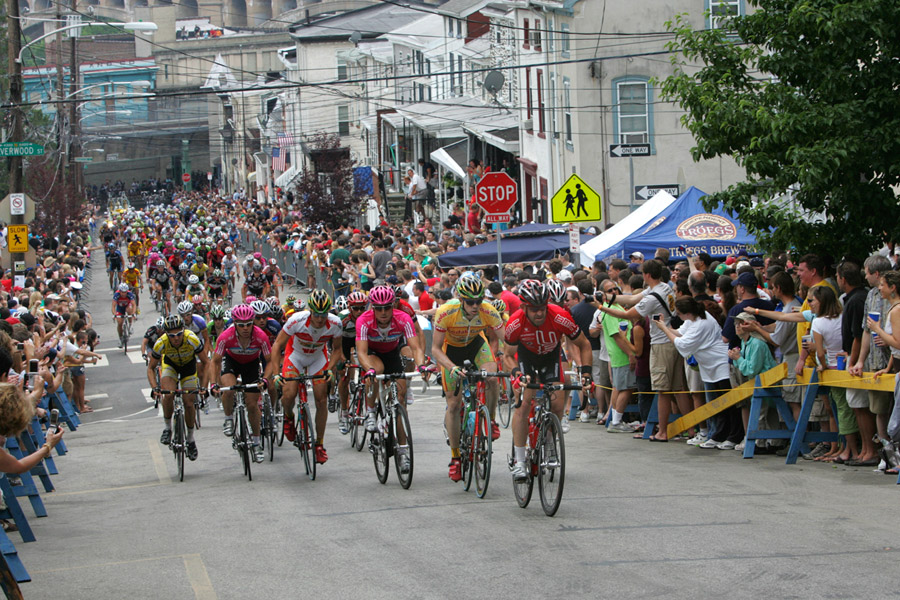 The start/finish line of the Philly Cycling Classic sits atop the infamous Manayunk Wall, creating a dramatic end to the race as riders push up the grueling 17% grade hill. (R. Kennedy for Visit Philadelphia.)
Super Sunday in West Chester
June 7
On Super Sunday, downtown West Chester takes on a circus-like atmosphere, with two stages of live entertainment, food, craft booths, amusement rides, antique cars, magic shows and meet and greets with Dora the Explorer and Clifford the Red Dog. June 7.
Bloomsday at The Rosenbach
June 9-16
James Joyce's masterwork Ulysses serves as the focal point of Bloomsday, an international holiday celebrating the novel. The Rosenbach of the Free Library of Philadelphia hosts the Philadelphia outpost of Bloomsday-related celebrations with a week-long festival for literary enthusiasts, culminating in the outdoor public reading of passages from the book.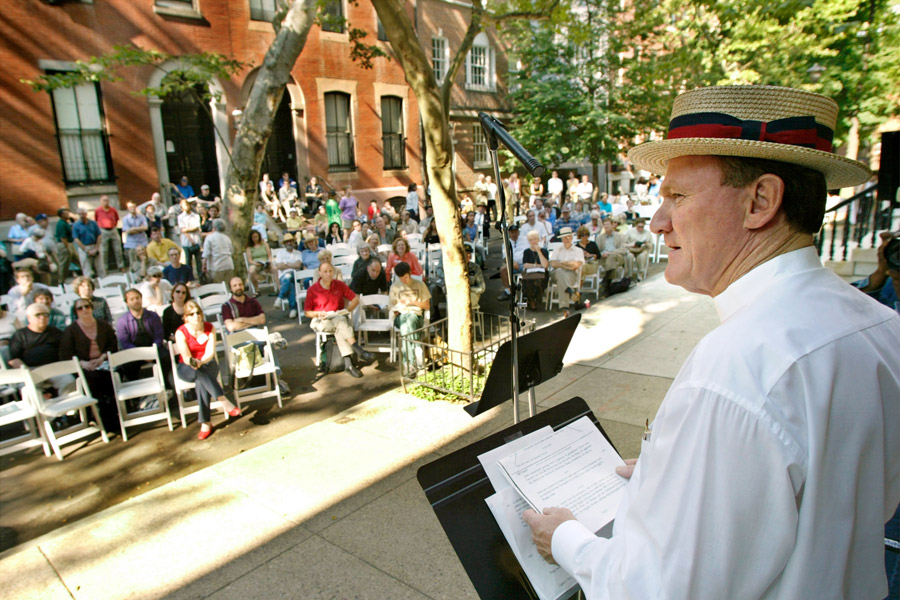 The Bloomsday festivities take place outside The Rosenbach Museum.
Ambler Art and Music Festival
June 12-13
There are art festivals and music festivals, but the Ambler Art & Music Festival combines both into one giant party. For two days, the town's main drag is closed to traffic so fans can rock out to more than a dozen bands, shop for crafts from more than 70 artisans and relax in the beer garden.
State Street Blues Stroll in Media
June 13
Calling all music lovers. The annual State Street Blues Stroll is a tuneful evening of guitar-shredding, soul-stirring, rousing and hypnotic blues starring more than two dozen of the genre's top regional and national performers, including Lil' Ed & The Blues Imperials.
Odunde Festival
June 14
The annual Odunde Street Festival is celebrating four decades of bringing a genuine taste of Africa to South Street with a cultural, family-friendly celebration that attracts more than expected to draw nearly 500,000 people each year and covers 12 city blocks.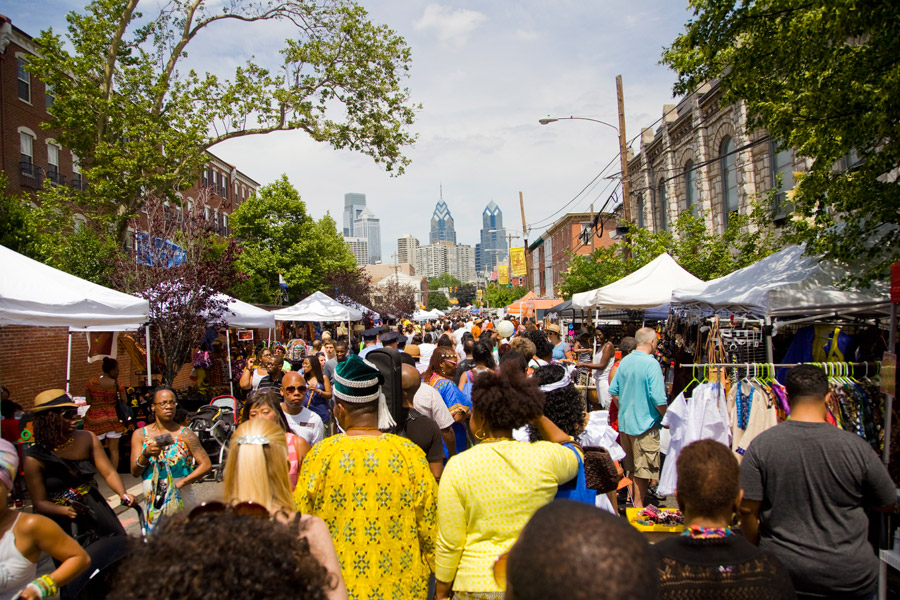 The Odunde Festival, held each June on Philadelphia's South Street, is the largest African-American street festival in the nation. (M. Edlow for Visit Philadelphia.)
PrideDay, LGBT Pride Parade and Festival
June 14
The 27th annual Pride Day LGBT Parade and Festival takes place during International Gay and Lesbian Pride Month and features live music, DJs, food and drinks. A festive parade, the signature event, runs from the Gayborhood to Penn's Landing.
PrideDay, LGBT Pride Parade and Festival
Clark Park Music & Arts Festival
June 20
Held on Saturdays closest to the summer solstice and fall equinox, the Clark Park Music and Arts Festival brings together music of all genres, arts and crafts, vendors and family activities in one of the city's most vibrant neighborhood gathering spaces.
clark park music & arts festival
Manayunk Arts Festival
June 20-21
The largest outdoor juried arts festival in the region, the 26th annual Manayunk Arts Festival attracts thousands of visitors for a weekend of arts, crafts and entertainment. Hundreds of artists from around the country will showcase their works along Main Street in Manayunk during the two-day celebration.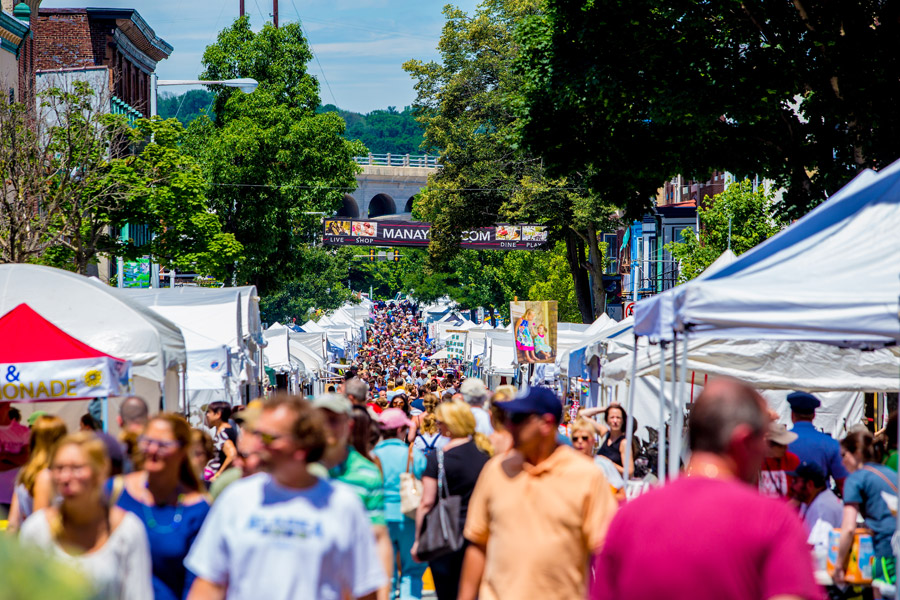 Thousands pack Main Street in Manayunk for a weekend of arts, crafts, food and fun during the annual Manayunk Arts Festival. (Photo courtesy J. Fusco for Visit Philadelphia)
Tall Ships Challenge Philadelphia Camden 2015
June 25-28
Billowing sails will waft in the breeze when the Tall Ships Challenge Philadelphia Camden 2015 pulls into port. Visitors can catch a glimpse, step aboard and even set sail on the ships, which will dock at Penn's Landing and the Camden Waterfront.
Tall Ships Challenge Philadelphia Camden 2015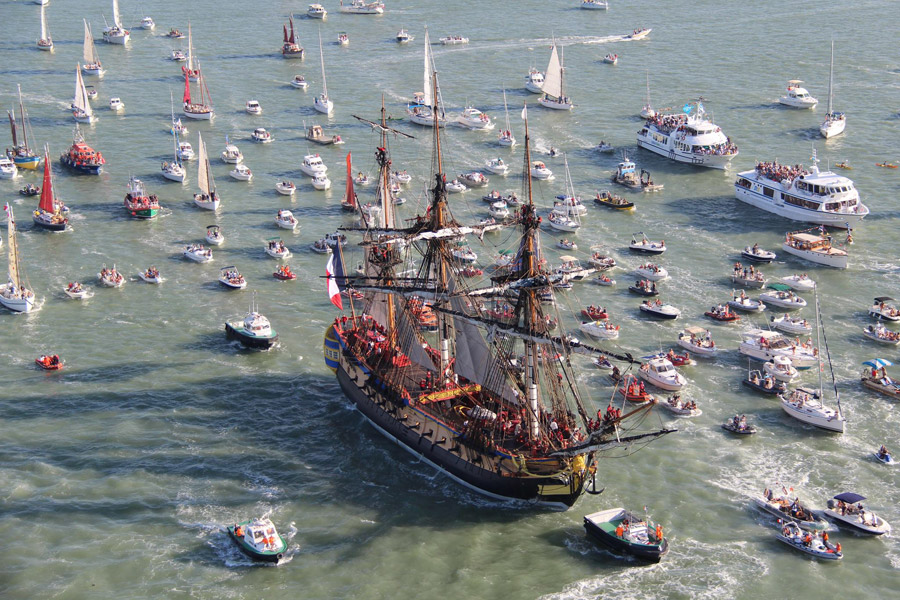 The Delaware River will teem with tall ships this summer. (Courtesy of Draw Events.)
Baltimore Avenue Dollar Stroll
June TBA
Save your $1 bills for the popular Baltimore Avenue Dollar Stroll in West Philadelphia. Dozens of businesses along the Avenue set up shop on the sidewalk for an evening of $1 deals that include tasty bites, pet toys, giveaways, local beer and much more.
baltimore avenue dollar stroll
Art for the Cash Poor
June TBA
Expand your art collection without breaking the bank during InLiquid's annual Art for the Cash Poor. Held at the Crane Arts Building, the yearly block party features food, music and more than 100 artists offering works in a variety of mediums with most pieces costing less than $100.
Juneteenth
June TBA
Historic Germantown honors the end of slavery in the United States during the annual Juneteenth Festival at The Johnson House. The community festival begins with the Freedom Walk on Germantown Avenue leading up to a day of live music, performances, family-friendly events and educational activities teaching visitors about the history of anti-slavery and abolitionist movements.
Advertisement:
Advertisement: