Philadelphia's Newest Skyscraper: The Comcast Innovation and Technology Center
59-story structure in Center Ctiy to be one of the tallest buildings in the country
The Philadelphia skyline is growing again. Projected to open in 2017, the 1,121-foot-tall, state-of-the-art Comcast Innovation and Technology Center will be one of the largest buildings in the country and an impressive fixture in Center City.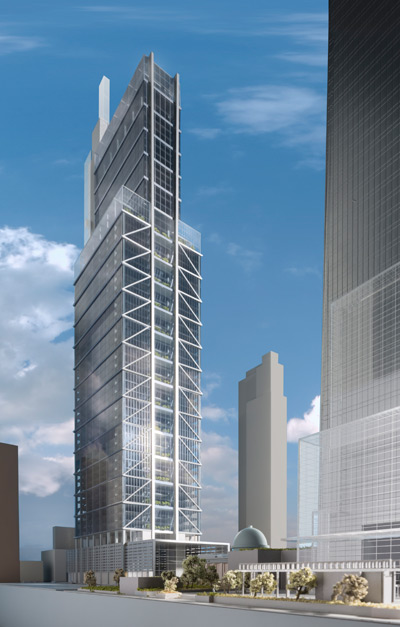 Construction on the $1.2 billion skyscraper—which will neighbor the 975-foot-tall Comcast Center—is scheduled to begin in the summer of 2014.
The towering, 59-story structure, developed by the Comcast Corporation and Liberty Property Trust, will expand Comcast's global headquarters and become the new homes for NBC 10, Telemundo and the Four Seasons Philadelphia Hotel.
Designed by architect Lord Norman Foster of Foster + Partners, the tower will span the 1800 block of Arch Street and include a block-long lobby with a glass-enclosed indoor plaza, which Foster has described as a "window on Philadelphia."
Philadelphians will be able to take advantage of the space with a new ground-floor restaurant and concourse, which will provide direct access to SEPTA's Suburban Station. The office portion of the building will occupy the lower 45 floors, with the hotel rising above.
When complete, the tower is anticipated to claim its place as the tallest building in the entire United States outside of New York and Chicago.
View additional renderings of the new Comcast Tower
---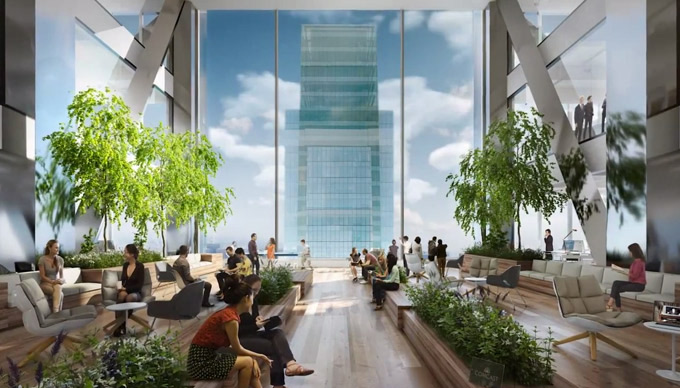 Facts and Figures
1,121-feet-tall
59 floors
Stainless steel and glass façade
1.285 million rentable square feet of office space
230,112 square feet of hotel space
2,682 rentable square feet of retail space
200+ luxury hotel rooms
1 top floor restaurant
Seeking LEED Platinum certification from the U.S. Green Building Council
Cost: $1.6 billion
---
The Four Seasons Hotel
The Four Seasons Philadelphia has held court on Logan Square for more than 30 years, but with the construction of the new tower, the hotel will transition to new sky-high digs.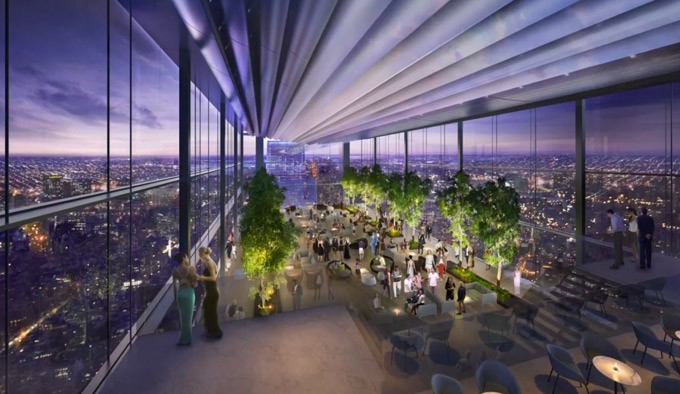 Housed on the top floors of the tower, the new luxury hotel will include more than 200 rooms, a spa, fitness facilities, event and meeting space, as well as — get ready for it — an exciting new restaurant located on the top floor of the building, offering awesome 360 degree city views.
During construction the Four Seasons will continue to manage its existing, iconic hotel at 1 Logan Square, and will assist the owner with a transition to a new brand.
Sky High Dining
Looking for dinner with a view? There will be no shortage of spectacular sights in the yet-to-be-named restaurant located on the top floor of the Comcast Innovation and Technology Center.
Soaring 900-feet off the ground, the new restaurant and lounge is already one of the most anticipated new eateries in the city.
---
Virtual Tour
Get a sneak peek at the Comcast Innovation and Technology Center and see how it will impact the look of Philadelphia in the video below.
---
---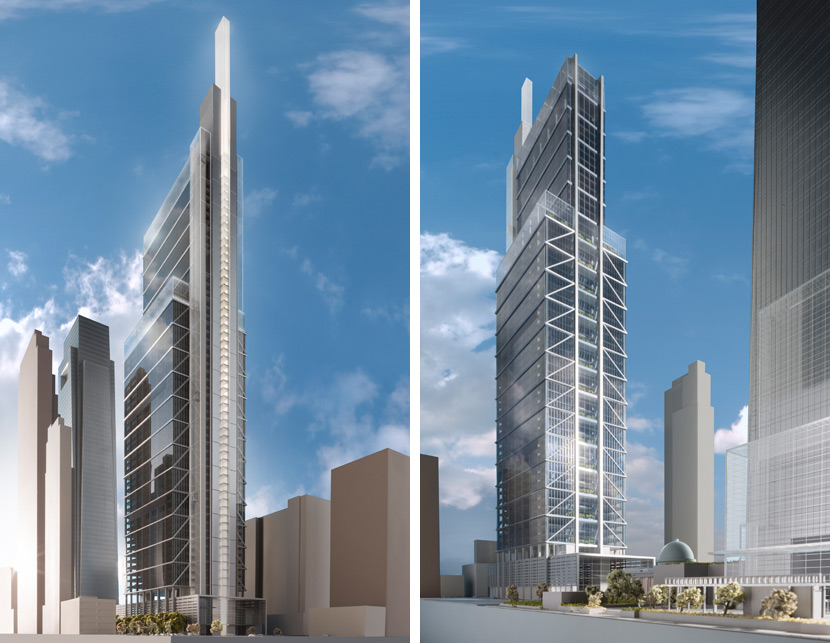 On the left: a rendering of the new Comcast Innovation and Technology Center from the west. On the right: a different view of the new tower, looking west down JFK Boulevard. (Image courtesy Comcast)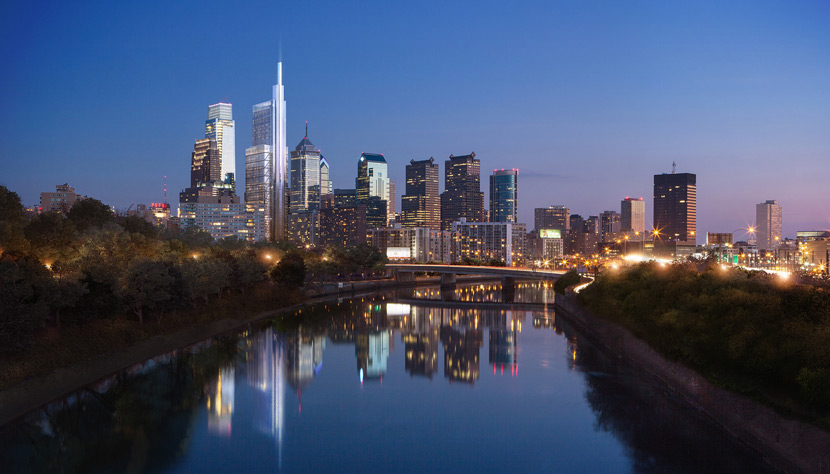 When completed, the new Comcast tower will be the tallest building in America outside of New York and Chicago. This is a rendering of how the new Comcast tower will fit into the Philadelphia skyline, viewed from the Schuylkill River.
(Image courtesy Comcast)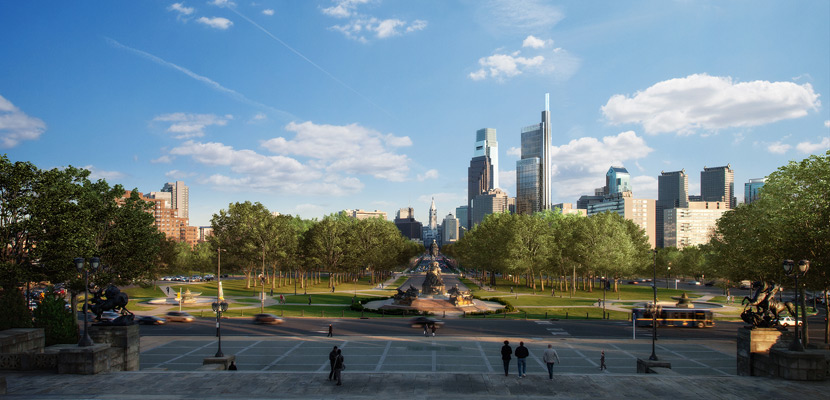 Another view of the new Comcast tower and the new look of the Philadelphia skyline, as seen from the steps of the Philadelphia Museum of Art.
(Image courtesy Comcast)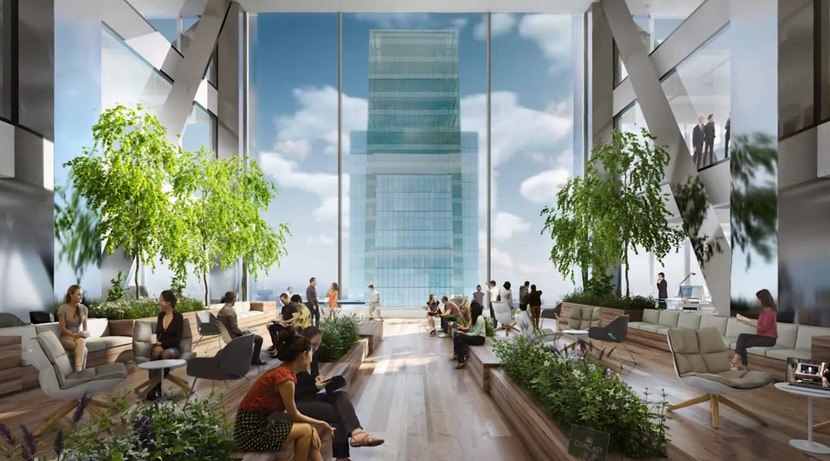 An interior view of the new Comcast Innovation and Technology Center, where Comcast will be expanding their headquarters, located next to the existing Comcast Center.
(Image courtesy Comcast)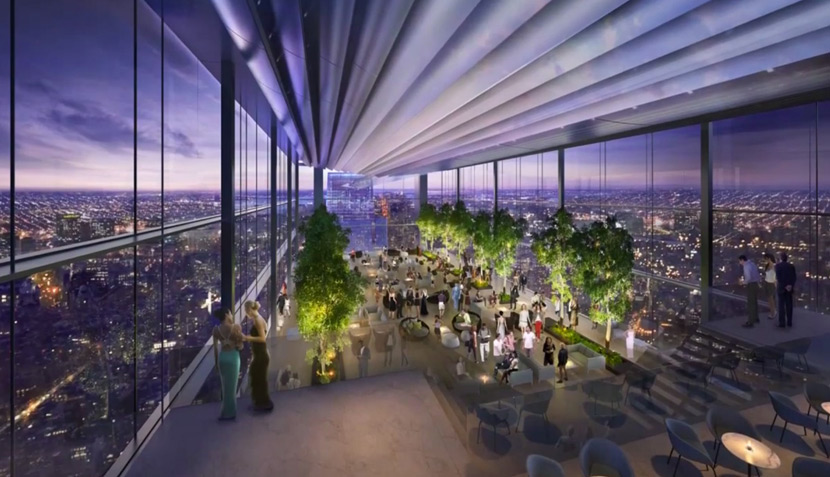 The new tower will feature a restaurant on the very top floor of the building. This is an initial rendering of the top-floor restaurant, which — at 900 feet up — will be the highest publicly accessible place in Philadelphia by more than 400 feet(!) and will offer breathtaking views of Philadelphia and beyond.
(Image courtesy Comcast)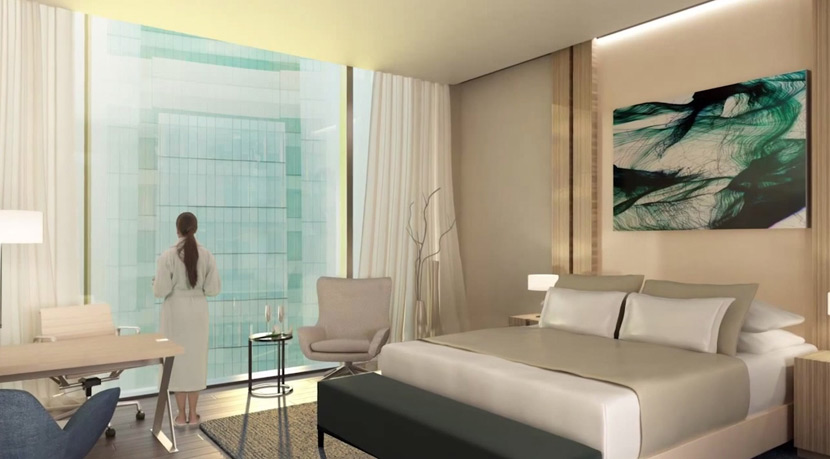 The Four Seasons Philadelphia Hotel will be moving into the top floors of the new Comcast tower, boasting more than 200 rooms with views unlike any other in Philadelphia. This rendering depicts a hotel room with a view looking east with the top of the existing Comcast Center visible in the background.
(Image courtesy Comcast)