Top Dining Picks From Philadelphia Chefs
Top city chefs dish their favorite restaurants, best markets, secret finds and more
Philadelphia's charms as an eating town are increasingly well known—and increasingly well documented in national newspapers and magazines such as Food & Wine, The New York Times, The Washington Post, GQ and many, many others. But it's also a city that harbors a fair number of hidden delights, which is exactly what makes eating here so much fun. Here, five local food luminaries share where they like to go on their off-hours, what they snack on late at night, their favorite low-cost meals and why they love to cook and dine in Philly.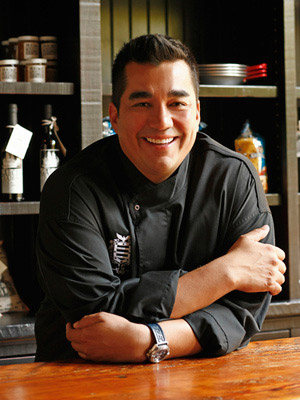 Jose Garces
A certified Iron Chef who's electrified Philly's dining scene with his innovative cooking, Jose Garces is also one of its culinary leaders. After having trained in Spain and New York, he came to Philadelphia in 2001 to work in the kitchen of Stephen Starr's El Vez. It wasn't long before he opened his first restaurant, Amada, and in rapid succession a host of others, including Tinto, Distrito, Village Whiskey, Garces Trading Company, J.G. Domestic and Rosa Blanca, with Volver in the Kimmel Center on the way in 2014. Though he's gone on to open restaurants in other cities, he continues to call Philadelphia home.
What draws you to Philadelphia, and how would you characterize this city's eaters?
The city's eaters are actually a big part of what draws me to Philadelphia: They're passionate about food, fiercely proud of their city and always eager to try something new. They're also candid and honest, which makes this a great place to grow as a chef. I think the dining public here is a major factor in the current level of creativity in our dining scene; having a variety of talented, ambitious chefs engaged in friendly competition drives all of us to do better, and diners get to enjoy the results.
Where do you like to shop for food?
Reading Terminal Market is great for fresh, local, seasonal goodies. I love discovering what local producers have to offer. In the Italian Market, I hit up Esposito's Meats for their amazing selection and Variedades Veracruzana for specialty Mexican and Latin American items that are essential for so many of my dishes.
Where's the best place to eat on the cheap?

It's no secret that I'm a lover of Philly's lively Chinatown neighborhood for cheap, hearty eats—especially after a long night in the kitchen—and lately, I can't get enough of the superior soup dumplings and succulent marinated pork at Dim Sum Garden. Recently, they moved into a new, larger space, but their authentic Shanghai-style food remains some of the best in the city and a personal favorite of mine.
What restaurant offers the ultimate Philly experience?
One visit to Franklin Fountain, Old City's gorgeous ode to ice cream shops of yore, and you'll have a hard time staying away. This loving period piece transports you and your sweet tooth back to the turn of the century with authentic, hand-churned ice creams, old-fashioned soda fountain treats and even mustachioed counter help from the owners themselves. It's a love letter to the past and very much a part of Philadelphia's present—their seasonal sundaes and shakes, like the Caramel Apple Pie Milkshake, always manage to blow me away.
Why is Philadelphia a good city for chefs to live and work?
Beyond the amazing dining audience here, Philadelphia is also surrounded by some of the nation's oldest farmland, where family growers have been raising produce and meat for generations. We're close enough to the Atlantic to take advantage of coastal seafood and shellfish, and our devoted local food scene includes not just ambitious and creative chefs, but also boasts a wealth of talent at every step on the food chain, from farmers and importers to wait staff and bartenders. This is a city that loves good food, and there's nothing more exciting, energizing and satisfying than cooking for an enthusiastic crowd.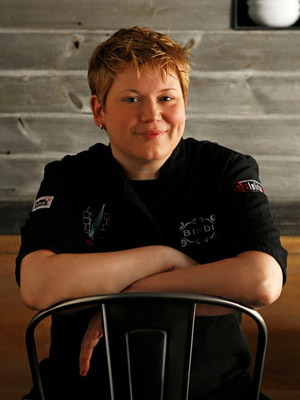 Marcie Turney
Together with her partner Valerie Safran, Marcie Turney has transformed the 13th Street corridor into a vibrant dining and shopping destination. Her restaurants—Barbuzzo, Lolita, Jamonera and Little Nonna's—each showcase a stellar eye for design, a passion for seasonal ingredients and most importantly, exacting technique in the kitchen. Whether it's Mexican, Spanish or old-school Italian-American cuisine, Turney has brought a signature style to bear, and her convivial establishments and sheer dedication to the city have made her one of its most beloved chefs.
What makes Philly a great place to live and work?
In addition to all of the professional opportunities for young chefs in this city, there's always a new up-and-coming area to explore. This inspires chefs or artisans to think creatively and bring a neighborhood a fresh and exciting concept. Not only that, but our city's eaters support these small businesses.
Where would you take a visiting chef friend to eat and why?
I would plan a two-part excursion. In the day, we would hit my favorite ethnic street food spots: soup dumplings at Dim Sum Garden, falafel at Bitar's, pho at Pho 75. At night, we would do a tour of my favorite restaurants and show off Philly's dining scene: crudo at Vernick, laffa and hummus at Zahav, pasta at Osteria and, if I may, a budino at Barbuzzo.
What are some of your favorite locally made ingredients?
With my latest restaurant, Little Nonna's, I've been finding myself forming new relationships in the Italian Market. My first visit to Fiorella's Sausage on Christian Street was like stepping back in time. The shop, from the décor right down to the butchering and grinding equipment, is museum-worthy. Dan makes the sausage and his wife, Trish, runs the counter. I even met a loyal customer who has had Fiorella's Sausage at every holiday dinner for all of her 72 years.
Where do you like to shop for food?
The Reading Terminal Market is my one-stop shopping place in Philadelphia for its mix of local artisans, independent shop owners and some iconic Philly flavors. On a typical visit, I might stop at the Fair Food Farmstand and grab some local veggies, get flowers for the restaurants at Market Blooms, pick up a new cookbook and chat with Jill from The Cook Book Stall, grab a rotisserie chicken from Dienner's Bar-B-Q and my rainy day soup from Sang Kee (roast pork wonton w/ noodles).
What's your best-kept local food secret?
Right now it's fingerling sweet potatoes—so much so that I had to add them to all of my restaurant menus. We get a mix from Lancaster Farm Fresh Cooperative of Sweet Beauregard, Garnet, White Hamon and Jewel fingerlings. We salt-roast them, smash them and fry them until crispy with olive oil, garlic and rosemary. They're addictive!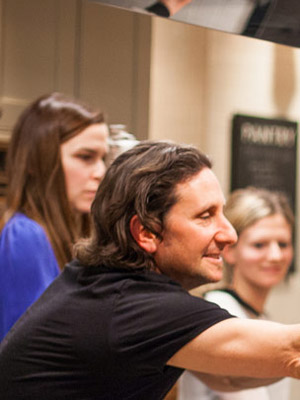 Rich Landau
Rich Landau and his wife Kate Jacoby first revolutionized local meatless eating with their suburban restaurant Horizons, which they later moved into Center City, and it built them a fervent following. Yet it's their most recent venture, the fine dining, plant-focused Vedge that's brought their gifts to a wider audience. With a cookbook, a winning appearance on the Food Network's Chopped, plans for at least one new restaurant and a legacy of Landau-trained chefs going on to open their own vegan ventures, Landau epitomizes the generous spirit and creative force of the Philly food scene.
*What draws you to Philadelphia and how would you characterize this city's eaters? *
I love being a chef in Philly because people here have really embraced vegetable cooking and vegan restaurants more than you can imagine. It's so dated to say that we're a cheesesteak town—we're a top-notch food town, period (that just happens to have cheesesteaks in our repertoire). Another thing that distinguishes us is that our BYOB (bring-your-own-bottle) culture has made owning a restaurant a viable way for younger chefs to get started. For less than $100,000, a chef can start up a place, which is very accessible. In bigger cities, most restaurants are not chef-owned, and the ones that are usually aren't chef-operated. In Philly, it's not unusual to see a chef-owner at his or her restaurant working the line. These chefs have the freedom to turn out some amazing food with their signature. But best of all, Philadelphians love new restaurants, and without our dining public, we wouldn't be able to do what we do.
What's your favorite local guilty pleasure food?
The vegan cubano sandwich (smoked tofu, seitan pepperoni, seitan bacon, pickles, mustard aioli, caramelized onion and vegan cheese) at Blackbird Pizza is my favorite sandwich in Philly. I could eat one every day. Mark, the owner, used to work for us at Horizons, so I couldn't be more proud of what he's done there.
What are some of your favorite locally made ingredients?
It just so happens that the best seitan and tofu on the planet come from Fresh Tofu up in Allentown. I have sworn by their product for almost two decades.
What's your best-kept local food secret?
The H-Mart on Cheltenham Avenue (where it intersects with Old York Road). It feels like you're in Korea as soon as you walk into the below-ground mall area, but, best of all, the upstairs food court has stalls representing every Asian cuisine, all done remarkably well. The dolsot bibimbap there is as good as any we have had in Korea. I also have to give a nod to Bitar's falafel. It's outrageous, and the pickled turnips make me crazy. And it's only $3.00. I wish they would raise their prices just a little, so I didn't feel so guilty ordering it all the time.
Where's the best place to eat on the cheap?
Well, besides our amazing falafel culture here (Maoz, Mama's Vegetarian, Bitar's, food trucks), you just can't beat the food trucks in West Philly and on Callowhill Street. Kung Fu Hoagies makes a killer (vegan) bahn mi. In general, the banh mi sandwich is one of the best bargains in town. With such a strong Vietnamese culture here, we have so many little banh mi shops to get these addictive sandwiches. They are very cheap and incredibly good. In fact, it may be Philly's new signature sandwich.
George Sabatino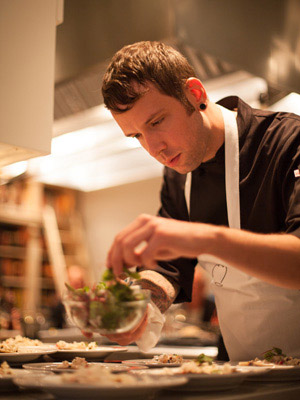 Born and raised in New Jersey, Sabatino came to Philadelphia to study cooking at such local notable restaurants as Fork, Ansill and Marcie Turney's Lolita and Bindi before helming the highly acclaimed all domestically sourced kitchen at Stateside. His current projects include the seasonal eateries Morgan's Pier and The Lodge at Waterfront Winterfest, as well as menu design for South Philly's Boot & Saddle bar. And, in spring 2014, he's expected to open Aldine in Rittenhouse Square. His flair is for making homemade everything, from charcuterie to preserves and coaxing big flavors out of ingredients high and low.
What's your favorite upscale restaurant in Philly?
Vernick. It's the total package restaurant, and it never disappoints. The food is deceptively simple—the crudo and steak tartare toast are standouts—and the front of the house does an incredible job.
What are some of your favorite locally made ingredients?
Three Springs Fruit Farm has wonderful products. Lately, at the Lodge I've been ordering 200 gallons of cider a week—they deliver it on Thursdays after pressing it that morning so it's amazingly fresh and really awesome. We serve it warm, spiced with cardamom, cinnamon and star anise.
Where's the best place to eat on the cheap?
I would say Nam Phuong, which is my favorite restaurant in the city. I always get the beef jerky salad and the beef noodle soup. Or Ba Le Bakery for banh mi sandwiches.
What restaurant offers the ultimate Philly experience and why?
I never fell into the whole cheesesteak war, so I'm going to say Zahav. It's a four-bell fine dining Israeli restaurant, and there's absolutely nothing else like it anywhere else. The personality shines through from the service staff to the music to the food. It's a place that attracts people from all over—everyone wants to come check out what Chef Solo [Michael Solomonov] is doing.
What ingredient or dish can you only get in Philly?
Green Meadow Farm paw-paws. You might be able to get this fruit around other areas of Pennsylvania, but it's indigenous to the area and pretty rare these days. It comes into season around late September/early October, and I always order some to make a mustard to go with my housemade headcheese or use it as a garnish for my housemade scrapple. I just have to have it!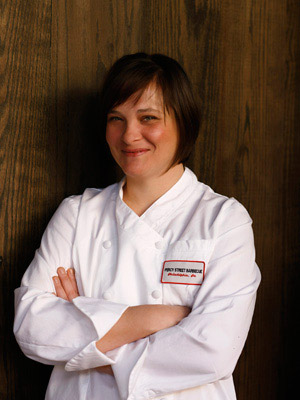 Erin O'Shea
O'Shea was born in Maryland and trained in Richmond, Virginia before she came to Philadelphia to work alongside Michael Solomonov at Marigold Kitchen, which was then a Southern-style restaurant. She later worked with Solomonov and Steven Cook to open Percy Street Barbecue, a Hill Country Texas-style eatery on South Street, where she has mastered the pit with aplomb, gaining national plaudits for her homey yet precisely rendered cooking.
What draws you to Philadelphia and how would you characterize the city's eaters?
We see such a broad spectrum of people at Percy Street, and I think that's what's so great about this city. When I first got here nine years ago, the dining scene was not as developed—a lot of the major players were here, but the empires weren't built yet. Now we see that Philly has become nationally recognized as a food town, and local eaters seem to really appreciate what they have here.
What's your favorite local guilty pleasure food?
It would be a tie between Dalessandro's cheesesteaks, which I think are the best in town, and the cheeseburger at my local watering hole, Twelve Steps Down. They have a great burger, but nobody knows about it.
Where do you like to shop for food?
I like to go to places that surprise me—the Asian markets in South Philly or Makkah, a Middle Eastern market in West Philly where they have these amazing jars of pickled peppers, and they also have a small kitchen that makes great affordable eats. Every time I go in, I buy a jar of those pickles, and I eat them at home all the time.
What's the quintessential Philly restaurant?
It would have to be a pho kitchen because pho wasn't something that was part of my life until I moved to Philly, and now it's very important. But which one? That's actually a common discussion in the restaurant industry, and it can lead to a heated argument because every cook in town has a strong opinion about the best one. My personal favorite is Pho 75 on Washington Avenue.
Where do you like to go with your kitchen staff after work?
Cheu Noodle Bar. We're big fans of it. I love the brisket ramen with matzo balls and kimchi. The smoked fish ribs with miso truffle sauce are out of this world, and the broccoli and Vietnamese sausage is killer.