Top Halloween Events
and Activities in Philadelphia
Hayrides, spooky soirees, historical frights and top haunted houses
Note: The information below is from 2014. Stay tuned for more information about this year's events as they become available.
While rumors persist year-round of real ghosts and goblins inhabiting some of Philadelphia's most historic sites, it's during Halloween season when other-worldly creatures emerge from all corners of the region to make it a happily haunted time of year.
For serious thrill-seekers, several of the area's haunted houses (think Terror Behind the Walls at Eastern State Penitentiary) have earned acclaim for their Hollywood-quality special effects, animatronics, pyrotechnics and teams of horrifically talented professional actors. Families with wee ones get gentle thrills at Boo at the Zoo at the Philadelphia Zoo, the Scarecrow Walk at Morris Arboretum or the not-too-scary Count's Halloween Spooktacular at Sesame Place.
Below, you'll find a few spots that offer Halloween tricksters some delightfully frightful treats.
Spooky Getaway
Don't just settle on one evening of frightening fun. With so many exciting Halloween events and activities happening in the region, there's no better time for an October getaway. Browse available specials and deals at Philadelphia hotels or book the Visit Philly Overnight Hotel Package, a scary good deal where your car stays free.


Terror Behind the Walls at Eastern State Penitentiary
Dates: Through November 8 (select nights)
The once-abandoned Eastern State Penitentiary is now home to Terror Behind the Walls, one of the nation's most frightful haunted house events. Hollywood-quality sets, animatronics, custom-designed soundtracks and a cast of more than 200 professional performers delight in scaring thrill-seekers, earning kudos as one of the top haunted houses in the country.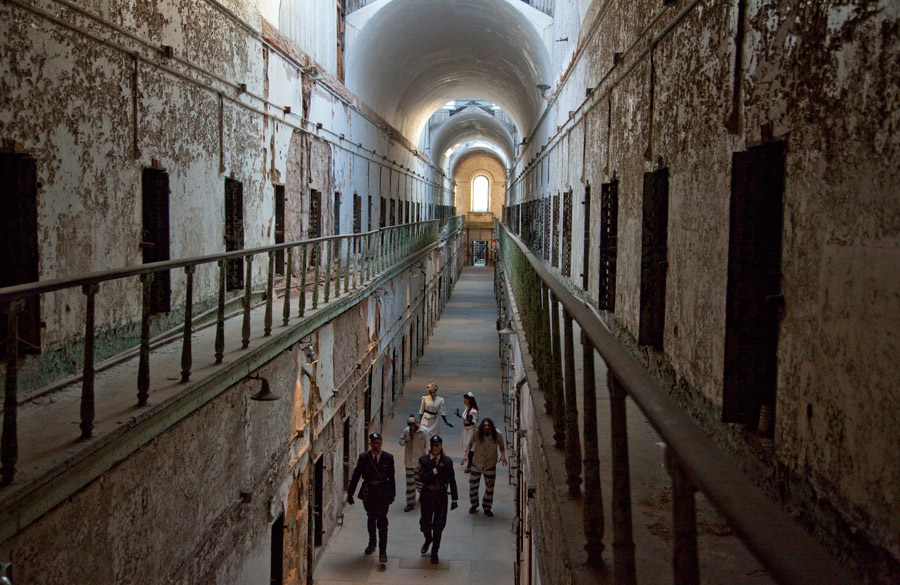 Eastern State Penitentiary is spooky enough on its own, but during Halloween its downright frightening with Terror Behind the Walls, the largest haunted house in the country. (Photo by M. Edlow for Visit Philadelphia)
The Valley of Fear
Dates: Through October 31 (select days)
Climb aboard the Haunted Hayride and confront monsters and other horrors inhabiting The Valley of Fear, where only the bravest dare to venture. Prepare for the zombie apocalypse in the terrifying Zombie Escape Maze, and do battle with the undead. New for 2014: Operation Z, a live-action zombie paintball hunt.
HorrorFest at Shadybrook Farm
Dates: Through November 1 (select nights)
There are even more fearsome attractions in store for the brave guests who dare venture into HorrorFest at Shady Brook Farm, and they come in the form of Barn of Horror, Hayride of Horror, Carnage and the 3-D Alien Invasion.
Fright Factory
Dates: Through November 1 (select nights)
Housed inside an old factory building in South Philadelphia, this year's Fright Factory summons screams galore. Bigger than ever, it offers even more dark passages and hidden corners where more professionally made-up monsters and high-tech horrors wait to torment visitors.
Pennhurst Asylum
Dates: Through November 2 (select nights)
Some say the dilapidated halls of the historic Pennhurst Asylum are truly haunted, making the high-tech haunted house even more frightening. Crawl through the Tunnel of Terror, go to laser-tag battle with zombies and wander the labyrinth in the Dungeon of the Lost Souls.
The Bates Motel
Dates: Through November 2 (select nights)
With professional performers and all-new hair-raising animatronic effects and pyrotechnics, it's no wonder that The Bates Motel has been called one of America's scariest haunts by the Travel Channel. Also on site: Haunted Hayride and Haunted Corn Maze.
Ghost Ship Terror Cruise
Dates: Weekends in October
Patriot Harbor Lines runs the irreverently uncensored Ghost Ship Terror Cruise: Pirates & The Jersey Devil on the Delaware River. The evening features tales of Blackbeard, Captain Kidd, pirate ghouls and the region's favorite fiend, the Jersey Devil. Guests ages 17 to 20 must be accompanied by a parent.
Camp Spookynaw
Dates: Through November 2 (select days)
Witches and wizards head into the woods for an enchanting and horrifying night at Camp Spookynaw in Oxford. Wander through ten buildings and discover an enchanting tale of dragons, madness and supernatural mayhem.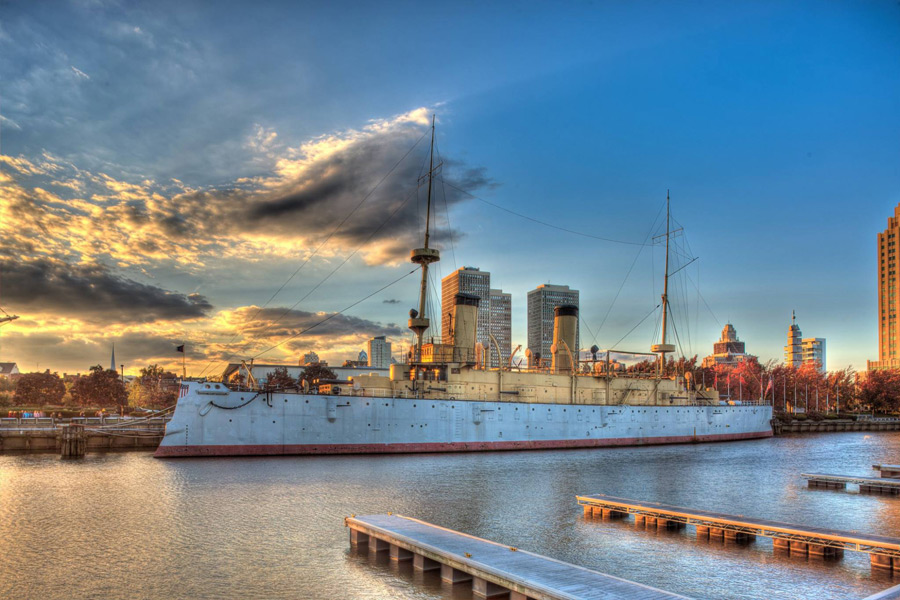 Wander through the potentially haunted U.S.S. Olympia during a special Halloween ghost hunting adventure. (Photo courtesy of the Independence Seaport Museum)
Ghost Tour of the Olympia
Date: Weekends from October 12-November 1 (select days)
Discover the haunted tales aboard the USS Olympia on Penn's Landing with a special Ghost Tour of the former war vessel. Uncover the gruesome story of "Gunner" Johnson as you explore the creepy spaces aboard the historic battleship.
24 Hour Horror-Thon, Part VII at International House Philadelphia
Dates: October 25-26
There will be no dozing during the 24 Hour Horror-Thon, Part VIII at International House Philadelphia. Starting at noon, some of the biggest horror titles of the last 30 years play before and after some really rare gems, tons of classic trailers, shorts and other oddities, all projected on 16-mm or 35-mm film.
Flashlight Tours of the Mutter Museum
Dates: October 28-30
With case after case of skulls, skeletons and medical anomalies, the Mutter Museum is always intriguing. But during Halloween week, it becomes downright eerie when brave souls get a rare nighttime, behind-the-scenes experience during Flashlight Tours of the Mutter's galleries.
Dracula and Edgar Allan Poe at the Roxy Theater
Dates: October 29-30
It's a horror-flick double-header smackdown when the Philadelphia Film Society, the Rosenbach Museum and Library and the Free Library of Philadelphia present a two-night horror flick series at the newly renovated Roxy Theater. The Wednesday night screening is all about Dracula, while Thursday's lineup features films based on stories by Edgar Allan Poe.
Haunting Tours at the Rosenbach Museum & Free Library
Date: October 29-31
During special-collections tours at the Rosenbach Museum and Library and the Free Library of Philadelphia, visitors get an up-close look at the horror. Literary buffs explore Bram Stoker's hand-written notes for Dracula at the Rosenbach on October 29 and 31 and Poe's manuscripts for haunting favorites like The Raven and Annabelle Lee at the Free Library on October 30.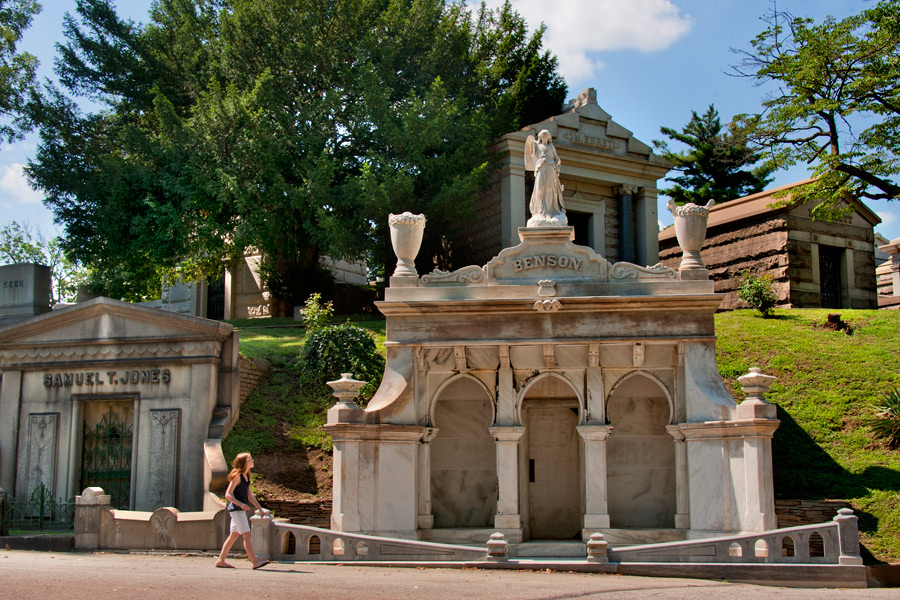 Celebrate Halloween at Laurel Hill Cemetery with flashlight tours and outdoor film screenings. (Photo by R. Kennedy for Visit Philadelphia)
Ghost Tales and Goosebumps: Local Legends by Firelight at Laurel Hill Cemetery
Date: October 30
Pack a flashlight and prepare for an evening of bone-shivering, spine-tingling eerie tales when storytellers gather around campfires at the historic Laurel Hill Cemetery and regale visitors with Ghost Tales and Goosebumps: Local Legends by Firelight, followed by palpitation-calming hot cider and snacks.
Ghost Tours of Philadelphia
Dates: Ongoing
Discover what may be lurking behind the shadows throughout America's Most Historic Square Mile. Ghost Tours of Philadelphia uncover haunted spots throughout Society Hill, Independence Mall and Washington Square, telling chilling tales of Benedict Arnold and Founding Fathers along the way.
Spirits of 76 Ghost Tour
Dates: Ongoing
Tiptoe carefully through cobblestone streets as the Spirits of 76 Ghost Tour guides tell tales of history and hauntings, stopping at 20 scary sites in some of Philadelphia's most historic neighborhoods.


Rittenhouse Row Halloween Celebration
Dates: October 25
Children dressed in their Halloween best will fill the Rittenhouse neighborhood during its annual trick-or-treating bash. On Saturday, October 25, the Rittenhouse Row neighborhood invites costumed guests out for a day of free trick-or-treating throughout the area. Participating Rittenhouse Row member businesses will hand out free Halloween candy to all participating costumed trick-or-treaters, with no registration or fee required.
Fall Festival and Spooky Saturday in East Passyunk
Date: October 25
Take a stroll down East Passyunk Avenue this Saturday, October 25 and score more than just sweets from area businesses as part of the neighborhood's Fall Fest and Spooky Saturday Halloween celebration. The fall festivities run from 11 a.m. to 4 p.m. all around the neighborhood, and include more than 40 local artists and crafters, live music, mobile food vendors, a costume contest for kids — and for dogs — and more.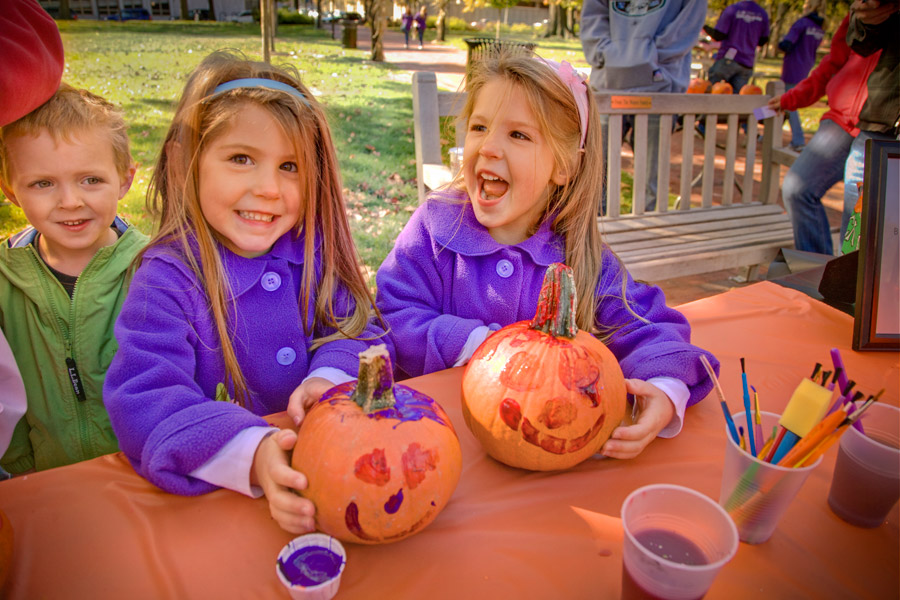 Little ones can pick a pumpkin, decorate it and take it home during Franklin Square's annual Halloween celebration. (Photo by G. Widman for Visit Philadelphia)
Trick-or-Treat Trail at Franklin Square
Date: October 25
Historic Franklin Square rolls out its annual Halloween trail made just for pint-sized trick-or-treaters. Guests, ages 10 and under, are invited to decorate a treat bag and walk the route in search of candy from trick-or-treat trail stops along the way. Participants will be given maps to help them along the way, and the activity is free for children under 10. For older revelers, Franklin Square's decorated Spooky Mini-Golf course is the way to go.
Final-ly Friday Monster Mash in Mt. Airy
Date: October 31
On the last Friday of every month, the businesses along and just off of Germantown Avenue in Mt. Airy roll out the welcome mat after hours for Final-ly Friday. On Friday, October 31, the neighborhood embraces the Halloween spirit with special spooky events presented by the Community Art Collective and the Sedgwick Theatre. In addition to the monthly lineup of craft vendors and live music, the neighborhood hosts a Halloween dance, a costume contest and more.
Spruce Hill Halloween Parade
Date: October 31
In the tree-canopied West Philadelphia neighborhood of Spruce Hill, an annual kid-centric Halloween parade resumes its march on Halloween day. The route departs from 45th Street north of Baltimore Avenue (next to Milk and Honey) in Spruce Hill and wraps around the neighborhood. Along the route, residents welcome costumed paraders with treats, cider and festive Halloween decorations. Later on, trick-or-treaters should report to the Spruce Hill Center (257 S. 45th Street) to pick up hand-assembled goodie bags. After the parade, stay put in Spruce Hill for some eats. Our picks? Honest Tom's Tacos and Desi Village.
The Woodlands' Halloween Family Fun Day
Date: October 26
The lovely, historic and Halloween-appropriate Woodlands Cemetery and Mansion taps the inherent eeriness of its cemetery and the flair of Curio Theatre and The Mütter Museum to throw a free neighborhood Halloween party this Sunday, October 26. Throughout the day, check out a pop-up Mütter Museum, Civil War medical walking tours (1 p.m. and 2:30 p.m.), a seasonal book swap and scavenger hunt, arts and crafts and more.
Halloween Parade and Trick-or-Treat in Chestnut Hill
Dates: October 26
Germantown Avenue's cobblestones beg to be paraded upon, and charming Chestnut Hill children's stores Villavillekula and Oxford Circus Toys answer the call by teaming up this Sunday to host a costume parade from 1 to 2 p.m., followed by trick-or-treating along Germantown Avenue to many participating Chestnut Hill businesses.
Halloween in Manayunk
Date: October 26
Main Street Manayunk welcomes the spooky holiday with three days of Halloween happenings for both children and adults. On Thursday, Manayunk Theatre Company performs a one-act thriller at Bourbon Blue (7 p.m.). On Friday night, Venice Island Performing Arts & Recreation Center hosts a family-friendly Halloween movie night (6:30 p.m.). Come Saturday, a day-long Halloween fest takes over the whole town from 8 a.m. to 6 p.m., with trick-or-treating on Main Street, a fall festival in Pretzel Park, the Philadelphia Flea Market, costume parades for dogs and kids, a zombie Thriller dance-off and — to wrap up festivities at 6 p.m. — a Halloween bonfire along the Manayunk canal.
The Count's Halloween Party at Sesame Place
Date: October 25-26
Costumed kids can celebrate Halloween at Sesame Place every weekend in October with little-one-appropriate shows and parades, but this weekend brings The Count's Halloween Party on Saturday and Sunday and a costume contest on Sunday. Paid park admission is required for all activities.
Halloween Parades in Philadelphia's Countryside
In addition to the host of Halloween happenings all around town, there are numerous community events beyond Center City, too. Check out the Children's Halloween Parade in Skippack on October 18; the Halloween Parade in Phoenixville on October 25; the 50th Annual Delaware County Halloween Parade on October 25; the Kennett Square Halloween Parade on October 26; or the Mill Street Trick or Treat in Bristol on October 31.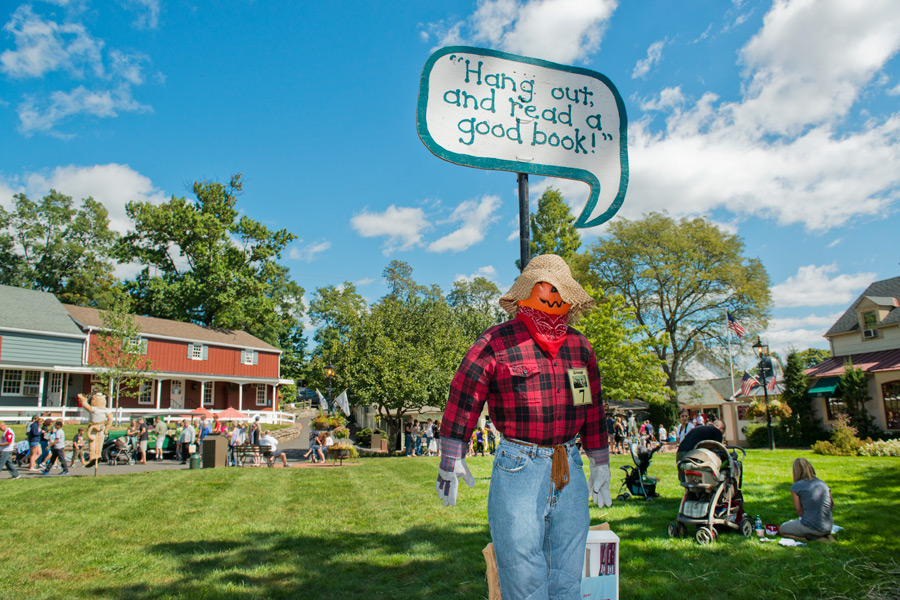 Discover dozens of creative scarecrows during the annual Scarecrow Competition and Display in Peddler's Village in Bucks County (Photo by A. Sinagoga for Visit Philadelphia)
Peddler's Village Scarecrow Competition and Display
Dates: Through October 26
Not all scarecrows are scary — especially those that are part of Peddler's Village annual Scarecrow Competition and Festival, displaying dozens of creative scarecrow creations. Do-it-yourselfers get creative during the scarecrow-making workshops, while others vie for honors in pumpkin pie-eating contests. And everyone can join in pumpkin painting and enjoy live entertainment and children's activities.
Halloween at Franklin Square
Dates: October 2-31 (select days)
Family-friendly Franklin Square welcomes October with a month of special Halloween happenings. Tee up at Spooky Mini Golf, featuring fog, lights, music and surprises. Pick a pumpkin from the Pumpkin Patch, and adorn it to take home. Take a spin on the Lightning Bolt Express.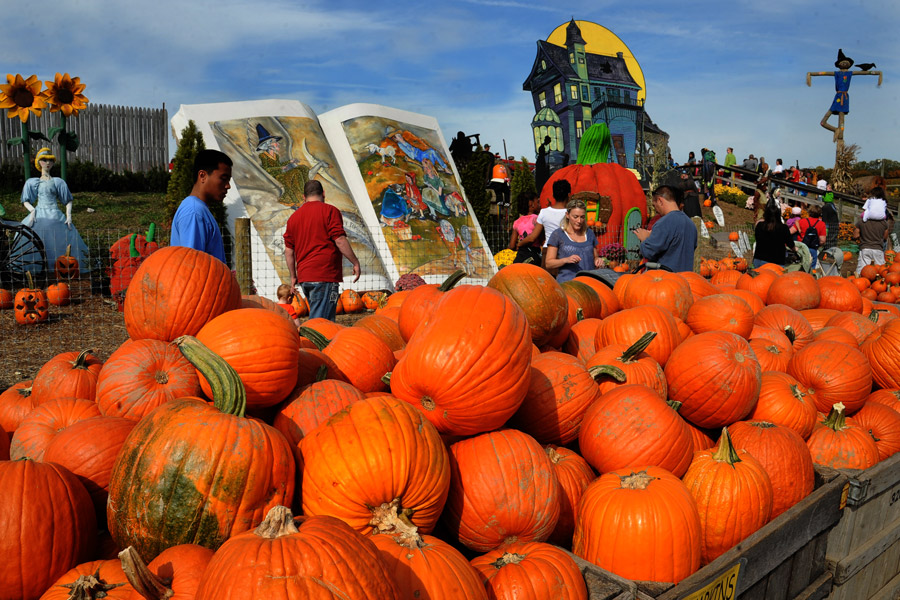 Bring the family to Linvilla Orchards for hayrides, pumpkin picking and fall treats. (Photo by R. Kennedy for Visit Philadelphia)
Hayride to the Witch's House at Linvilla Orchards
Dates: Through October 30 (select days)
Hop aboard the Hayride to the Witch's House, where the friendly witch who lives in the woods at Linvilla Orchards regales families with stories and serves snacks around the bonfire.
Straw Maze: Bales of Cornwall at the Woodmere Art Museum
Dates: Weekends through November 2
Inspired by paintings by a local artist, the Straw Maze: Bales of Cornwall at Woodmere Art Museum is part sculpture, part maze and part climbing apparatus for kids. On Saturdays, a visit also includes craft activities.
Boo at the Zoo
Dates: October 18-19, 25-26
Kids get to trick or treat with lions and tigers and bears during Boo at the Zoo at the Philadelphia Zoo. Costumes are de riguer when kids set out on scarecrow scavenger hunts; enjoy games, storytelling and musical performances; and collect treats while visiting their favorite animals.
Pumpkin Fall Fest at Headhouse Square
Date: October 25
Watch out for the pint-sized ghosts and goblins who gather at the annual Pumpkin Fall Fest at Headhouse Square. Costumed revelers of all ages enjoy hay rides, art projects, music, circus performances and pumpkin decorating. Local restaurants and pubs serve up fall fare and spirits of the season.
Monster Mash at the Please Touch Museum
Date: October 25
Trick-or-treat through the Please Touch Museum galleries during this members-only Halloween celebration and enjoy light refreshments, art activities, unlimited carousel rides and a spooky dance party.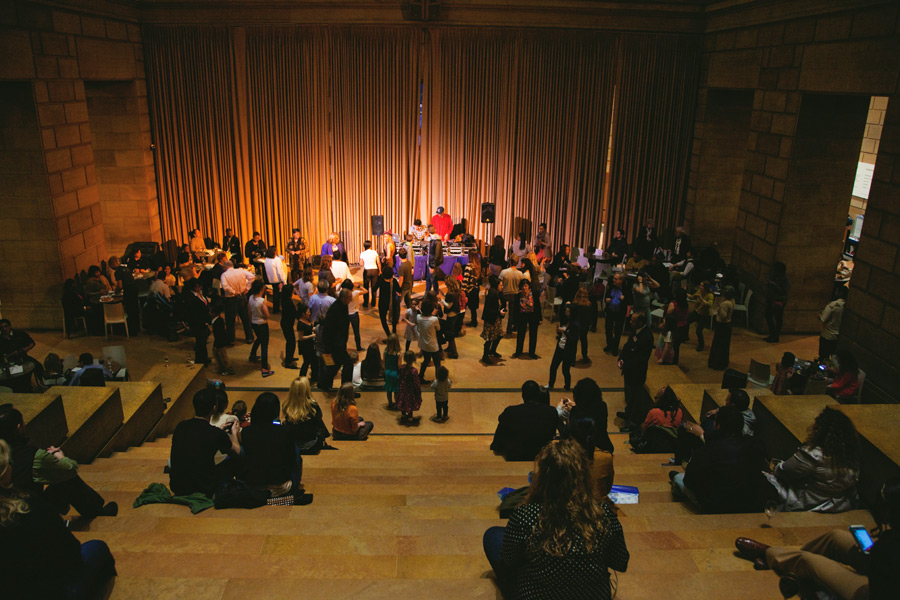 The Philadelphia Museum of Art is hosting an extra-spooky edition of Art After 5 complete with costumes, face painting and, of course, music. (Photo by M. Fischetti for Visit Philadelphia)
Art After 5: Halloween Edition at the Philadelphia Museum of Art
Date: October 31
There are spooky goings-on at the Philadelphia Museum of Art during the Halloween edition of Art After 5. Show up in costume, and let the face-painters work their magic. Then get down to a haunting soundtrack — and don't miss the fashion-design students walking around in costumes they designed inspired by the museum's collection.
Dia de los Muertos at the Penn Museum
Date: November 1
The Penn Museum, Mexican Cultural Center and Mexican Consulate join forces to celebrate Dia de los Muertos (Day of the Dead). Tour the museum's Mexico and Central American galleries and visit Day of the Dead Altars created for the event, then join in an afternoon filled with puppetry, storytelling, crafts and more.
Gravedigger's Ball
Date: October 24
Go black-tie glam or stylishly ghoulish to the Gravedigger's Ball, the annual fund-raising event supporting activities at the historic Laurel Hill Cemetery. Costume contests, silent auctions, music and dancing add a touch of glitz to the evening's unearthly celebrations. October 24.
Fall Ball Masquerade Party
Date: October 25
There's no such thing as too much bling at the Fall Ball Masquerade Party, benefitting the Philadelphia Gay Men's Chorus. Miss Richfield 1981 presides over dancing, dining and drinking.
Henri David Halloween Ball
Date: October 31
The annual Henri David Halloween Ball, the granddaddy of all Halloween parties, is an extravaganza of fanciful and outrageous getups that reflect the host's philosophy: Come as you want to be, not as you are.
Cinema in the Cemetery
Date: October 4
After the sun sets, the grainy joys of the film experience are brought to audiences amid the historic tombs of Laurel Hill Cemetery. During Cinema in the Cemetery, participants bring a blanket or beach chair, pack a picnic and enjoy the spine-tingling cinematic chills of a classic creepy Halloween flick in the most fitting of settings.
Morris Arboretum's Scarecrow Walk
Dates: October 4-19
Hero or villain, that's what's up for vote at Morris Arboretum's Scarecrow Walk. Thirty scarecrows are decked out as good guys and bad guys along the Oak Allée, where visitors vote for their favorite.
Harry Potter Festival in Chestnut Hill
Dates: October 17-18
Muggles and wizards turn out in costume for the Harry Potter Festival when the shops and restaurants in Chestnut Hill get a total Hogwarts makeover. The magical weekend features wizardry workshops, Quidditch tournaments, Dumbledore's Maze, sorting hat demos and more.
Rocky Horror Picture Show at the Colonial Theatre
Date: October 18
Prepare to do the time warp again when the Colonial Theatre presents the classic Rocky Horror Picture Show complete with costume contest, pre-show, full-shadow cast and prop bags for sale so viewers can participate in the madness.