Top Late Summer and
Early Fall Festivals
Celebrate the final days of summer with food, arts, music and more
School is back in session and those summer days may be winding down, but Philadelphia's festival season is just getting warmed up. Summer doesn't officially end until September 23, so celebrate these final days with blockbuster food festivals, city-wide performing arts celebrations, outdoor events and more.
Dscover the joy of performing arts during the Fringe Festival or celebrate everyone's favorite fungi during the Kennett Square Mushroom Festival.
Continue reading for our favorite late summer (and early fall) festivals in the region.
Fringe Festival
Dates: September 3-19
Presented by FringeArts, the 2015 Fringe Festival features hundreds of dance, theater, visual arts, music and spoken-word performances in traditional venues, but also on street corners, cars, galleries, cabarets and restaurants.
Spruce Street Harbor Park Fall Fest
Date: September 11-13
Hit up Philadelphia's lauded pop-up park on the Delaware River Waterfront for a celebration with fall-themed regional craft beers, food trucks, daily live music and kids-crafting activities from September 11-13. The beer selections at the floating Blue Anchor restaurant will represent a different mid-Atlantic area each day: Friday will showcase beers from New Jersey, Saturday highlights beers from Pennsylvania and Sunday focuses on beers from Maryland and Delaware. Add to that fall-themed food, a specialty cocktail of red sangria with cranberries and oranges, a full stage lineup throughout the weekend and family-friendly activities like face painting, jugglers, print making, flower crown workshops, and drawing classes, and you've got an event for the whole family.
Philadelphia Honey Festival
Dates: September 11-13
The Philadelphia Beekeepers Guild presents the Philadelphia Honey Festival for all lovers of things sweet and local (aka everyone!). From September 11 through 13, the Wagner Free Institute of Science, Wyck Historic House and Garden and Bartram's Garden open their doors to the honey connoisseurs of Philadelphia.
Northern Liberties Fall Music Festival
Date: Saturday, September 12
Live music fills Liberty Lands Park in Northern Liberties on during the Northern Liberties Fall Music Festival. Bring a blanket and enjoy food truck fare and live music from an array of musicians. The music is slated to begin at 4 p.m.
Autumn's Colors at Longwood Gardens
Dates: September 12-November 22
Longwood Gardens celebrates the harvest season with Autumn's Colors, a festive showcase of fall colors. Longwood's landscapes glow with shades of yellow, orange, purple, and red trees. Golden honey locusts and ginkgoes, scarlet sweet gums and sourwoods, and ruby northern red oaks add bursts of color. Be sure to explore the recently opened 86-acre Meadow Garden, featuring three miles of trails through a gorgeous expanse of wildflowers.
Phoenixville Blues Festival
Date: Saturday, September 12
Arrive early to snag a seat or bring your own lawn chair to the Phoenixville Blues Festival, a day-long celebration of some of the region's most popular bands and food by local restaurants and food trucks. Located in Reeves Park, look forward to a day of grooving.
Philadelphia United Jazz Festival
Date: Saturday, September 12
Enjoy a day of live jazz and during the 3rd annual Philadelphia United Jazz Festival and Celebration. The free fest on South Street features two blocks of food and shopping and more than 15 performers including The Odean Pope Trio, The Apreggio Philadelphia Jazz Ensemble, and the Clef Club Youth Band.
Campus Philly CollegeFest
Date: September 12
Philadelphia will welcome back thousands of college students during its annual Campus Philly CollegeFest, a city-wide day of discounts, giveaways, entertainment and free admission to museums and more. Continuing a 20-year tradition, museums and attractions along the Parkway, including the Philadelphia Museum of Art, will be offering free admission to students with college I.D.
Doylestown Arts Festival
Dates: September 12-13
The free two-day Doylestown Arts Festival takes place in the heart of beautiful Doylestown Borough in Bucks County. This annual festival has grown to include more than 150 exhibitors and a food court. Diverse entertainment is presented at numerous locations throughout the downtown area. The festival is set for September 12 and 13.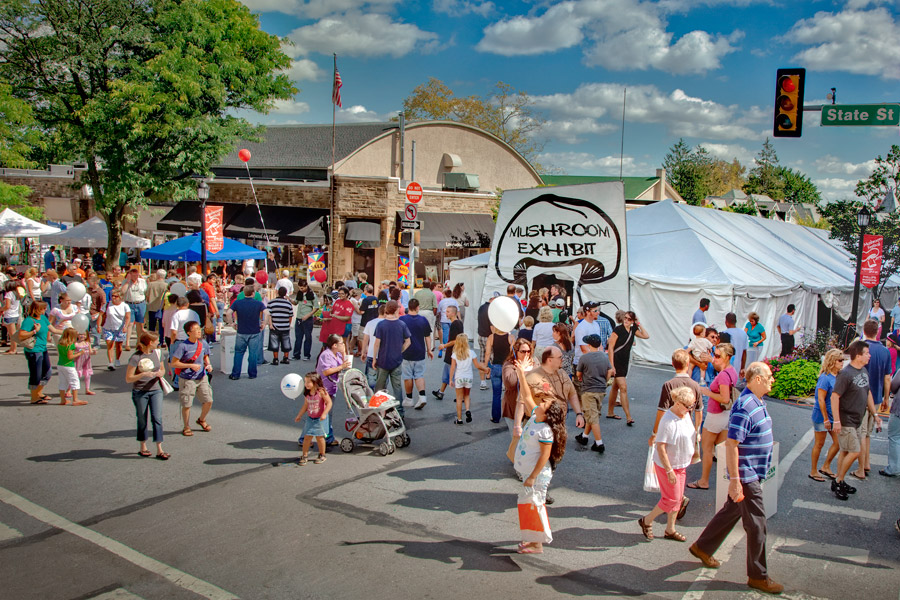 Thousands of people celebrated the humble fungi at the the popular Kennett Square Mushroom Festival. (Photo by G. Widman for Visit Philadelphia)
Kennett Square Mushroom Festival
Dates: September 12-13
The mushroom is elevated to rock-star status during the annual Mushroom Festival. The Mushroom Capital of the World puts the fun in fungi with a weekend of culinary events, amusement rides, mushroom farm tours, a street fair, entertainment, an antique car show and more.
Pumpkinland at Linvilla Orchards
Dates: September 12-November 22
Bring the kids to Pumpkinland at Linvilla Orchards for a display of more than 100 tons of pumpkins, live music, hayrides, scarecrows, a corn maze and much more.
Feria del Barrio
Date: Sunday, September 13
Feria del Barrio returns to the El Centro de Oro section of North Philadelphia Philadelphia for its 31st year celebrating family, art and Latin American heritage. The free, annual event offers live entertainment, including art demonstrations, music, dancing and children's games. Bring an appetite as the festival features delicious dishes highlighting Latin American cuisine.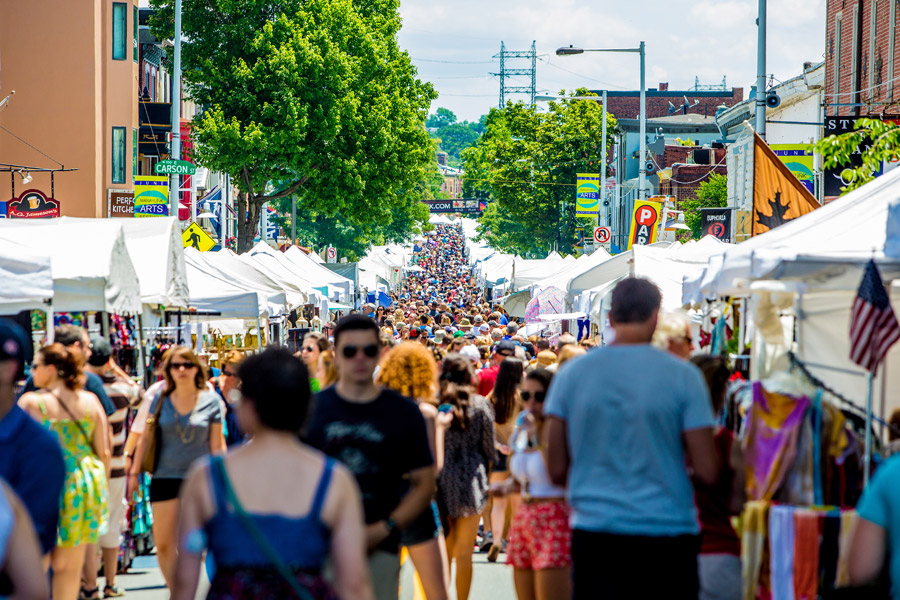 Eat at the city's top food trucks as you explore Main Street during the Manayunk StrEAT Food Festival. (Photo by J. Fusco for Visit Philadelphia)
Manayunk StrEAT Food Festival & Manayunk Restaurant Week
Date: Sunday, September 13
Kicking off Manayunk Restaurant Week, the Manayunk StrEAT Food Festival a foodie's dream, featuring food trucks, gourmet food vendors and specials at Main Street's delectable restaurants. Between bites, attendees enjoy live music and sidewalk sales. The bi-annual event also marks the start of Manayunk Restaurant Week featuring special three-course prix fixe menus at 22 restaurants.
Mexican Independence Day Festival at Penn's Landing
Date: Sunday, September 13
The sights, sounds and tastes of Mexico take over the Great Plaza at Penn's Landing during the Mexican Independence Day Festival. This free celebration features arts and crafts, Mexican rock bands, face painting, Mexican food, dancing and more.
Radio 104.5 Summer Block Party
Dates: Sunday, September 13
For a monthly dose of free music alfresco, look no further than the Radio 104.5 Summer Block Party series. Catch an array of free concerts at to-be-determined locations this summer including The War on Drugs on July 12, Atlas Genius on August 2 and Good Old War on September 13. All all concerts run from 3:45 to 7 p.m. and, yup, all are totally free.
Greenfest Philly
Date: Sunday, September 13
Honor Mother Nature at Greenfest Philly located in Headhouse Square, between Pine and South Streets on 2nd. Learn how to preserve the earth while enjoying bites from some of Philly's favorite food trucks — Sum Pig Food Truck and Little Baby's Ice Cream to name a few.
Constitution Day at the National Constitution Center
Date: Thursday, September 17
Admission to the National Constitution Center will be free during the 228th anniversary of the signing of the U.S. Constitution on September 17. Constitution Day features special events, educational activities, timely constitutional conversations with federal judges and an inspiring naturalization ceremony. Join historic special guests at noon to sing Happy (228th) Birthday and enjoy a slice of cake in the Grand Overlook Hall.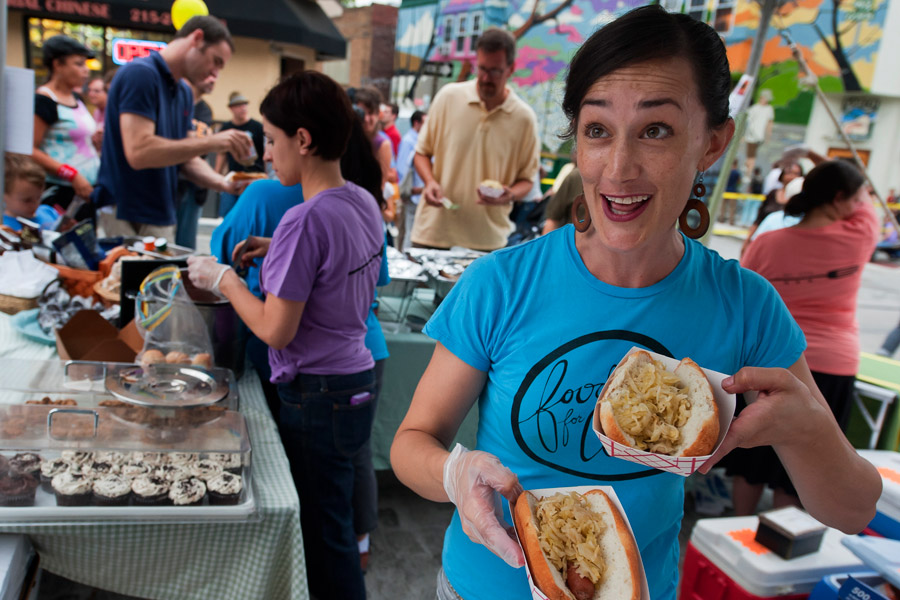 Sip, savor and stroll your way along Germantown Avenue during the Mt. Airy Street Fare. (Photo by R. Kennedy for Visit Philadelphia)
Street Fare in Mt. Airy
Date: Thursday, September 17
Foodies come out in big numbers for the annual Street Fare: Sip, Savor Stroll, featuring some of the city's best restaurants and gourmet food trucks, artisans and entertainers—all turning Germantown Avenue into a giant party. The foodie fest runs form 6 to 10:30 p.m.
Baltimore Avenue Dollar Stroll
Date: Thursday, September 17
After a successful summer event in June, the Baltimore Avenue Dollar Stroll is returning in September for an evening of live music and $1 deals. Businesses between 43rd to 51st Streets set up shop for the evening, offer $1 specials including food, gifts and services. Throughout the evening, enjoy street performances, live music and more.
FEASTIVAL
Date: Thursday, September 17
Returning for its fifth year, Audi FEASTIVAL, is an evening of spectacular food and incredible performance in support of FringeArts. Held on Penn's Landing, FEASTIVAL is a wild celebration of Philadelphia's arts and food culture with cuisine from more than 75 of Philadelphia's most acclaimed restaurants and performances from cutting-edge performing artists.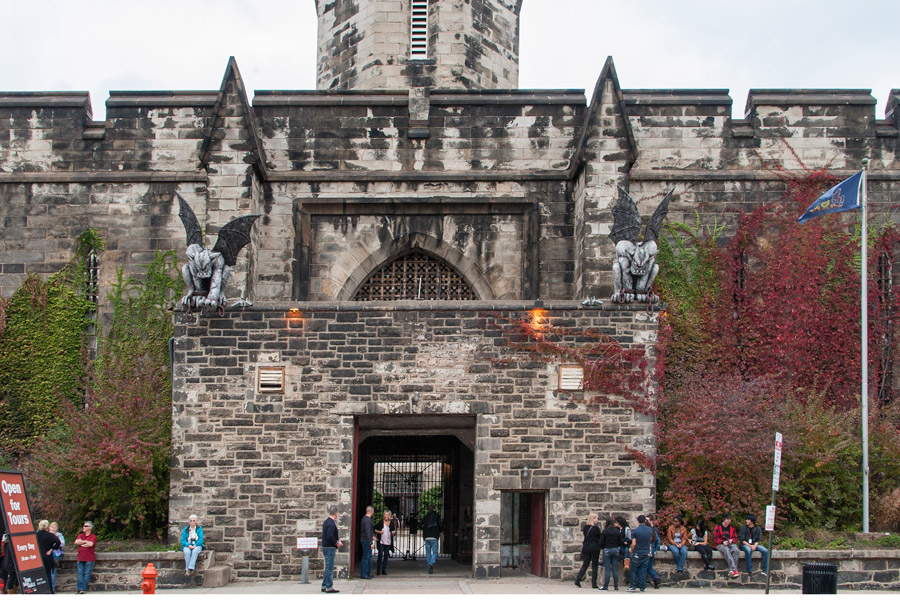 Prepared to be frightened at Terror Behind the Walls, the acclaimed haunted house at Philadelphia's historic Eastern State Penitentiary. (Photo by R. Kennedy for Visit Philadelphia)
Terror Behind the Walls
Dates: September 18-November 7
Halloween starts early at the massive Eastern State Penitentiary — a gothic, castle-like structure in Philadelphia's Fairmount neighborhood — with one of the nation's largest and most ambitious and top-rated haunted attractions, Terror Behind the Walls. The seasonal event is not for the faint of heart, with six frightening attractions and new up close and personal scares.
Rittenhouse Square Fine Arts Show
Date: September 18-20
Now in its 84th year, the Rittenhouse Square Fine Art Show has the long-running distinction of being the nation's oldest outdoor original artwork show. Stroll around the park and browse works from more than 140 artists with a variety and diversity of techniques, mediums and subject matter on display.
Clark Park Music and Arts Festival
Date: Saturday, September 19
From noon to sundown, the Clark Park Music and Arts Festival brings local musicians to the stage for free performances all day long. Children are invited to create crafts at stations throughout the park, and adults are encouraged to browse fine goods from local artists and vendors.
Brauhaus Schmitz Oktoberfest
Date: Saturday, September 19
The block of South Street in front of Brauhaus Schmitz shuts down in celebration of its epic Oktoberfest celebration complete with plenty of German beer, a pig roast and live music.
Frankford Hall Oktoberfest
Date: Saturday, September 19
The annual Frankford Hall Oktoberfest block party closes Frankford Avenue from Girard Avenue to Shackamaxon Street. Stroll the avenue for multiple beer tents, food trucks, carnival games, kid-friendly activities, live German pop music and a ceremonial keg tapping.
Delaware River Craft Brew Fest
Date: Saturday, September 19
Sample an international selection of craft beers at PPL Park, the home of the Philadelphia Union, during the Delaware River Craft Brew Fest. The tasting festival features craft and limited-release beers from brewers like Victory Brewing Co., Goose Island, Troegs Brewing Co., Magic Hat, Leffe and many more.
Doo Wop in the Park
Date: Saturday, September 19
In Lions Waterfront Park in Bristol, the era of bobby socks and poodle skirts is alive, well and jitterbugging at Doo Wop In The Park. Thousands turn out for the daylong 50s flashback with top-name groups performing the tight harmonies that topped the charts.
Peddler's Village Scarecrow Festival
Dates: September 19-20
The annual Peddler's Village Scarecrow Festival is a family-friendly weekend featuring more than 100 amazing scarecrow creations and take part in scarecrow-making workshops, pumpkin pie-eating contests, pumpkin painting and live music.
Brazilian Day Philadelphia
Date: Sunday, September 20
The flavors, music and festivities of Brazil take the spotlight a at Brazilian Day Philadelphia at Penn's Landing. The festival celebrates Brazilian Independence Day with food, shopping, performances and more.
Go West! Craft Fest
Date: Saturday, September 19 (Rain Date: September 20)
Go West! Craft Fest returns to The Woodlands in West Philadelphia this fall with more than 100 vendors. Browse through handmade items including jewelry, ceramics, printed items and much more. The day features family-friendly entertainment, live music and local food.
Mt. Airy Village Fair
Date: Saturday, September 20
From 11 a.m. to 4 p.m. on September 20, the corner of Greene Street and Carpenter Lane in Mt. Airy welcomes the crowds for the 9th annual Mt. Airy Village Fair. Look forward to everything from a pie eating contest to beehive building demonstrations. Guests can also expect plenty of festival food, games and live music.
Jenkintown Festival of the Arts
Date: Sunday, September 20
Local artists, musicians, and vendors will pack the streets of Jenkintown for an afternoon of fun during the Jenkintown Festival of the Arts. In addition to juried art shows, the festival features two stages, an activity area for kids complete with dunk tank and a brew tent for the grown-ups.
Chester County Restaurant Festival
Date: Sunday, September 20 (Rain Date: September 27)
Now in its 36th year, the Chester County Restaurant Festival is a celebration of the local food scene with dishes from more than 65 restaurants, caterers and food vendors in downtown West Chester. The day-long festival features live music, a beer and wine garden, pop-up farmers market and more.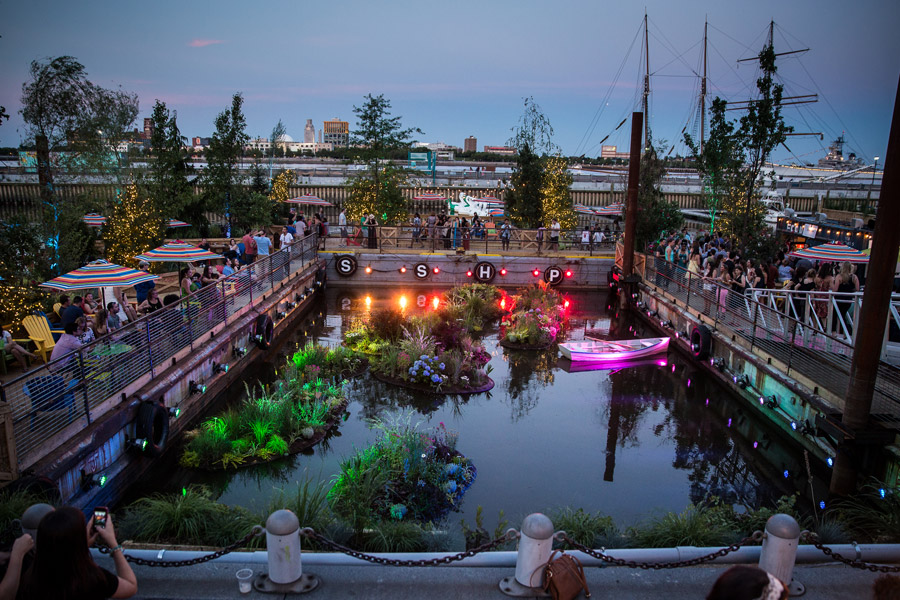 Spruce Street Harbor Park goes out with a bang with Fall Fest from September 25-27 and Closing Weekend festivities from September 26-28. (Photo courtesy of the Delaware River Waterfront Corporation)
Closing Weekend at Spruce Street Harbor Park
Date: September 25-27
Spruce Street Harbor Park is going out with a bang. The park officially closes on Sunday, September 27, and on closing weekend, the Delaware River Waterfront Corp has set up awesome weekend-long celebration as a thank-you to all of its visitors throughout 2015. Look forward to music, games and chances to win Spruce Street Harbor Park prizes, plus a free concert on Saturday night from 7-10 p.m. from local musicians Bardo Pond, Spacin', and Needle Points.
The Count's Halloween Spooktacular at Sesame Place
Dates: September 26-November 1
Kids come in costume for The Count's Halloween Spooktacular at Sesame Place. Whether it's Elmo's Silly Bones Spooktacular Dine, Zoe's Monster Mash Dance Party, The Count's Batty Birthday Bash or Grover's Not So Spooky Birthday Bash, every weekend features rides, two new Halloween shows, mazes and everyone's favorite furry creatures.
Downingtown FallFest
Date: Sunday, September 27
The fifth-annual Downingtown FallFest welcomes more than 5,000 guests for a day filled with festive events, including live music, food vendors, craft activities and displays from local businesses. The festival is presented by Victory Brewing Company, so expect a stellar beer garden with delicious brews and bites.
Night Market Frankford and Grant
Date: Thursday, October 1
Philadelphia's supreme food truck festival returns for the last Night Market of 2015. Join the city's top food trucks in Chinatown an evening of fantastic eats, craft brews and live music.
Revolutionary Germantown Festival
Date: Saturday, October 3
History goes on full display during the Revolutionary Germantown Festival, a day-long festival that celebrates the rich history of the historic neighborhood. The celebration features costumed characters, live music, food and drink culminating with a reenactment of the Battle of Germantown, the only military battle ever fought within the borders of Philadelphia.
Midtown Village Fall Festival
Date: Saturday, October 3
Explore the restaurants and shops along 14th Street during the 9th annual Midtown Village Fall Festival. The massive neighborhood block party features music, food, sidewalk sales and much more.
Philadelphia International Dragon Boat Festival
Date: Saturday, October 3
More than 140 teams race fiberglass dragon boats, complete with heads and tails, on a 500-meter course on the Schuylkill River during this annual fall event that draws thousands of participants and spectators.
Riverfront Ramble
Date: Saturday, October 3
Now in its tenth year, the annual Riverfront Ramble in Chester is the largest riverfront festival in Delaware County. Held on the Wharf at Rivertown on the Chester Waterfront, the annual outdoor festival features an antique car show, live performances, food and craft vendors and much more.
Vendemmia Festival
Date: Sunday, October 4
The Vendemmia Festival celebrates a time-honored tradition of South Philadelphia, where sharing homemade food and drink with family and friends is a favorite pastime. The region's largest and oldest event dedicated to the art of home winemaking, the festival, named after the Italian word that refers to the harvest of the grapes, is a fun afternoon of wine sampling, tasty Italian delicacies and live music.
More Fun Fall Happenings
Morris Arboretum Fall Festival: October 3-4
Chestnut Hill Fall for the Arts Festival: Sunday, October 4
Philadelphia Collection: October 7-14
DesignPhiladelphia: October 8-16
RiverCity Festival: Saturday, October 10
Reading Terminal Market Harvest Festival: Saturday, October 17
October Festivus & Pumpkin Patch at Franklin Square: Saturday, October 24
Rock 'n' Roll Half-Marathon: Saturday, October 31