Top Oktoberfest Celebrations and
Fall Beer Festivals in Philadelphia for 2017
Beer, brats and block parties all season long
Get ready for beer steins and bratwursts — Oktoberfest has hit Philadelphia. The city's celebrations of the traditional German festival are bigger than ever with massive block parties, flourishing beer gardens and lively neighborhood celebrations.
The final weeks of September and the beginning of October mark Oktoberfest season in Bavaria and in Philadelphia, bringing dozens of celebrations to many of Philly's bars, restaurants and attractions.
Beyond official Oktoberfests, the pleasant autumn temperatures spur an array of other beer-fueled festivals, often filled with delicious food and live music, too.
So dust off your lederhosen or dirndl and get ready to ring in the season with your favorite celebratory suds. Read on for our guide to Oktoberfest celebrations and fall beer festivals in Philadelphia.
McGillin's Oktoberfest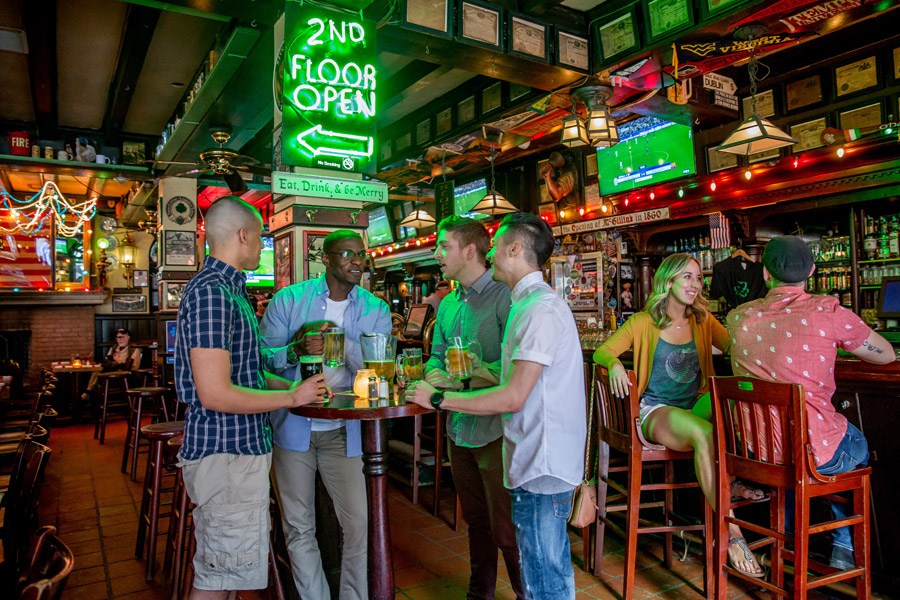 Take part in a month-long Oktoberfest celebration at one of Philly's most historic pubs. (J. Fusco for Visit Philadelphia)
Through October 7, 2017
McGillin's Old Ale House doesn't take Oktoberfest lightly, hosting a celebration that lasts for the entire month of September and into October. Visit the historic pub (opened in 1860!) to score a bunch of Oktoberfest brews and seasonal pumpkin beers, along with with German food specials like mussels steamed in Oktoberfest lager and grilled pork loin with sweet-and-sour cherry sauce. The celebration concludes on October 7 at McGillin's beer garden on Drury Street during the giant Midtown Village Fall Festival.
More about McGillin's Oktoberfest
Fall Festival at Spruce Street Harbor Park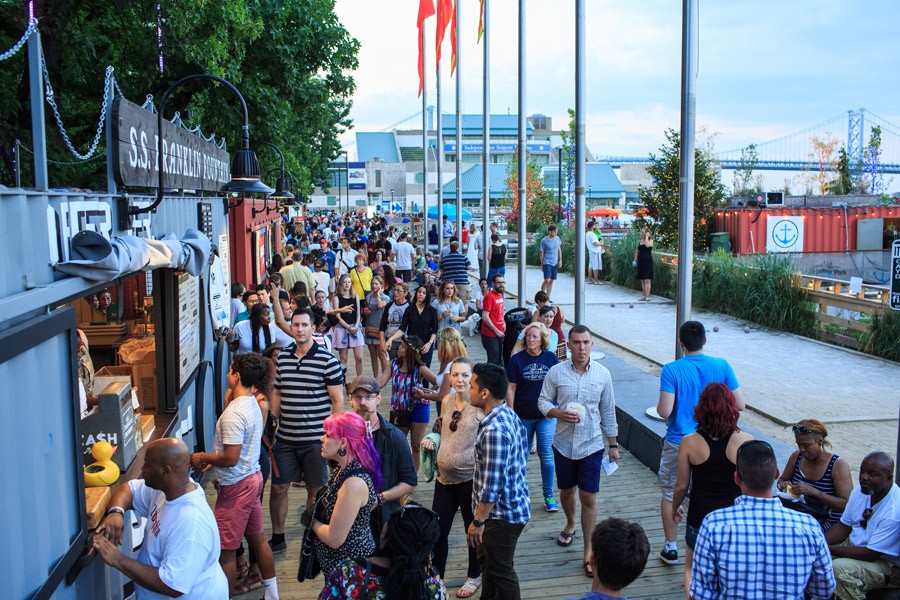 Don't miss out on one of the final festivals held at Spruce Street Harbor Park before it closes. (Photo courtesy DRWC)
September 14-24, 2017
Recognized by national press as one of the best places to visit in Philly, the super-popular Spruce Street Harbor Park (SSHP) features tree-slung hammocks, magical lights, oversize games, floating gardens, amazing local food and al fresco beer garden drinks. During its annual Fall Festival, the level of fun climaxes with tons of seasonal beer and cocktail specials as well as free activities like live music, apple cider pressing, a small petting zoo and pumpkin carving.
more about fall festival at spruce street harbor park
Chaddsford Winery's Harvest Festival
September 9, 10, 16, 17, 23 and 24, 2017
Chester County's Chaddsford Winery, the biggest winery in Pennsylvania, takes on Oktoberfest with a "Bier and Wein Garten" at its beautiful vineyard location. Over three weekends in September, German-style beers and warm Bavarian pretzels will be served up from 11 a.m to 6 p.m., and guided tours of the winery will unfold at 12:30 p.m., 2:30 p.m. and 4:30 p.m. Of course, festival-goers can enjoy wine samples, too, along with live music and food from select food trucks each day.
more about Chaddsford Winery's Harvest Festival
Brauhaus Schmitz's Oktoberfest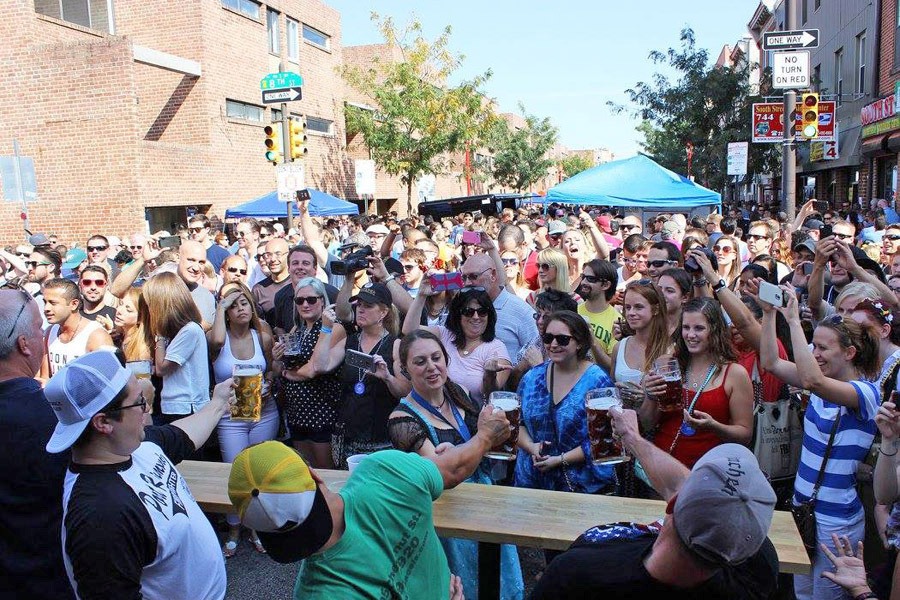 Brauhaus Schmitz hosts one of the city's biggest Oktoberfest celebrations with a giant outdoor block party on South Street. (Photo courtesy South Street Headhouse District)
September 16, 2017
Every year, German bier hall Brauhaus Schmitz closes down the 700 block of South Street for an all-day Oktoberfest that celebrates the holiday with live oompah music, a traditional pig roast, a liter-lifter competition and more. Coming into its ninth edition, this year's fest also promises 10 different German beers available on draft and German-style fare including sausages, sauerkraut and currywurst.
More about Brauhaus Schmitz's OktoberFest
PHL Oktoberfest 2017 at Frankford Hall and Fette Sau
September 16, 2017
Fishtown neighbors Frankford Hall and Fette Sau team up for an all-day street festival set to take over a portion of Frankford Avenue for the sixth year in a row. The festivities include a ceremonial keg tapping, dance performances, live music, carnival games and, of course, a slew of traditional German fare and seasonal brews. A special family-oriented area will also be on site with pony rides and live entertainment.
More about PHL Oktoberfest at Frankford Hall and Fette Sau
Newtown Beerfest at the Newtown Stocking Works Complex
September 16, 2017
Breweries from all over head to the Newtown Stocking Works Complex for the annual Newtown Beerfest. Relatively rare appearances by sought-after breweries like Allagash, Bear Republic, Devils Backbone and The Lost Abbey can all be found at the festival, which will round out the beer sampling fun with live music and a selection of food.
OktoBEARfest
September 16, 2017
A play on Oktoberfest, the Philadelphia Zoo hosts its first-ever OktoBEARfest this September, featuring 100-plus beers, 10 food trucks, live music, yard games and more. A $55 ticket allows you to score unlimited beer samples, admission to the zoo, free parking or a shuttle service to and from 30th Street Station as well as a slew of entertainment options. Tickets must be purchased in advance.
Oktoberfest at International House Philadelphia
September 22, 2017
From polka to brezen to German beer galore, International House Philadelphia is celebrating Oktoberfest in traditional festival-style. If it's in your wardrobe, sporting a lederhosen is encouraged, and everyone is highly urged to wear their dancing shoes!
More on Oktoberfest at International House Philadelphia
Ardmore Oktoberfest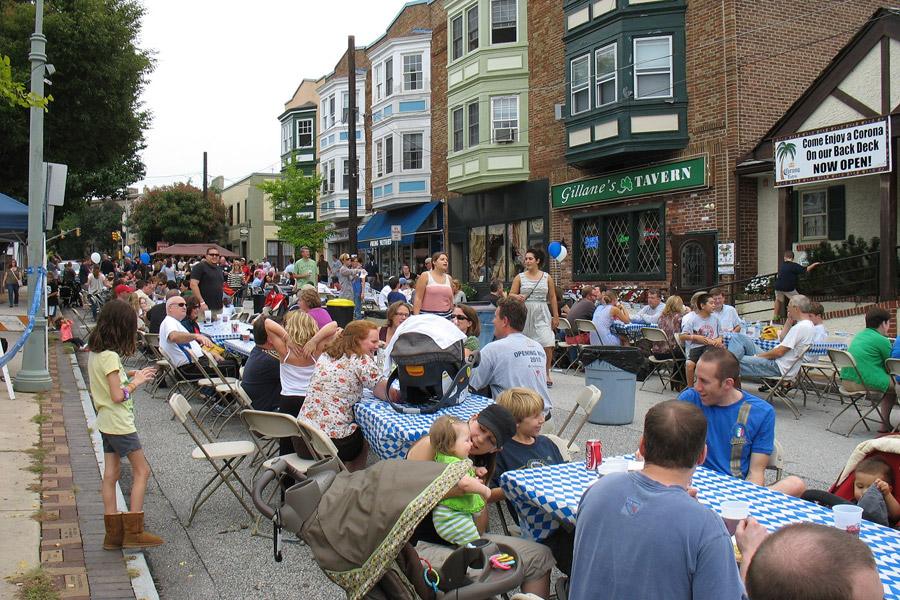 Oktoberfest in Ardmore means raved-about brews, live music, kids' activities and more. (Photo courtesy Destination Ardmore)
September 23, 2017
Pierogies, bratwurst and other German fare will be paired with classic Oktoberfest Weiss — along with IPAs and other non-holiday-related brews — during the Ardmore Oktoberfest, catering to beer lovers of all types. Beer lovers should definitely not miss the Tired Hands VIP Beer Garden, where rare brews from the nationally raved-about brewery will be poured. Live music adds to the festivities, as does kid-centric activities like face painting and Oktoberfest-themed crafts.
More about Ardmore Oktoberfest
Shacktoberfest at Shake Shack
September 23 - October 3, 2017
In late September, Shake Shacks in the area kick off their annual Shacktoberfest celebration. For 11 days straight, visit your favorite Shake Shack for a slew of special Oktoberfest-themed beer specials to enjoy alongside a meal from Shake Shack's popular menu of burgers, fries and more.
UpToberfest Oktoberfest at Uptown Beer Garden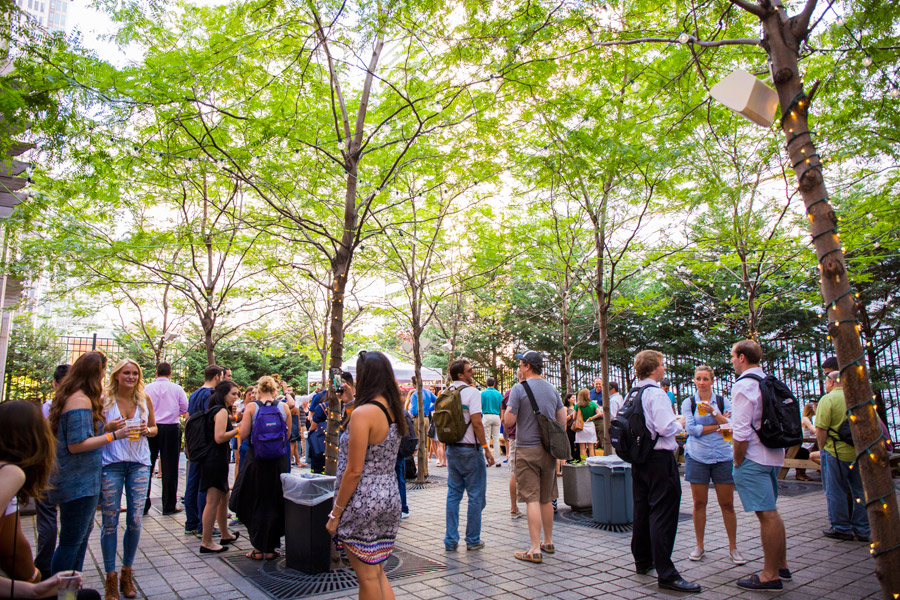 Uptown Beer Garden in Center City Philadelphia transforms into a classic Oktoberfest for a weekend in late September. (M. Fischetti for Visit Philadelphia)
September 23, 2017
Cheers with a one-liter boot stein during the day-long UpToberfest at Uptown Beer Garden. The Center City al fresco drinking destination will serve up a variety of local and imported lagers alongside classic German eats, including warm potato salad, currywurst, pretzels and more. Uptown Beer Garden will also debut OktoJawn, its exclusive Oktoberfest beer made in collaboration with Captain Lawrence Brewing Company.
More about UpToberfest Oktoberfest
Pop-Up Beer Garden at The Schmidt's Commons
September 23-24, 2017
Head to the open-air space at The Schmidt's Commons in Northern Liberties in late September for a two-day pop-up beer garden. Use it as an excuse to celebrate fall with a weekend outdoors before the weather starts to dip.
More about the Pop-Up Beer Garden at The Schmidt's Commons
Downingtown Fall Fest
September 24, 2017
The annual Downingtown Fall Fest welcomes more than 5,000 guests for a day of live entertainment, great food, shopping and craft beer from Victory Brewing Company. The festival is pay-as-you-go, so choose which restaurants and vendors you want to visit and which beers you want to try and then sit back to enjoy music from live bands, including kids from the School of Rock.
Oktoberfest at PHS Pop-Up Gardens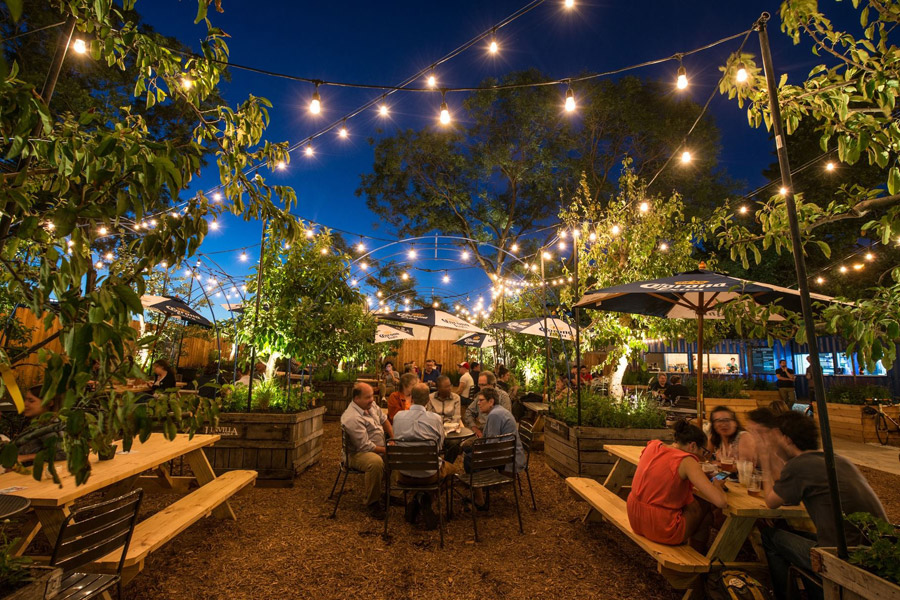 The PHS Pop-Up Gardens hosts an Oktoberfest bash at its South Street location this fall. (Photo courtesy Pennsylvania Horticultural Society)
September 26 - October 8, 2017 (select dates)
The PHS Pop Up Garden on South Street hosts a special Oktoberfest celebration, complete with brews from different breweries each day, including Sierra Nevada, Lagunitas and more. To add to the fun, bratwurst eating and pretzel tossing contests will take place, along with pumpkin painting, prizes, giveaways and a "dog-tober" costume content.
More about Oktoberfest at PHS South Street Pop-Up Garden
Oktoberfest at SkyGarten
September 28 - 29, 2017
Enjoy Oktoberfest festivities from 51 floors up at SkyGarten at the Top of the Tower. In addition to epic skyline views, the beer garden will hold a special line up of German beers and food for you to enjoy, along with an array of Bavarian flags and other classic Oktoberfest decorations.
More about Oktoberfest at SkyGarten
Alla Spina OktoberFest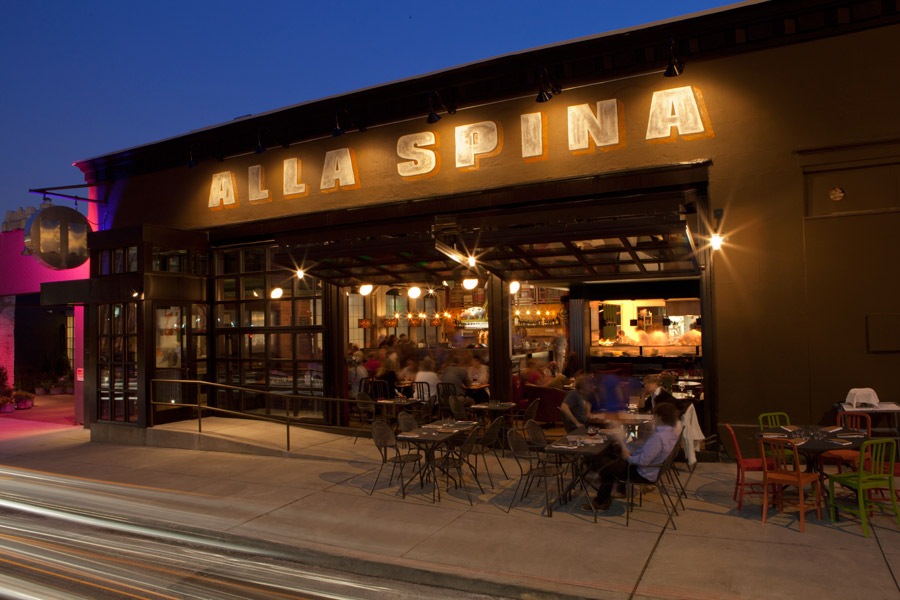 Celebrate a long weekend of Oktoberfest fun at Alla Spina. (Photo courtesy Michael Gruber for Alla Spina)
September 29 - October 1, 2017
Victory Brewing Company takes over the taps at Alla Spina for a three-day weekend full of Oktoberfest fun. Enjoy traditional German fare, Victory beer specials, a huge street festival, live music and the chance to witness a spirited "Stein Hoist Competition."
More about Alla Spina OktoberFest
CiderFest at the Historic Homes of Fairmount Park
September 30, 2017
The historic homes of Fairmount Park get in on the fun this year with CiderFest. The brand-new event features tasty bites from food trucks and live music as you taste ciders from a different local cidery at each house. One ticket gets you access to all of the homes, a souvenir cup and free house-to-house transportation courtesy of PHLASH.
Kennett Brewfest in Kennett Square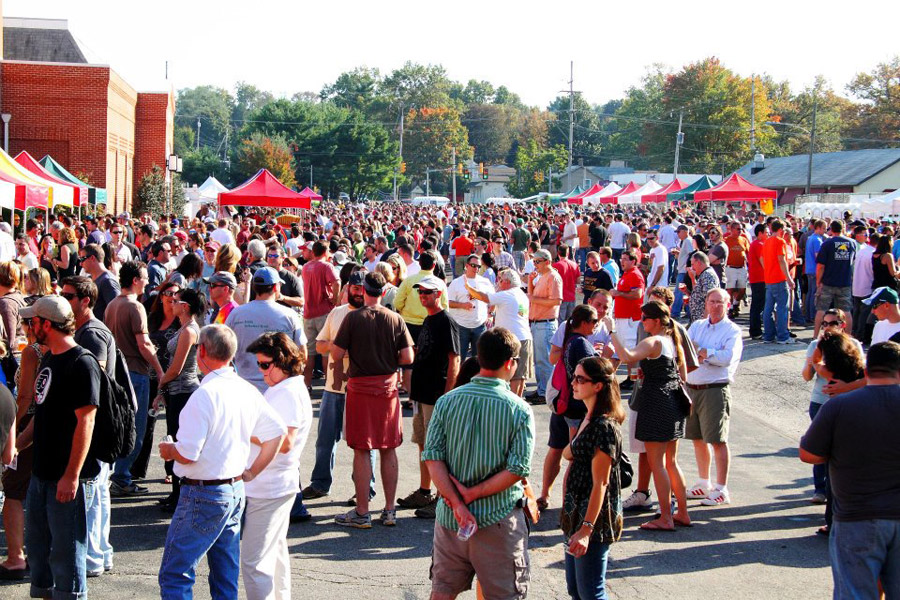 Help raise funds for Historic Kennett Square by drinking a beer (or three) at the Kennett Brewfest. (Photo courtesy of Kennett Brewfest)
September 30, 2017
Celebrating its 20th year in 2017, Kennett Brewfest offers attendees the opportunity to sample beer from some of the best regional and national craft breweries, including Une Anee, Sole Artisan Ales, Forest & Main and more. The festival is accompanied by food, live music and various vendors. Proceeds benefit Historic Kennett Square.
More about Kennett Brewfest in Kennett Square
Sly Fox Can Jam Music Festival at Sly Fox Brewery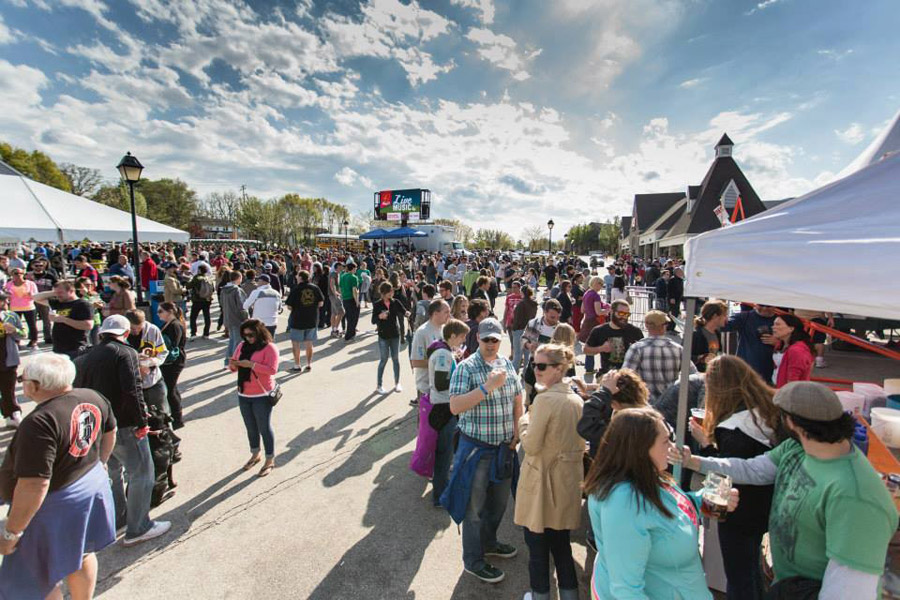 Pottstown's Sly Fox Brewery hosts the annual Can Jam Music Festival right outside its brewery. (Photo courtesy Sly Fox Beer)
September 30, 2017
Take an adventure to Sly Fox Brewery in Pottstown for an awesome annual music festival and Can Jam competition. The free, day-long event features performances, food and plenty of Sly Fox beer straight from the brewery. Register in advance if you wish to join the heated disc game tournament or throw a few discs recreationally on the extra sets that'll be set up for festival-goers to use.
More on the Can Jam Music Festival
Oktoberfest at Hop Angel Brauhaus
September 30, 2017
Hop Angel Brauhaus brings a taste of Munich to Fox Chase during its annual Oktoberfest celebration. Head to the German-American bar and restaurant for Oktoberfest brews, food, outdoor games and live music. This year, those sporting lederhosen or a dirndl will receive a special prize.
More about Oktoberfest at Hop Angel Brauhaus
Oktoberfest Live at XFINITY Live!
September 30, 2017
XFINITY Live! invites you to grab your friends and come out for a day of unlimited samplings from 125-plus breweries at its annual Oktoberfest, complemented by live music, games and food truck fare. Bonus
More about Oktoberfest Live at Xfinity Live!
King of Prussia Beerfest Royale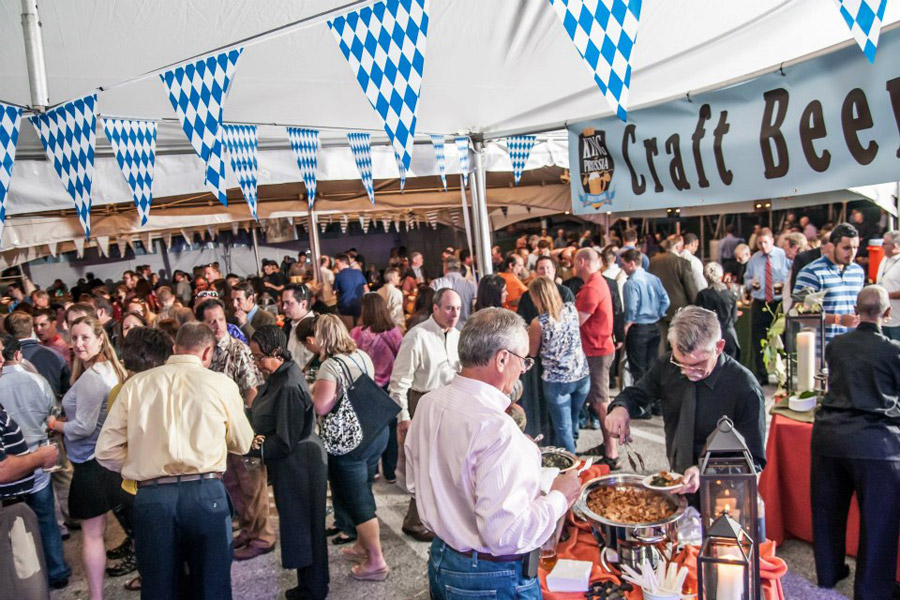 Sample more than 100 beers and enjoy great food in the King of Prussia Mall parking lot during Beerfest Royale. (Photo courtesy Beerfest Royale)
October 5 and 7, 2017
The parking lot at the King of Prussia Mall transforms into a German beer oasis at the annual Beerfest Royale, a two-day event consisting of more than 100 types of beer from 50-plus national and international brewers, food from area restaurants, live music and a cigar lounge.
More about the Beerfest Royale
23rd Street Armory Oktoberfest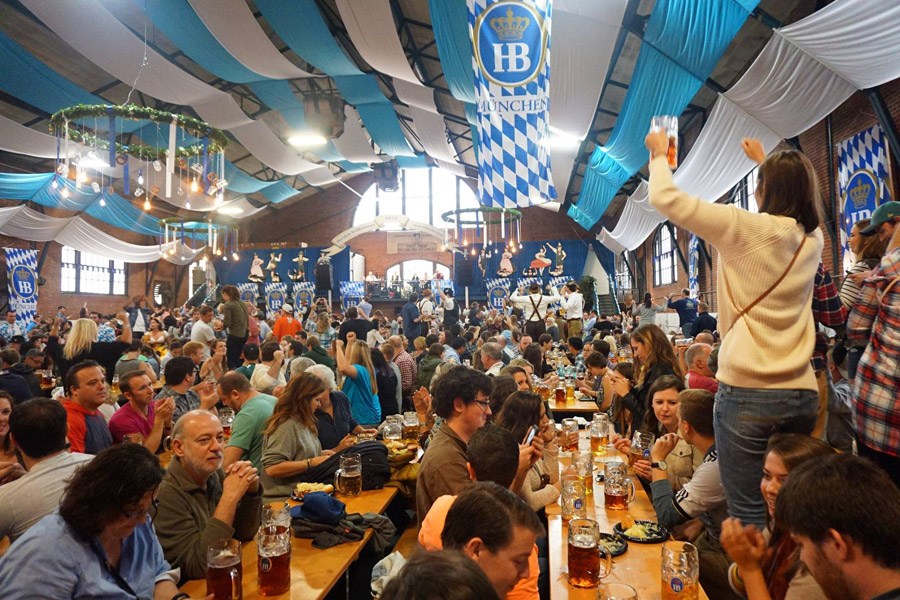 Philadelphia's second annual Oktoberfest, hosted by Brauhaus Schmitz, takes place at the 23rd Street Armory in early October. (Photo courtesy Brauhaus Schmitz)
October 6-8, 2017
The castle-esque 23rd Street Armory gets a makeover this Columbus Day Weekend, transforming into an authentic Munich festival tent for one serious (and fun) Oktoberfest celebration. Bavarian blues and whites will paint the ceilings, while authentic festival tables and benches imported from Germany will furnish the floor along with a lofted stage area for live bands to play. Hofbräuhaus will supply the beer and authentic German fare will be flow from the kitchens. Buy tickets for one, two or all three festival days!
More about 23rd Street Armory Oktoberfest
Midtown Village Fall Festival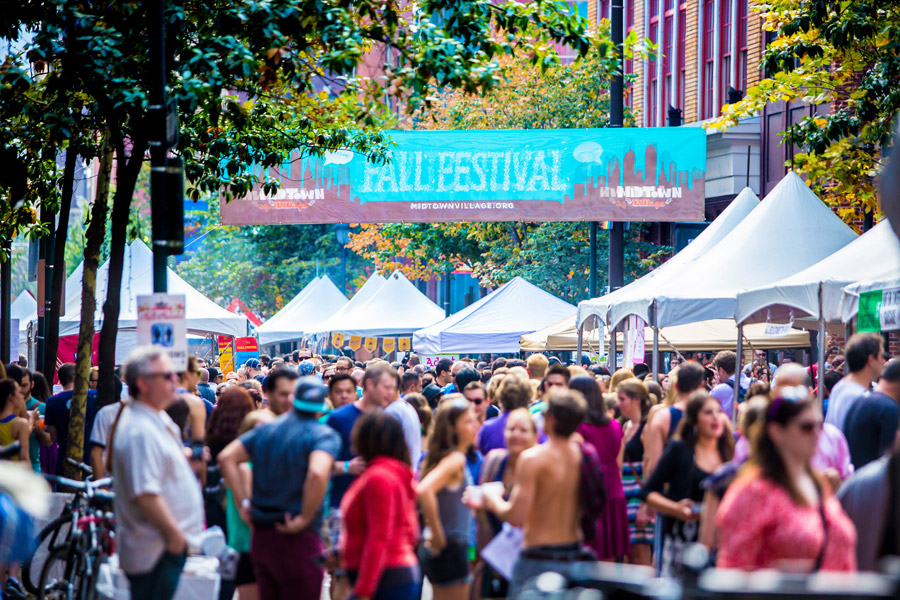 Enjoy a brew or two at the Midtown Village Fall Festival, one of the fall's most popular events. (J. Fusco for Visit Philadelphia)
October 7, 2017
Held every autumn, the Midtown Village Fall Festival is one of Philadelphia's biggest annual street festivals. The fest unfolds along and around 13th Street with an all-day affair packed with tasty food, drinks, live entertainment, shopping and, of course, delicious beer, available from a beer garden outside McGillin's Olde Ale House or elsewhere throughout the festival grounds.
More about the Midtown Village Fall Festival
Fall Fest at Morgan's Pier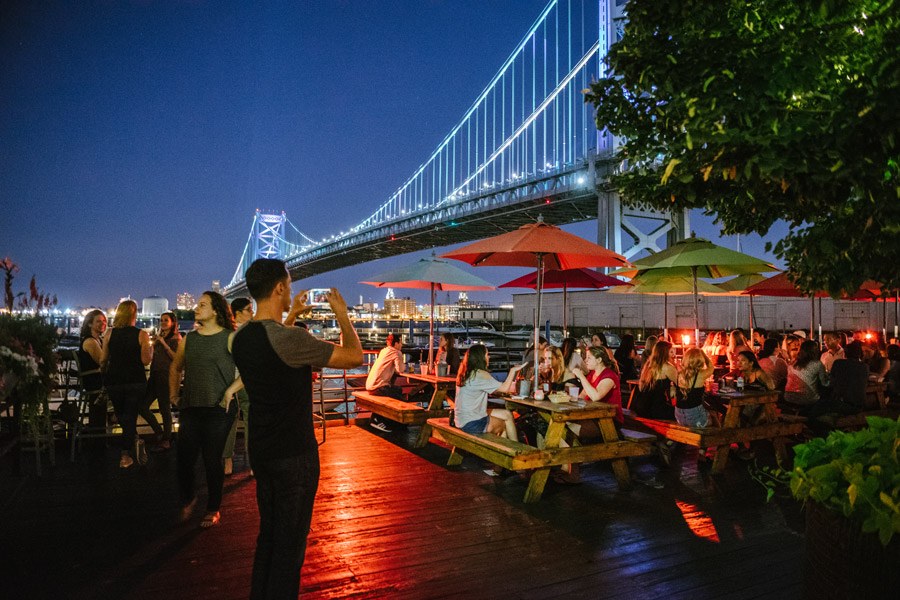 Ready for an Oktoberfest in the shadow of the Benjamin Franklin Bridge? (A. Ricketts for Visit Philadelphia)
October 7, 2017
Morgan's Pier in the Historic District brings fall to the waterfront with its Oktoberfest celebration on October 7. Attendees can look forward to an open bar, unlimited soft pretzels and live music from Gypsy Wisdom for $35 per person. Plus, the first 200 attendees will receive a glass stein. Prost!
more about oktoberfest at morgan's pier
Roxtoberfest
October 7, 2017
The town of Roxborough celebrates fall during Roxtoberfest, unfolding along Ridge Avenue between Lyceum and Leverington avenues. In addition to plenty of food and drink options, the fest brings live music from six groups (including Ben Arnold & Band), life-sized board games, an array of children's activities and other activities to keep the entire family entertained all afternoon long.
Ambler Main Street Oktoberfest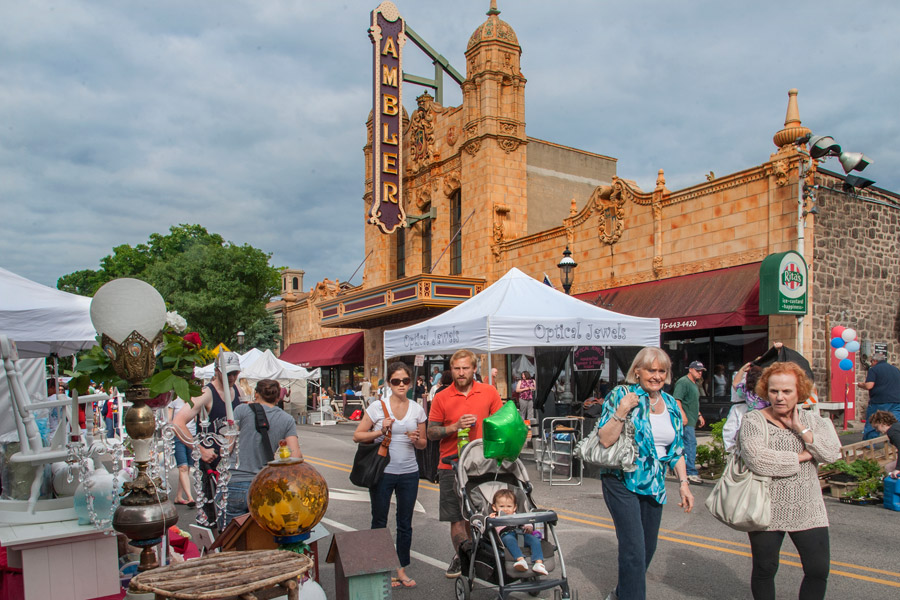 Celebrate Oktoberfest in downtown Ambler with 90-plus vendors, rides, live music, and more. (R. Kennedy for Visit Philadelphia)
October 7, 2017
Downtown Ambler transforms into a traditional Bavarian festival scene during its 26th annual Oktoberfest. More than 90 vendors and 10 food trucks are set to line Butler Avenue and surrounding side streets, along with rides for the kiddos, a beer garden, musical performances on two stages, arts and crafts stations and more.
More about Ambler Main Street Oktoberfest
Pumpkin Beer Festival at The Institute
October 7, 2017
Now in its ninth year, The Institute Bar's Pumpkin Beer Festival is called the largest pumpkin beer festival in the world while also pouring ciders, lambics and sours served up at two bars.
More about The Pumpkin Beer Festival
Oktoberfest at Grumblethorpe
October 7, 2017
After the reenactment of the Battle of Germantown during the Revolutionary Germantown Festival, spend the evening down the road at historic Grumblethorpe's 18th-century garden enjoying cold brews, local sausage and other delicious eats. While you're there, embark on a tour of the colonial home.
More about Oktoberfest at Grumblethorpe
Octoberfest at Dilworth Park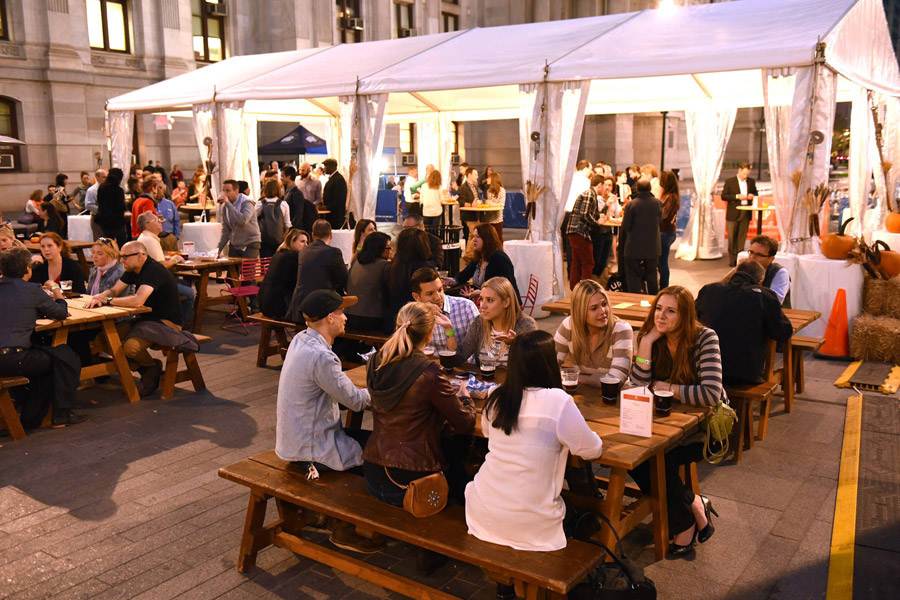 Dilworth Park brings an Oktoberfest celebration right to the heart of Center City in mid-October. (Photo courtesy Dilworth Park)
October 11, 2017
Beer, food and fun activities are set to fill Dilworth Park for its Oktoberfest celebration. Enjoy live DJ-spun tunes and beer and cocktails in the beer garden while enjoying the pleasant fall weather.
More about Oktoberfest at Dilworth park
Peddler's Village OctoberFEAST
October 14-15, 2017
Feast more than just your eyes on German beers and bratwurst, cinnamon apple donuts, local wine, a live performance by the Philadelphia German Brass Band and moon bounces to tire out the kids at OctoberFEAST at Peddler's Village, a charming countryside village just an hour outside of Philly.
more about peddler's village octoberfeast
Victory Brewing's 2nd Annual Oktoberfest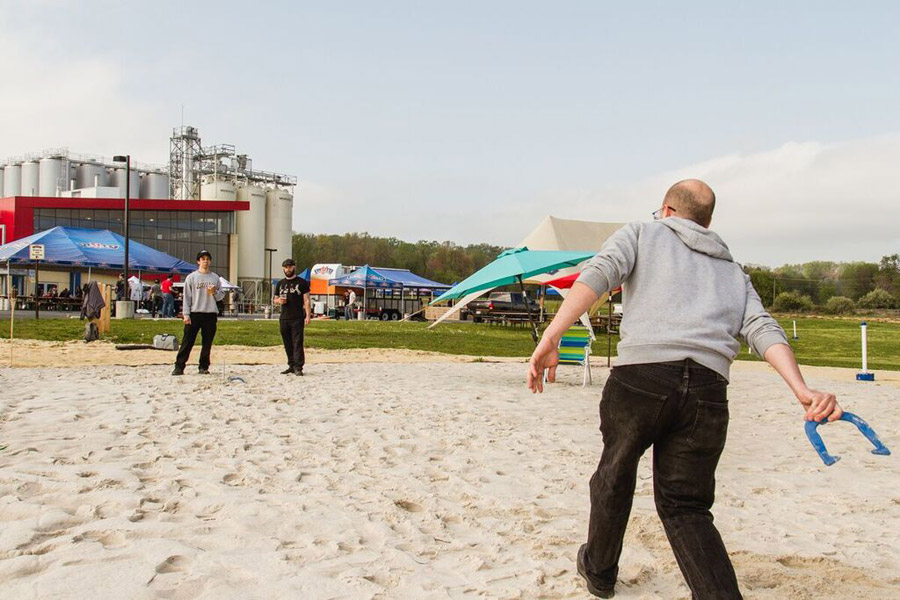 Victory Brewing Company hosts its first Oktoberfest, full of Munich-style munchies, beer and more. (Photo courtesy Victory Brewing Company)
October 15, 2017
Victory Brewing Company hosts its second annual Oktoberfest this fall at its Parkesburg facility. Head to Victory's own beer garden to score the brewery's take on Festbier and other varietals. Classic German-style fare will also be served up at the fest, like jumbo pretzels and mustard, currywurst and Doner kebabs. No tickets are needed to attend, and beer and food is simply pay as you go.
More about Victory Brewing Company's Oktoberfest
Bloktoberfest
October 14, 2017
Graduate Hospital's Bloktoberfest returns for a day of all-ages fun on South Street this October. The celebration features a wide selection of craft beer from around the country, delicious food from local restaurants and food trucks, live music and entertainment and family-friendly activities. Beer proceeds from the neighborhood event are reinvested into community schools, projects and area organizations.
Conshohocken Beer Festival at the A.A. Garthwaite Stadium
October 15, 2017
Join dozens of breweries — from Philadelphia-area favorites to national mainstays — for the Conshohocken Beer Festival, which also includes live music, great food and more.
More about Conshohocken Beer Festival
Memphis Taproom Thirstoberfest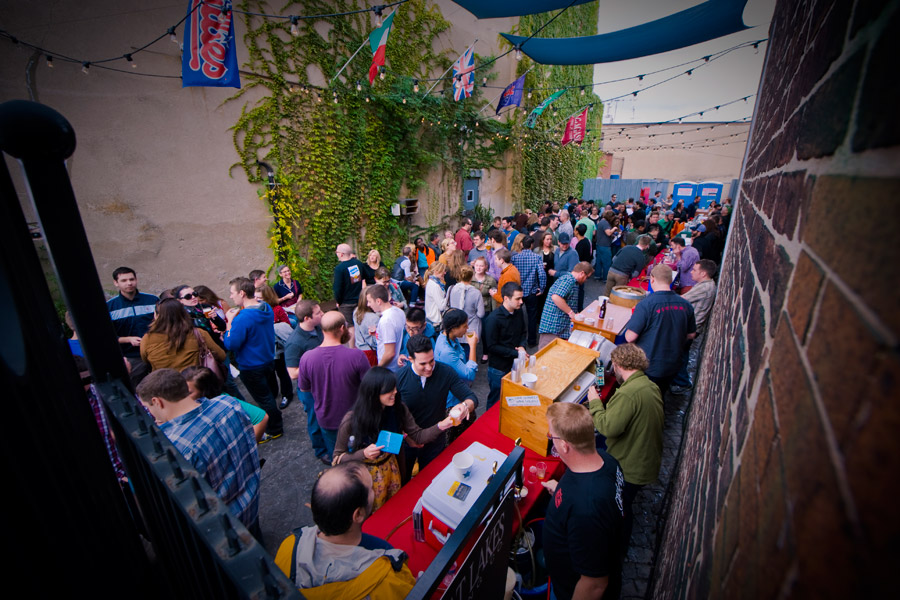 Quench your thirst with limited release beers at Memphis Taproom's ThirstoberFest. (M. Kennedy for Visit Philadelphia)
October 21, 2017
Thirstoberfest is Memphis Taproom's annual fall beer bash. The bar serves up flagship and limited release beers, all enjoyed in the bar's outdoor beer garden alongside food truck-supplied eats.
Washington Crossing Fall Brewfest
October 28, 2017
Head to the banks of the Delaware River in Bucks County for the inaugural Washington Crossing Fall Brewfest, an autumnal iteration of the region's popular spring beer fest. Look forward to pumpkin beers, sours, IPAs and ciders from more than 65 breweries and cideries, with every dollar made from the fest going to the Friends of Washington Crossing Park.
more about washington crossing fall brewfest
---