Top Oktoberfest Celebrations in Philadelphia
Beer, brats and block parties in honor of the traditional German festival
The Summer of the Beer Garden was epic – so it's comforting that, as it winds down, it leads us right into Oktoberfest season, during which Philadelphia's beer gardens can shine just as bright.
And that time is upon us – it is officially Oktoberfest season in Philadelphia. Which means, over the course of September and October, there are dozens of Oktoberfest celebrations coming to Philly.
Think refreshing Oktoberfest brews, delicious bratwurst and sausages, live music, street festivals and more.
So it's time to break out your lederhosen and/or dirndl, raise a glass – or more appropriately – a stein, and party down Oktoberfest-style in Philly.
Prost!
Read on for our complete guide to Oktoberfest celebrations in Philadelphia.
Shacktoberfest
Dates: October 3-12
Shake Shack is getting into the Oktoberfest spirit with its annual Shacktoberfest, a week-long celebration of brats, burgers and beer. From October 3-12, the menu will be expanding with a variety of German-centric eats including Brat Burgers, Bacon Cheddar Brats and German Chocolate Walnut Concretes. Grab a commemorative beer stein for just $10 and get refills of Brooklyn Brewery's Oktoberfest brew or the namesake ShackMeister Ale® for just $7 all week.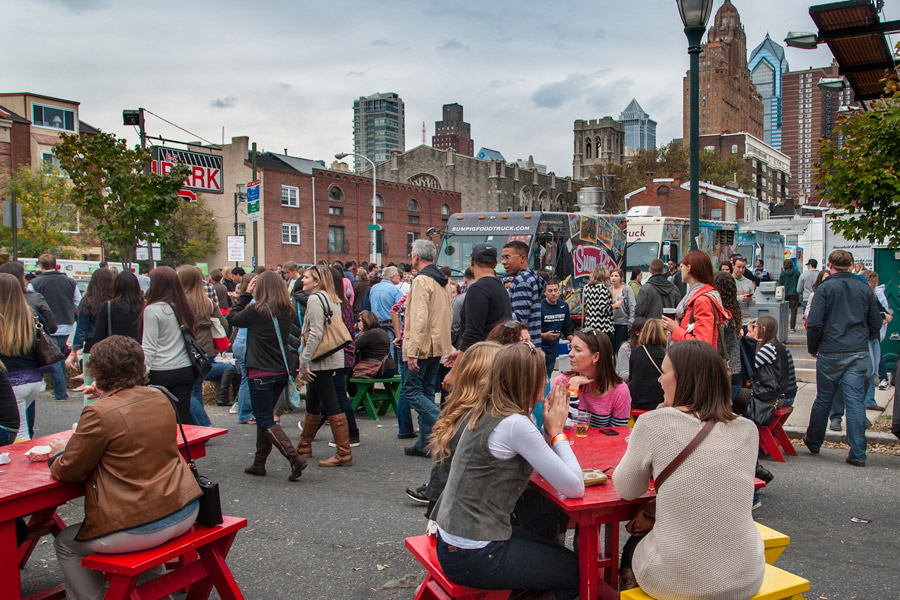 Join the Graduate Hospital community during the sixth annual Bloktoberfest on South Street, a family-friendly day of good beer and great times. (Photo by for Visit Philadelphia)
Bloktoberfest
Date: October 11, 2014
Graduate Hospital's Blocktoberfest returns for a sixth year of all-ages fun on South Street. Taking place over a four-block stretch of South Street from Broad to 18th streets, the day-long celebration features a wide-selection of beers from around the country, delicious food from local restaurants and food trucks, live entertainment and family-friendly activities. Beer proceeds from the neighborhood event are reinvested into community education, green space and development initiatives.
Kennett Brewfest
Date: October 11
Sample beers from more than 90 craft breweries to raise funds for Historic Kennett Square during the 2014 Kennett Brewfest on Saturday, October 11. The day-long festival features top brews from around the country, live music and tasty food.
Ardmore Oktoberfest
Date: October 11
Oktoberfest comes to Ardmore, the largest and most diverse town on the ritzy Main Line stretch of suburbs, on Saturday, October 11. From 2-8 p.m., expect German music, German beer, German food and more at this fun block party on Cricket Ave.
Oktoberfest at Dilworth Park
Dates: October 18, 23 and 25
The renovated Dilworth Park at City Hall is getting into the Oktoberfest spirit with three days of beer, food, music and more. Enjoy arts and crafts, a beer garden and live entertainment as you celebrate in the fantastic new space.
Memphis Taproom Thirstoberfest
Date: October 18, 2014
Thirstoberfest returns to Memphis Taproom for its fifth year on October 18 with pours of more than 25 flagship and limited release beers including Ayinger Celebrator, Russian River Pliny the Elder and Yards Cape of Good Hope. Celebrate the final day of Memphis Taproom's beer garden season and enjoy special Thirstoberfest hot dogs from their food truck all day.
Conshohocken Beer Festival
Date: October 18
On October 18, join 40(!) breweries — from Philadelphia-area favorites like Yards and Sly Fox to national mainstays like Rogue and Founders and more — for the Conshohocken Beer Festival, which will also include live music, great food and more. Plus, in the week leading up to the festival, Conshohocken area restaurants and bars will be hosting a series of events, including tap-takeovers, pairing dinners and tastings.
OktoberFestivus
Date: October 18
Mark your calendar for OktoberFestivus at Franklin Square, one of Philly's favorite parks. Look forward to a bevy of food trucks and a selection of the season's best beers at a beer garden hosted by Old Eagle Tavern.
Oktoberfest Half-Marathon in Pennypack Park
Date: October 26
Enjoy a calming run through the scenic grounds of Pennypack Park during the Oktoberfest Half-Marathon. The 13.1 mile course leads runners along the trails lining Pennypack Creek with Oktoberfest-inspired aid stations along the way. Following the race, enjoy a costume contest, special giveaways and more.
Don't miss Fall Fest at Spruce Street Harbor Park on September 19-21, one of your last chances to hang out at the awesome pop-up park on the waterfront before it closes for the season on Sunday, September 28. (Photo by M. Stanley for DRWC)
Past Events
Elmwood Park Zoo Oktoberfest
Date: September 14, 2014
Craft beer and zoo animals come together at the annual Oktoberfest at the Elmwood Park Zoo in Norristown. Enjoy unlimited beer samples from two dozen top breweries, including an exclusive festival-only Banana Wheat and Pumpkin beer from Shock Top, along with local food trucks and live entertainment. Guests can enjoy live music, giveaways and animal encounters including a giraffe feeding and hand-feeding of a giant bison from the feeding deck. Tickets are $40 for general admission ($15 for designated drivers) and $75 for VIP tickets ($25 for designated drivers).
Fall Into Art: ARToberfest at the Philadelphia Museum of Art
Date: September 19
The Young Friends of the Philadelphia Museum of Art host Fall into Art: ARToberfest in the rarely-seen Vaulted Walkway, transforming the great hall into a stylish beer garden. For one evening only, the soaring arches will be set off by twinkly lights and the walkway will hold long tables to create a beer garden atmosphere beneath the museum's steps. An Octoberfest-themed fete, the beers will be German (including Paulaner) and the fare will be, too, with pretzels, schnitzel, and other German eats from Starr Restaurants Catering. Tickets are required.
Frankford Hall's Oktoberfest
Date: September 20, 2014; Select Dates from September 18-October 2
Fishtown's popular beer garden Frankford Hall hosts one of the city's largest Oktoberfest celebrations with a day-long block party on Frankford Avenue from Girard Avenue to Shackamaxon Street. Expect multiple beer tents housing a bounty of German beer, traditional eats including bauernwurst, bratwurst and Bavarian pretzels, live music, carnival games, German dancing and more. Beyond the block party, Frankford Hall continues to celebrate Oktoberfest with beer specials, games, competitions and more on select dates from September 18 through October 2.
Oktoberfest at Morgan's Pier
Date: September 20
Before the waterfront beer garden closes for the season, Morgan's Pier puts on an Oktoberfest party complete with special Oktoberfest drafts and a slew of traditional German fare. At the restaurant, expect specials including grilled sausages, traditional German potato salad and pretzels, too.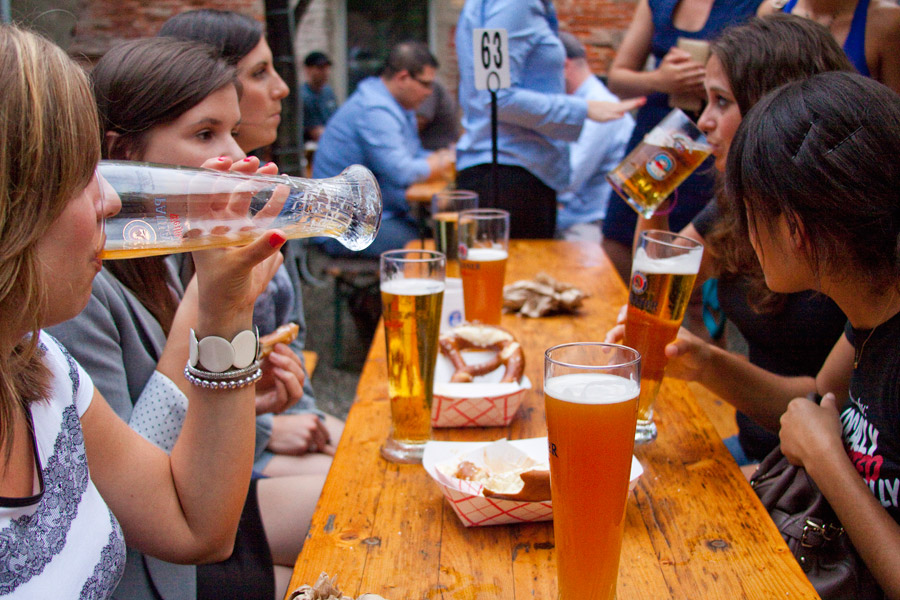 Frankford Hall in Fishtown goes all out for Oktoberfest with a massive block party on Frankford Avenue featuring traditional German beers and foods. (Photo by M. Fischetti for Visit Philadelphia)
Brauhaus Schmitz's Oktoberfest
Dates: September 15-21, 2014
Brauhaus Schmitz is going all out for Oktoberfest with a week of German-inspired events all leading up to an incredible block party on South Street. The German beer hall will host a variety of German beer specials and giveaways throughout the week before its 6th annual Oktoberfest on the 700 block of South Street on September 20. Look for record-breaking consumption of pork products, 10 types of German beer, competitions, live music, dancing and much more.
Mt. Airy Street Fare
Date: September 18, 2014
Germantown Avenue in Mt. Airy turns into a hub for mobile fare on September 18 from 6 to 10:30 p.m. in celebration of the second annual Street Fare, an evening of more than 40 food vendors, live music, shopping, craft beer and family-fun
Fall Fest at Spruce Street Harbor Park
Date: September 19-21
Hit up Philadelphia's lauded pop-up park on the Delaware River Waterfront for Fall Fest, a celebration with fall-themed regional craft beers, food trucks, daily live music and kids-crafting activities from September 19-21. The beer selections at the floating Blue Anchor restaurant will represent a different mid-Atlantic area each day: Friday will showcase beers from New Jersey and Delaware, Saturday highlights beers from Pennsylvania and Sunday focuses on beers from Maryland. Add to that fall-themed food, a specialty cocktail of red sangria with cranberries and oranges, a full stage lineup throughout the weekend and family-friendly activities like face painting, jugglers, print making, flower crown workshops, and drawing classes, and you've got an event for the whole family. If you can't make it, the next weekend features a bevy of closing weekend activities, including a massive free concert on Saturday, September 27.
PHS Fall Festival
Date: September 20, 2014
Celebrate the start of autumn during the annual PHS Fall Festival at the Navy Yard. Enjoy a day of family-friendly fun including the PHS City Harvest Market featuring local produce; the PHS Kids Zone, where youngsters can participate in games, activities and crafts; a "Garden Giants" demonstration, where growers show off their oversized tomatoes, pumpkins and other gigantic goodies for a panel of judges; and the Marketplace, featuring plants, tools, garden accessories and home décor. This year's festival also features an on-site beer garden with beverages from Yards Brewing Co. and coincides with Franklin Flea, featuring vintage and handmade items from local vendors.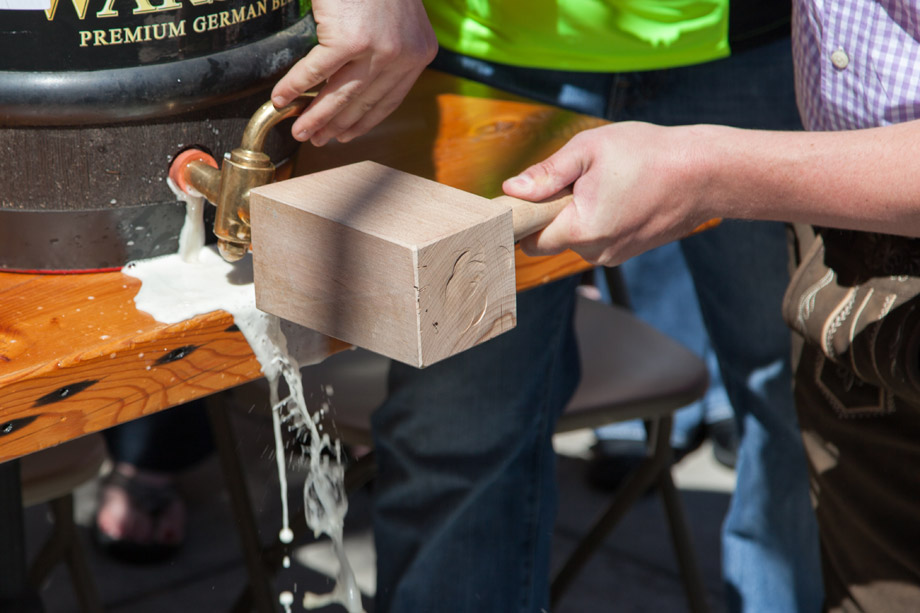 Brauhaus Schmitz hosts one of the cities biggest Oktoberfest celebrations with a giant outdoor block party on South Street. (Photo courtesy South Street Headhouse District)
Oktoberfest at Iron Hill Brewery
Dates: September 25-October 12
All ten Iron Hill Brewery locations raise a stein to Oktoberfest with a special German-inspired food menu and two special German brews — a Vienna Red Lager and an Oktoberfest. The special menu will be available from September 25 through October 12.
Oktoberfest at Alla Spina
Dates: September 26-28
Alla Spina is getting into the Oktoberfest spirit with a weekend celebration featuring traditional German food, beer from Victory Brewing Company and special events. Test your strength during the Stein Hoisting competition on September 26 or enjoy a full day of beer, music and food during the Oktoberfest Street Festival on September 28.
Oktoberfest Live! at Xfinity Live!
Date: September 27, 2014
Xfinity Live! in South Philadelphia is amping up its 3rd annual Oktoberfest celebration with more than 200 craft brews, live music, food trucks, contests, prizes and German-inspired fun.
Hop Angel Brauhaus
Dates: September 27-28, 2014
Hop Angel Brauhaus brings a little Munich to Fox Chase during its annual Oktoberfest celebration. Head to the German-American bar and restaurant for Oktoberfest brews, sausages, pretzels and family-friendly fun. Bonus: Those sporting lederhosen or a dirndl receive a free sausage sandwich.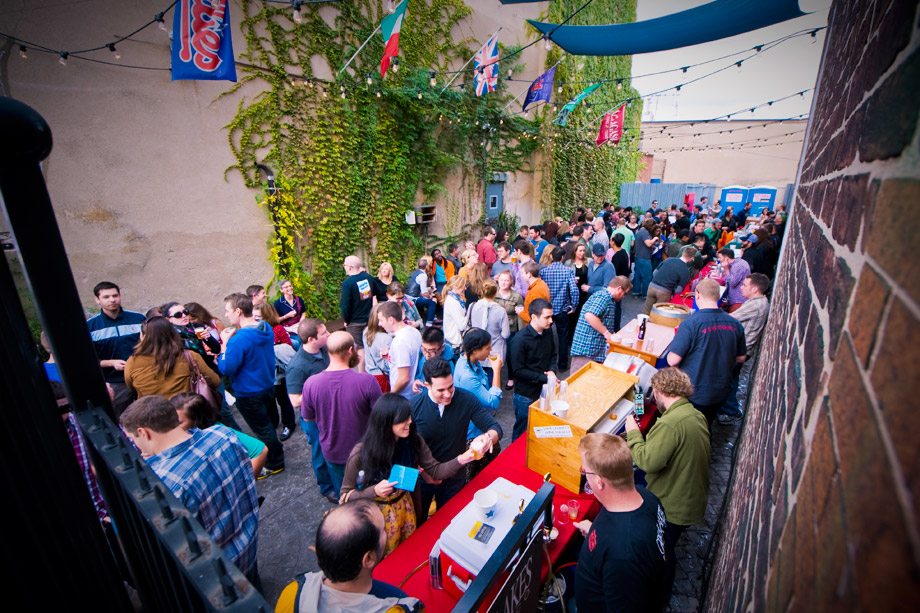 Memphis Taproom's annual Thirstoberfest brings another Oktoberfest party to Fishtown. (Photo by R. Kennedy for Visit Philadelphia)
Sly Fox Can Jam
Date: September 27
Sly Fox Brewing Company in Pottstown raises a hat to beer and music at its annual Can Jam, an all-day celebration of canned craft beer. Groove to live music while hanging out at the countryside brewery.
German Heritage Festival
Date: September 27
Hosted by German Society of Pennsylvania, the German Heritage Festival is an afternoon celebration featuring bratwursts, Spanferkel (roast pig), sauerkraut, German beers, live music and family fun. Purchase tickets online in advance.
Downingtown FallFest
Date: September 28
The fifth-annual Downingtown FallFest welcomes more than 5,000 guests for a day filled with festive events, including live music, food vendors, craft activities and displays from local businesses. The festival is presented by Victory Brewing Company, so expect a stellar beer garden with delicious brews and bites.
Manayunk StrEAT Food Festival
Date: September 28, 2014
Kicking off Manayunk Restaurant Week, the Manayunk StrEAT Food Festival on September 28 is a foodie's dream, featuring food trucks, gourmet food vendors and specials at Main Street's restaurants. Between bites, attendees enjoy live music and sidewalk sales.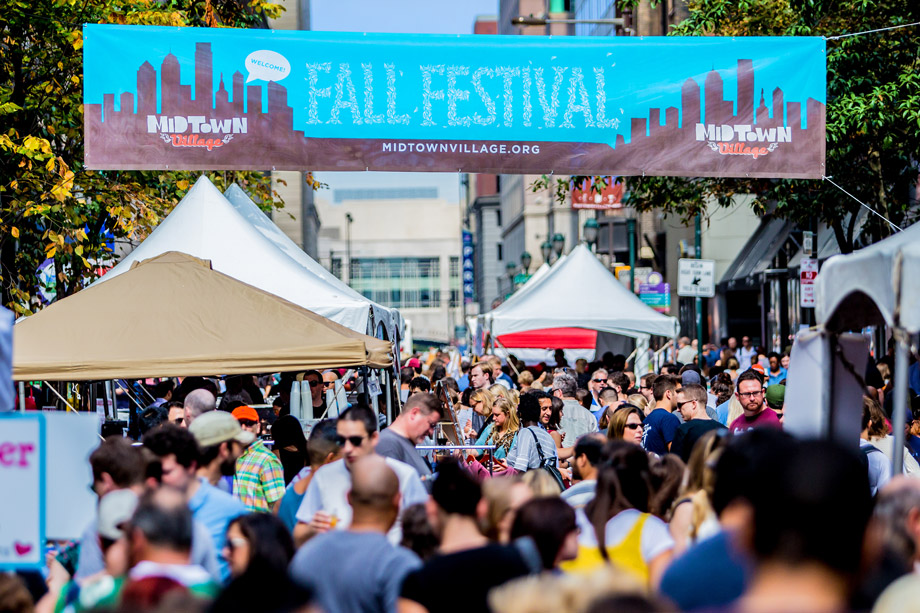 The 9th annual Midtown Village Fall Festival features plenty of beer, food, shopping and entertainment on 13th Street. (Photo by J. Fusco for Visit Philadelphia)
Chinatown Night Market
Date: October 2, 2014
The final Night Market of 2014 is expected to be a big one with the city's top food trucks and plenty of beer on tap in the streets of Chinatown.
King of Prussia Beerfest Royale
Dates: October 2 & 4, 2014
The King of Prussia mall parking lot transforms into a German beer oasis at the annual Beerfest Royale, a two-day event consisting of more than 50 national and international breweries and over 100 types of beer. Sample more than 25 local beers, enjoy food from area restaurants and relax with a complimentary cigar during the Donnerstag Happy Hour on October 2. On Saturday, sample local, international and hard-to-find brews under the grand tent during two separate tasting sessions. Tickets are limited, so reserve your spot in advance below.
Midtown Village Fall Festival
Date: October 4
One of the biggest and best festivals of the season, the Midtown Village Fall Festival shuts down 13th Street for a day of fantastic food, sidewalk sales and more. For its ninth year, the festival will feature outdoor beer tents, multiple stages for live entertainment and a carnival-like atmosphere complete with a dunk tank.
McGillin's Oktoberfest
Dates: Through October 4
McGillin's Oktoberfest lasts through the month of September, with Oktoberfest brews straight from Germany on tap and German specials on the lunch and dinner menu. The celebration concludes on Saturday, October 4 with a Giant Beer Garden on Drury Street during the Midtown Village Fall Festival.
Grumblethorpe Oktoberfest
Date: October 4, 2014
After the smoke clears following the Revolutionary Germantown Festival, head to the historic Grumblethorpe for cold German brews and an evening of Oktoberfest fun. Embark on tours of the colonial home and join in the fun at a party in Grumblethorpe's garden. Sip beer, enjoy German meals and listen to live music at the evening event. Admission is free, but all food and tours are pay as you go.
Oktoberfest at SugarHouse Casino
Date: October 4
You can bet you'll have a good time at SugarHouse Casino's Oktoberfest 2014. The Delaware Waterfront attraction is celebrating with an afternoon of German music, dancing, beer and food specials starting at 2 p.m. Throughout the evening, enjoy Oktoberfest games and prize giveaways hosted by Brauhaus Schmitz.
Ambler Main Street Oktoberfest
Date: October 4
Downtown Ambler turns into a traditional Bavarian festival with its 23rd annual Oktoberbest featuring a beer garden, great food, live music, art work, hand-crafted items and rides for the kids all day long.
Roxtoberfest
Date: October 4
The 2nd annual Roxtoberfest on Ridge Avenue is a day of cold beer, live music, great food, carnival games and more. Enjoy traditional German fare, non-traditional food trucks, family-friendly fun and plenty of beer in the Roxtoberfest Beer Tents from noon until 6 p.m. Don't forget to stop by the Foodery's Roxborough location for more than 1,000 different types of beer from around the world.
Advertisement:
Advertisement: