Top Oktoberfest Celebrations and Fall Beer Festivals in Philadelphia
Beer, brats and block parties all season long
Get ready for beer steins and bratwursts as Philadelphia celebrates Oktoberfest. The city's version of the traditional German festival is bigger than ever with massive street-fairs, flourishing beer gardens and lively neighborhood celebrations.
The final weeks of September and beginning of October officially mark Oktoberfest season in Philadelphia with dozens of celebrations at the city's bars, restaurants and attractions.
In addition to Oktoberfest, the sunny, brisk weather of autumn is perfect for refreshing beverages, delicious food, live music and more during incredible beer festivals around the region.
Dust off your lederhosen and/or dirndl, raise a stein, and celebrate with our guide to the top Oktoberfest celebrations and fall beer festivals in Philadelphia.
Prost!
Elmwood Park Zoo Oktoberfest
Date: September 15, 2015
Craft beer and zoo animals come together at the annual Oktoberfest at the Elmwood Park Zoo in Norristown. Enjoy unlimited beer samples from two dozen top breweries, including an exclusive festival-only Banana Wheat and Pumpkin beer from Shock Top, along with local food trucks and live entertainment. Guests can enjoy live music, giveaways and animal encounters including a giraffe feeding and hand-feeding of a giant bison from the feeding deck. Tickets are $45 for general admission ($15 for designated drivers) and $75 for VIP tickets ($25 for designated drivers).
More on Elmwood Zoo Oktoberfest
Lo Spiedo Oktoberfest
Date: Friday, September 18, 2015
Marc Vetri's rotisserie haven at the Philadelphia Navy Yard, Lo Spiedo, is kicking off the weekend with a Oktoberfest celebration from 4-8 p.m. on Friday, September 18. The pay-as-you-go celebration features German food specials, beer from Stoudt's Brewing Co. and live music by Polkadelphia.
Oktoberfest 2015 at Frankford Hall
Date: September 19, 2015
Fishtown's popular beer garden, Frankford Hall, is teaming up with neighbor Fette Sau for a fantastic day of beer, barbecue and traditional fun for Oktoberfest 2015. The day-long celebration on Frankford Avenue features a massive 650-person tent, bratwursts, Bavarian pretzels, burnt end sandwiches, live music and plenty of beer to create a traditional Oktoberfest atmosphere. Families can also get in on the fun with face painting, pony rides and homemade root beer floats from Victory Brewing Co.
more on Frankford Hall Oktoberfest
Brauhaus Schmitz's Oktoberfest
Dates: Saturday, September 19, 2015
Brauhaus Schmitz is going all out for Oktoberfest with a week of German-inspired events all leading up to their largest Octoberfest block party ever on South Street. The German beer hall will host a variety of German beer specials and giveaways throughout the week before its 7th annual Oktoberfest on the 700 block of South Street. Look for the massive consumption of pork products, 10 types of German beer, the famous Liter Lift competition, live music, dancing and much more.
More on Brauhaus Schmitz Oktoberfest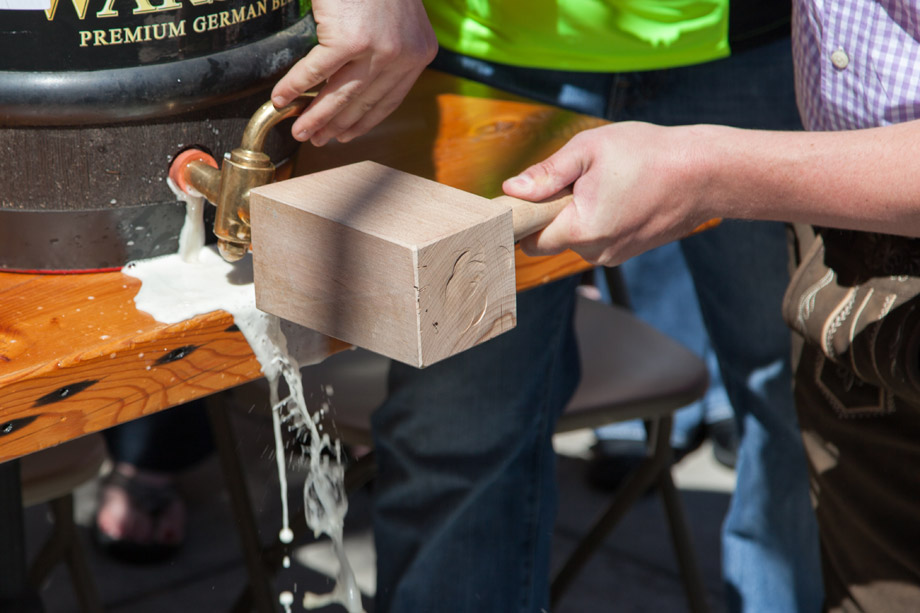 Brauhaus Schmitz hosts one of the cities biggest Oktoberfest celebrations with a giant outdoor block party on South Street. (Photo courtesy South Street Headhouse District)
Oktoberfest at Hop Angel Brauhaus
Dates: September 26-27, 2015
Hop Angel Brauhaus brings a little Munich to Fox Chase during its annual Oktoberfest celebration. Head to the German-American bar and restaurant for Oktoberfest brews, sausages, pretzels and family-friendly fun. Bonus: Those sporting lederhosen or a dirndl receive a free sausage sandwich.
More on Oktoberfest at Hop Angel Brauhaus
Sly Fox Can Jam Music Festival
Date: Saturday, September 26, 2015
Head to Sly Fox Brewery in Pottstown for their annual, free music festival and Kanjam competition. The day-long event features free performances, food and plenty of Sly Fox beer straight from the brewery.
More on the Can Jam Music Festival
Downingtown Fall Fest
Date: Sunday, September 27, 2015
Join thousands on the streets of Downingtown during the annual Fall Fest, featuring a day of live music, top food trucks, shopping and craft brews from Victory Brewing Company. Held on Lancaster Avenue in downtown Downingtown, the annual fall celebration features a beer garden by Victory and a day of family-friendly events.
More on the Downingtown Fall Fest
King of Prussia Beerfest Royale
Dates: October 1 & 3, 2015
The King of Prussia mall parking lot transforms into a German beer oasis at the annual Beerfest Royale, a two-day event consisting of more than 50 national and international breweries and over 100 types of beer. Tickets are limited, so reserve your spot in advance below.
Bloktoberfest
Date: Saturday, October 3, 2015
Graduate Hospital's Blocktoberfest returns for a day of all-ages fun on South Street. Taking place over a four-block stretch of South Street from Broad to 18th streets, the day-long celebration features a wide-selection of beers from around the country, delicious food from local restaurants and food trucks, live entertainment and family-friendly activities. Beer proceeds from the neighborhood event are reinvested into community education, green space and development initiatives.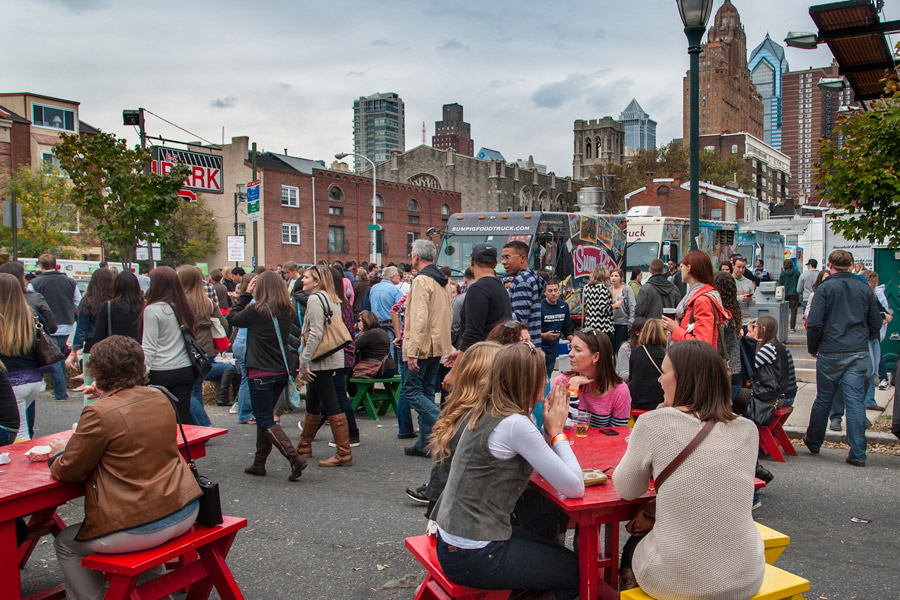 Join the Graduate Hospital community during the sixth annual Bloktoberfest on South Street, a family-friendly day of good beer and great times. (Photo by for Visit Philadelphia)
Midtown Village Fall Festival
Date: Saturday, October 3, 2015
Held every autumn, the Midtown Village Fall Festival is one of Philadelphia's premier outdoor events. Taking place on 13th Street from Chestnut to Locust Streets, the Midtown Village Fall Festival features eight hours of tasty food, drinks, live entertainment, shopping and more.
More on the Midtown Village Fall Festival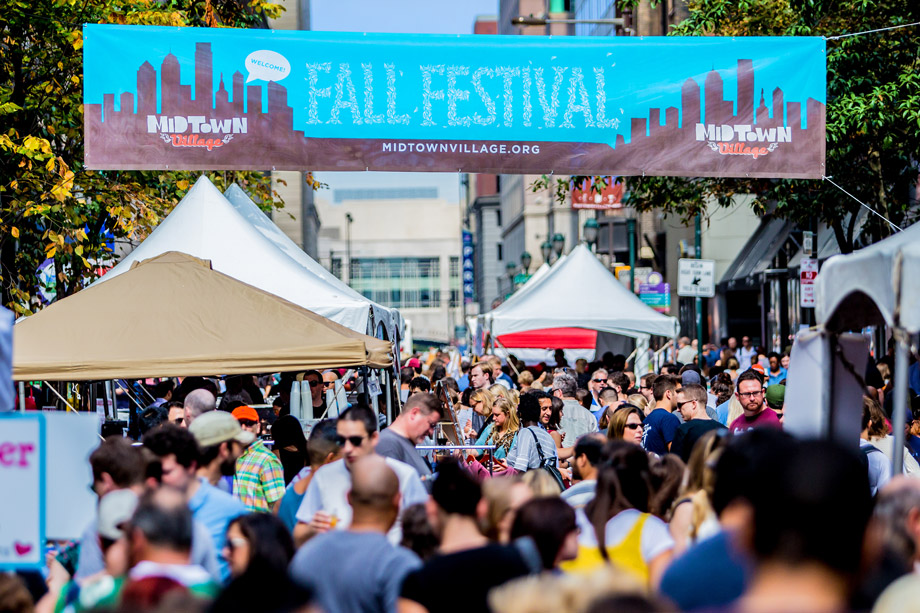 The 10th annual Midtown Village Fall Festival features plenty of beer, food, shopping and entertainment on 13th Street. (Photo by J. Fusco for Visit Philadelphia)
McGillin's Oktoberfest
Dates: Through October 3
McGillin's Oktoberfest lasts through the month of September, with Oktoberfest brews straight from Germany on tap and German specials on the lunch and dinner menu. The celebration concludes on Saturday, October 3 with a Giant Beer Garden on Drury Street during the Midtown Village Fall Festival.
More on McGillin's Oktoberfest
Ambler Main Street Oktoberfest
Date: Saturday, October 3, 2015
Downtown Ambler turns into a traditional Bavarian festival with its 24th annual Oktoberbest featuring a beer garden, great food, live music, art work, hand-crafted items and rides for the kids all day long.
More on Ambler Main Street Oktoberfest
German Heritage Festival
Date: Saturday, October 3, 2015
Hosted by German Society of Pennsylvania, the German Heritage Festival is an afternoon celebration featuring bratwursts, Spanferkel (roast pig), sauerkraut, German beers, live music and family fun.
More on the German Heritage Festival
Roxtoberfest
Date: Saturday, October 3, 2015
The town of Roxborough celebrates Oktoberfest with Roxtoberfest, an afternoon-long festival for the whole family. Adults can enjoy beer gardens and local beer, and everyone can enjoy carnival rides, music, games and more.
An American Oktoberfest at Grumblethorpe
Date: October 3, 2015
After the Revolutionary Germantown Festival, head to historic Grumblethorpe for cold brews and Germai. Embark on tours of the colonial home and join in the fun at a party in Grumblethorpe's garden. Sip beer, enjoy German meals and listen to live music at the evening event. Admission is free, but all food and tours are pay as you go.
More on An American Oktoberfest
Kennett Brewfest
Date: October 10, 2015
Sample beers from more than 90 craft breweries to raise funds for Historic Kennett Square during the 2015 Kennett Brewfest on Saturday, October 10. The day-long festival features top brews from around the country, live music and tasty food.
Memphis Taproom Thirstoberfest
Date: October 10, 2015
Thirstoberfest returns to Memphis Taproom for its sixth with pours of more than 25 flagship and limited release beers. Celebrate the final day of Memphis Taproom's beer garden season and enjoy special Thirstoberfest hot dogs from their food truck all day.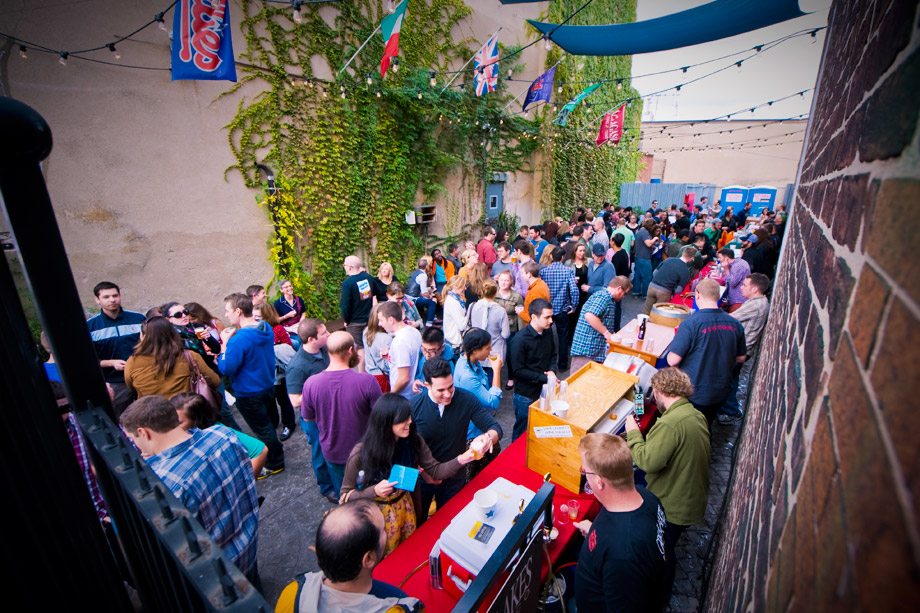 Memphis Taproom's annual Thirstoberfest brings another Oktoberfest party to Fishtown. (Photo by R. Kennedy for Visit Philadelphia)
Ardmore Oktoberfest
Date: Saturday, October 10, 2015
Oktoberfest comes to Ardmore, the largest and most diverse town on the ritzy Main Line stretch of suburbs, on Saturday, October 10. Expect German music, German beer, German food and more at this fun block party on Cricket Ave.
Oktoberfest Live! at Xfinity Live!
Date: October 17, 2015
Xfinity Live! in South Philadelphia is amping up its 4th annual Oktoberfest celebration with more than 200 craft brews, live music, food trucks, contests and more. Both general admission and VIP tickets are available.
Fall Fest at Morgan's Pier
Date: October 17-18, 2015
Before the waterfront beer garden closes for the season, Morgan's Pier is hosting a fall celebration honoring the Pope's visit, Halloween and Oktoberfest. Chef Jeremy Nolan of Brauhaus Schmitz will present a special German-inspired menu on October 17-18 for $30 per person. Limited quantities are available, but grilled favorites from Chef Nicholas Elmi (Laurel) and a variety of local fall beers along with Hacker-Pschorr Oktoberfest will be on tap to throughout the weekend.
More on Fall Fest at Morgan's Pier
Oktoberfest at Dilworth Park
Dates: October 21-25, 2015
Beer, food, live music and fun activities will fill Dilworth Park for its multi-day Oktoberfest celebration. The beer fest starts after work on Wednesday, October 21 when Rosa Blanca Cafe's Saultoberfest Beer Garden pops up for the first time with live music, games and more. On both Saturday and Sunday, the festival will run all day long with music from local DJs, dance performances, a corn hole tournament and more.
more on oktoberfest at dilworth park