Top Oktoberfest Celebrations and
Fall Beer Festivals in Philadelphia
Beer, brats and block parties all season long
Get ready for beer steins and bratwursts as Oktoberfest hits Philadelphia. The city's celebrations of the traditional German festival are bigger than ever with massive block parties, flourishing beer gardens and lively neighborhood celebrations.
The final weeks of September and the beginning of October mark Oktoberfest season in Bavaria and in Philadelphia, bringing dozens of celebrations to many of Philly's bars, restaurants and attractions.
Beyond official Oktoberfests, the pleasant autumn temperatures spur an array of other beer-fueled festivals, often filled with delicious food and live music, too.
So dust off your lederhosen or dirndl and get ready to ring in the season with your favorite celebratory suds. Read on for our guide to Oktoberfest celebrations and fall beer festivals in Philadelphia.
144th Labor Day Volkfest at the Cannstatter Club
September 3-5, 2016
Held every year since 1873, the Cannstatter Volksfest is the nation's oldest German festival and a Labor Day weekend tradition in Philadelphia. Come for an experience filled with German music and dancing, delicious eats (including Bratwurst, Leberkaese and Schnitzel) and a family-friendly environment filled with rides and more. The three-day fest takes place at the Cannstatter Club, the largest beer garden in northeast Philadelphia, which means tons of brews will be flowing, too.
More on the 144th Labor Day Volkfest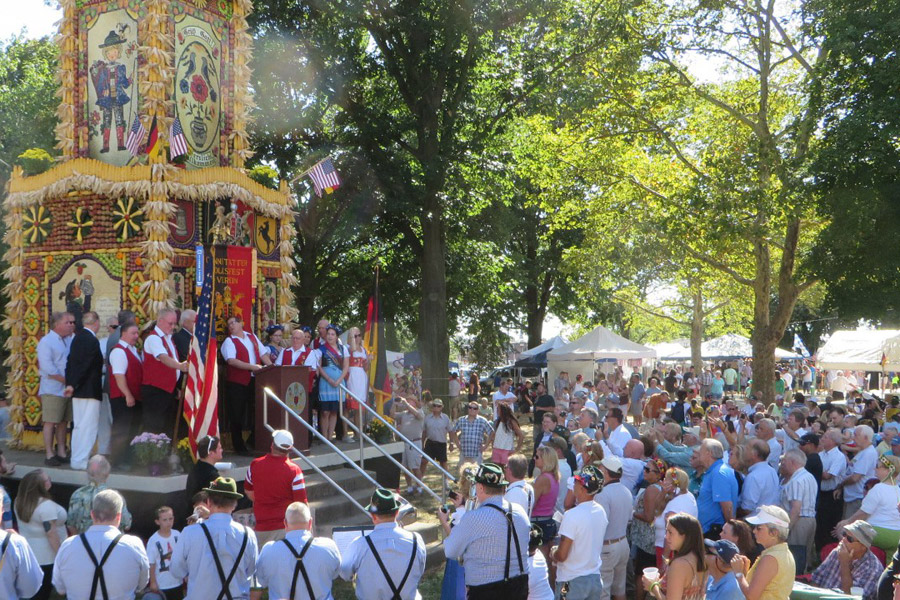 Celebrate Labor Day at Volkfest at the Cannstatter Club, the nation's oldest German festival. (Photo courtesy of the Cannstatter Club)
Brauhaus Schmitz's Oktoberfest
Saturday, September 17, 2016
Held in front of Brauhaus Schmitz on the 700 block of South Street, the eighth annual Oktoberfest streetfestival offers a Bavarian buffet and a ton of beer options to fill your stein as you hang outside and enjoy a wealth of festive entertainment. Get your face painted, take on a flower crown, listen to oom-pah music, watch German dancers and more during the day-long celebration. And if you can't wait to get the party started, Brauhaus Schmitz invites you to partake in a slew of events going on all week leading up to the final Oktoberfest extravaganza.
More on Brauhaus Schmitz's OktoberFest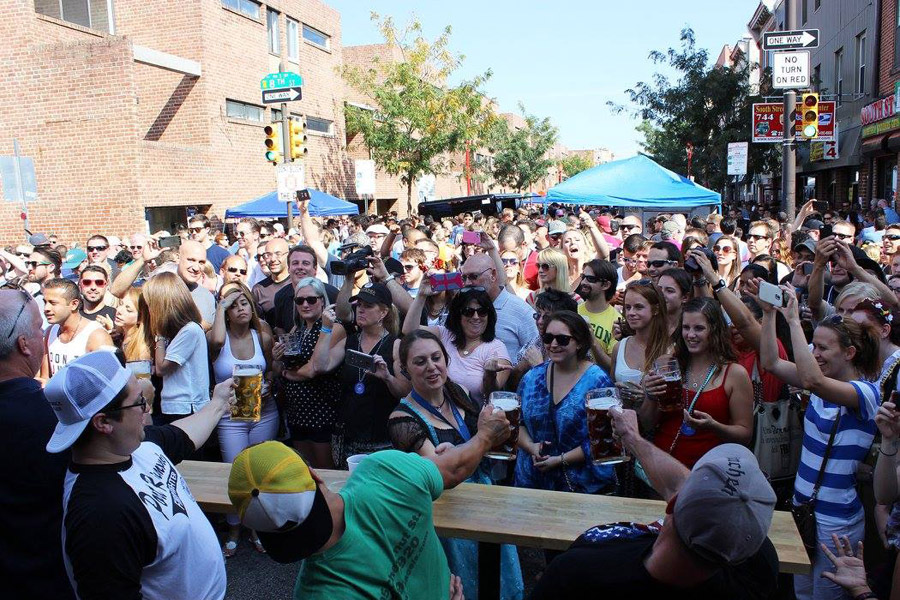 Brauhaus Schmitz hosts one of the citiy's biggest Oktoberfest celebrations with a giant outdoor block party on South Street. (Photo courtesy South Street Headhouse District)
Oktoberfest 2016 at Frankford Hall
Saturday, September 17, 2016
Fishtown's busy beer garden Frankford Hall teams up with neighbor Fette Sau for a fantastic day of beer and classic German fare, including Bavarian pretzels, frankfurters, bratwurst and more. Games, dancers, DJs and live music will add to the 10 full hours (12-10 p.m.) of Oktoberfest fun. Beer-drinkers can look forward to authentic pours like Paulaner Oktoberfest, Paulaner Hefeweizen, Bitburger Pilsner, Hofbrau Dunkel Lager and Schofferhofer Grapefruit Hefeweizen, among other drafts.
Newtown Beerfest at the Newtown Stocking Works Complex
Saturday, September 17, 2016
Boasting relatively rare appearances by sought-after breweries like Bell's, Founders, Bullfrog and Clown Shoes, the Newtown Beerfest draws beer connoisseurs to the parking lots of the Newtown Stocking Works Complex, overflowing with approximately 100 different beer producers.
Alla Spina OktoberFest
September 23-25, 2016
Victory Brewing Company takes over the taps at Alla Spina for a three-day weekend full of Oktoberfest fun. Enjoy traditional German fare, Victory beer specials, live music and, on Friday, Sept. 23, the chance to witness a spirited "Stein Hoist Competition."
More on Alla Spina OktoberFest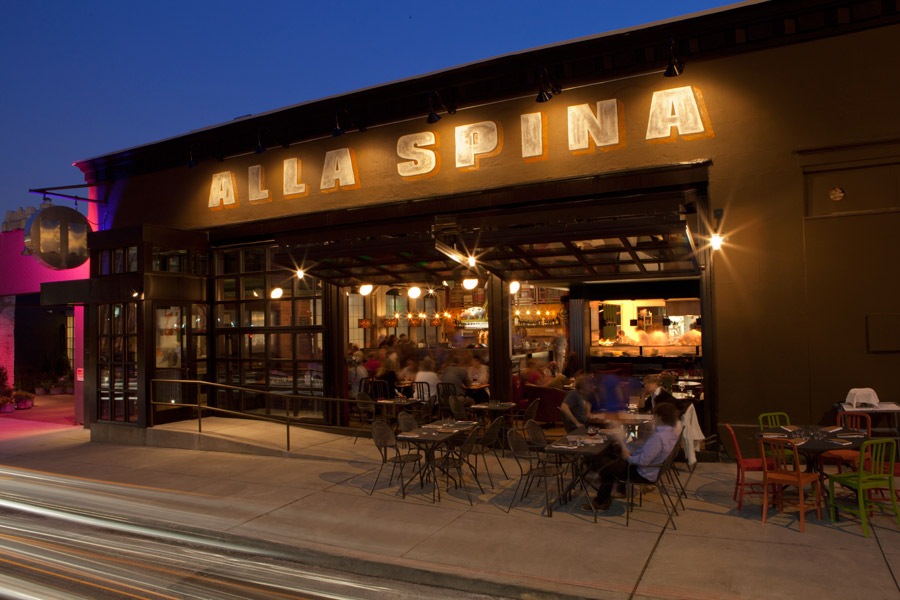 Celebrate a long weekend of Oktoberfest fun at Alla Spina. (Photo courtesy Michael Gruber for Alla Spina)
Fall Fest at Morgan's Pier
September 23 - October 29, 2016
Morgan's Pier doesn't wrap for the season at the end of summer. The Delaware River waterfront venue Morgan's Pier hosts a month-long series of fall-themed celebrations on Fridays, Saturdays and Sundays starting at the end of September and running through October. Expect special events like an Oktoberfest bash, pumpkin carving contests, a Halloween party and more. Check Morgan's Pier's website by clicking the button below to stay up to date on more details as they're released.
More on Fall Fest at Morgan's Pier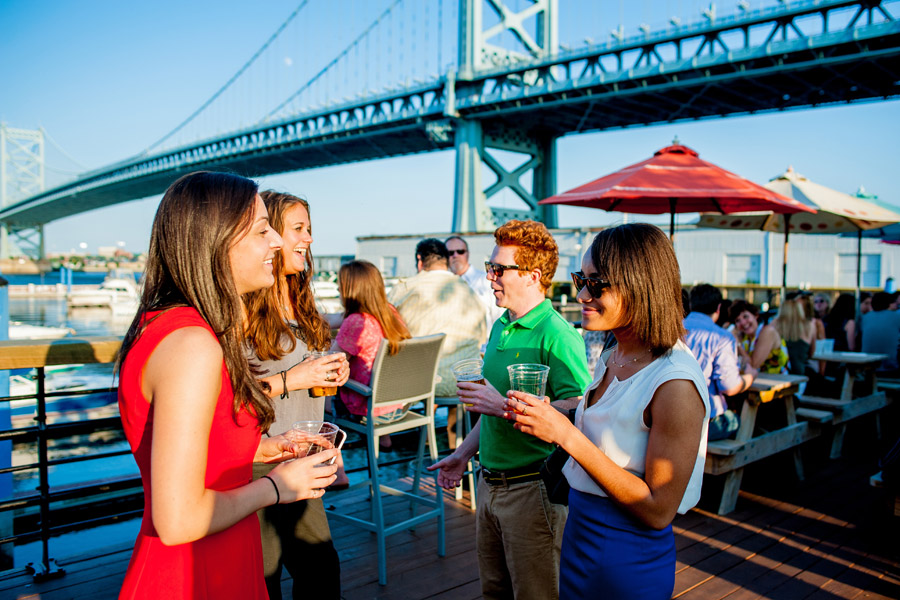 Enjoy Oktoberfest on the waterfront at Morgan's Pier. (J. Fusco for Visit Philadelphia)
Elmwood Park Zoo Oktoberfest
Saturday, September 24, 2016
Craft beer and zoo animals come together at the annual Oktoberfest at the Elmwood Park Zoo in Norristown. Details are still in the works for this year, but past years' fests have included unlimited beer samples from dozens of top breweries, alongside fare from local food trucks and live entertainment. Click the button below to stay up to date on the latest details of the event.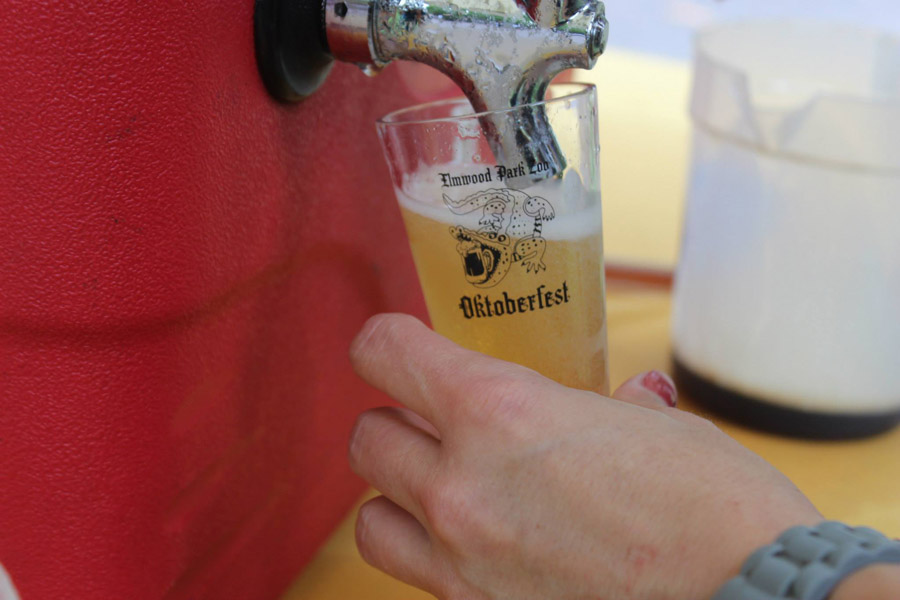 Craft beer, food, and live entertainment will all be present at Elmwood Park Zoo's Oktoberfest. (Photo courtesy Elmwood Park Zoo)
Sly Fox Can Jam Music Festival at Sly Fox Brewery
Saturday, September 24, 2016
Take an adventure to Sly Fox Brewery in Pottstown for an awesome annual music festival and Can Jam competition. The free, day-long event features performances, food and plenty of Sly Fox beer straight from the brewery. Register in advance if you wish to join the heated disc game tournament or throw a few discs recreationally on the extra sets that'll be set up for festival-goers to use.
More on the Can Jam Music Festival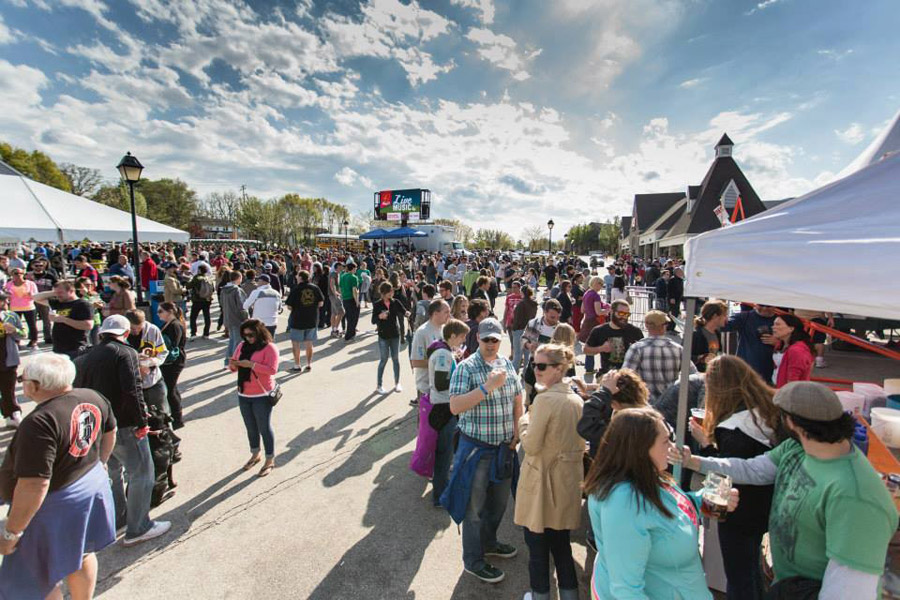 Pottstown's Sly Fox Beer hosts the annual Can Jam Music Festival at Sly Fox Brewery right outside its Pottstown brewery. (Photo courtesy Sly Fox Beer)
German Heritage Festival
Saturday, September 24, 2016
Hosted by the German Society of Pennsylvania, the German Heritage Festival is an afternoon celebration with German beer, food, live music and family fun. Last year's authentic eats included bratwursts, Spanferkel (roast pig) and sauerkraut. Stay tuned for more details about this year's event by clicking the button below.
More on the German Heritage Festival
Ardmore Oktoberfest
Saturday, September 24, 2016
Oktoberfest comes to Ardmore, one of the largest towns on the Main Line in the Philly suburbs. Enjoy Oktoberfest weiss, IPAs and local brews from Tired Hands Brewing Company with pierogies, brats and other delicious eats. Face painting, moon bounces and a cookie decorating setup will be available for the kids and two live bands will supply music.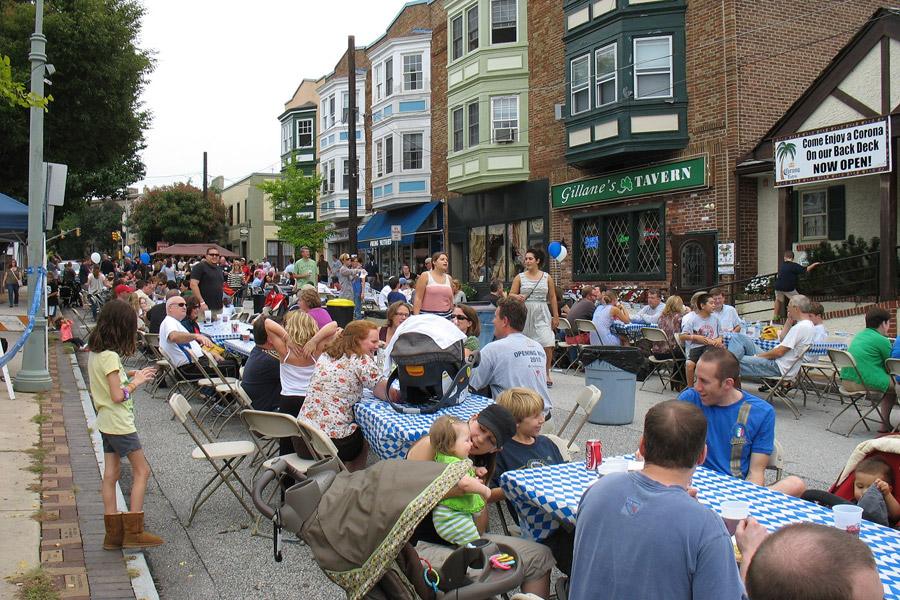 Oktoberfest in Ardmore means raved-about brews, live music, kids' activities and more. (Photo courtesy Destination Ardmore)
UpToberfest Oktoberfest at Uptown Beer Garden
September 24-25, 2016
Cheers with a one-liter boot stein during the two-day UpToberfest at Uptown Beer Garden. The Center City alfresco drinking destination will serve up a variety of local and imported lagers alongside classic German eats, including pretzels, wurst, schnitzel and spazel. As you savor the food and drinks, also enjoy live music and an array of games that invite you to fire up some friendly competition.
More on UpToberfest Oktoberfest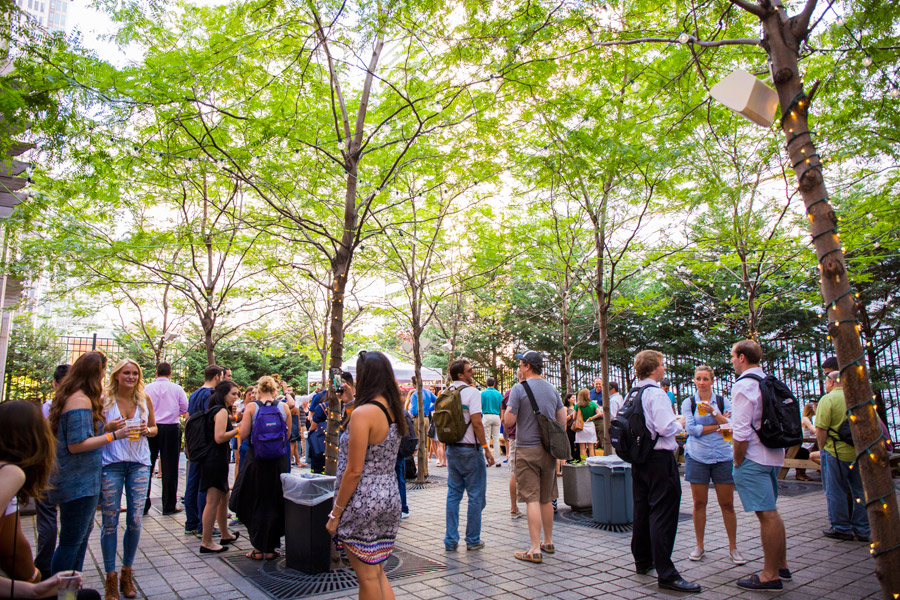 Uptown Beer Garden in Center City Philadelphia transforms into a classic Oktoberfest for a weekend in late September. (M. Fischetti for Visit Philadelphia)
Downingtown Fall Fest
Sunday, September 25, 2016
The seventh annual Downingtown Fall Fest welcomes more than 5,000 guests for a day of live entertainment, great food, shopping and craft beer from Victory Brewing Company. The festival is pay-as-you-go, so choose which restaurants and vendors you want to visit and which beers you want to try and then sit back to enjoy music from live bands, including kids from the School of Rock.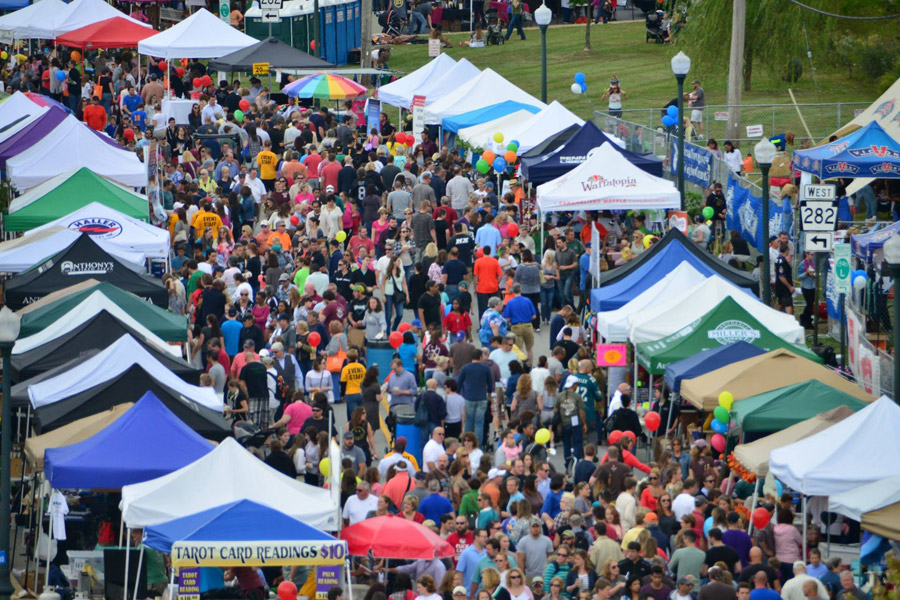 Over 5,000 people pack Downingtown for live music, shopping, food and awesome craft beer at the town's annual fall festival. (Photo courtesy Downingtown Fall Festival)
Oktoberfest at Hop Angel Brauhaus
October 1 & 2, 2016
Hop Angel Brauhaus brings a taste of Munich to Fox Chase during its annual Oktoberfest celebration. Head to the German-American bar and restaurant for Oktoberfest brews, food and family-friendly fun. Last year, those sporting lederhosen or a dirndl received a free sausage sandwich, so stay tuned to see if your special suspenders can score you this awesome deal this year.
More on Oktoberfest at Hop Angel Brauhaus
Midtown Village Fall Festival
Saturday, October 1, 2016
Held every autumn, the Midtown Village Fall Festival is one of Philadelphia's biggest annual street festivals. Now in its 11th year of throwing down in Midtown, the fest unfolds along and around 13th Street with an all-day affair packed with tasty food, drinks, live entertainment, shopping and more.
More on the Midtown Village Fall Festival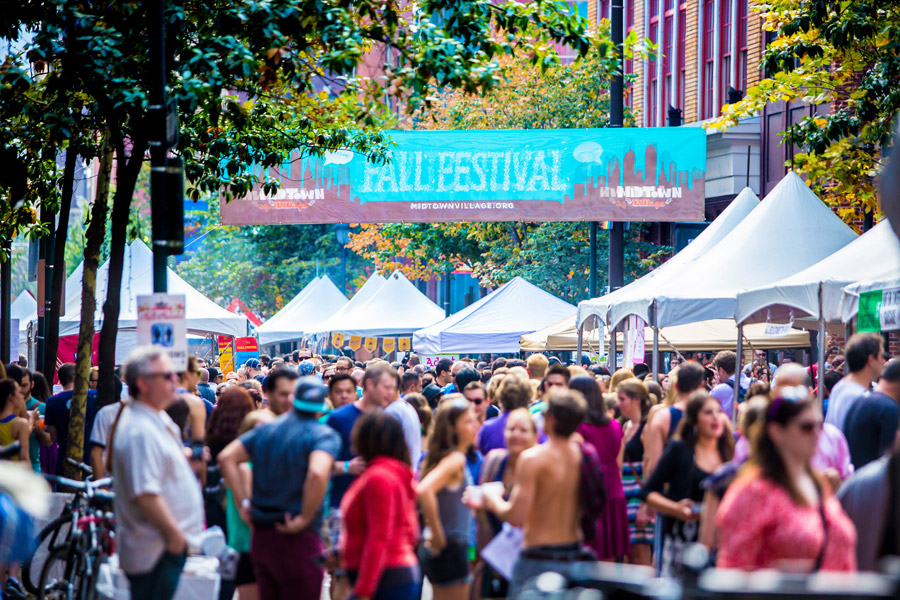 Celebrate the new season at one of Philly's biggest street festivals. (J. Fusco for Visit Philadelphia)
McGillin's Oktoberfest
Through Saturday, October 2016
McGillin's Old Ale House doesn't take Oktoberfest lightly, hosting a celebration that begins in late August and runs all the way until early October. Visit the historic pub to score Oktoberfest brews straight from Germany on a series of taps and German food specials on the lunch and dinner menu. The celebration concludes on Saturday, October 1 at McGillin's giant Midtown Village Fall Festival beer garden on Drury Street.
More on McGillin's Oktoberfest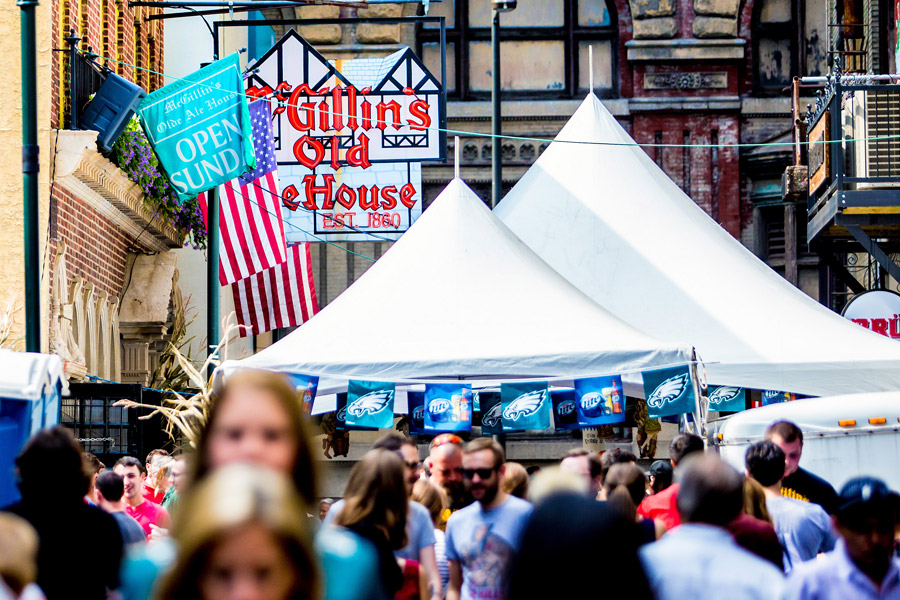 Take part in a month-long Oktoberfest celebration at one of Philly's most historic pubs. (J. Fusco for Visit Philadelphia)
Roxtoberfest
October 1, 2016
The town of Roxborough celebrates fall during Roxtoberfest, unfolding along Ridge Avenue between Lyceum and Leverington avenues. In addition to plenty of food and drink options, the fest brings live music, life-sized board games, an array of children's activities and other activities to keep the entire family entertained all afternoon long.
Ambler Main Street Oktoberfest
Saturday, October 1, 2016
Downtown Ambler transforms into a traditional Bavarian festival scene during its 25th annual Oktoberfest. Over 90 vendors and 10 food trucks are set to line Butler Avenue and surrounding side streets, along with rides for the kiddos, a beer garden, musical performances on two stages, arts and crafts stations and more.
More on Ambler Main Street Oktoberfest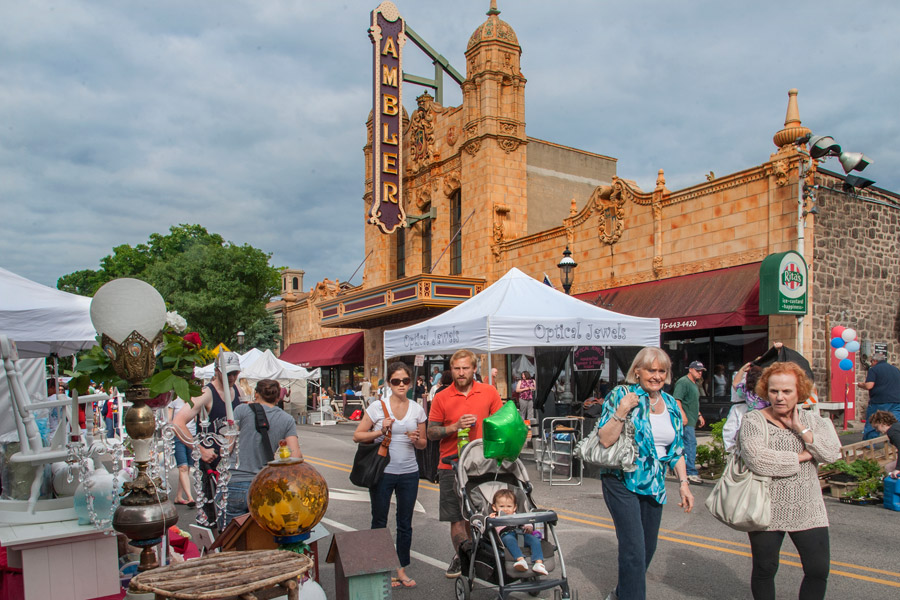 Celebrate Oktoberfest in downtown Ambler with 90+ vendors, rides, live music, and more. (R. Kennedy for Visit Philadelphia)
An American Oktoberfest at Grumblethorpe
Saturday, October 1, 2016
Spend the evening in the historic Grumblethorpe's 18th-century garden enjoying cold brews, local sausage, potato salad, coleslaw and other delicious eats. While you're there, embark on tours of the colonial home. Admission is free, but all food and tours are pay-as-you-go.
More on An American Oktoberfest
Kennett Brewfest
Saturday, October 1, 2016
Sample beers from more than 90 craft breweries during the 2016 Kennett Brewfest. The day-long festival features top brews from around the country, live music and tasty food. The event also raises funds for Historic Kennett Square, a nonprofit dedicated to keeping the Kennet Square area thriving.
Philadelphia's First Annual Oktoberfest at 23rd Street Armory
October 7-9, 2016
The castle-esque 23rd Street Armory will get a makeover for Columbus Day weekend, transforming into an authentic Munich festival tent for Philadelphia's First Annual Oktoberfest. Bavarian blues and whites will paint the ceilings, while authentic festival tables and benches imported from Germany will furnish the floor along with a lofted stage area for live bands to play. Hofbräuhaus will supply the beer and German fare is sure to be flowing from the kitchens. Buy tickets for one, two or all three festival days!
More on Oktoberfest at 23rd Street Armory
King of Prussia Beerfest Royale
October 6 & 8, 2016
The parking lot at the King of Prussia mall transforms into a German beer oasis at the annual Beerfest Royale, a two-day event consisting of more than 100 types of beer from 50-plus national and international brewers, food from area restaurants, live music and a cigar lounge. Tickets are limited, so reserve your spot in advance by clicking the button below.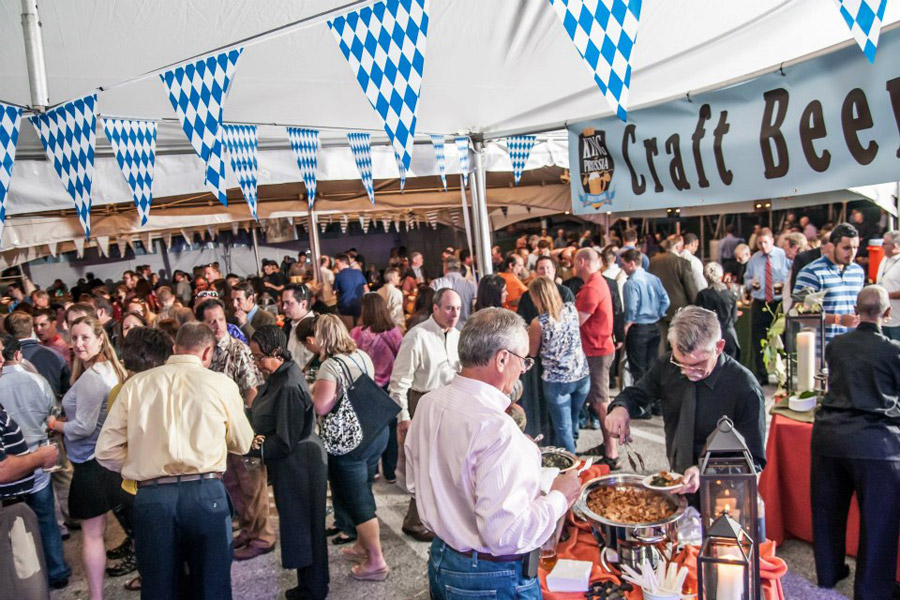 Sample more than 100 beers and enjoy great food in the King of Prussia Mall parking lot during Beerfest Royale. (Photo courtesy Beerfest Royale)
Oktoberfest Live! at Xfinity Live!
Saturday, October 8, 2016
Xfinity Live! Philadelphia invites you to grab your friends and come out for a day of unlimited samplings of more than 200 varieties of beer. Live music, contests, games and food trucks will accompany this event, which offers both early-bird pricing and VIP ticket deals.
Oktoberfest at Dilworth Park
October 12-16, 2016
Beer, food, live music and fun activities are set to fill Dilworth Park for its multi-day Oktoberfest celebration. The beer fest starts after work on Wednesday, October 12 at the park's Saultoberfest Beer Garden and continues on throughout the week. On both Saturday and Sunday, the festival kicks off at noon with music from local DJs and performers.
More on Oktoberfest at Dilworth park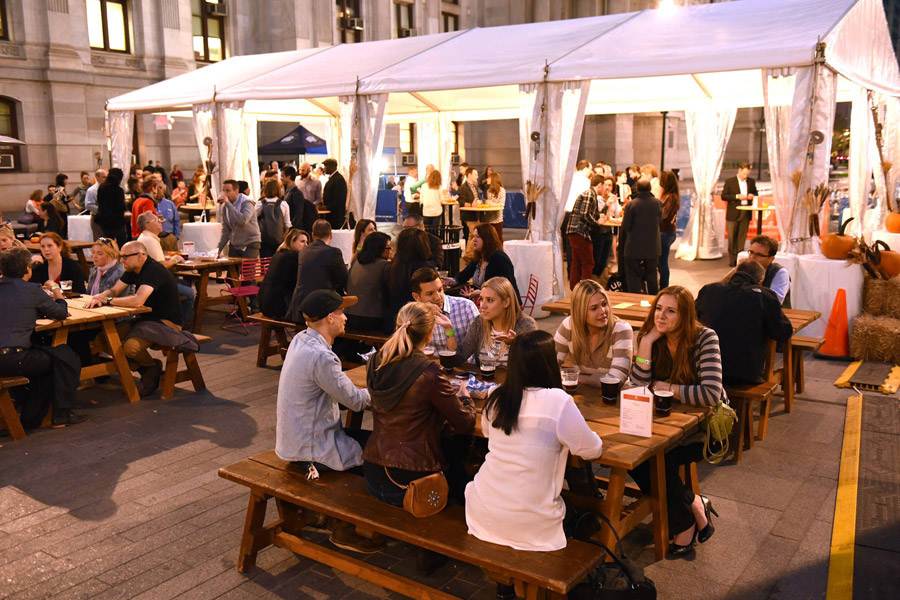 Dilworth Park brings an Oktoberfest celebration right to the heart of Center City. (Photo courtesy Dilworth Park)
Bloktoberfest
Saturday, October 15, 2016
Graduate Hospital's Bloktoberfest returns for a day of all-ages fun on South Street. The celebration features a wide selection of craft beer from around the country, delicious food from local restaurants and food trucks, live music and entertainment and family-friendly activities. Beer proceeds from the neighborhood event are reinvested into community schools, projects and area organizations.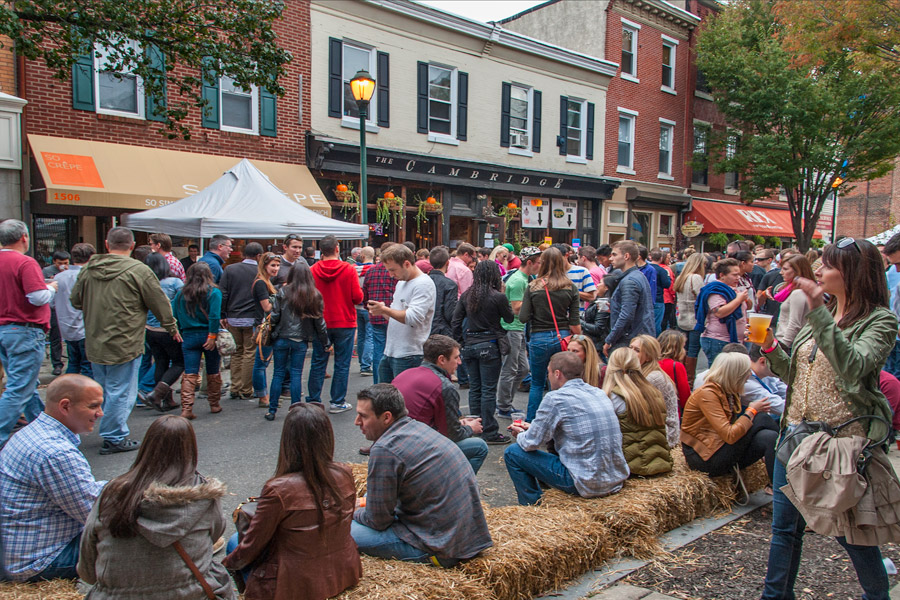 Stop by Graduate Hospital's 'Bloktoberfest' for one of the city's biggest fall block parties. (R. Kennedy for Visit Philadelphia)
Conshohocken Beer Festival at the A.A. Garthwaite Stadium
October 15, 2016
Join dozens of breweries — from Philadelphia-area favorites to national mainstays — for the Conshohocken Beer Festival, which also includes live music, great food and more.
More on Conshohocken Beer Festival
Memphis Taproom Thirstoberfest
October 2016 (Exact date TBD)
Thirstoberfest is Memphis Taproom's annual fall beer bash. Last year's celebration involved 25 flagship and limited release beers, all enjoyed in the Fishtown bar's outdoor beer garden alongside food truck-supplied eats. Stay tuned for more details on this year's event as they're released by visiting the official website below.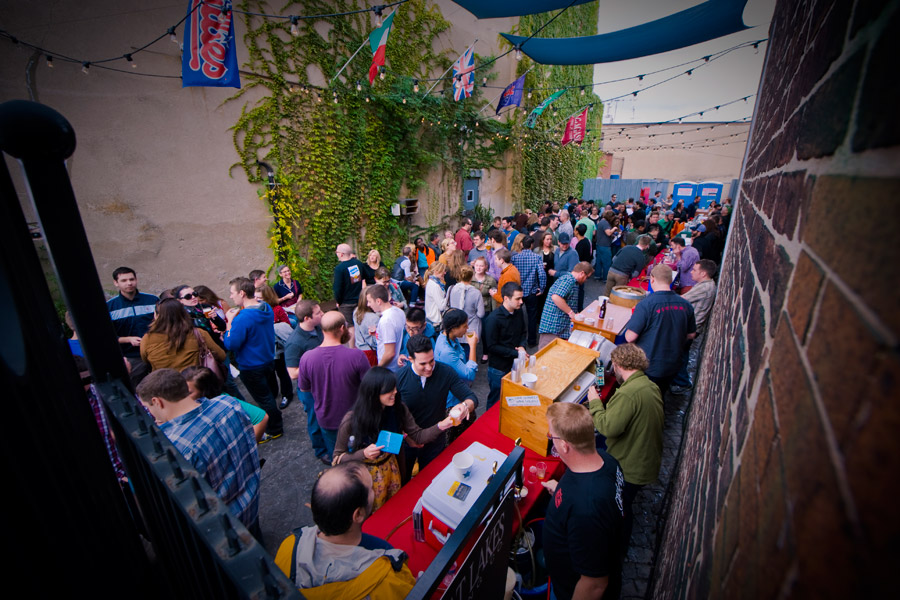 Quench your thirst with 25+ limited release beers at Memphis Taproom's ThirstoberFest. (M. Kennedy for Visit Philadelphia)
Pumpkin Beer Festival at The Institute
October 2016
The Institute bar's Pumpkin Beer Festival is called the largest pumpkin beer festival in the world. Now in its eight year, the fest features as many as 100 gourd beers, along with ciders, lambics, sours and a few styles brewed exclusively for the fest.
More On The Pumpkin Beer Festival
---