The 10 Most Delicious Things to Eat at Spruce Street Harbor Park
This Summer
Fried chicken sandwiches, tacos, waffle ice cream sandwiches and more for 2017
This summer marks another season for Spruce Street Harbor Park (SSHP), a favorite waterfront spot with giant games, space for outdoor lounging, shopping markets, concerts, movie nights, dozens of hammocks, picturesque LED lights and much more.
The park not only promises fun al fresco amenities and attractions, but it also offers a boatload of delicious food and drink options.
Returning this summer are a number of the park's standouts, including Port FedNuts (the Penn's Landing location of Federal Donuts which serves a now-famous fried chicken sandwich and other treats), the waterfront location of Franklin Fountain (ice cream, anyone?), Distrito Taco and Chickie's and Pete's (Crabfries! Cheeseteaks!).
New this year, Garces Group debuts Harborside Pizza, which features a solid selection of boardwalk-style pizza pies and slices in varieties like pepperoni, four cheese, meatball and more.
There are also a bevy of drink options, including the park's exclusive Lazy Hammock beer (created by Yards Brewing Company), brand-new draft cocktails, frozen slushies and creamy milkshakes.
Below we've highlighted the must-eat (and drink!) dishes at the pop-up park. We hope you're hungry.
The amazing fried chicken sandwich from Port FedNuts.
Mexican street tacos from Distrito Taco.
Famous Crabfries from Chickie's & Pete's.
Chicken-fried pierogies from Froman's.
Loaded hot dogs from Froman's.
Mini donuts (in cinnamon sugar or powdered sugar) from Port FedNuts.
Delicious ice cream (including a waffle ice cream sandwich) from the S.S. Franklin Fountain.
Tropical-inspired slushies from Franklin Sugar Shack.
Brand-new draft cocktails.
Tangy margaritas from the Barge Bar.
A Lazy Hammock, the Yards Brewing Co. exclusive beer for Spruce Street Harbor Park.
And so much more!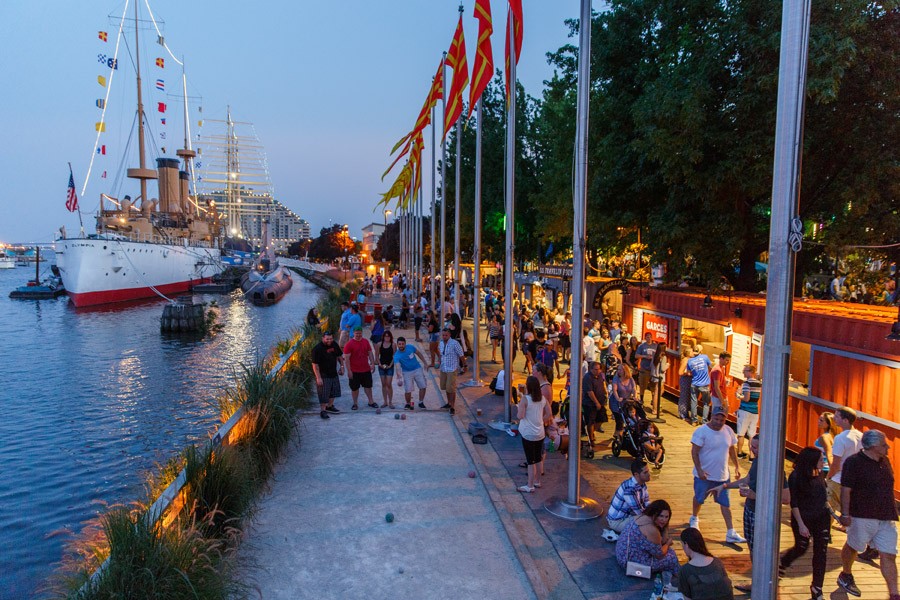 There's a reason Spruce Street Harbor Park is one of the most popular places to visit during the warm-weather months in Philly. For our complete guide to Spruce Street Harbor Park (and its nearby sister site Blue Cross RiverRink Summerfest), click the button below.
---