What's In The Neighborhood:
Midtown Village
Hip shops, sidewalk cafés and authentic bars highlight this burgeoning Center City 'hood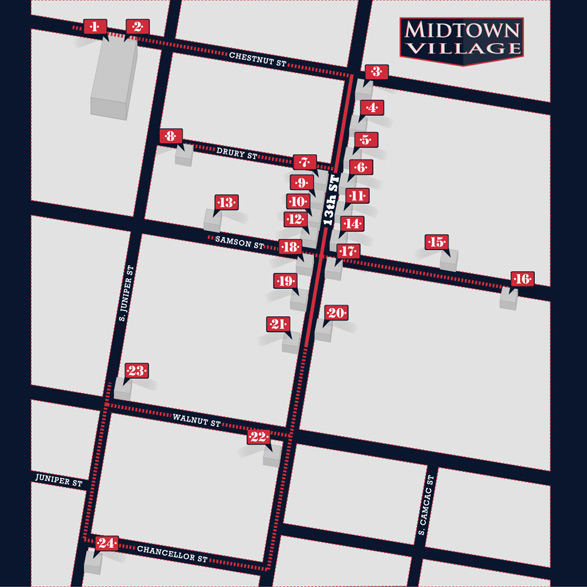 Click here or the image above for a larger, print-friendly version.
Smack-dab in the center of Center City, you'll find Midtown Village: a darling (and ultra-trendy) neighborhood between 12th and 13th Streets and Locust and Chestnut Streets. In this always buzzing pocket of Philadelphia — and especially along its 13th Street corridor, signified in the above graphic with a solid red line — you'll find artisan gelato, handcrafted tshirts and soaps, jewelry shops, old-school pubs and lots of outdoor diners. Extend your exploration of the neighborhood to the dashed lines, and you'll find a bowling alley, internationally recognized gay bars and Philadelphia's oldest pub.
Happy browsing. And eating. And drinking. Etc.
1. Lucky Strike Lanes
This bowling-lounge hybrid offers two sleek floors of high-tech bowling, billiards, comfortable lounge seating and a state-of-the-art sound and light system. The third floor lounge has a DJ and V.I.P. bottle service.
Details: 1336 Chestnut Street | (215) 545-2471 | bowlluckystrike.com
2. Blick
The city's innumerable art students have found a haven in this subterranean art supplies superstore, which offers plenty of finds for casual artists, teachers and gift-givers as well.
Details: 1330 Chestnut Street | (215) 545-3214 | dickblick.com
3. Grocery Market and Catering
At this modern gourmet shop, costumers can refill bottles of first-press olive oil or pick up prepared foods for a picnic or dinner.
Details: 101-105 S. 13th Street | (215) 922-5252 | grocery13.com
4. Bindi
Guests enjoy the spices and full flavors of traditional Indian fare at this dimly lit bring-your-own-bottle (BYOB) spot. Be sure to bring along your own rum or vodka to create Indian-inspired cocktails.
Details: Cash only | 105 S. 13th Street | (215) 922-6061 | bindibyob.com
5. Open House
Here's the place to find innovative home and body accoutrements—the kind of great stuff not available at just any home décor store.
Details: 107 S. 13th Street | (215) 922-1415 | openhouseliving.com
6. Scarlet Fiorella
Shop for antiques with a shabby chic flair, off-beat children's clothes and quirky gifts—all at an affordable price—at this cozy boutique.
Details:113 S. 13th Street | (215) 922-1955 | More Details
7. Apothecary Bar and Lounge
Cozy couches and an innovative cocktail menu with ingredients like cayenne pepper, fresh ginger and aloe help a laid-back crowd unwind. In warm weather, enjoy the open-patio seating.
Details: 102 S. 13th Street | (215) 735-7500 | apothecarylounge.com
8. McGillin's Olde Ale House
Open since 1860, McGillin's has been dubbed as the oldest continuously operating pub in Philadelphia. The alehouse draws a loyal following thanks in part to its regional microbrews, including two house recipes.
Details: 1310 Drury Street | (215) 735-5562 | More Details
9. Lolita
Chef Marcie Turney turns out tasty contemporary Mexican cuisine at this 50-seat restaurant known for its BYOT policy—that's short for bring your own tequila.
Details: 106 S. 13th Street | (215) 546-7100 | More Details
10. Verde
A flower and garden shop, Verde also sells handbags, jewelry, perfume and other hip trinkets to lure the fashionable female. Hungry? Verde finishes the trifecta with handmade chocolates crafted in-house by the co-owner.
Details: 108 S. 13th Street | (215) 546-8700 | verdephiladelphia.com
11. duross & langel
This inviting shop offers squeaky-clean goodness, with products focused on natural ingredients and eco-friendly packaging. In-store workshops include make-your-own lip balm and soap.
Details: 117 S. 13th Street | (215) 592-SOAP | More Details
12. Zavino
The wines are low-priced at Zavino's marble-topped bar, and the eats cooked up by chef-partner Steve Gonzalez — pizza with toppings like béchamel, local mozzarella and Kennett Square mushrooms and antipasti — are sophisticated yet similarly affordable.
Details: 112 S. 13th Street | (215) 732-2400 | More Details
13. Time / The Bohemian Absinthe Lounge
Located above Time Restaurant, night owls sip an array of absinthe drinks and jam to funky beats.
Details: 1315 Sansom Street | (215) 985-4800 | timerestaurant.com
14. Capogiro Gelataria
Divine house-made gelato in flavors like persimmon, honeysuckle and black walnut rivals anything produced in Italy, honest.
Details: 119 S. 13th Street |(215) 351-0900 | More Details
15. 1225 Raw Sushi & Sake Lounge
Serving up creative Japanese cuisine (almond shrimp tempura; eel, avocado, plum and salmon rolls) and a long list of sakes, Raw transforms into a happening dance club after hours. Lovers of the sun should head to Raw's courtyard for cocktails alfresco.
Details: 1225 Sansom Street | (215) 238-1903 | More Details
16. Fergie's Pub
Philly's version of Cheers, Fergie's is a great watering hole, with good grub, a killer jukebox and some of the best bartenders in town.
Details: 1214 Sansom Street | (215) 928-8118 | fergies.com
17. El Vez
Guacamole prepared tableside, rare tuna tostadas and specialty margaritas are menu highlights at this buzzing Mexican spot from Stephen Starr.
Details: 121 S. 13th Street | (215) 928-9800 | More Details
18. Doggie Style
When a pooch deserves nothing but the best, stop in this boutique, offering food, accessories, toys and grooming services. Also visit Doggie Style's second location in Rittenhouse.
Details: 114 S. 13th Street | (215) 545-4100 | doggiestyle2.com
19. Sailor Jerry
Sailor Jerry's captures the vintage style of World War I- and World War II-era sailor tattoos in their clothing and accessories for men, women and kids, as well as home wear.
Details: 116-118 S. 13th Street | (215) 531-6380 | More Details
20. Vintage Wine Bar & Bistro
More than 60 wines by the glass and a menu of tasty bistro specialties such as country pâté, escargot, duck magret and a tasty burger make Vintage a bustling spot in the burgeoning Midtown Village scene.
Details: 129 S. 13th Street | (215) 922-3095 | vintage-philadelphia.com
21. Sampan
Chef Michael Schulson's 95-seat eatery is a feast for the eyes, with reclaimed timber and distressed metal accents. Guests dine on modern Asian small plates served from the open-air kitchen.
Details: 124 S. 13th Street | (215) 732-3501 | More Details
22. Sisters
At Philadelphia's premier lesbian nightclub, the party goes into the wee hours with live music, DJs, karaoke and frequent theme parties.
Details: 1320 Chancellor Street | (215) 735-0735 | More Details
23. Naked Chocolate Café
Step inside a chocolate lover's dream with decadent pastries, mousse and fudge all in shades of chocolate—from milk to dark. For those who prefer chocolate in liquid form, don't miss the to-die-for hot chocolate.
Details: 1317 Walnut Street |(215) 735-7310 | More Details
24. Woody's
Philly's original gay club and restaurant is popular with a young, professional and mostly male crowd.
Details: 202 S. 13th Street |(215) 545-1893 | More Details
Advertisement:
Advertisement:
Find us on Facebook