Where to Watch the New Year's Eve
Fireworks in Philadelphia
A few fantastic spots to watch the New Year's Eve fireworks spectacular
Ring in 2013 twice during SugarHouse New Year's Eve Fireworks on the Waterfront.
With fireworks shows along the Delaware River at 6 p.m. and midnight, you'll have plenty of time to find perfect spot to watch the spectacular displays.
Read up on a few of our top spots to watch the fireworks displays on New Year's Eve and then check out our interactive map to plan out your perfect night.
Blue Cross RiverRink
Details: Columbus Boulevard & Market Street | (215) 925-RINK
Winter sports enthusiasts can celebrate the New Year at the Blue Cross RiverRink's New Year's Eve Party on Ice, a family-friendly affair that boasts one of the best views of the city's breathtaking fireworks displays over the Delaware River. Skaters can catch one of two sparkling shows during the early (5-7 p.m.) or late (11 p.m.-1 a.m.) parties. Tickets are $30 for skaters and $20 for spectators.
Great Plaza at Penn's Landing
Details: Chestnut Street and Columbus Boulevard
Head to the Great Plaza at Penn's Landing for a front-row view of the fireworks backed by a synchronized soundtrack during the spectacular show.
Independence Seaport Museum
Details: Penn's Landing, Columbus Boulevard at Walnut Street | (215) 413-8655
A maritime New Year's Eve celebration is on deck at the Independence Seaport Museum along the waterfront. Grab a complimentary party hat and noisemaker before heading outside to the second-floor terrace to watch the fireworks spectacular over the Delaware River at 6 p.m. The museum closes at 7 p.m.
Adventure Aquarium
Details: 1 Riverside Drive | (856) 365-3300
Sea creature lovers can party with the fishes at Adventure Aquarium's Deep Sea Splash. After enjoying the colorful, funny and majestic underwater animals, guests can dive into the hors d'oeuvres, food stations and open bar and catch a great view of the fireworks from the promenade while toasting with champagne. Music and entertainment round out the New Year's adventure. Tickets are $30 for adults and $25 for children 2-12.
Wiggin's Park
Details: Mickle Boulevard at the River | 856-541-7222
Across the river in Camden, you can get an equally spectacular view of the fireworks from Wiggin's Park, located near Adventure Aquarium and the Battleship New Jersey. Viewers will be treated to a synchronized soundtrack for the fireworks display from speakers at the park.
Battleship New Jersey
Details: 62 Battleship Place | (856) 966-1652
Over on the other side of the river, revelers test their sea legs on the Battleship New Jersey, docked on the Camden waterfront. Enjoy music, food and bar concessions, as well as a unique view of both fireworks shows at 6 p.m. and midnight.
SugarHouse Casino
Details: 1001 N. Delaware Avenue | (877) 477-3715
As the sponsor of the evening, in addition to the Mummers Parade the next day, SugarHouse Casino is a surefire bet for watching the fireworks on New Year's Eve. From 10 p.m.-2 p.m., cash in on an open bar, appetizers, live music by Funkybone Horns Band, a private viewing area of the fireworks show and a champagne toast at midnight (tickets: $65 in advance, $75 at the door). Just want in on the fireworks viewing? Get a front row view from the riverfront walk for either the 6 p.m. or midnight shows. Plus, Lil Dan's Gourmet Lunch Truck will be at SugarHouse selling all your favorite winter treats.
Race Street Pier
Details: Race Street and Delaware Avenue.
This is an amazing spot to watch but we recommend you get there early, as it's probably going to fill up fast. Also keep in mind that alcohol, BBQ and glass containers are not permitted at the Pier.
Franklin Square
Details: 200 N. 6th Street
Families can head to the brightly illuminated Franklin Square to watch the 6 p.m. fireworks show. From 11 a.m.-4 p.m., there will be party hat decorating, free entertainment, and a "Square-drop" countdown to 6 p.m.
Washington Avenue Green
Details: 1301 S. Columbus Boulevard.
This is another great park spot on the Delaware River Waterfront — formerly Pier 53 — where you can set up with a lawn chair and picnic blanket to cozy up with friends and family and feast your eyes on the night sky.
Penn Treaty Park
Details: Delaware Avenue and Beach Street
Penn Treaty Park's seven acres of open green space and clean picnic areas provide a great vantage point from which to watch the fireworks. BYO lawn chairs.
Hyatt Regency Philadelphia
Details: 201 S. Columbus Boulevard.
The Hyatt Regency at Penn's Landing is kicking off the New Year with not one, but two celebrations. Enjoy a delicious New Year's Eve Family Buffet starting at 4 p.m. Save room for the Dessert Explosion before the 6 p.m. fireworks show at Penn's Landing. ($60 for adults, $30 for children 3-12). Starting at 8 p.m., adults can partake in a starlight soiree in the Columbus ballroom featuring a dinner buffet and wine bar followed by drinks and dancing at Keatings River Grill, all leading up to the fireworks spectacular at midnight. ($135 per person)
Ristorante La Veranda
Details: 30 North Columbus Boulevard
This historic Northern Italian restaurant located on Pier 3 Penn's Landing offers prime fireworks viewing on two levels. Plus, they're serving New Year's Eve dinner.
Moshulu
Details: 401 S. Columbus Boulevard
Watch the fireworks from the water on the Moshulu at their New Year's Eve dinner. The dinner will consist of a four-course meal bound to end your year on a delicious note. There are two dinners, the first from 3:30-7 p.m. for $100 per person and the second from 7:15-10:30 p.m. at $150 per person. Children 14 and under can enjoy a three-course dinner menu for $35.
Revolution House
Details: 200 Market Street
The Rev House roofdeck, festooned with colorful foliage and heated, will be open on New Year's Eve, overlooking the Ben Franklin Bridge. There's a $10 cover for access to the upstairs party which kicks off at 9:30 p.m. — although if you dine with them earlier that day or night, they waive the admission fee. There will be a DJ from 10 p.m.-2 a.m., great drink specials featuring Victory and Dogfish Head beer, contests for most festively dressed male and female and Times Square broadcast on TV and a projector on the deck. Reservations for deck seating will be accepted with a credit card deposit of $50 (and groups have to be 10 or less).
Ristorante Panorama at the Penn's View Hotel
Details: Front and Market Streets
The riverfront hotel opens at 4 p.m. prior to the first fireworks show, and the winebar opens at 3 p.m. If you're looking for a formal dinner, Guinness World Record-winning Ristorante Panorama will be hosting two seatings, timed for each show. From 4-7 p.m., enjoy the a la carte menu; at 8:30 p.m., feast on the special four-course NYE dinner menu. Afterwards, you can either view the fireworks straight from your seat or head right outside in front of the hotel for an unobstructed, front row view.
Dave & Buster's
Details: 325 N. Columbus Boulevard. Dave & Busters is celebrating New Year's Eve with not one, but two parties. Bring the family for a fun night of games, dinner and entertainment before getting a front row seat for the early fireworks show at 6 p.m. ($45 per person — includes $40 Power Card; $25 per person without Power Card). The fun continues from 9 p.m.–1 a.m. with a New Year's Party for adults 21-years and older. Celebrate with a four-hour open bar, dinner, dessert and dancing before watching the fireworks at midnight ($90 per person or $160 per couple; without bar $55 per person or $100 per couple).
Village Belle
Details: 757 S. Front Street
Get a spectacular view of the New Year's Eve fireworks at Penn's Landing and a delicious four-course meal at Village Belle featuring lobster bisque, strip steak and cheesecake spring rolls with raspberry sauce. Choose from two seatings: 6 p.m. ($75 per person) and 9 p.m. ($125 per person). An open bar package is available for $50 per person.
Spirit of Philadelphia
Details: 401 S. Columbus Boulevard
Those in the mood for a holiday cruise can set sail on the Spirit of Philadelphia for two special sailing adventures to ring in the New Year. Board the boat at 8:30 p.m. when a night of dancing, entertainment, food and an open bar will begin. The Spirit of Philadelphia will cruise the waterfront from 9 p.m.-12:30 a.m. and will finish off with a dockside party until 1 a.m. Tickets are $164.90. Head down to the ship a little earlier for a family-friendly dinner cruise from 4-6:30 p.m. with views of the 6 p.m. fireworks.
Ritz East parking lot
Details: 125 S. 2nd Street
After catching a New Year's Eve flick, stick around and stake out a spot in the parking lot outside movie theater, prime real estate for fireworks watching.
Front Street
The entire length of Front Street between the South Street and Market Street bridges will make for prime fireworks viewing this New Year's Eve.
South Street Bridge over I-95
The South Street Bridge — no, not that South Street Bridge, this time we mean the one on the eastern edge of the city passing over I-95 — is a perfect spot to set up camp for fireworks viewing this New Year's Eve. There are a few benches, so if you get there early enough, you'll even have a seat.
Best Places To Watch Interactive Map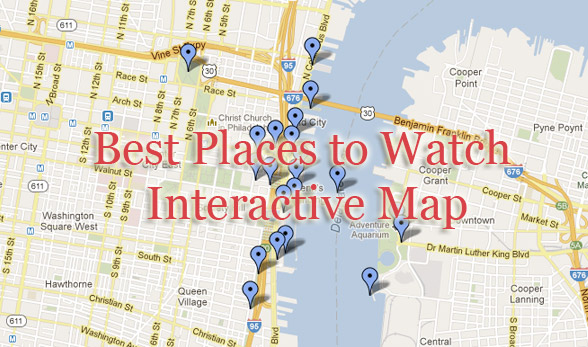 Sponsored Content:
Sponsored Content:
Find us on Facebook