Barbara Chase-Riboud : The Malcolm X Steles
Massive works inspired by Malcolm X from Philadelphia-born artist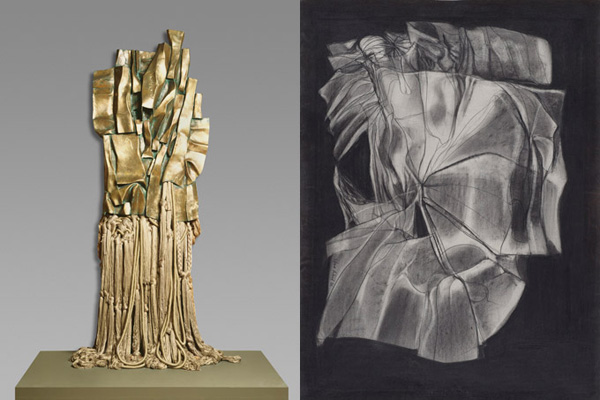 Description
Dates:
September 14, 2013-January 31, 2014
Overview
Discover more than 40 works from Philadelphia-born artist Barbara Chase-Riboud on display at the Philadelphia Museum of Art.
Barbara Chase Riboud: The Malcolm X Steles takes a look at the varied artistic achievements of the locally born artist, with a special focus on five monumental sculptures created to commemorate the life of Malcolm X.
Previously on display at major art museums in Asia, Europe and across the United States, pieces from her collection can be seen in one location, the Philadelphia Museum of Art, for the first time ever.
A graduate of the Tyler School of Art at Temple University, Chase-Riboud began construction of the steles a few years after Malcolm X's death in 1969 and finished her last piece in the series in 2008.
The massive sculptures throughout the exhibit are made from a variety of materials, but all contain a metal body and drapes of knotted, twisted and braided silk, wool, rayon, yarn and other other textiles.
Additional sculptures by Chase-Riboud that share common ties with The Malcolm X Steles can also be found throughout the museum in the Great Stair Hall and adjacent hallways.
Beyond sculptures, the exhibit also features about 20 charcoal sketches known as the Monument Drawings by Chase-Riboud. The drawings, which were created in the '60s and '70s, directly relate to the process of creating the Malcolm X Steles and compliment aspects of each sculpture.
Chase-Riboud is an artist, poet and writer and is largely known for her 1979 novel, Sally Hemings, a controversial story about President Thomas Jefferson and his secret relationship with a slave, Sally Hemings.
Admission to Barbara Chase Riboud: The Malcolm X Steles is included with your admission to the Philadelphia Museum of Art. For more information and to purchase tickets, click the button below.
PATH: http://www.uwishunu.com/tag/philadelphia-museum-of-art/feed/image/
April 23, 2014Tonight Picks: Pay-What-You-Wish Wednesday And Shakespeare's Birthday Party At The Philadelphia Museum Of Art, Game Of Thrones Quizzo At Drinker's West, Philly Black Gay Pride Festival And More

April 16, 2014Tonight Picks: Manayunk Restaurant Week, Beer School At Local 44, Pay-What-You-Wish Wednesday At The Philadelphia Museum Of Art, The Philadelphia Book Festival And More

April 11, 2014Coming Attraction: The Philadelphia Museum Of Art Displays Vibrant Fashion In Patrick Kelly: Runway of Love And Gerlan Jeans ♥ Patrick Kelly, April 27-November 30

April 9, 2014Tonight Picks: Philly Tech Week Events, Cherry Blossom Festival, Caribbean Cuisine Week, 7th Birthday Bash For Bus Stop Boutique, Opening Of Bar Volvér And More

April 2, 2014Tonight Picks: Karaoke Kick-Off For The Subaru Cherry Blossom Festival, Korean Film Series And Pay-What-You-Wish At The PMA, Girl's Night Out In Chestnut Hill And More

Uwishunu covers everything fun and exciting happening in Philadelphia — read it daily for the latest on restaurants, bars, events, festivals, arts, music, hotels and more.
Details
Get Directions
2600 Benjamin Franklin Parkway Philadelphia, PA 19130
Website
Neighborhood:
Visit Official Website
In the neighborhood
Accommodations

201 N. 17th Street
(17th and Race Streets)
Philadelphia, PA 19103
(215) 448-2000
Website

View more hotels

Museums & Attractions

Benjamin Franklin Parkway at N. 16th Street Between 16th & 17th Streets Philadelphia, PA 19103

View more attractions

Restaurants & Dining

16th Street and the Benjamin Franklin Parkway
Philadelphia, PA 19102
(215) 735-9797
Website

View more Restuarants & Dining
Find us on Facebook