Black Bodies in Propaganda:
The Art of the War Poster
Wartime works on display at the Penn Museum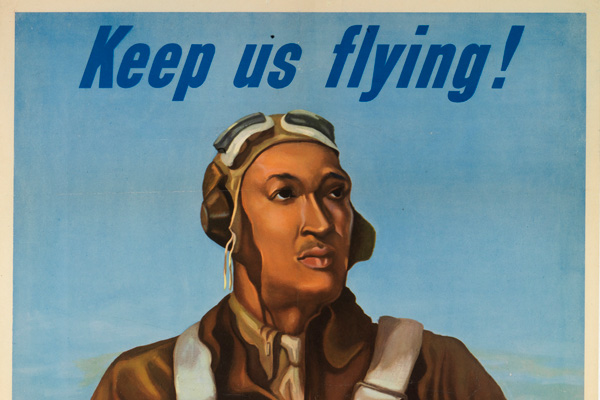 Description
Dates:
June 2, 2013–March 3, 2014
Overview
The Penn Museum takes a fascinating look at the immense power of war propaganda with its newest offering, Black Bodies in Propaganda: The Art of the War Poster.
The exhibit examines 33 wartime posters, mostly depicting Africans and African Americans, dating from the Civil War to World War I, World War II and African independence movements.
More than just simple advertising, these works were carefully created to mobilize people of color in war efforts, and in retrospect, they capture defining historical moments.
The provocative exhibit was curated by University of Pennsylvania professor – and the dynamic host of PBS' History Detectives – Tukufu Zuberi, and the posters come from his own personal collection.
In addition, artifacts from the Penn Museum's African collection and interactive media placed throughout the display help convey the significance of symbolism, iconography and messaging.
Admission
Black Bodies in Propaganda: The Art of the War Poster is included with your admission to The Penn Museum. Click the button below for more information and to purchase tickets in advance.
Details
Get Directions
3260 South Street Philadelphia, PA 19104
(215) 898-4001
Website
Visit Official Website
Find us on Facebook