Bloomsday at the Rosenbach
A daylong celebration of James Joyce's Ulysses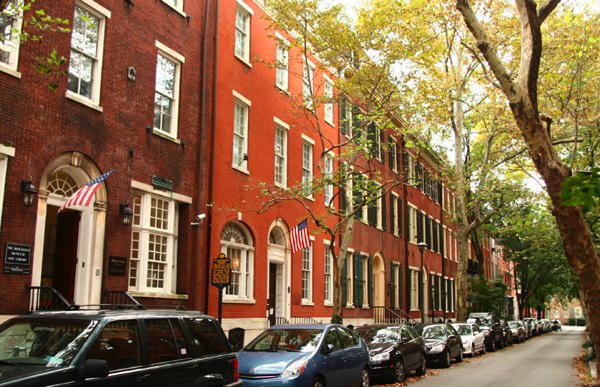 Description
Dates:
June 7-16, 2013
On June 16, the world celebrates Leopold Bloom's fictional journey through the streets of Dublin, as imagined in James Joyce's masterpiece Ulysses, during a special celebration termed "Bloomsday."
For two decades, Philadelphia's Rosenbach Museum and Library—home to Joyce's original Ulysses manuscript—has hosted one of the world's largest Bloomsday celebrations with a day of festivities along Delancy Place. Celebrate with notable Philadelphians and Joyce enthusiasts bring the novel to life with lectures, readings and reenactments.
Bloomsday is notable as it is the only international holiday that recognizes one specific work of art. From the brilliant short story "The Dead" to Leopold Bloom's wanderings through the underworlds of the city streets, Joyce saw Dublin as a place populated by ghosts.
The Rosenbach Museum commemorates the occasion with a week-long celebration culminating with a reading of Ulysses (yes, all 1,000+ pages!) from the steps of the Rosenbach, led by notable Philadelphians.
The celebration is free and open to everyone. For a complete listing of Bloomsday events, visit the Rosenbach Museum and Library.
PATH: http://www.uwishunu.com/tag/bloomsday/feed/image/
June 14, 2013Celebrate James Joyce's Iconic Work, Ulysses This Weekend At The Rosenbach Museum And Library's Annual Bloomsday Festival

June 7, 2012Rosenbach Museum Hosts Its 20th Annual Week-Long Bloomsday Festival To Celebrate James Joyce's Iconic Tract Ulysses, June 7-16

Uwishunu covers everything fun and exciting happening in Philadelphia — read it daily for the latest on restaurants, bars, events, festivals, arts, music, hotels and more.
Details
Get Directions
2008-2010 Delancey Place Philadelphia, PA 19103 (215) 732-1600
(215) 732-1600
Website
Neighborhood:
In the neighborhood
Accommodations

120 S. 17th Street
Philadelphia, PA 19103

(215) 569-8300
Website

View more hotels

Museums & Attractions

S. 19th Street and Rittenhouse Square Rittenhouse Square Philadelphia, PA 19103

View more attractions

Restaurants & Dining

1730 Chestnut Street
Philadelphia, PA 19103
(215) 665-9220
Website

View more Restuarants & Dining
Find us on Facebook