Campus Philly College Day
Philly welcomes back its students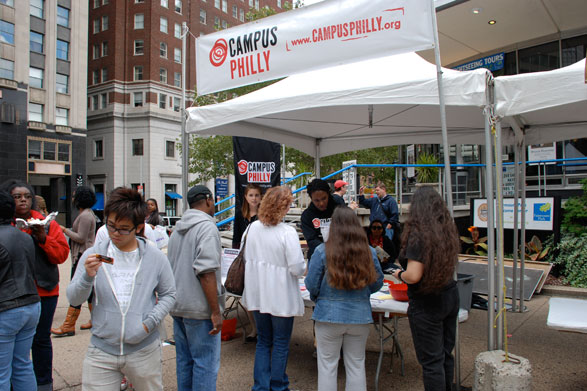 Description
Date:
September 29, 2012
10 a.m. – 4 p.m.
The Experience
Philadelphia will welcome back thousands of college students during its annual Campus Philly College Day, a city-wide day of discounts, giveaways, entertainment and free admission to museums and more on September 29.
Throughout the day students will gain free admission to museums and attractions in Historic Philadelphia, Center City and along the Benjamin Franklin Parkway.
Continuing a 20-year tradition, museums and attractions along the Parkway, including the Philadelphia Museum of Art, will be offering free admission to college students.
In Historic Philadelphia, the National Constitution Center, African American Museum and the National Museum of American Jewish History are among the institutions opening their doors to students.
Be sure to visit Campus Philly's hub at Franklin Square for a free round of Philadelphia-themed miniature golf and get free tickets to Liberty 360, the Betsy Ross House and more.
Various discounts will be available all-day long at select restaurants and shops in Center City. Head to the Campus Philly station in picturesque Rittenhouse Square to pick up a discount card for participating establishments.
Note: To take advantage of the offers, you need a valid college ID and a Campus Philly Pass. Campus Philly team members will be handing out passes at the bottom of the Art Museum steps, in Rittenhouse Square and at Franklin Square. Be sure to check campusphilly.org for College Day updates.
Details
Get Directions
22nd Street and Benjamin Franklin Parkway
Along Benjamin Franklin Parkway
Philadelphia, PA 19109
(215) 988-1707
Website
Neighborhood:
Upcoming Events
Events could not be retrieved at this time
Related Tags
In the neighborhood
Accommodations

1305 Walnut Street
Philadelphia, PA 19107
(215) 735-9300
Website

View more hotels

Museums & Attractions

Restaurants & Dining

741 N. 23rd Street
Philadelphia, PA 19130
(215) 763-2228
Website

View more Restuarants & Dining
Find us on Facebook