Capture the Moment: The Pulitzer Prize Photographs
Infamous imagery on display at the National Constitution Center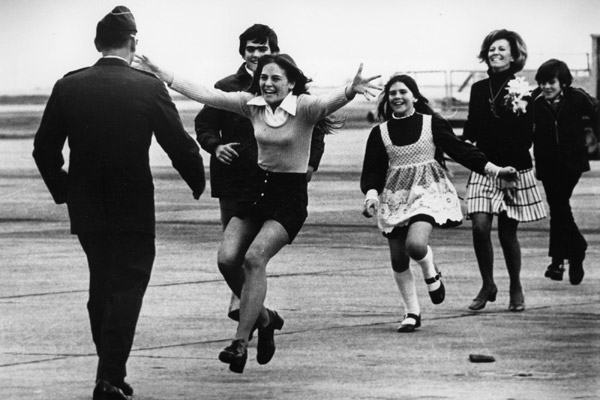 Description
Dates:
October 11-December 31, 2013
Overview
View one of the most comprehensive collections of influential images during Capture the Moment: The Pulitzer Prize Photographs at the National Constitution Center.
The traveling exhibition is made up of more than 150 photographs seen on the front pages of newspapers, in museums and on the covers of magazines.
Tracing triumphs and tragedies over the decades, the exhibition features every winner since the Pulitzer prize board began awarding the photography prize in 1942.
Arranged chronologically, the exhibition features iconic moments in history including U.S. Marines raising an American flag on Iwo Jima, a grieving Coretta Scott King with her daughter, a joyful reunion after the release of a Vietnam POW, haunting images from Hurricane Katrina and many more.
The exhibit, developed by the Newseum in Washington D.C., has made successful stops nationally and internationally including New York and Taiwan.
Please Note: Discretion is advised as some images in the exhibition may not be suitable for children.
Access to Capture the Moment is included with your admission to the National Constitution Center. For more information and to purchase tickets in advance, click the button below.
PATH: http://www.uwishunu.com/tag/national-constitution-center/feed/image/
March 5, 2014Tonight Picks: The Philadelphia Flower Show Continues With Wedding Wednesday, Chestnut Hill Restaurant Month, Pay-What-You-Wish Wednesday At The Art Museum And More

March 5, 2014Roundup: Where To Celebrate Women's History Month With Exhibitions, Special Events And More, All March Long

February 25, 2014The National Constitution Center Hosts The Award-Winning Live Debate Event Intelligence Squared U.S., Wednesday, March 5

February 21, 2014Coming Attraction: The National Constitution Center Debuts Slavery at Jefferson's Monticello, A Look At Plantation Life From Six Slave Families, April 9-October 19

February 10, 2014Roundup: Our Picks For Presidents' Day Celebrations In Philadelphia In 2014, Including Free Museum Admission, Themed Tours And More

Uwishunu covers everything fun and exciting happening in Philadelphia — read it daily for the latest on restaurants, bars, events, festivals, arts, music, hotels and more.
Details
Get Directions
525 Arch Street Philadelphia, PA 19106
(215) 409-6700
Website
Visit Official Website
In the neighborhood
Accommodations

235 Chestnut Street Philadelphia, PA 19106
(215) 922-4443
Website

View more hotels

Museums & Attractions

600 Chestnut Street
Philadelphia, PA 19107
(215) 629-5801
Website

View more attractions

Restaurants & Dining
Find us on Facebook