Down the Rabbit Hole: Celebrating 150 Years of Alice in Wonderland at The Rosenbach
Explore hundreds of original documents related to the iconic novel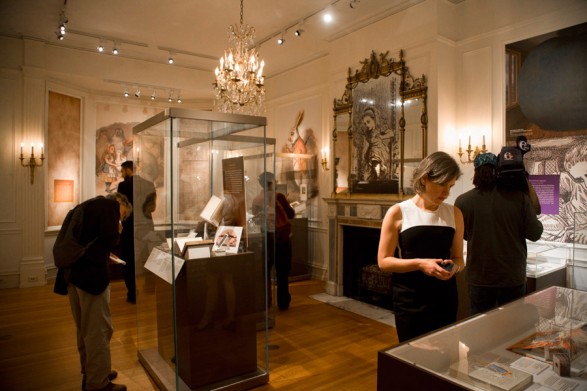 Description
Dates:
October 14, 2015 - May 15, 2016
Overview
Literary roots run deep in Philadelphia, a city that has inspired countless authors and continues to nurture their legacies.
Of special note, 2015 marks the 150th anniversary of Lewis Carroll's Alice in Wonderland, and The Rosenbach of the Free Library of Philadelphia celebrates the occasion to raise up its incredible collection of more than 600 Lewis Carroll books, letters and rare photos.
In honor of the sesquicentennial, The Rosenbach of the Free Library of Philadelphia now features the exhibition Down the Rabbit Hole: Celebrating 150 Years of Alice in Wonderland on view through May 15, 2016 with a host of accompanying programs that explore the literary classic.
Throughout the Rosenbach's second-floor galleries, the history-rich exhibit paints a lively portrait of the world of Lewis Carroll and Alice in Wonderland.
On view through the spring, the three-part display explores the cultural legacy of Alice, the Philadelphia connection to Alice and the puzzle- and mathematics-loving Carroll.
Supporting the exhibition, the Rosenbach has developed creative programming at the museum and all around town. Visitors can get lost in the magic of Alice with regularly scheduled hands-on tours, book discussions and more.
For complete programming information as well as more information on the exhibition, click the button below.
In the neighborhood
Accommodations

220 S 17th Street
Philadelphia, PA 19103
(215) 735-6000
Website

View more hotels

Museums & Attractions

2002 Rittenhouse Square
Philadelphia, PA 19103
(215) 751-0959
Website

View more attractions

Restaurants & Dining
Find us on Facebook