Equality Forum
The week-long, global GLBT event comes to Philadelphia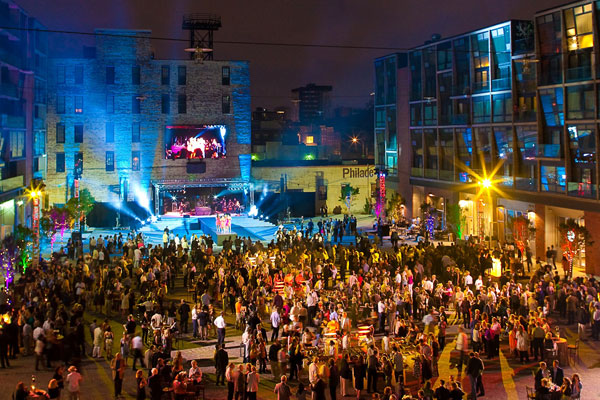 Description
Dates:
May 2-5, 2013
Featuring more than 30 programs including panels with national and international leader, the Equality Forum is an annual international gay, lesbian, bisexual and transgender civil rights summit in Philadelphia.
The annual event features panel discussions on the status of LGBT rights in the U.S. and around the world, art exhibitions, special events, festivals, live music and more.
For a full schedule of events, click here
International Equality Dinner
Congressman Barney Frank is the recipient of the 18th annual International Role Model Award. Mariela Castro, daughter of Cuban President Raul Castro, will receive the International Ally for LGBT Equality Award and Exelon Corporation is the recipient of the International Business Leadership Award on Saturday, May 4
SundayOUT! at the Piazza
Held at the Piazza at Schmidts, SundayOUT! is the region's largest LGBT street festival at Philadelphia's urban hot spot. SundayOUT! includes a diverse international roster of performers with over 100 vendors, artisans, galleries, boutiques, and cafés. Celebrate with six hours of music and dance, including performances from internationally acclaimed recording artist Kerli and American Idol finalist David Hernandez.
Check out the official site for all the SundayOUT! happenings and events.
Parties
Throughout the Equality Forum, parties will take place at various locations in Philadelphia. Check out the official site for the full rundown of events.
14th Annual Gay and Lesbian Art Exhibit
Featuring the work of Vuth Lyno from Cambodia's contemporary art scene in his first U.S. exhibition, this exhibit at the William Way Community Center explores LGBT identity and community in Cambodia.
About the Equality Forum
Headquartered in the center of Philadelphia's thriving gay community, this national non-profit civil rights organization has played an active role in advancing freedom and equality — two key principles upon which our country was founded — for the GLBT community for more than a decade.
The Equality Forum takes on many high impact initiatives, produces documentary films, highlights GLBT history and presents its annual GLBT civil rights forum during the first week of May.
Details
Get Directions
12th and Spruce Streets
And locations throughout Philadelphia
Philadelphia, PA 19102
(215) 732-3378
Website
Neighborhood:
In the neighborhood
Accommodations

1208 Walnut Street
Philadelphia, PA 19107
(215) 546-7000
Website

View more hotels

Museums & Attractions

S. Front Street and Chestnut Street Philadelphia, PA 19106

View more attractions

Restaurants & Dining

22 S. 3rd Street
Philadelphia, PA 19106
(215) 701-4883
Website

View more Restuarants & Dining
Find us on Facebook