Great Tour of Philadelphia
Free, 12-hour walking tour of more than 200 locations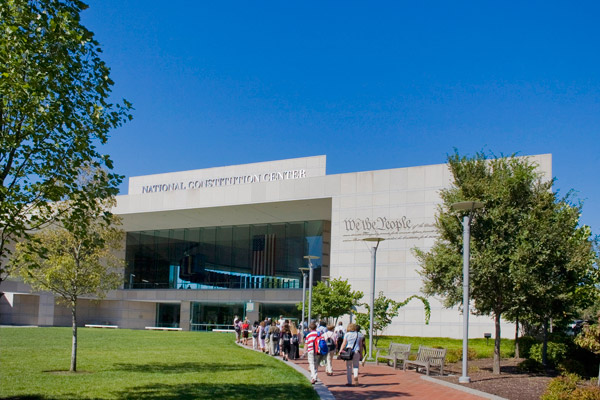 Description
Date:
September 28, 2013
8 a.m.-8 p.m.
Overview
Spend 12-hours exploring more than 200 historic and iconic city locations during the free Great Tour of Philadelphia.
Join the Association of Philadelphia Tour Guides for the free, walking tour from river to river, Vine to Pine. Explore historic sites like the Liberty Bell, Independence Hall, Elfreth's Alley, Eastern State Penitentiary and more during the epic day of city adventuring.
Split into four parts, the Great Tour allows visitors to hop-on, hop-off at any point as the discover the city.
Beginning at the National Constitution Center at 8 a.m., the first part of the tour spotlights Old City and continues on to Society Hill (11 a.m.), the 19th-century neighborhood surrounding East Market Street (2 p.m.) and the Benjamin Franklin Parkway (5 p.m.).
Attendees are asked to arrive 15 minutes prior to departure for each segment of the tour. Advance registration is required and free of charge.
For more details and to register for one or all four parts of the Great Tour, click the button below.
PATH: http://www.uwishunu.com/tag/free-tours/feed/image/
September 24, 2013The Great Tour, A Totally Free 12-Hour Tour Of The Entire City Of Philadelphia, Returns This Weekend, Saturday, September 28

September 11, 2013Save The Date: The Great Tour, A Free All-Day Tour Of Multiple Areas Of Philadelphia, Returns On Saturday, September 28

August 20, 2012The Association of Philadelphia Tour Guides To Lead The Third Annual Great 12-Hour Tour Of Philadelphia On Saturday, September 8

July 18, 2012Penn's Landing Invites You To Unearth History At The West Shipyard Archaeological Dig Starting Today, July 18, Through July 20

July 10, 2012Hidden City Philadelphia Kicks Off A New Series Of One-Off, Limited-Access Tours Of Intimate Sites Around The City With A Sneak Peek Of Little Baby's Future Ice Cream Shop, July 11

Uwishunu covers everything fun and exciting happening in Philadelphia — read it daily for the latest on restaurants, bars, events, festivals, arts, music, hotels and more.
Details
Get Directions
Starts at the National Constitution Center 525 Arch Street Philadelphia, PA
Website
Visit Official Website
In the neighborhood
Accommodations

Museums & Attractions

212 S. Fourth Street Philadelphia, PA 19106
(215) 627-1752
Website

View more attractions

Restaurants & Dining

22 S. 3rd Street
Philadelphia, PA 19106
(215) 701-4883
Website

View more Restuarants & Dining
Find us on Facebook