Great Tour of Philadelphia
Free, 12-hour walking tour past more than 200 city attractions
Description
Note: This event is canceled for 2015. Stay tuned for more information about this year's event as it becomes available.
Date:
September 27, 2014
8 a.m.-8 p.m.
Overview
Spend 12-hours exploring more than 200 historic and iconic city locations during the free Great Tour of Philadelphia.
Join the Association of Philadelphia Tour Guides for the free, walking tour from river to river, Vine to Pine. Explore historic sites like the Liberty Bell, Independence Hall, Elfreth's Alley, City Hall and more during an epic day of city adventuring.
The Great Tour is split into four, two and a half hour segments with each phase passing through 20 to 25 cultural and historic sites.
The exploration begins at the National Constitution Center at 8 a.m. with a walk through the historic sites of Old City. The tour continues on to Society Hill (11 a.m.), through Market East (2 p.m.) and concludes with a stroll past the cultural institutions along the Benjamin Franklin Parkway (5 p.m.).
Attendees are asked to arrive 15 minutes prior to departure for each phase of the tour. Advance registration is recommended and free of charge.
For more details and to register for one or all four parts of the Great Tour, click the button below.
Great Tour Map
Click below to see an overview of the free, river-to-river Great Tour of Philadelphia.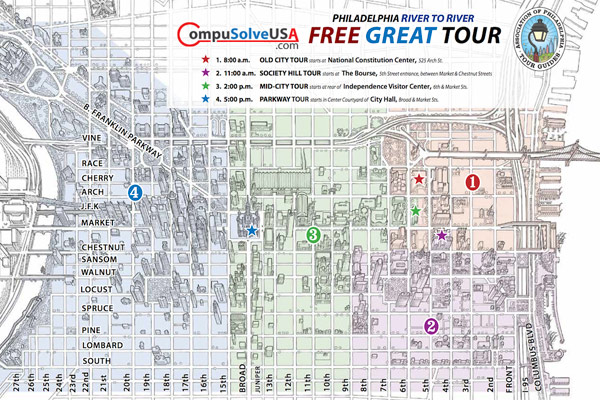 Details
Get Directions
Starts at the National Constitution Center 525 Arch Street Philadelphia, PA
Website
Visit Official Website
In the neighborhood
Accommodations

Museums & Attractions

Restaurants & Dining

123 Chestnut St.
(Entrance is on 2nd St.)
Philadelphia, PA 19106
(215) 733-0300
Website

View more Restuarants & Dining
Find us on Facebook