Hidden City Festival
Contemporary art in forgotten city sites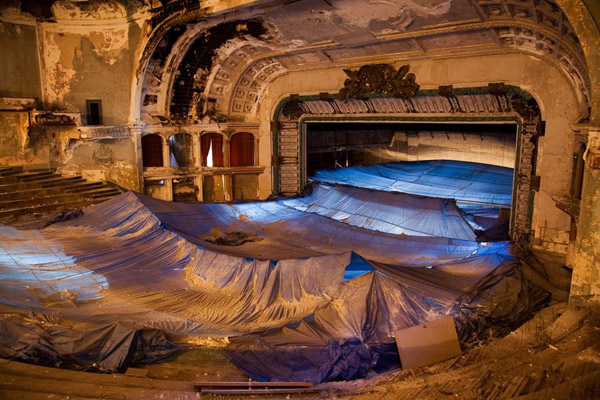 Description
Dates:
May 23-June 30, 2013
Overview
Find beauty amongst the abandoned, obscure and inaccessible sites around Philadelphia during the second annual Hidden City Festival.
Celebrating the "power of place through the imagination of contemporary artists," the Hidden City Festival features art installations, performance and events in a variety of historically significant and oft-forgotten locations.
For 2013, the festival will highlight eight hidden sites in neighborhoods across the city including Center City, Germantown, Frankford, South Philadelphia and University City.
Scheduled projects from both local and national artists include Jacob Wick's "Free Germantown", a social experience which aims to bring life back to the vacant Germantown Town Hall and "Bibotorium", a pop-up café in the Kelly Natatorium in Fairmount Park.
Click the button below to purchase tickets or contribute to the Hidden City Festival 2013 or purchase by phone by calling 267-428 0575.

PATH: http://www.uwishunu.com/tag/hidden-city-festival/feed/image/
June 27, 2013Tonight Picks: Final Days Of The Hidden City Festival, Philly On The Rocks Cocktail Contest At SugarHouse, Pixar In Concert At The Mann And More

June 26, 2013Last Chance: The Hidden City Festival Presents Its Final Four Days Of Incredible Installations, Closing This Sunday, June 30

June 14, 2013Hidden City Festival Picks: Not-To-Be-Missed Events Happening Within The Final Two Weeks Of The Festival, Closing June 30

June 13, 2013Tonight Picks: Opening Night Of Pennsylvania Ballet's Final Show Of The Season, Retro-Rama At The Constitution Center, Make-And-Take Party At Art Star And More

Uwishunu covers everything fun and exciting happening in Philadelphia — read it daily for the latest on restaurants, bars, events, festivals, arts, music, hotels and more.
Details
Get Directions
1315 Walnut Street Suite 320 Philadelphia, PA 19107
(267) 428-0575
Website
In the neighborhood
Accommodations

Museums & Attractions

3600 Market Street
Philadelphia, PA 19104
(215) 966-6188
Website

View more attractions

Restaurants & Dining

3549 Chestnut Street
Philadelphia, PA 19104
(215) 387-8808
Website

View more Restuarants & Dining
Find us on Facebook