Iron Hill Twilight Criterium
Sunset bike race through streets of downtown West Chester
Description
Date:
Saturday, August 2, 2014
Overview
Hundreds of cyclists, including nationally ranked professionals and local amateurs, will challenge themselves on the streets of downtown West Chester during the 10th annual Iron Hill Twilight Criterium.
The annual race is part of day-long celebration of cycling, community and family-friendly fun.
Read on for our breakdown of one of West Chester's biggest events of the year.
Rothman Institute Amateur Trials
The day kicks off early with a number of amateur races, held at Bayard Rustin high School, from 8 a.m. – 3:45 p.m. The events, which are open to the public, determine the field for the Rothman Institute Amateur Men's Criterium to be held at 5:45 p.m. in downtown West Chester as a precursor to the marquee event: the Iron Hill Twilight Criterium.
Iron Hill Twilight Criterium
The day culminates at 7:45 p.m. as racers from around the country take on the Iron Hill Twilight Criterium, a 0.6-mile course over 8 city blocks on the streets of historic downtown West Chester. Stake your spot early as the Start/Finish Line is next to the Iron Hill Brewery and Restaurant at the intersection of Gay and High Streets.
Sixth Annual Block Party
Market Street businesses have banded together to create more fun in the streets with the Sixth Annual Market Street Block Party, which kicks off at 4 p.m. Create your own masterpiece in chalk on the sidewalk while enjoying great food, live music and party ambiance.
Throughout the day, enjoy a variety of biking events including the West Chester Dental Arts Kids' Race for children ages 3-10 and the Twilight Trike Challenge featuring grownups attempting to ride tricycles. Awards will be given for three categories: fastest times, best costumed rider and best tricked-out trike.
Enjoy street art, live music and the local businesses of West Chester during the 6th annual Market Street Block Party beginning at 4 p.m., and Mike McGrath, host of "You Bet Your Garden" on WHYY, will be on hand to talk to crowds and answer questions.
A slew of the other exciting events include the Pro-Am Women's Criterium, the West Chester Dental Arts Kids' Race, the Market Street Block Party, the Kinetic Physical Therapy Community Festival, a AAA Travel Kids Zone and performances from BMX stunt riders.
Iron Hill Twilight Criterium Map and Guide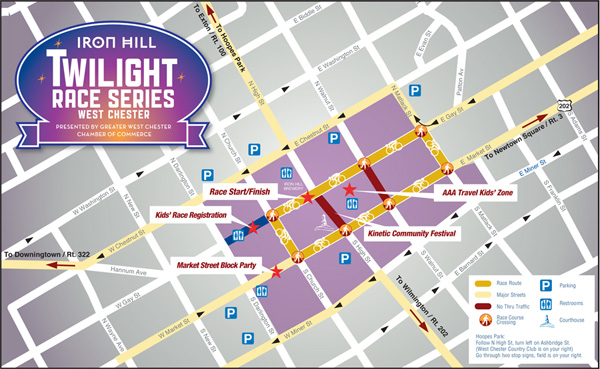 For more information on the Iron Hill Twilight Criterium, the block party and all the other festivities, click the button below.
Details
Get Directions
Gay and High Streets
West Chester, PA 19382
Website
Town:
In the neighborhood
Restaurants & Dining

128 West Market St.
West Chester, PA 19382
(610) 696-3788
Website

View more Restuarants & Dining
Find us on Facebook