Night Market – Lancaster Avenue
Popular street food festival returns to West Philly
Description
Date:
Thursday, August 6, 2015
6-10 p.m.
Note: The information below is from 2014. Stay tuned for more information about this year's event as it becomes available.
Overview
The sensational Night Market Philadelphia is midway through its fourth year of recurring street food festivals, and has already hosted blowout events in Old City and West Oak Lane, each of which brought out tens of thousands of attendees and dozens of vendors dishing excellent edibles. Now the event heads to Lancaster Avenue between 35th and 39th streets in West Philadelphia on Thursday, August 14.
The event does an incredible job of showcasing up-and-coming neighborhoods and brilliant food by partnering with local restaurants and food trucks, regional musicians and dynamic artists — all in all, creating plenty of good times.
And this stop on the Night Market circuit invites food lovers to explore the burgeoning Lower Lancaster Avenue, a corridor that connects such smaller communities as Mantua (recently deemed a Promise Zone by President Obama), Powelton Village and University City.
The Food & Drink
This time around, expect more than 80 vendors, so it's best to come early (to try and avoid long lines) and come hungry (to taste everything).
Keep an eye out for delicious standbys like tacos al pastor from Los Taquitos de Puebla and garlic pizza from Pitruco to imaginative fare like poke bowls from Poi Dog Snack Shop and mortadella hot dogs from Alla Spina.
In addition to Night Market staples, more than a dozen local vendors from West Philly will be out on the streets, including Calle de Sabor (Caribbean tacos), Quality Cafe (lamb gyros) and Spencer ETA Burger (burgers on brioche).
Plus, look forward to local craft beer from Yards Brewing Company and hard cider from Frecon Farms.
The Live Music & Entertainment
The lineup at Lancaster Avenue pays homage to the neighborhood's annual jazz and arts fest, the Lancaster Avenue Jazz & Arts Festival, as well as the up-and-comers found at the nearby universities.
Local entertainment hits two stages throughout the night, with the main stage at Powelton Avenue and a second stage at 39th Street.
On 39th Street, hear from bands on the hour from 6 to 9 p.m. — all emceed by S. Frosty, an always-entertaining host.
At the Powelton Avenue stage, Minka kicks things off at 6 p.m., followed by Happy Accident, KillerWhale, the West Philadelphia Orchestra, Joie Kathos and none other than Chill Moody to headline at 9:30 p.m.
Elsewhere, the Greensgrow Mobile Farm Stand will instruct on sustainability and the Greener Partners Farm Explorer brings out an interactive farm.
And even more entertainment can be found at the Community Education Center at 35th Street.
#VisitPhilly #NightMkt
Night Market is a delicious and extremely social event, so while you're out there tonight be sure to Tweet about and Instagram the scene and the eats you enjoy and tag your photos with the hashtags #NightMkt and #VisitPhilly.
Plus, be sure to stop by and check out the Visit Philly pop-up photo booth at Lancaster Avenue and 38th Street.
Snap a shot while having a super time at Night Market, get a free print and the ability to share directly on your choice of social platforms.
Getting There & Staying Over
The West Philly neighborhood around Lancaster Avenue and 38th Street is easily accessible via public transit, car or taxi/Uber.
For travel by SEPTA, check out the trip planner here or just hop on the Market-Frankford line to 34th Street and walk north to Lancaster Avenue. And remember that the trolley is closed due to the Septa Trolley Blitz.
Paid parking lots are available along Market Street between 34th Street and 40th Street, including Central Parking at 3901 Market Street.
For those who want to make a city weekend out of festival-going, stay overnight in Philadelphia. Check out super deals on hotel stays via the Visit Philly Overnight Hotel Package.
And for those already hungry for more, there's still one more Night Market remaining in the 2014 season coming up on October 2 in Chinatown.
Night Market – Lancaster Ave Lane Map and Guide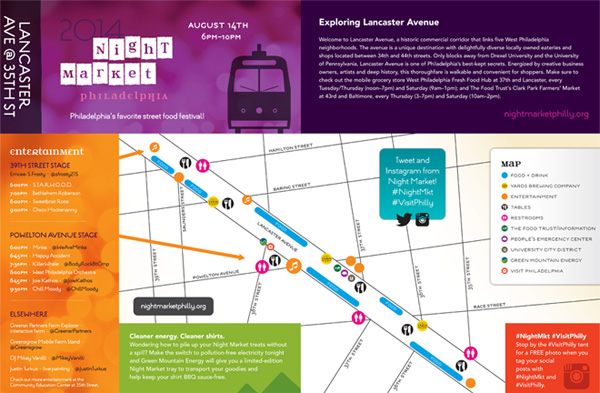 For more information on Night Market, click the button below.
Details
Get Directions
Lancaster Avenue and 35th Street
Philadelphia, PA 19104
(215) 575-0444
Website
Neighborhood:
Visit Official Website
In the neighborhood
Accommodations

3600 Sansom Street
Philadelphia, PA 19104
(215) 222-0200
Website

View more hotels

Museums & Attractions

3723 Chestnut Street Philadelphia, PA 19104
(215) 386-0234
Website

View more attractions

Restaurants & Dining

3611 Walnut Street
Philadelphia, PA 19104
(215) 823-6222
Website

View more Restuarants & Dining
Find us on Facebook