Open Air
A giant, interactive 3-D light installation coming to the skies above the Benjamin Franklin Parkway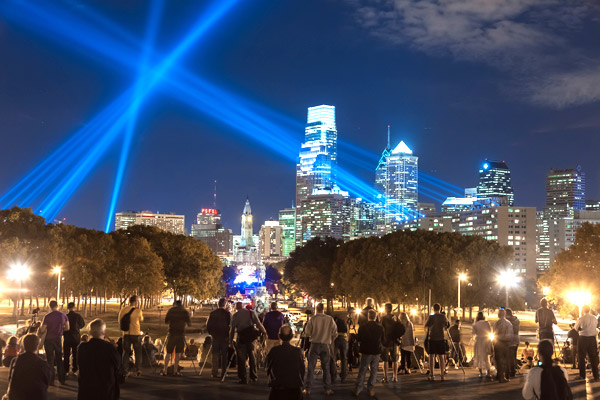 Description
Dates
September 20, 2012 – October 14, 2012
Overview
In Fall 2012, internationally acclaimed new media artist Rafael Lozano-Hemmer's public art project "Open Air" will illuminate the Benjamin Franklin Parkway with enormous three-dimensional light formations in the night sky.
Every night from 8-11 p.m., participants can use their voices and GPS positions to activate 24 robotic searchlights placed along a half-mile section of the Parkway, all via a custom iPhone app developed for "Open Air."
The app automatically analyzes the users' GPS positions and voices for frequency, intonation and volume, and will then convert these characteristics into unique searchlight formations in the sky over the Parkway. The lights react, both in brightness and position, to each participant's voice and words as they are being spoken, creating a canopy of light over the city.
Tens of thousands of individuals are expected to participate live during the duration of "Open Air" and the brilliant light formations will be visible up to 10 miles away from the Parkway each evening.
A dedicated project headquarters, including app download and free mobile loan stations, will be located at Eakins Oval (24th Street and the Parkway).
Top Places To Watch
To help you fully experience this can't-miss exhibition, check out a map of our top picks to watch Open Air around the Benjamin Franklin Parkway, grab a bite to eat and more.
PATH: http://www.uwishunu.com/tag/open-air/feed/image/
November 14, 2012Open Air Facts And Figures: The Interactive 3-D Light Show Brought 6,000 Messages From 92 Countries To The Philadelphia Night Sky

October 11, 2012Tonight Picks: Pairings On The Parkway, Design Philadelphia, Free Custard At Shake Shack, Trunk Show In Rittenhouse Square And More

October 9, 2012Design Philadelphia Returns October 10-14: Our Guide To Hands-On, Interactive Events During The City-Wide Festival

October 4, 2012Tonight Picks: Night Market In Chinatown, Red Owl Tavern And Stratus Lounge Open At The Hotel Monaco, Center City Restaurant Week, Open Air, Northern Liberties SIPS And More

Uwishunu covers everything fun and exciting happening in Philadelphia — read it daily for the latest on restaurants, bars, events, festivals, arts, music, hotels and more.
Details
Get Directions
Eakins Oval
24th and Parkway
Philadelphia, PA
Website
Neighborhood:
Related Tags
In the neighborhood
Accommodations

501 N. 22nd Street
Philadelphia, PA 19130
(215) 568-8300
Website

View more hotels

Museums & Attractions

Waterworks Drive, near the northwest terrace of Philadelphia Museum of Art Philadelphia, PA 19130

View more attractions

Restaurants & Dining
Find us on Facebook