Philadelphia Book Festival
Celebration of the joy of reading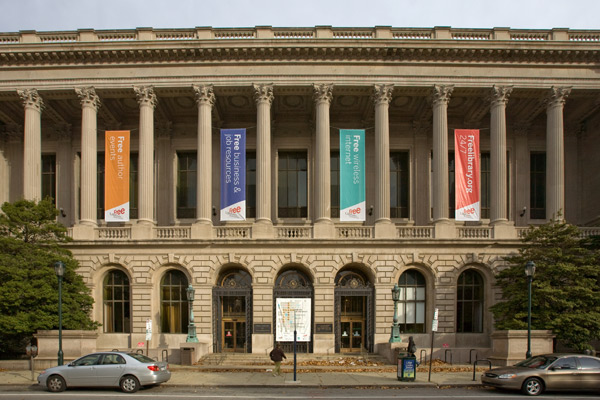 Description
Dates
April 14 – 20, 2013
The Experience
The Free Library of Philadelphia's annual Book Festival begins April 14, just in time for National Library Week April 14-20. Previously held only at the Parkway Central Library, the festival will now expand to 54 Free Library locations.
The festival features a staggering number of free events throughout the city, so we've put together a few of our top picks for the literary curious.
• Nancy Pearl: Famed librarian and expert book recommender Pearl talks about republishing her beloved, presently out-of-print books in her new Book Lust Rediscoveries series. Catch this frequent literary commentator on NPR's Morning Edition at the Parkway Central location on Monday, April 15, 7:30 p.m.
• Karen Quinones Miller: Author of six Essence bestsellers and nominee for the NAACP Image Award for Outstanding Literary Fiction, Miller brings her autobiographical novel An Angry-Ass Black Woman to the Paschalville Branch on Woodland Avenue on April 15, 4:30 p.m.
• Tom Burgoyne: The Phillie Phanatic's Best Friend is more than just a mascot. Burgoyne has co-authored two books about Phillies baseball: More Than Beards, Bellies and Biceps: The Story of the 1993 Philadelphia Phillies (and the Phillie Phanatic, Too) and Movin' On Up. Plus, he's written 10 children's books about Philadelphia's beloved mascot. Catch the man in person at the Holmesburg Branch on April 15, 6:30 p.m.
• Susan Morse: Actress-turned-bestselling author Susan Morse, who now lives in Philadelphia with her husband, actor David Morse, presents her touching work The Habit at the Fumo Family Branch on Tuesday, April 16, 6:15 p.m.
• Ken Kalfus and James Salter: These two supremely acclaimed novelists offer up their highly anticipated new works — Equilateral and All That Is, respectively — in a single headlining program at the Parkway Central location, April 16, 7:30 p.m.
• Susan Orlins: Journalist and blogger Orlins has published widely, including in The New York Times, Newsday, and The Washington Post Magazine. See the author present her new book Confessions of a Worrywart: Husbands, Lovers, Mothers, and Others at the Walnut Street West branch on Wednesday, April 17, 6 p.m.
• Baratunde Thurston: Comedian, author and pundit Baratunde Thurston is the former digital director for The Onion, the creator of comedic startup Cultivated Wit and was named by The Root as one of the 100 most influential African Americans. Catch the multitalent author as he speaks to the complexities of racial politics and personal identity he writes about in his New York Times bestseller, How to Be Black, at the Parkway Central location on Thursday, April 18, 7:30 p.m.
• Cheryl Strayed: Hear from the author of New York Times bestseller Wild, which was chosen by Oprah Winfrey for her rebooted book club, as she recounts her hike of the Pacific Crest Trail from California to Washington State at the Parkway Central location on Friday, April 19, 7:30 p.m.
• Risk! Live Show: To wrap up the festival on Saturday, April 20, don't miss the First Person Arts program Risk!, a live show of true confessions, which is also a popular podcast with more than 6.5 million downloads to date. See what promises to be a hilarious show at the Parkway Central location at 7:30 p.m., and purchase tickets, $20, online.
Click here for a complete list of events during the Philadelphia Book Festival
PATH: http://www.uwishunu.com/tag/philadelphia-book-festival/feed/image/
April 2, 2013Coming Soon: The Philadelphia Book Festival Puts Literature In The Spotlight With Author Events At 54 Library Locations, April 14-20

April 19, 2012Our Guide To The Book And Science Festivals' Carnival On The Parkway This Saturday, April 21: Food Trucks, Three Stages Of Entertainment, First Public Tours Of Sister Cities Park And More

Uwishunu covers everything fun and exciting happening in Philadelphia — read it daily for the latest on restaurants, bars, events, festivals, arts, music, hotels and more.
Details
Get Directions
1901 Vine Street
Philadelphia, PA 19103
(215) 686-5322
Website
Find us on Facebook