PIFA Street Fair
A Ferris Wheel, performers, food and more on the Avenue of the Arts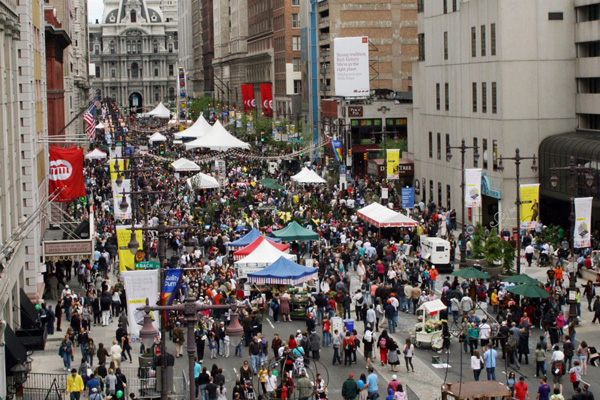 Description
Date:
Saturday, April 27, 2013
11 a.m. – 7 p.m.
Overview
The culminating event of the 31-day Philadelphia International Festival of the Arts, the 2013 PIFA Street Fair is a day-long celebration in the center of Philadelphia.
The Kimmel Center will close Broad Street for the extravaganza based around the festival's theme, "If You Had a Time Machine…"
Spend the day on the Avenue of the Arts with food vendors, artisans, and exhibitors and enjoy street performances, musicians, and family-friendly entertainment. Highlights of this year's Street Fair include the return of the PIFA Ferris Wheel, gardens for lounging and a dinosaur petting zoo complete with a life-size T-Rex.
2011 Street Fair
Thousands of visitors packed Broad Street for the 2011 PIFA Street Fair, which featured a breathtaking show from France's La Compagnie Transe Express, who performed while suspended 100-feet above the crowd.
For more information on the Philadelphia International Festival of the Arts, visit pifa.org
PATH: http://www.uwishunu.com/tag/pifa/feed/image/
April 24, 2013Tonight Picks: Get Outside! Pong On The Cira Centre, PIFA, Philadelphia Science Fest, Fairmount Restaurant Week And More

April 24, 2013Our Guide To The Rides, Food And Music Of The 2013 PIFA Street Fair On The Avenue Of The Arts, This Saturday, April 27

April 24, 2013Final PIFA Picks: Collaborative Theater Performances, Musical Shows And More Time Travel-Themed Events

April 18, 2013Tonight Picks: Opening Night For The Beer Garden At The Porch At 30th Street Station, The Kick-Off Party For The Philadelphia Science Festival, BalletX At The Wilma Theater And More

April 18, 2013PIFA For Art Lovers: Interactive Art Exhibits, Photography Exhibits And Hands-On Art Projects

Uwishunu covers everything fun and exciting happening in Philadelphia — read it daily for the latest on restaurants, bars, events, festivals, arts, music, hotels and more.
Details
Get Directions
Broad Street
Between Chestnut and Lombard
Website
Neighborhood:
In the neighborhood
Accommodations

Museums & Attractions

Restaurants & Dining

313 S. Broad Street Philadelphia, PA 19107
Website

View more Restuarants & Dining
Find us on Facebook