Parx Casino Philly Cycling Classic
Inaugural bike race highlighting the famous Manayunk Wall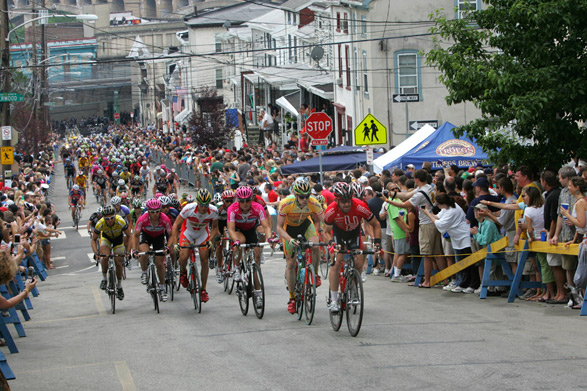 Description
Date:
June 1, 2014
Overview
Professional and amateur cyclists alike will have the opportunity to tackle the infamous "Manayunk Wall" during the Parx Casino Philly Cycling Classic.
The race features a 12-mile circuit course winding riders through Manayunk, East Falls, Kelly Drive and Fairmount Park. The start/finish line sits atop the Manayunk Wall, creating a dramatic end to the race as riders push up the grueling 17% grade hill.
The event will focus equally on the men's and women's teams with separate races and starting times. The women's race begins at 8:30 am and consists of a five lap, 60 mile circuit followed by the men's 10 lap, 120 mile race at noon.
Places to Watch
The start/finish line near the top of The Wall on Lyceum Ave
Along Main Street in Manayunk (The Sprint Spot is on Main St. at Cotton St.)
Along the Manayunk Wall
Lemon Hill in Fairmount Park
Along Kelly Drive in Fairmount Park (The Feed Zone is located near the permanent bleachers in the River Parking Lot)
Boathouse Row near Kelly Drive and Sedgely Drive
Bicycling Open
Amateur cyclists will have a chance to test their abilities and preview the new course during the Bicycling Open, held prior to the Philly Cycling Classic.
Registered riders can attempt as many laps as possible in the allotted time, complete with official chip timing, free breakfast and an opportunity to ride with the Cadence Cycling Foundation. Click here for more information and to see available packages.
Getting Around
Parking will be at a premium, so get your prime spot on the Manayunk by taking SEPTA Regional Rail to Manayunk Station.
Details
Get Directions
Start/Finish Line
Lyceum Ave. and Pechin St.
Philadelphia, PA 19128
Website
Neighborhood:
In the neighborhood
Museums & Attractions

8480 Hagy's Mill Road
Philadelphia, PA 19128
(215) 482-7300
Website

View more attractions

Restaurants & Dining

4120 Main Street
Philadelphia, PA 19127
(215) 482-8220
Website

View more Restuarants & Dining
Find us on Facebook