Philly POPS! On Independence
One of Philadelphia's most popular July 4th traditions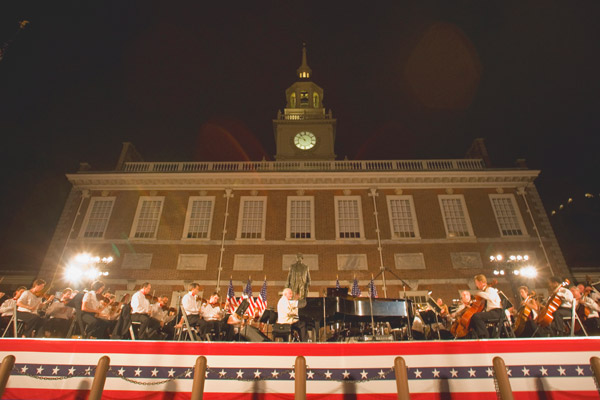 Description
Date:
July 3, 2013
8 p.m.
PLEASE NOTE: All fireworks shows and events are scheduled rain or shine. In case of inclement weather, follow @July4thPhilly on Twitter and Wawa Welcome America on Facebook for up-to-the-minute information.
Overview
Join Peter Nero and the Philly POPS! on Independence Mall for a patriotic celebration in honor of America's birthday. A popular July 4th tradition, the annual free concert in front of Independence Hall is one fo the highlights of the city-wide, week-long Wawa Welcome America! festival.
Highlights of the all-American themed concert include a performance of the "1812 Overture" and excerpts of the Declaration of Independence read by Thomas Jefferson.
Insider Tip: Arrive early with your blanket and lawn chairs and enjoy!
PATH: http://www.uwishunu.com/tag/july-4th/feed/image/
July 5, 2013Reminder: Taste Of Philadelphia Continues The Celebration Of America's Birthday With A Food Fest And Fireworks Over The Delaware, July 5-7

July 3, 2013Weekend Picks, July 4th Edition: Epic Fireworks On July 4 And 6, The Free Fourth Of July Jam Concert On The Benjamin Franklin Parkway, Taste Of Philadelphia And Much, Much More

July 3, 2013The 4th Of July In Philadelphia: Our Hour-By-Hour Guide To Independence Day Celebrations In The City Of Brotherly Love

July 3, 2013Roundup: Our Top Picks For Philadelphia Countryside Fourth Of July Barbecues, Parades, Family-Friendly Activities And Fireworks

July 3, 2013Our Guide To The City, The Philly 4th Of July Jam's Music, Art, Fashion And Food Festival At The Piazza At Schmidt's Today, July 3

Uwishunu covers everything fun and exciting happening in Philadelphia — read it daily for the latest on restaurants, bars, events, festivals, arts, music, hotels and more.
Details
Get Directions
5th and Market Streets Philadelphia, PA 19106
Website
Neighborhood:
In the neighborhood
Accommodations

14 N. Front Street
Philadelphia, PA 19106
(215) 922-7600
Website

View more hotels

Museums & Attractions

44 N. Fourth Street Philadelphia, PA 19106
(215) 922-5446
Website

View more attractions

Restaurants & Dining
Find us on Facebook