Spy: The Secret World of Espionage
at the Franklin Institute
The secret world of spies gets declassified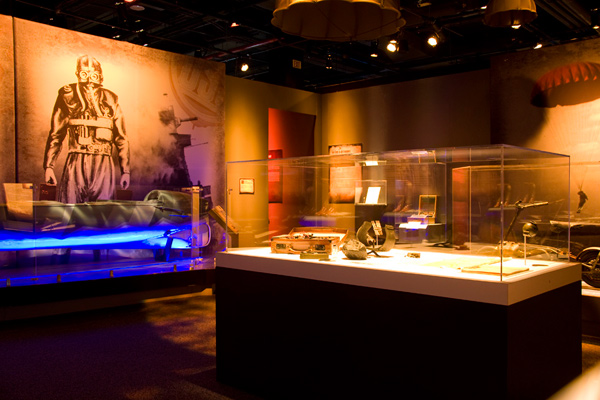 Description
Dates:
May 4-October 6, 2013
Overview
The Franklin Institute declassifies the secret world of espionage with its blockbuster exhibit SPY: The Secret World of Espionage_.
More than 200 artifacts, including the ice axe that killed Leon Trotsky, a German ENIGMA machine and never-before-seen artifacts from the CIA, make up the exhibit and bring visitors close to the gadgets, techniques and technologies used by spies throughout the ages.
The exhibit shows how science and technology play a major role in intelligence and how those involved shape the course of history every day.
Highlights
Artifacts on display in SPY: The Secret World of Espionage include recently de-classified items from the CIA collection and select pieces from the massive personal collection of H. Keith Melton.
Items include:
Insectothopter, an insect-sized device used to gather intelligence-from the air.
Charlie the Catfish, one of two robotic catfish used by the CIA.
KGB Pinhole Drill Kit, used to spy on the US Embassy in Russia.
Enigma Machine, a cipher machine used to develop nearly unbreakable codes by the German Army during WWII.
SPY Hotel Package
Book your "Great Spy Buy" hotel package at the Sonesta Hotel Philadelphia and get luxury overnight accommodations, exclusive member access to SPY: The Secret World of Espionage at the Franklin Institute, plus admission to a special planetarium show. Rates start at just $179 a night, nearly a 30% savings off the best available rate.
The Great Spy Buy package is valid for one night only, and requires a three-day advance purchase. The package includes one ticket to SPY: The Secret World of Espionage with additional available for purchase for $20 each. The package is available through October 6, 2013.
Click here to book or call 215-561-7500
Hours and Admission
Sunday – Wednesday:
9:30 a.m.-5 p.m. (Last admission at 3:30 p.m.)
Thursday – Saturday:
9:30 a.m. – 8:30 p.m. (Last admission at 7 p.m.)
Individual Tickets:
Daytime Admission (includes General Admission to the Franklin Institute)
Adults: $28.00
Children ages 3-11: $19.00
Evening Admission (does not include General Admission)
(after 5:00PM)
Adults: $18.00
Children ages 3-11: $13.00
Click the button below to purchase tickets to Spy: The Secret World of Espionage at the Franklin Institute:

Details
Get Directions
222 N. 20th Street Philadelphia, PA 19103
(215) 448-1200
Website
Find us on Facebook