Taste of Philadelphia
Penn's Landing hosts a food and music feast to kick off Wawa Welcome America!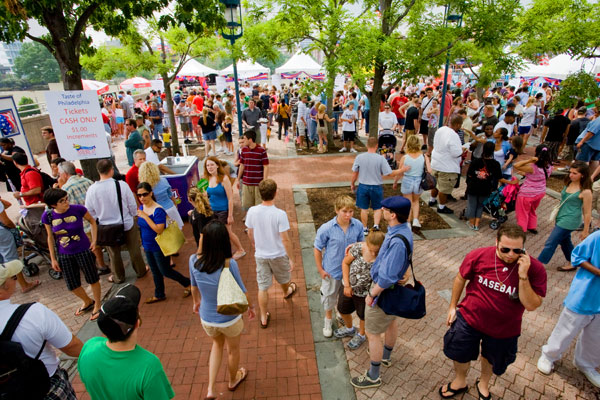 Description
Dates:
July 5-7, 2013
Overview
One of the highlights of Welcome America, Taste of Philadelphia is a weekend celebration on Penn's Landing with incredible food, entertainment, fireworks and more.
Admission is free with "tastes" of top dishes from Philadelphia restaurants and food trucks available for just a few dollars each.
Enjoy live music on the RiverStage throughout the day and a spectacular fireworks display on the Delaware River (Saturday, July 6).
Where to Watch the Fireworks
Check out a few of our favorite spots to watch the fireworks on the Delaware River, below:
• Penn's Landing: The Great Plaza (closest intersection is Columbus Boulevard and Chestnut Streets), where the main stage is, is of course a solid option. Other good spots at Penn's Landing are anywhere along its southern stretch, from Dock Street to South Street.
• Morgan's Pier: A brand new place to watch this year is Morgan's Pier, a waterfront beer garden just to the north of the Ben Franklin Bridge. On Saturday, June 30, Algernon Cadwallader will play starting at 5 p.m. and Juan Maclean will be spinning Electronic and Dance music starting at 10 p.m. We suggest heading over even earlier in the evening to stake out one of the picnic tables on the deck and to dish on Chef David Katz's delicious eats (snack bacon and fried Jersey tomatoes are two of our favorites) and the awesome selection of local craft beer.
• Race Street Pier: This lush park is an amazing spot to watch, complete with bleacher seating, but we recommend you get there early as it's going to fill up fast. Also keep in mind that alcohol, BBQ and glass containers are not permitted at the Pier.
• Washington Avenue Green: This is another park on the Delaware River Waterfront, at 1301 S. Columbus Blvd, formerly Pier 53.
• Wiggin's Park: Across the river in Camden, you can get an equally spectacular view of the fireworks from Wiggin's Park, located near Adventure Aquarium and the Battleship New Jersey. It's free and open to the public.
• Penn Treaty Park: Penn Treaty Park's seven acres of open green space and clean picnic areas provide a great vantage point from which to watch the fireworks.
• Adventure Aquarium: The aquarium is hosting its 4th Annual Independence Day Splash on Saturday, June 30 from 6-9 p.m. Festivities include character appearances, music and personalities from 92.5 XTU and after-hours access to all of Adventure Aquarium's exhibits. Cap off your evening with an unforgettable view of the fireworks as they cascade over the Philadelphia skyline; there's also indoor viewing for younger guests who don't like the loud sounds. Tickets are $20 for adults, $10 children 2-12. New for 2012: drop off any two items for the USO from this list and receive a FREE parking voucher for the night.
• Battleship New Jersey: The Battleship Blast on June 30 incudes a delicious Surf n Turf Barbecue, cocktails, live music, Phillie Phanatic appearances, Philadelphia Zoo on Wheels, entertainment and a great view of the fireworks over the Delaware River at dusk. Tickets are $165 per person; to purchase, call 1 (866) 877-6262 ext. 144. Tickets just to watch the fireworks from the deck of the Battleship are a $10 donation. The Battleship will open at 7 p.m.
• Independence Seaport Museum: The 2012 Fireworks Spectacular is 6:30-10 p.m. on Saturday, an evening of food, libations and a perfect view of the fireworks over the Delaware. You can also visit the museum's new exhibit Home of the Brave: War of 1812 in Art, Story & Song. Online sales end on Friday, June 29 at 5 p.m. and no tickets will be sold at the door.
• Hyatt Regency Philadelphia: The terrace at Keatings River Grill, which just reopened for the season, is a prime location for the fireworks show. A new summer menu this year fuses local fare with a modern edge and tapas-style dishes.
• Ristorante La Veranda: This historic Northern Italian restaurant located on Pier 3 Penn's Landing offers prime fireworks viewing on two levels.
• Moshulu: Docked permanently on the Penn's Landing waterfront, the Moshulu will be open on Saturday, June 30 (and also the 4th). They'll be serving the normal a la carte dinner menu and after dinner, you can join the rest of the crowd on the decks for the fireworks. If you are not dining on board, there is a $10 cover to watch the show on the decks.
• Spirit of Philadelphia: Set sail on the Spirit of Philadelphia for a Fireworks Dinner Cruise on Saturday, June 30, with prices starting at $89.90, including Grande Buffet, DJ bar and unsurpassable views. Board at 7 p.m. and cruise until 11 p.m. There's also a July 4 Champagne Dinner Cruise which includes one glass of champagne at boarding. Board at 6:30 p.m. and cruise until 10 p.m., with prices starting at $65.90 per person. Book July 4th Dinner Cruise Tickets using Promotion Code JULY4 to save 15%!
• SugarHouse Casino: SugarHouse is gearing up for July 4th with SugarBeach, a beach party kicking off June 30. Saturday sees a Lucky Luau, 2 p.m.-1 a.m., with live music, an authentic Hawaiian luau show with fire eaters and live music following the fireworks show all the way until 1 a.m.
• Revolution House: The Rev House roofdeck, festooned with colorful plants and foliage, will be open on Saturday, June 30, overlooking the Ben Franklin Bridge. In honor of the holiday, the restaurant/bar will feature a 15% discount on select "All American" menu staples and American Local Beers from Friday, June 30 through Saturday, July 7.
NOTE: there's a $3 Camden Waterfront to Philadelphia Shuttle, which links the Camden Waterfront to the Independence Visitors Center at 5th & Market Street, the perfect vantage point for June 30 fireworks-watching.
Details
Get Directions
Great Plaza at Penn's Landing Columbus Boulevard and Chestnut Street Philadelphia, PA 19106
Website
Neighborhood:
Related Tags
In the neighborhood
Accommodations

201 S. Columbus Boulevard
Philadelphia, PA 19106
(215) 928-1234
Website

View more hotels

Museums & Attractions

211 S. Columbus Blvd Philadelphia, PA, 19106
(215) 413-8655
Website

View more attractions

Restaurants & Dining

Front and Market Streets Philadelphia, PA 19106
(215) 922-7800
Website

View more Restuarants & Dining
Find us on Facebook