The Roots Picnic
One day of incredible music at Penn's Landing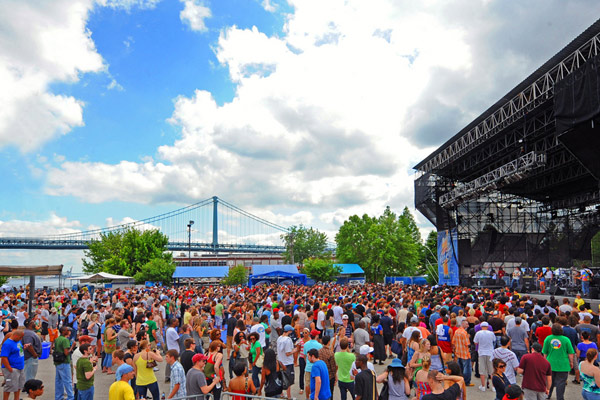 Description
Dates:
Saturday, May 31
The Festival
Now in its seventh year, The Roots Picnic is bigger and better than ever with a day of incredible and diverse music at the Festival Pier at Penn's Landing. With acts spanning multiple genres, all handpicked by The Roots themselves, this is one festival not to be missed.
With a reputation as the hardest working band in music, The Roots are not only the house band for The Tonight Show Starring Jimmy Fallon, but also a group that delivers amazing musical lineups for marquee Philadelphia events like The Roots Picnic and the Welcome America 4th of July concert.
Performances at this year's Roots Picnic include Snoop Dogg (backed by The Roots), Janelle Monae, A$AP Ferg and Philadelphia's own War on Drugs. Each year, The Roots Picnic delivers a day of fantastic music and a few surprises along the way.
Enter to Win
Philly 360° is giving away two passes to the 7th annual Roots Picnic at Penn's Landing. For a chance to score tickets to one of the best shows of the year, enter to win on Philly 360° using the button below.
Tickets
One-day passes for The Roots Picnic cost $64 plus fees. VIP Passes are also available. For more information and to purchase tickets, click the button below.
PATH: http://www.uwishunu.com/tag/roots-picnic/feed/image/
April 23, 2014Contest Alert: Enter To Win Two Free Tickets To The Annual Roots Picnic On May 31 At Penn's Landing Via Philly 360°

March 6, 2014Save The Date: The Roots Picnic Returns To Penn's Landing On Saturday, May 31; Score $40 Pre-Sale Tickets Online Today Only!

May 1, 2013The Annual Roots Picnic Is Set To Rock Penn's Landing On June 1; Starting Today, Enter To Win Two Tickets Via Philly 360°

January 24, 2013From Philly 360: The 2013 Roots Picnic Returns To Festival Pier Saturday, June 1; Tickets Go On Sale Friday, January 25

June 12, 2012Video Interlude: Philly 360 Goes Behind The Scenes Of The 2012 Roots Picnic With Producer/DJ Diplo

Uwishunu covers everything fun and exciting happening in Philadelphia — read it daily for the latest on restaurants, bars, events, festivals, arts, music, hotels and more.
Details
Get Directions
Festival Pier at Penn's Landing
Columbus Boulevard at Spring Garden Street
Philadelphia, PA 19123
Website
Visit Official Website
Find us on Facebook