Titanic: The Artifact Exhibition
at the Franklin Institute
Honoring the 100th anniversary of the ill-fated voyage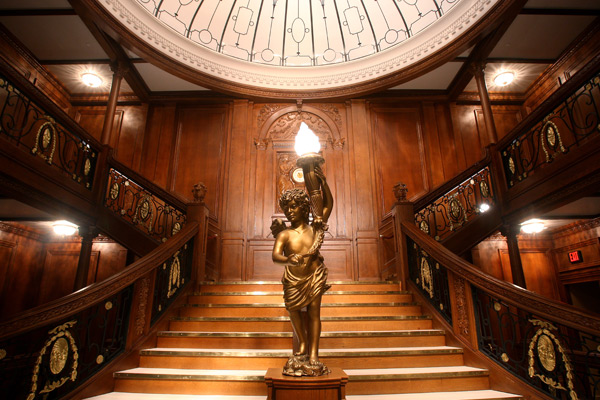 Description
Dates:
November 10, 2012-April 7, 2013
Overview
On April 15, 1912, the world's largest ship of its time sank into the depths of the ocean after colliding with an iceberg, tragically claiming more than 1,500 lives and bringing to a halt the world's unshakable confidence in modern technology.
Titanic: The Artifact Exhibition at the Franklin Institute honors the centennial anniversary of the infamous disaster by telling the real-life stories of nineteen passengers aboard the fated vessel.
Perfume bottles, White Star Line china, jewelry, currency and more than 300 artifacts retrieved from the wreck site of Titanic offer poignant connections to those nineteen lives forever changed from one ship's disastrous maiden voyage.
Titanic: The Artifact Exhibition will take visitors through the creation of the ship all the way to its tragic fate, chronologically, letting them walk in the footsteps of the original Titanic passengers 100 years ago. There will even be a recreation of the social hub of Titanic — the Grand Staircase — known to movie lovers as the iconic spot where Kate Winslet meets Leo DiCaprio for the beginning of the last night of their lives together.
For a 2012 spin, the exhibit will showcase the ongoing research and recovery expeditions taking place on the Titanic wreck site, with dramatic high-def multimedia.
Tickets and Hours
Daytime tickets:
Adults $29
Children (3-11) $22
Evening tickets:
Thursday–Saturday after 5 p.m.
Adults $19.50
Children (3-11) $14.50
Optional audio tour available for an additional $5

PATH: http://www.uwishunu.com/tag/titanic/feed/image/
January 2, 2013Deal Feed: Get Joint Admission To The Franklin Institute And National Constitution Center All Month Long

November 7, 2012Reminder: The Franklin Institute Unveils Titanic: The Artifact Exhibition This Saturday, November 10

October 29, 2012Roundup: Upcoming Exhibitions And Restaurant Openings On The Horizon In Philadelphia

October 15, 2012Coming Attraction: The Franklin Institute Presents Titanic: The Artifact Exhibition, Showcasing 300 Items Retrieved From The Epic Shipwreck, On View Starting November 10

April 13, 2012The Independence Seaport Museum Celebrates The 100th Anniversary Of The Titanic With A Special Exhibition, Guided Tours And Gala

Uwishunu covers everything fun and exciting happening in Philadelphia — read it daily for the latest on restaurants, bars, events, festivals, arts, music, hotels and more.
Details
Get Directions
222 N. 20th Street Philadelphia, PA 19103
(215) 448-1200
Website
Neighborhood:
Related Tags
In the neighborhood
Accommodations

Museums & Attractions

1701 John F. Kennedy Boulevard Philadelphia, PA 19103
Website

View more attractions

Restaurants & Dining

16th Street and the Benjamin Franklin Parkway
Philadelphia, PA 19102
(215) 735-9797
Website

View more Restuarants & Dining
Find us on Facebook