Treasures from Korea:
Arts and Culture of the Joseon Dynasty
Rare look into Korean art and culture at the Philadelphia Museum of Art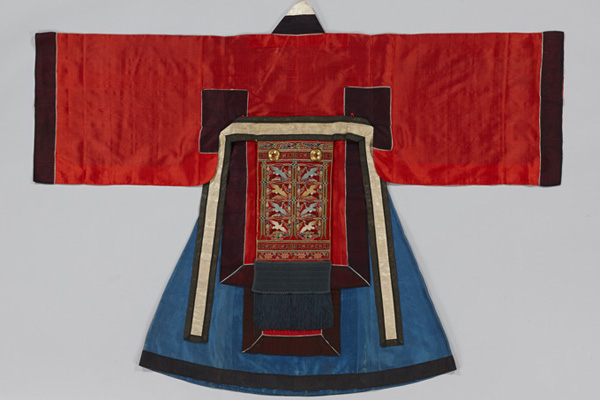 Description
Dates:
March 2-May 26, 2014
Overview
Get a rare look at Korean art and culture at the Philadelphia Museum of Art. Treasures from Korea: Arts and Culture of the Joseon Dynasty 1392-1910 is the first full-scale survey in the United States to focus on the art of the celebrated Joseon dynasty.
The rule of the Joseon dynasty lasted for half a millennium (1392-1910), and the influence of the era remains even in modern-day Korea.
Within the expansive exhibition, see more than 150 works culled from collections around the world, including many treasures from the National Museum of Korea, as well as both public and private collections.
From gorgeous paper screens and silk robes to ancient portraits and manuscripts, the art and artifacts on display aim to offer a comprehensive view of the dynasty through a focus on five themes: the role of royalty, the taste for simplicity, social order, ritual and worship and, finally, the influence of Western civilization.
A multi-institutional collaboration between the Philadelphia Museum of Art, the National Museum of Korea (NMK), the Los Angeles County Museum of Art (LACMA), the Museum of Fine Arts, Houston (MFAH) and the Terra Foundation for American Art, the exhibition will make only three United States stops.
Philadelphia will be the first city to host what promises to be a extraordinary exhibit before it travels to Los Angeles and Houston.
During it's stay in Philadelphia, a number of special events are planned to engage members and the public alike. Look out for the seven-week Korean Drama Series showing Sungkyunkwan Scandal, a South Korean drama from 2010, a K-Pop (Korean pop) dance party and fashion show on Friday, March 28 and much more.
Admission
Admission to Treasures from Korea: Arts and Culsture of the Joseon Dynasty 1392-1910 is included with general admission to the Philadelphia Museum of Art, but advance reservations are required.
Click the button below to choose your dates and purchase tickets in advance.
PATH: http://www.uwishunu.com/tag/treasures-from-korea/feed/image/
April 1, 2014Fill Up On Korean Fare At Granite Hill Restaurant's Korean Pop-Up, This Weekend, April 4-6

March 25, 2014The Philadelphia Mueum Of Art Hosts A K-Pop Dance Party And Fashion Show In Honor Of Its Exhibition, Treasures From Korea, Friday, March 28

March 4, 2014Philadelphia Museum Of Art Museum Pairs Its Treasures From Korea Exhibition With A Month-Long Korean Film Series, Through April 30

January 31, 2014Coming Attraction: Philadelphia Museum Of Art Presents Treasures from Korea: Arts and Culture of the Joseon Dynasty, 1392-1910, Opening Sunday, March 2

Uwishunu covers everything fun and exciting happening in Philadelphia — read it daily for the latest on restaurants, bars, events, festivals, arts, music, hotels and more.
Details
Get Directions
2600 Benjamin Franklin Parkway Philadelphia, PA 19130
Website
Neighborhood:
Visit Official Website
In the neighborhood
Accommodations

1776 Benjamin Franklin Parkway
Philadelphia, PA 19103
(215) 561-1776
Website

View more hotels

Museums & Attractions

Benjamin Franklin Parkway at N. 16th Street Between 16th & 17th Streets Philadelphia, PA 19103

View more attractions

Restaurants & Dining

16th Street and the Benjamin Franklin Parkway
Philadelphia, PA 19102
(215) 735-9797
Website

View more Restuarants & Dining
Find us on Facebook