Philly @ The Movies:
Rocky at the Philadelphia Museum of Art
Free screening of iconic film at its famous location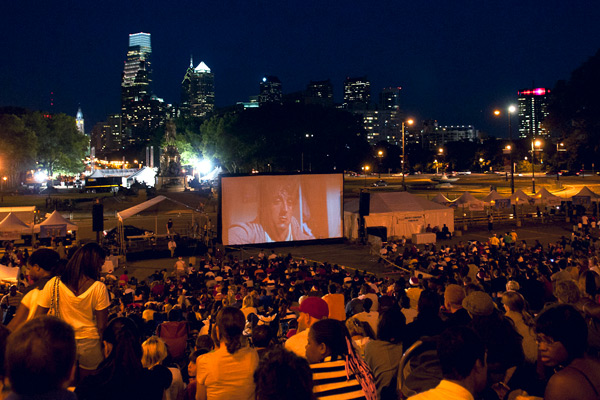 Description
Dates:
July 1-2, 2013
Movies begin around 9 p.m.
PLEASE NOTE: All fireworks shows and events are scheduled rain or shine. In case of inclement weather, follow @July4thPhilly on Twitter and Wawa Welcome America on Facebook for up-to-the-minute information.
Overview
An annual summer tradition, grab a seat on the famous steps of the Philadelphia Museum of Art for a free screening of the iconic Philadelphia-film Rocky during Philly @ The Movies.
Part of the week-long Wawa Welcome America celebration for Independence Day, Philly @ The Movies features free outdoor screenings in some of the city's most recognizable locations.
Head to Rittenhouse Square on Monday, July 1 for a screening of Academy Award-winning Silver Linings Playbook starring Philly-native Bradley Cooper, Jennifer Lawrence and Robert DeNiro.
Get ringside seats for the main event on Tuesday, July 2 as Rocky returns to the steps of the Philadelphia Museum of Art. Cheer along with hundreds of "Italian Stallion" fans during the free screening of the inspirational and iconic Philadelphia film.
PATH: http://www.uwishunu.com/tag/july-4th/feed/image/
July 5, 2013Reminder: Taste Of Philadelphia Continues The Celebration Of America's Birthday With A Food Fest And Fireworks Over The Delaware, July 5-7

July 3, 2013Weekend Picks, July 4th Edition: Epic Fireworks On July 4 And 6, The Free Fourth Of July Jam Concert On The Benjamin Franklin Parkway, Taste Of Philadelphia And Much, Much More

July 3, 2013The 4th Of July In Philadelphia: Our Hour-By-Hour Guide To Independence Day Celebrations In The City Of Brotherly Love

July 3, 2013Roundup: Our Top Picks For Philadelphia Countryside Fourth Of July Barbecues, Parades, Family-Friendly Activities And Fireworks

July 3, 2013Our Guide To The City, The Philly 4th Of July Jam's Music, Art, Fashion And Food Festival At The Piazza At Schmidt's Today, July 3

Uwishunu covers everything fun and exciting happening in Philadelphia — read it daily for the latest on restaurants, bars, events, festivals, arts, music, hotels and more.
Details
Get Directions
2600 Benjamin Franklin Pkwy
Philadelphia, PA 19130
Website
Neighborhood:
In the neighborhood
Accommodations

1700 Benjamin Franklin Parkway Philadelphia, PA 19103
(215) 981-5678
Website

View more hotels

Museums & Attractions

N 19th Street at Logan Square Logan Square Philadelphia, PA 19103

View more attractions

Restaurants & Dining

1701 Arch Street
Philadelphia, PA 19103

View more Restuarants & Dining
Find us on Facebook