Getting Here
Getting to the Philadelphia region is a cinch
Philadelphia is the second largest city on the East Coast and ranks fifth in the nation, with a metropolitan population of 5.8 million. Philadelphia is conveniently located in the middle of the Northeast Corridor, 100 miles south of New York, 133 miles north of Washington, D.C., and 55 miles from Atlantic City. More than 63 million people – approximately a quarter of the U.S. population – live within a 5.5-hour drive from Philadelphia.
But you don't have to drive; Philadelphia is accessible by car, train, bus, airplane and even cruise ship.
Maps and Directions
Downloadable Maps: To view a list of maps available for download click here.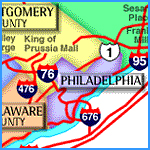 By Car
By car, the city is just two hours from New York City, 90 minutes from Baltimore, three hours from Washington D.C. and about an hour from Lancaster County, Atlantic City and the New Jersey shore via major highways.
Those who prefer someone else to do the driving can hop on Amtrak, which provides service along the Northeast Corridor and points west and south, or Greyhound, operating bus service throughout the region. Several popular Chinatown bus routes also connect Philadelphia with Boston, New York and Washington, D.C. for extremely wallet-friendly prices.
The Philadelphia International Airport, approximately seven miles from Center City, serves more than 25 airlines. Air travel to Philadelphia got a whole lot cheaper with the arrival of Southwest Airlines in 2004. Southwest offers daily nonstop flights from cities such as Chicago, Las Vegas, Orlando, Phoenix, Providence and Tampa Bay, etc. Travelers can also take advantage of direct or connecting service from 3 1 other destinations, such as Ft. Lauderdale, Los Angeles, Oakland, Houston and Seattle.
By Plane
Philadelphia International Airport is just seven miles from Center City. SEPTA's R1 line directly links the airport to Philadelphia's downtown for a fast, hassle-free connection. Philadelphia taxis charge a flat rate of $25 for travel between Center City and the airport. PHL is served by all major domestic carriers and is a major hub for American Airlines. The New International Terminal features 13 new international gates, 56 U.S. immigration booths and more amenities to make your trip to Philadelphia as pleasant as possible.
Philadelphia International Airport, (215) 937-6800
Philadelphia International Airport Marketplace
US Airways
Southwest Airlines
By Train

General Information
Philadelphia is served by Amtrak, which operates rail service along the Northeast Corridor stretching from Boston to Washington, and other major cities in the United States and Canada. Amtrak's 30th Street Station is minutes from the Pennsylvania Convention Center and Center City hotels.
Travel on Amtrak to Philadelphia and Save 30% on a Companion Fare
Visit Philadelphia with a friend on the Northeast Regional and save 30% on a companion fare through December 17, 2016. To book travel on Amtrak and take advantage of this special offer, Click Here for more.
Other Trains
Local train service is provided by SEPTA, which also connects to NJ Transit trains in Trenton, NJ en route to New York. NJ Transit trains also depart from 30th Street Station for Atlantic City, NJ.
Amtrak, (800) USA-RAIL
SEPTA, (215) 580-7800
PATCO, (856) 772-6900
NJ Transit, (973) 275-5555
By Bus
Bus service to and from Philadelphia is excellent, with daily arrivals from all parts of the country. The Greyhound Bus Terminal is located at 10th and Filbert Streets. Greyhound will be rolling out their brand-new state-of-the-art bus fleet for travel to and from Philadelphia in the near future. Also, Greyhound is offering reduced fares from New York City to Philadelphia if you book at least three days in advance — as low as $6. CLICK HERE to check fares from New York City to Philadelphia. Or visit Greyhound's Deals and Discounts page to see what current offers Greyhound is promoting.
Recently, two additional bus lines have started service to Philadelphia from nearby East Coast cities. Megabus and BoltBus both offer spacious seating, free Wi-Fi and affordable fares. Megabus, which specializes in double-decker buses, is the perfect way to start your trip to Historic Philadelphia with a stop at the Independence Visitor Center as well as 30th Street Station. Starting March 21, 2010, Megabus will offer daily service between Philadelphia and Washington, DC with a significant number of seats for only $1 or $5. Meanwhile, BoltBus offers an incredibly affordable option with its $1 "Bolt for a Buck" fares.
For more local trips, SEPTA's bus, trolley and subway services will take you anywhere you want to go in Southeastern Pennsylvania. NJ Transit buses service routes between Philadelphia and South Jersey.
Megabus, 1-877-GO2-MEGA
BoltBus, 1-877-BOLTBUS
Greyhound Lines, (215) 931-4075
SEPTA, (215) 580-7800
NJ Transit, (973) 275-5555
Academy Bus Tours, (215) 665-1734
New Century Travel
By Car
Philadelphia is served by the PA Turnpike (I-276), I-76, I-476, I-95, US-1 and the New Jersey Turnpike.
AAA, (215) 569-4411 (1-800-AAA-HELP outside of PA)
Live Traffic Map — Traffic Information
Philly Car Share — Why own when you can borrow? PhillyCarShare pays for insurance, maintenance, parking and even gas!
Parking Information
Ditch Your Car
One of the things that makes Philadelphia great is its compact Center City. Our downtown neighborhoods are so walkable that you really don't need your car. After arriving you can get around Center City and most of Philadelphia's eclectic neighborhoods easily on foot, via taxi or public transportation.
So if you're driving in to town, store your car in a garage upon arrival and get out there and experience the city.
Parking Lots and Garages
You can find everything you need about parking in Philadelphia at the Philadelphia Parking Authority's official website., Find a parking lot or garage near your destination (an attraction, hotel or neighborhood. You can type in a specific address or choose from a list of popular attractions. Then you can compare nearby garages by their hours and rates.
Meters and Smart Cards
Additionally, Philadelphia has over 7,000 metered and non-metered timed spaces in Center City. There are several thousand additional spaces throughout the city. Meter rates vary per hour depending upon whether the meter is in a central location. Meter times vary from 1 – 4 hours.
Please pay attention to the posted meter and regulation signs. The red signs will tell you when you can't park, the green signs will tell you when and how long you can park.
For more information about parking, visit our Parking in Philadelphia page or the Philadelphia Parking Authority's website.
Accessibility Information
Many Philadelphia attractions, museums, restaurants and hotels are accessible to people with disabilities. For more information about Accessible Philadelphia, including parking, visit phila.gov.