Fete Day Celebration at Elfreth's Alley
Residents on America's oldest street open their doors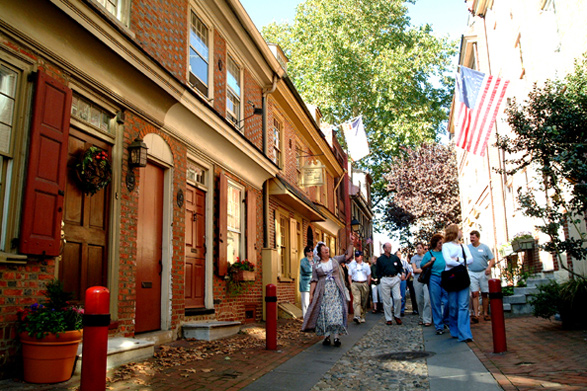 Description
Dates:
June 8, 2013
Fete Day
Join Ben Franklin and a cast of historic characters during the annual Fete Day at Elfreth's Alley. Enjoy food, crafts, music, games and explore more than a dozen 18th century homes.
The 310-year-old Alley will be buzzing all-day long with colonial crafts, a fife and drum corps, colonial reenactors, guided tours and a summer barbecue.
Dating back to the 1930s, the traditional celebration is the only opportunity this season for visitors to actually step into the private homes of Elfreth's Alley and discover how generations after have continued to preserve, alter and add to the historic structures.
In addition to an afternoon of entertainment, free guided tours are available for Fete Day visitors. Learn the Alley's back stories, like the tale of a resident who was hung for joining the British side during the Revolution or how the neighborhood once earned its reputation as "helltown."
If you can't make the celebration, be sure to check out the Elfreth's Alley Museum, home to the Elfreth's Alley Association, a non-profit organization dedicated to preserving the historic landmark as they host a calendar full of events to get your fill of everyday American and one of the world's first true melting pots.
Tickets
$20 Adults
$10 Students & Seniors
$55 Families
History
Running east from Second Street between Arch and Race Streets, Elfreth's Alley is the oldest residential street in the country with more than 300 years of history.
In the 18th century, the Alley was home to cabinetmakers, pewterers, merchants and sea captains. Famous past residents include Moses Mordecai, a founding member of Mikveh Israel (Philadelphia's first synagogue); Stephen Girard, eventually the richest man in America; and Cophy Douglass, a free African tailor.
During Philadelphia's rise as the industrial powerhouse of the nation in the 19th century, these same homes were crowded with Italian, Irish and Jewish immigrants in search of the American dream.
Details
Get Directions
124 Elfreth's Alley Philadelphia, PA
215-574-0560
Website
Neighborhood:
Related Tags
In the neighborhood
Accommodations

201 S. Columbus Boulevard
Philadelphia, PA 19106
(215) 928-1234
Website

View more hotels

Museums & Attractions

6th and Market Streets
Philadelphia, PA 19106
(800) 537-7676
Website

View more attractions

Restaurants & Dining

21 S. 5th Street
Philadelphia, PA 19106
(215) 625-0300
Website

View more Restuarants & Dining
Find us on Facebook