Lights of Liberty
Coming Soon: Sound and light show reliving America's Revolution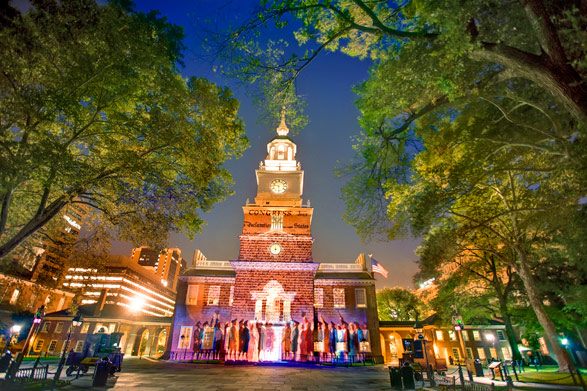 Description
Programming Note:
The Lights of Liberty outdoor show is being completely re-imagined and is currently on hiatus.
Coming Soon
The New Lights of Liberty Show is being completely redesigned as the first outdoor, nighttime 3-D experience. The new Show will take visitors on a starlit journey through Independence National Historical Park, walking in history's footsteps with head-turning surround sound and high-tech imagery including incorporating 3-D technology.
In the meantime, visit Lights of Liberty's Liberty 360 in the PECO Theater – a 3-D show starring Ben Franklin – located at the Historic Philadelphia Center, just across from the Liberty Bell.
Details
Get Directions
Historic Philadelphia Center
6th and Chestnut Streets
Philadelphia, PA 19106
(215) 629-4026
Website
In the neighborhood
Accommodations

1234 Locust Street Philadelphia, PA 19103
(215) 772-1440
Website

View more hotels

Museums & Attractions

212 S. Fourth Street Philadelphia, PA 19106
(215) 627-1752
Website

View more attractions

Restaurants & Dining

21 S. 5th Street
Philadelphia, PA 19106
(215) 625-0300
Website

View more Restuarants & Dining
Find us on Facebook