Revolutionary Germantown Festival
A special day to discover America's history along Germantown Avenue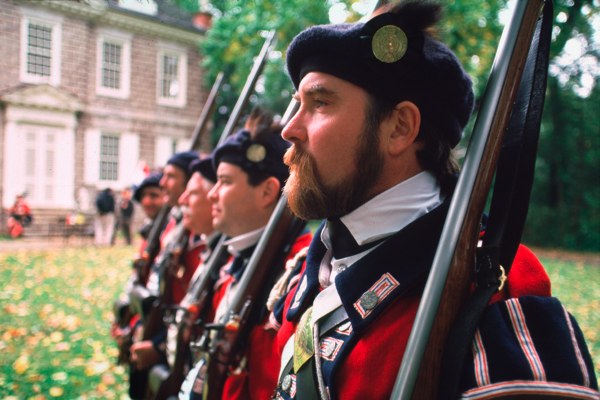 Description
Date:
October 6, 2012
The Experience
You are never far from history when in Germantown, one of Philadelphia's most historic neighborhoods. However, it is on full display during the Revolutionary Germantown Festival, a day-long festival that celebrates the rich history of Germantown and features the annual reenactment of the Battle of Germantown, the only military battle ever fought within the borders of Philadelphia.
Escorted bus and walking tours make getting around simple while special programs at ten historic sites throughout the community provide something for every size and taste.
Learn the inside stories of some of Philadelphia's most important colonial landmarks: put your hand to colonial paper-making techniques at Historic Rittenhouse Town; try out some early American toys at Upsala; and "meet" British General Howe at the Deshler-Morris House, his one-time war headquarters. The historic re-enactment of the 1777 Battle of Germantown takes place at Cliveden.
In addition to Rittenhouse Town, Upsala, the Deschler-Morris House and Clivedon, you'll visit the Concord School and Upper Burying Ground, where soliders and officers are buried; Grumblethorpe, site of one of the battle's legendary death scenes; The Johnson House, which showcase the role of African-Americans in the Revolutionary War; and two of the cities most famous colonial houses, Stenton and Wyck.
Come Prepared
There is fee for entry and parking may be limited. It is recommended that visitors consider taking public transportation to Germantown Avenue for the festivities.
Don't Miss
Experience incredible battle reenactments at Cliveden starting at noon and 3 p.m. After the dust settles, end the day at Grumblethorpe's Oktoberfest celebration from 4:30-7:30 p.m.
Details
Get Directions
4601 N. 18th Street Philadelphia, PA 19140
(215) 329-7312
Website
Neighborhood:
Related Tags
In the neighborhood
Museums & Attractions

5501 Germantown Avenue Philadelphia, PA 19144
(215) 844-0514
Website

View more attractions
Find us on Facebook