The Betsy Ross House
The birthplace of the American flag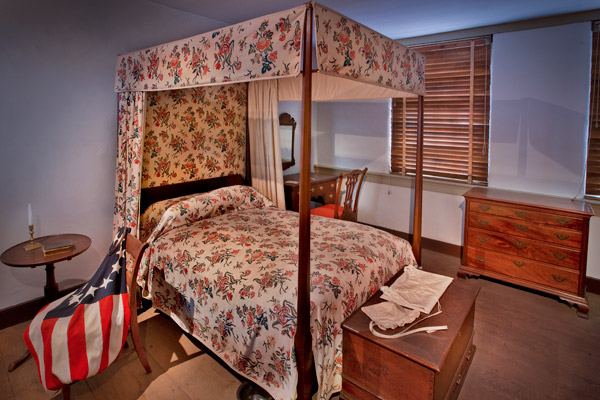 Description
The Experience
Did she or didn't she? While historians debate Betsy Ross' role in making the first American flag, the home of the nation's best known seamstress is among the region's most popular attractions.
Betsy, who made a living as a furniture upholsterer, rented the 1740 home, and the teeny-tiny rooms and tight little staircases give a good portrayal of a working class woman's life in colonial America.
Her workroom, two bedrooms, and kitchen are all included in a self-guided tour. An exhibit area in the house's extensive gift shop displays family treasures including her family bible, snuff box, and other artifacts while a new audio tour allows visitors to take a guided tour of the house at their own pace.
Betsy Ross is buried beneath the giant elm and sycamore trees that shade the courtyard.
History
The raging war for Independence created many widows. Betsy Griscom Ross Ashburn Claypool ultimately lost three husbands, but unlike many widows who were left without resources, her skills as a seamstress enabled her to support herself and her seven children. She operated her business well past the age of 70 and finally died at the age of 84.
Other Information
Admission is $5 for adults and $4 for children, plus $2 each for the optional audio tour.
Open Daily, April – September
Open Tuesday – Sunday, October – March
Open All Monday Holidays
Insider Tip
The Betsy Ross Memorial is the only site in America that interprets an 18th century upholstery shop.
Kids' Stuff
Throughout the summer months, kids can enjoy historical plays, music, magic shows, and appearances by Betsy and other heroes of history.
PATH: http://www.uwishunu.com/tag/betsy-ross-house/feed/image/
May 8, 2013Historic Philadelphia Presents Family-Friendly Tours, Special Events And Storytelling Throughout The Spring And Summer

May 7, 2013Roundup: Celebrate Mother's Day Across The City With Brunch, High Tea, Alfresco Fairs, Arts Events And More

April 30, 2013First Friday Weekend Features Art Openings, Salon Parties, A Special 100th Anniversary Of The Zipper Fashion Show And More Friday, May 3

February 4, 2013Roundup: Our Top Picks For Special Valentine's Day Events And Activities Around Philadelphia

Uwishunu covers everything fun and exciting happening in Philadelphia — read it daily for the latest on restaurants, bars, events, festivals, arts, music, hotels and more.
Details
Get Directions
239 Arch Street
The American Flag House and Betsy Ross Memorial
Philadelphia, PA 19106
(215) 686-1252
Website
Neighborhood:
Related Tags
In the neighborhood
Accommodations

433 Chestnut Street Philadelphia, PA 19106
(215) 925-2111
Website

View more hotels

Museums & Attractions

62 Battleship Place Camden, NJ 08103
(866) 877-6262
Website

View more attractions

Restaurants & Dining

312 York Street
Corner of 4th and Wood
Philadelphia, PA 19106
(215) 627-6850
Website

View more Restuarants & Dining
Find us on Facebook