Four Seasons Philadelphia
A Five-Diamond, award-winning hotel featuring the nationally acclaimed Fountain Restaurant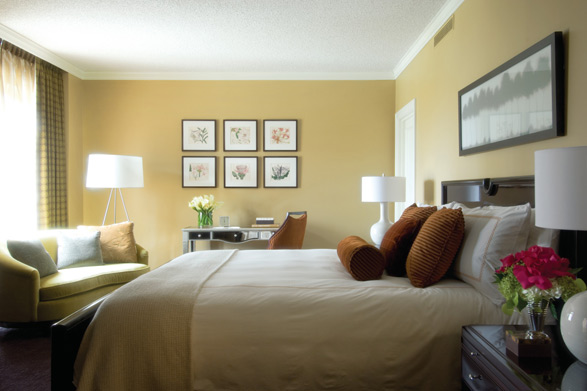 Description
Overview
Located in the heart of downtown Philadelphia – and boasting unequaled views of the majestic Swann Memorial Fountain – Four Seasons Hotel Philadelphia ensures a memorable experience for your stay in Philadelphia.
The Hotel's 364 guest rooms and suites, with classical furnishings and details drawn from the Federal period, and unique inner courtyard offer a calm retreat from the bustle of the city. Many rooms have balconies overlooking Logan Square, while other rooms face the Hotel's own garden courtyard with a cascading waterfall. All have windows that open for fresh air, offering views that underline a delightful sense of place.
Every room is comfortably equipped with a desk, a flat-screen television, multi-line telephones with voice mail, and wired or wireless Internet access. Dining at Four Seasons offers a classical approach tempered by global influences, with a focus on local ingredients.
A range of venues, from the formal ballroom to the garden courtyard, provides an abundance of unique choices for social and business events. To unwind, consider a workout in the fitness center, a treatment in the full-service spa or a dip in the resort-style indoor swimming pool.
Dining
Among Philadelphia's most desirable meeting places for business breakfasts, chic lunches and formal dining, the acclaimed Fountain Restaurant in Four Seasons Hotel Philadelphia features imaginative and impeccable cuisine served in a warm atmosphere that features a view of the stunning bronzes that comprise Alexander Stirling Calder's Swann Memorial Fountain. A baby grand piano, comfortable couches and marble-topped tables are the signatures of the sumptuous Swann Lounge, while the adjoining Swann Café offers a more intimate option.
Spa Services
Opportunities to unwind at Four Seasons include relaxing treatments in the elegant Spa, a comprehensive workout in the fitness center or leisurely laps in the tranquil indoor pool beside the attractively landscaped pool deck and trickling fountain.
A tranquil oasis dedicated to well-being, the Spa offers unrivaled luxury, privacy and comfort in which to unwind and refresh. The Spa provides everything from invigoration to pampering in its array of body treatments and European skin therapies, all by appointment. The experience at our magnificent location is enhanced by a whirlpool, sauna, indoor pool and personalized Four Seasons service.
Fitness Facilities
Take advantage of the fitness center at Four Seasons Hotel Philadelphia. After your workout, enjoy a sauna or whirlpool in The Spa. Located on the Lower Lobby level, in The Spa, the fitness center is open daily to guests 13 years of age and older.
Pool
Located in the spa, the tranquil indoor pool accommodates laps and is kept at a comfortable average temperature of 29ºC (84ºF). The pool deck is attractively landscaped with tropical plants and a trickling fountain. A whirlpool is nearby.
Complimentary Services and Amenities
Four Seasons offers exceptional value to its guests. In addition to special offers on hotel packages, the hotel provides a number of complimentary services and amenities, including:
House car service available for transportation within the downtown area (based on availability at time of request)
Coffee and tea service in the lobby and Spa from 5:00 am to 9:00 am weekdays and 5:00 am to 10:00 am weekends
Daily afternoon beverage, such as lemonade or apple cider, in the lobby
Fresh fruit available at the front desk and Spa
Bottled water and towels at the front door, for guests returning from jogging
Fitness centre, including free weights, bicycles, treadmills, elliptical cross-trainers, a whirlpool and a sauna, as well as complimentary bottled water, fruit, juice and Evian spritz
Indoor 45-foot (14-metre) pool with poolside amenities – chilled towels, ice water, juice and Evian spritz
Newspaper of your choice ( The Philadelphia Inquirer, The Wall Street Journal, The New York Times or USA Today), delivered daily
PATH: http://www.uwishunu.com/tag/four-seasons-hotel/feed/image/
April 16, 2013The Four Seasons Hotel And Dock Street Brewery Team Up To Bring Philadelphia Exclusive And Tasty Brews, Wednesday, April 17

June 4, 2012Reminder: Tonight, June 4, Is Opening Night Of The With Love Beer Garden At The Four Seasons Hotel; Check In With Foursquare Or Facebook And Get An Awesome Uwishunu Beer Boot

May 24, 2012Summer Love Ale Launch Party To Kick Off The 2012 With Love Beer Garden On Opening Night, Monday, June 4

May 11, 2012The With Love Beer Garden To Make A Triumphant Return For 2012; The Four Seasons' Awesome Outdoor Courtyard To Once Again Be Your Happy Hour Central For Philly Beer Week

February 22, 2012James Beard Award Semifinalists Announced: Philadelphia Nabs An Impressive 16 Total Nominations

Uwishunu covers everything fun and exciting happening in Philadelphia — read it daily for the latest on restaurants, bars, events, festivals, arts, music, hotels and more.
Details
Get Directions
1 Logan Square
Philadelphia, PA 19103
(215) 963-1500
Website
Neighborhood:
Book your stay now.
Related Tags
In the neighborhood
Restaurants & Dining

1925 Fairmount Avenue
Philadelphia, PA 19130
(267) 514-7145
Website

View more Restuarants & Dining

Museums & Attractions

2600 Benjamin Franklin Pkwy
Eakins Oval, directly across from the Philadelphia Museum of Art's East Terrace steps
Philadelphia, PA 19130

View more attractions

Accommodations

501 N. 22nd Street
Philadelphia, PA 19130
(215) 568-8300
Website

View more hotels
Find us on Facebook