Wayne Hotel
Wonderful alternative to traditional hotel accommodations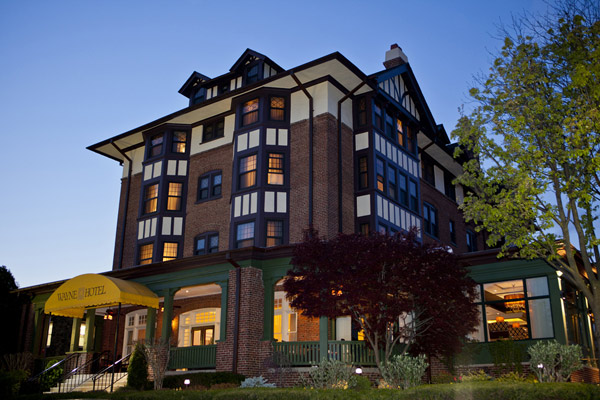 Description
Anchored by its position on the National Register of Historic Places, the award-winning Wayne Hotel is an established landmark in Philadelphia's Main Line.
Located in the historic town of Wayne, the hotel is steps away from restaurants, cafes, bars, boutiques and spas as well as a five-screen Art Deco movie theater.
The beautifully restored Wayne Hotel offers the convenience and comfort expected by today's traveler. The contemporary stylings of the Wayne Hotel's lobby lounge and restaurant blended with its classic architecture and comfortable rooms offer a wonderful alternative to traditional hotel accommodations.
Four floors of comfortable guest rooms, each with a personality of its own, make it readily apparent that charm and friendliness do indeed coexist with efficiency and modern comfort. Complete with luxurious plush-top mattresses, the Wayne Hotel's updated accommodations ensure a refreshing night's sleep. The many modern amenities such as flat-screen TV's and complimentary WiFi are antidotes to your traveling stress.
Additionally, guests can dine at the on-site restaurant, enjoy a complimentary continental breakfast, and get complimentary use of the off-site fitness center.
Dining at Paramour
Paramour features seasonally inspired modern American cuisine in a setting that combines distinctive classical architecture with elegant contemporary furnishings. This inviting, award-winning restaurant is the perfect place for a special occasion meal, but also a fun spot for a cocktail or a glass of wine and a quick bite. For an experience you can truly fall in love with, feed your passions at Paramour.
Cuisine
The food philosophy at Paramour begins with a fundamental commitment to quality. Simple, yet winning taste combinations are achieved through skillful preparation and technique. The composition of each menu item has been carefully crafted to balance acids, fat content, seasoning and texture, allowing the freshness and quality of each ingredient to shine. This approach enables the chef to get back to the basic, simple purity of the food and highlight its flavors, colors and aromas for a dining experience that excites the senses.
Open for Lunch, Dinner and Sunday Brunch.
Long-Term Stay
Enjoy apartment living in the heart of the Main Line with the comfort of complimentary Hotel Services and Amenities. The Wayne Hotel provides short-term apartments, located less than two miles from Radnor Financial Center.
These newly renovated residences feature high-end finishes such as hardwood floors, comfortable furniture and a fully equipped kitchen. A business executive would feel right at home in these comfortable quarters, surrounded by stylish décor.
Details
Get Directions
139 East Lancaster Avenue
Wayne, PA 19087
(610) 687-5000
Website
Book your stay now
Find us on Facebook